From pin sizing, to SEO titles and descriptions, this guide will teach you 6 Tips To Creating Viral Pins On Pinterest. Drive huge traffic to your blog and understand how you can replicate viral pins over and over again.
Browse our other Pinterest tips blogs.
Remember, if you're struggling with anything Pinterest related, send your questions over to my email – [email protected]
Additionally, get an exclusive 20% off discount on my Pinterest course.
What Is a Viral Pin?
Viral pins almost seem like some well guarded secret when it comes to Pinterest success. However, creating a viral pin really isn't that difficult!
A viral pin means exactly what it says – a pin or series of pins that have got a lot attention in terms of clicks and saves. So much so, that the pin seems to have gone "viral".
Creating a viral pin really is a goldmine for blog traffic and Pinterest saves.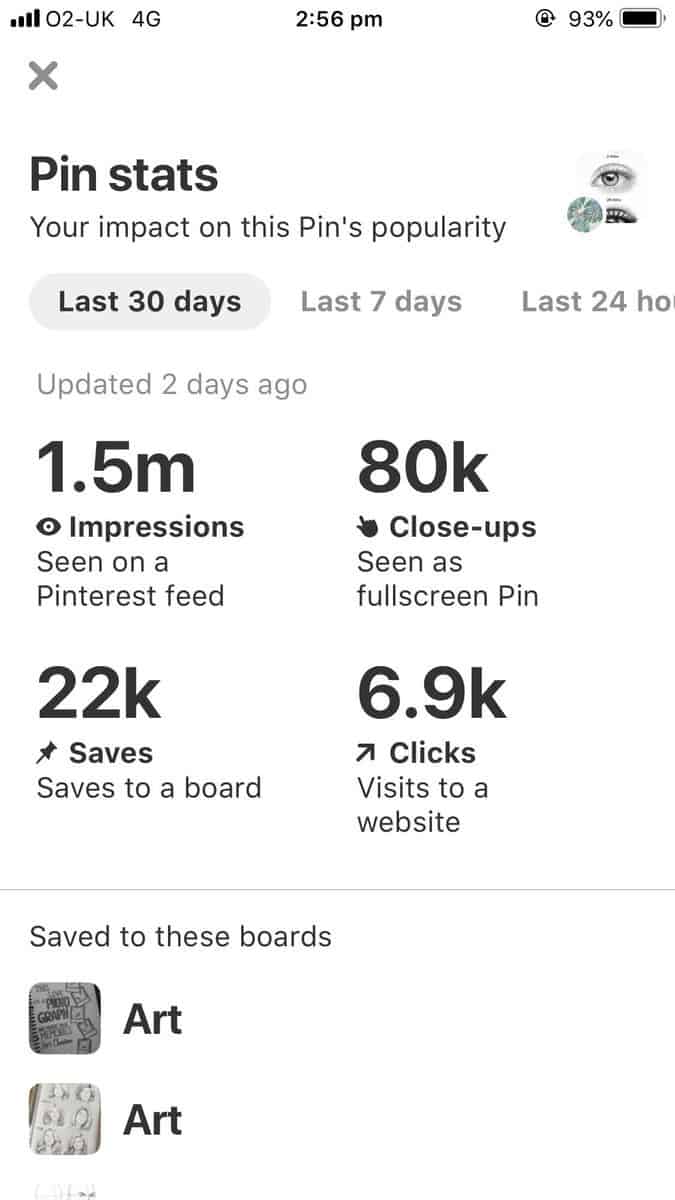 1. Pin Sizing
Believe it or not, the sizing ratio effectives whether a pin will start gaining clicks and saves. Pinterest loves vertical pin graphics. This is because of the layout on Pinterest – when a user is scrolling, vertical pins take up much more room than horizontal ones.
Personally, at first I really struggled with creating pin graphics within a certain sizing, but practise makes perfect and there are a few useful apps out there that can help too.
Whats The Best Size?
I recommend using the sizing 600 width x 1200 height. This will create a really nice looking long graphic that will take up a lot of the viewers screen. This is good, you want to catch their attention!
2. Pretty Pin Graphics
The overall aesthetic of your pins does matter! Pinterest works like a visual search engine, people are obsessed with the aesthetic and overall look of pins.
If your pin doesn't look good or looks spammy, then sadly you'll struggle to get clicks or saves.
"How Can I Create Pretty Pins?"
There are a few helpful apps that make creating pin graphics soo simple! My personal favourite is Adobe Spark. Not only is it easy to use, it helps you create graphics that stand out from the crowd.
3. Eye Catching Titles
How your titles are written makes a huge difference in whether your pin will go viral or not.
Before the viewer sees your content, the title is what is going to hook them in. so, you have to make your title stand out.
"How Can I Improve My Title?"
Understanding search engine optimisation (SEO), will give you a head start on creating eye catching titles for Pinterest.
Even if you don't fully understand SEO, which title would you rather click on –
15 Pinterest Tips
15 Helpful Pinterest Tips To Skyrocket Your Blog Traffic
4. Regular Daily Pinning
Pinning each day gives you an advantage with creating a viral pin.
Pinterest loves it when you're posting daily, even leaving your Pinterest account stagnant for a day will have negative impacts. You'll see a drop in traffic, saves, and other Pinterest activity.
A Good Pinning Ratio
I recommend pinning 10 of your own pins each day. Contrary to what other bloggers may say, you will need to be posting a good chunk of your own content. If you're repining a lot from other users, then they'll get the traffic if that pin takes off.
So many bloggers struggle for traffic on Pinterest, and it's because they simply don't have enough of their own pins. For every 10 pins, 7 should be your own, 3 should be repins from other users.
5. Know Your Audience
Knowing what content your audience is searching for is probably the most important thing you can do on Pinterest.
It's great writing blogs that you're passionate about, but writing content that's being searched for or will soon be searched for is what will help you create a viral pin.
"How Can I Know My Audience?"
Well, it's simply really, think seasonal content! – Changing of seasons, holidays, big events, etc.
Whatever your niche, you can create seasonal content. Think of it logically, users are more likely to be searching for warm soup recipes during Autumn, smoothie recipes during summer, and so on. You've just got to match your content to follow the seasons and don't forget about big holidays too!
At the time of writing this, its Autumn, so here's a few examples for autumn seasonal content.
Recipe blogger?
Write about slow cooker recipes.
Travel blogger?
Write about winter sun destinations.
Mental health blogger?
Write about stress leading up to Christmas, or even seasonal depression.
6. Optimise, Optimise, Optimise!
Tying into the "Eye Catching Titles" point, well written descriptions on Pinterest will help you with creating a viral pin.
You've got to pay attention to your Pin description, it helps the algorithm know what topic / niche your pin is related to, then shows the pin to users interested in that topic / niche.
You shouldn't just ignore the pin description, you're missing out on potential traffic by doing that!
How Do I Create an Optimised Pinterest Description?
Understanding search engine optimisation (SEO), will give you a head start on creating an optimised description for Pinterest.
Writing a description that's rich in keywords will help you. If you're struggling for keywords, type in the topic that your blog is about on Pinterest's search bar. At the top, under the search bar a few keywords will come up. Use these keywords.
Another way you can write an optimised Pinterest description is by getting some inspiration from other users descriptions. Type in the topic that your blog is about on Pinterest's search bar. Look in the pin descriptions of the first few pins that appear. DON'T copy the descriptions, but understand how they're written. Doing this a few times will help you, you'll be a natural at writing pin descriptions in no time!
Remember, if you're struggling with Pinterest and driving traffic to your blog, I do offer a Pinterest growth course. Learn how to use Pinterest for traffic, how to monetise your blog and much more. Buy it here and get an exclusive 20% off discount.