It's no secret that the importance of hair care is at an all-time high. We see ads for products to help grow our hair, keep it moisturized and shiny, and even protect it from the harmful UV rays (among many other things!). But what about natural oils? They are a great alternative to some of those chemical-laden products you find in stores. In this blog post, we will focus on 6 different natural hair oils that have been shown to work wonders with your locks!
---
Why should you use hair oils?
Hair strands are made up of proteins and lipids that can be damaged by heat, chemical treatments such as relaxers or dyes.
Using hair oils are a great way to add natural vitamins and minerals that your hair needs to stay healthy and strong.
Natural oils can also help with scalp problems such as dandruff, psoriasis or eczema that are often caused by dryness of the skin on your head due to lack of moisture from shampooing too much!
Natural oils VS not using any?
Using natural oils are better than not using any at all because they contain vitamins and minerals that your hair needs to stay healthy. They also help with scalp problems such as dandruff, psoriasis or eczema which can be caused by dryness of the skin on the head due to too much shampooing!
---
1. Coconut Oil
Coconut oil is one of the most popular natural hair oils out there.
It is rich in fatty acids and can be used as a deep conditioner. It also has anti-inflammatory properties, which will help with any scalp or hair issues you may have!
Coconut oil's high levels of lauric acid make it an excellent moisturizer for your locks – especially if they are dry from heat styling tools like blowdryers/straighteners or curling irons (which tend to break down the natural oils).
Coconut Oil also helps to promote healthy growth by adding protein back into damaged strands while simultaneously strengthening them against future damage caused by environmental factors such that sun exposure. This makes coconut one great option when looking at ways on how best to care about our hair without having those nasty chemicals seep through our pores.
I personally love using coconut oil on my hair. I use it as a hot oil treatment before I wash my hair. It leaves it feeling so soft and moisturized! You can also use coconut oil as a leave-in conditioner after washing, which helps to keep the moisture locked in for days on end without having that greasy feel or look from other oils.
Coconut Oil Benefits:
Deep conditioning.

Anti-inflammatory properties.

Moisturising.

Promotes hair growth.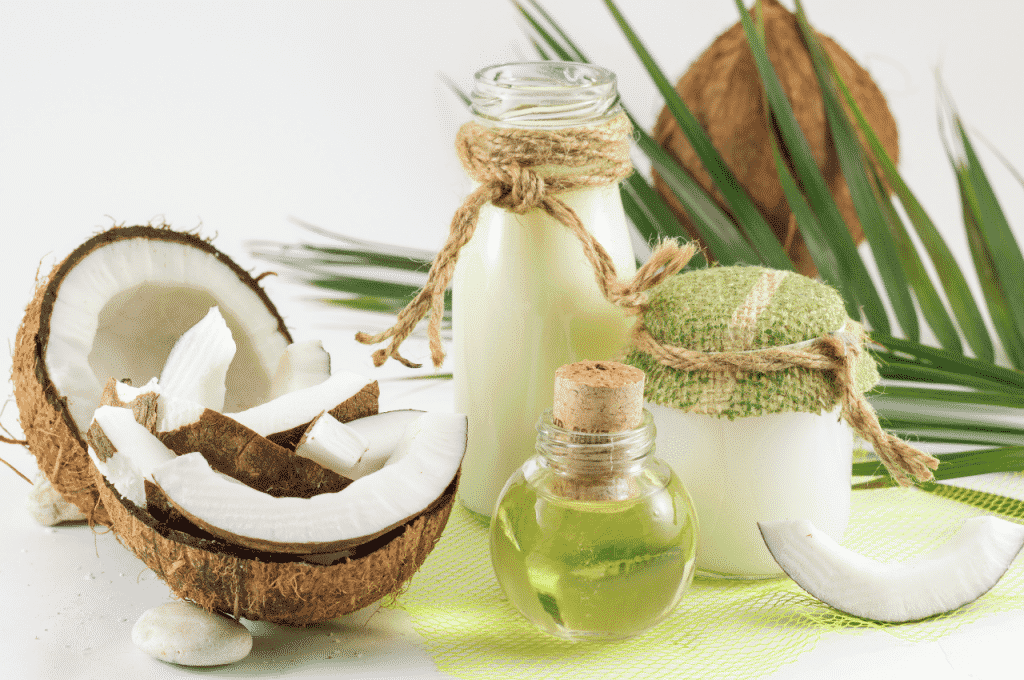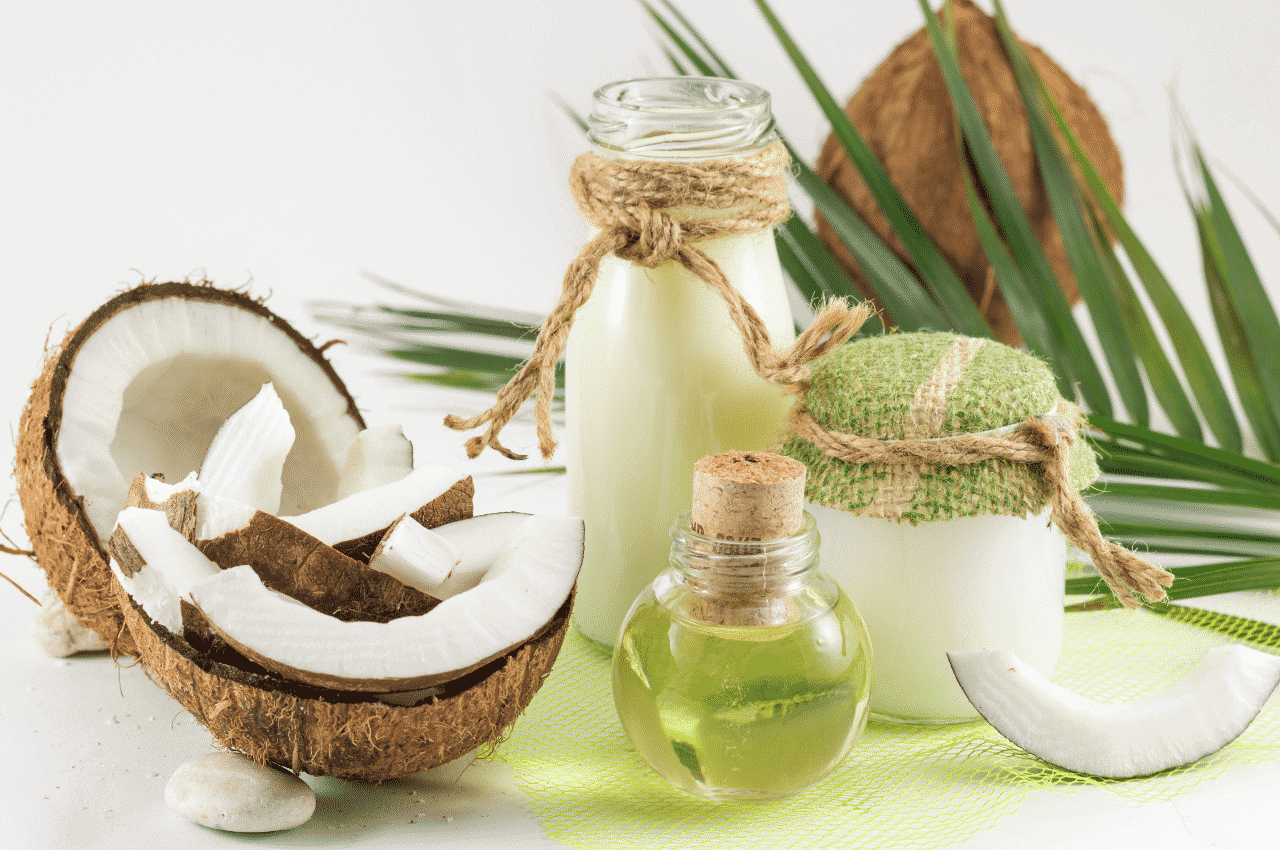 2. Olive Oil
Obtained from the olive tree, olives are pressed to give you olive oil.
Olive oil is another great natural hair oil. It's a great moisturizer that will help to keep your hair healthy and strong.
Containing vitamin E, olive oil helps with the production of sebum in our scalps. This can be helpful to those who suffer from dry scalp or dandruff issues! Sebum is the natural oil that our scalp produces that helps keep our hair moisturized and healthy.
Research studies have been done over decades showing the benefits olive has against heart disease. So if there are any concerns regarding cholesterol levels, then olive oil should definitely make an appearance within diet plans/regimens.
Olive Oil Benefits:
Moisturising.

Helps with the production of sebum.

Eases dry scalp issues.

Fights against heart disease.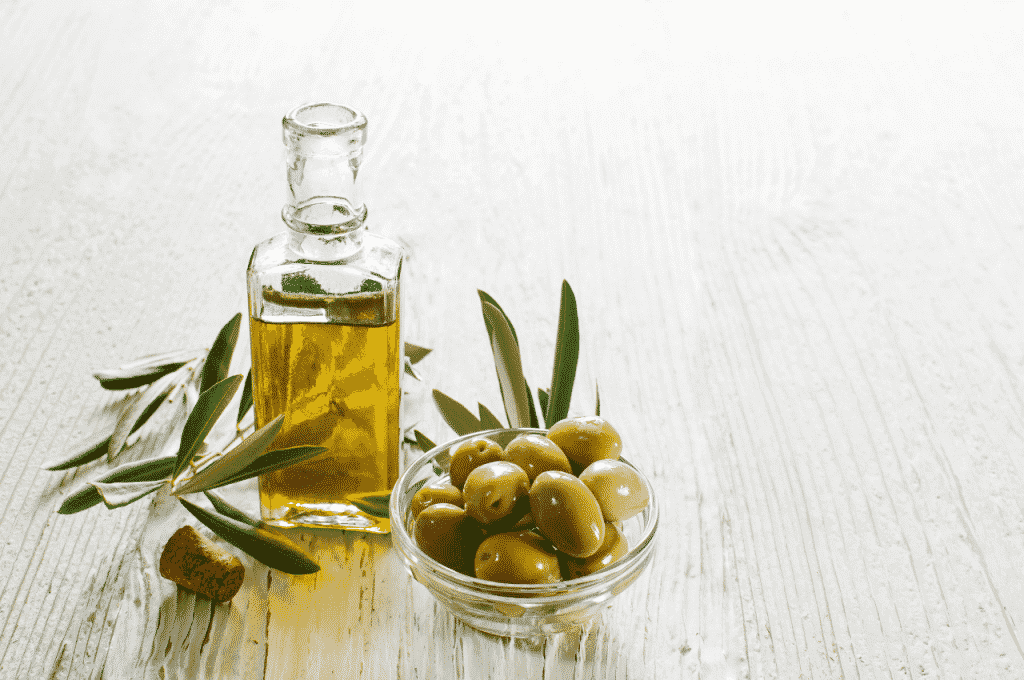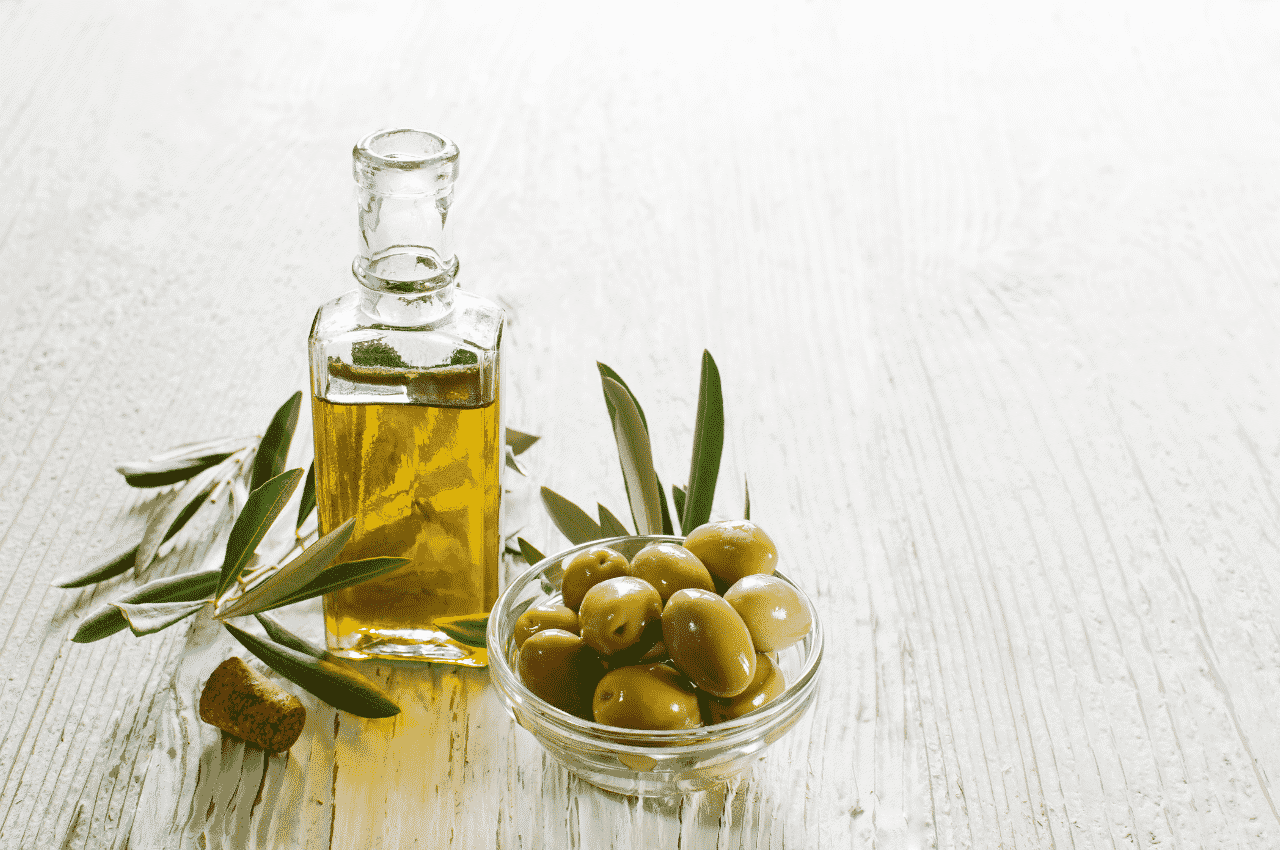 3. Castor Oil
Sourced from the castor bean plant, castor oil is a natural oil that has been used for centuries to help with hair growth and strength.
Castors are known as "nature's gift" because of their ability in helping the scalp produce sebum which can lead to healthier locks.
This amazing oil also helps promote blood circulation on your head, which can promote hair growth, give you more energy, and even fewer headaches too.
Castors have an anti-fungal property so they're great at fighting dandruff or dry scalps. It will do its best to keep those flakes away from forming up there while promoting healthy skin cells.
Castor Oil Benefits:
Strengths hair.

Promotes hair growth.

Anti-fungal properties.

Helps with dandruff and dry scalp.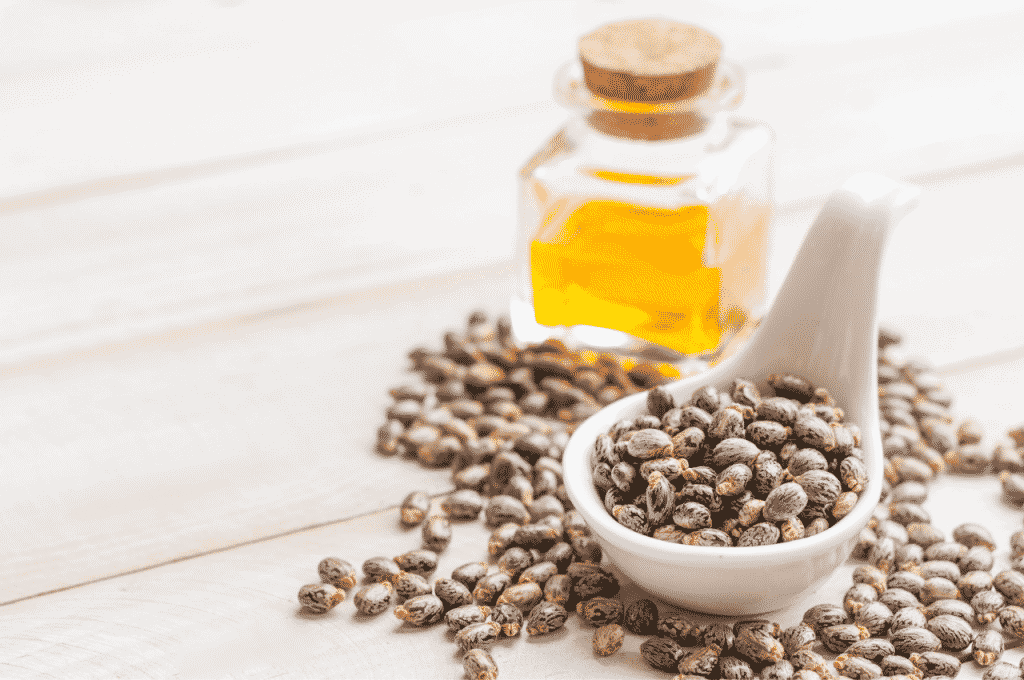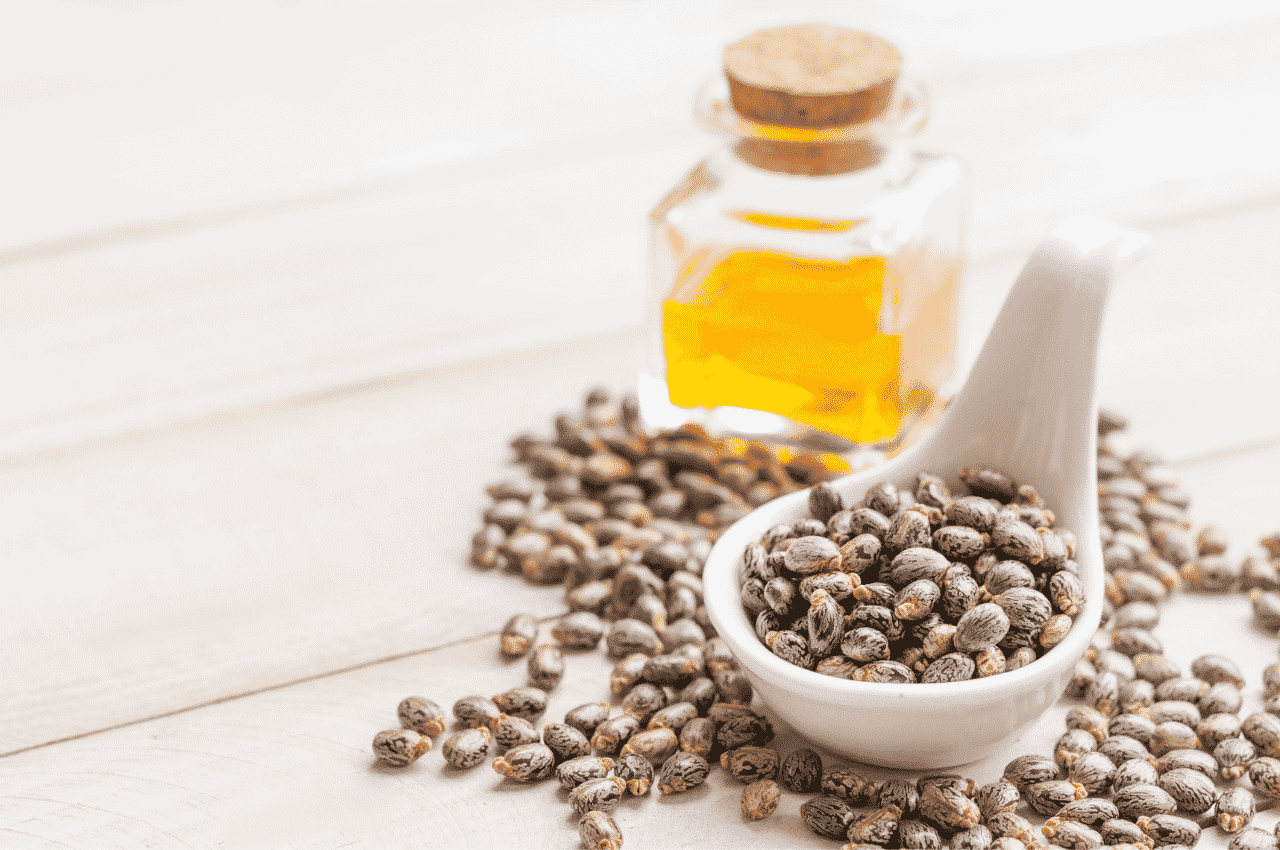 4. Argan Oil
Native to Morocco, argan oil is mostly made up of fatty acids, which are great for moisturizing the hair.
The oil is also rich in vitamin E, which can help with repairing and strengthening your locks while adding shine to them too.
Argan oil is known as a "miracle oil" because of its ability to keep frizz away on humid days.
Remember, most products that claim they contain argan oil contain a tiny amount if any at all. So, if you want to reap the benefits of this oil for your hair and skin then make sure that it's 100% pure argan!
Argan Oil Benefits:
Strengths Hair

Moisturising.

Stops frizz.

Adds shine.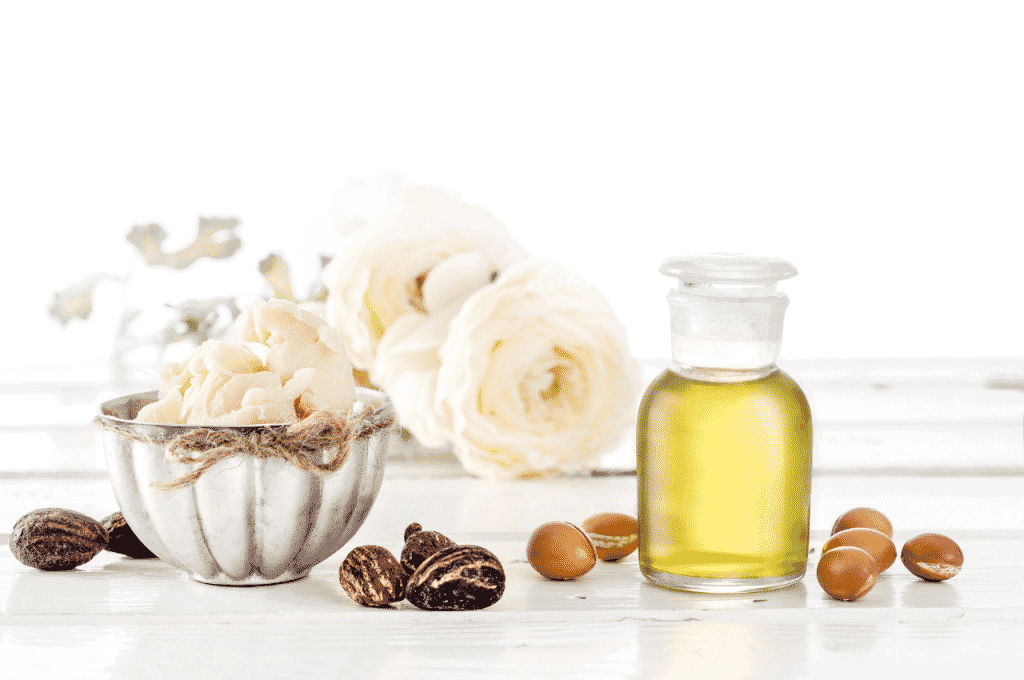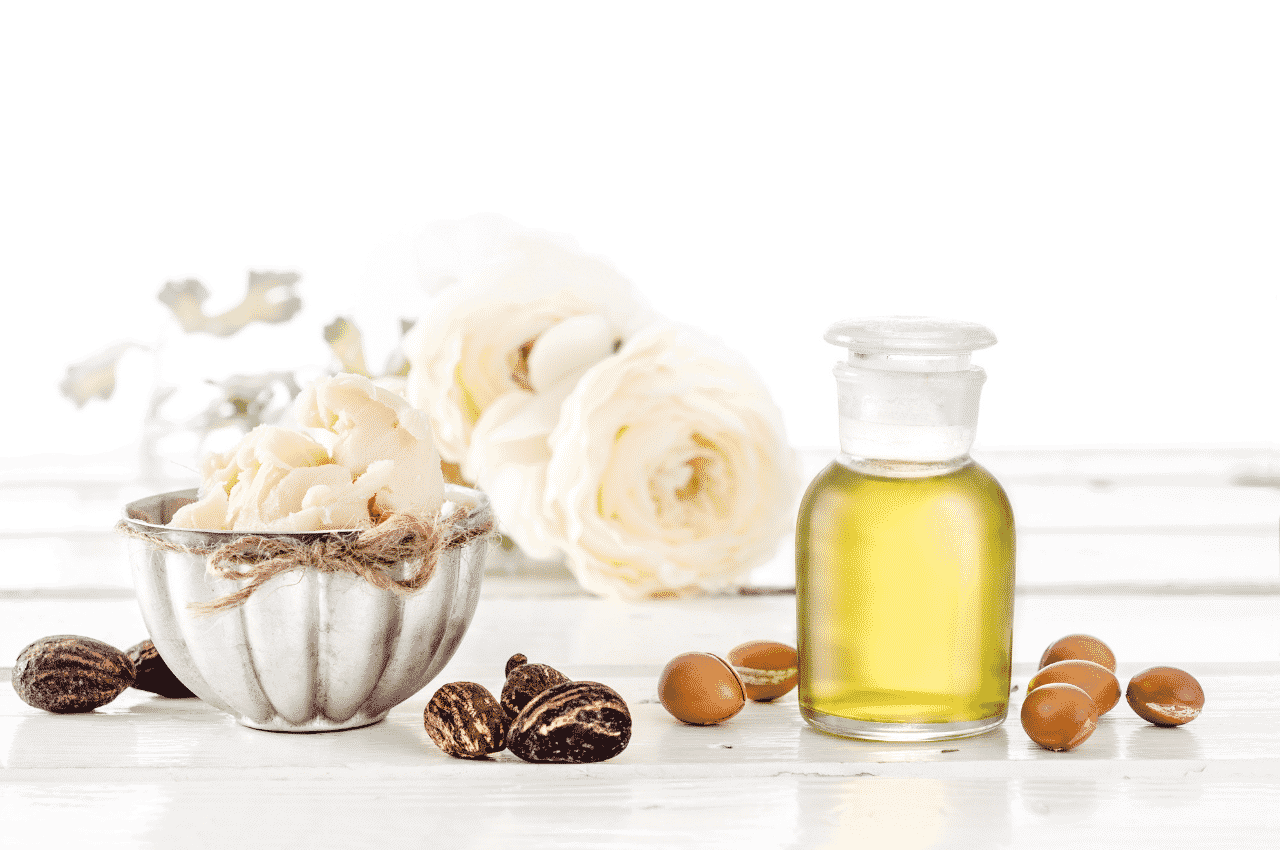 5. Jojoba Oil
Derived from the seeds of the jojoba plant, this oil is a great option for those with dry hair.
Jojoba Oil is made up of fatty acids and has a similar composition to the sebum that our skin produces. This means it's great for moisturizing your hair, which can help with preventing breakage when you're combing or styling them too.
Also known as liquid gold, Jojoba oil is so rich in nutrients like vitamin E, which is an antioxidant essential nutrient found within this natural beauty product. It helps repair damaged locks while adding shine at the same time by coating each strand from root to tip, without weighing down fine strands either.
Jojoba Oil Benefits:
Amazing moisturising properties.

Helps prevent breakage.

Repairs damaged hair.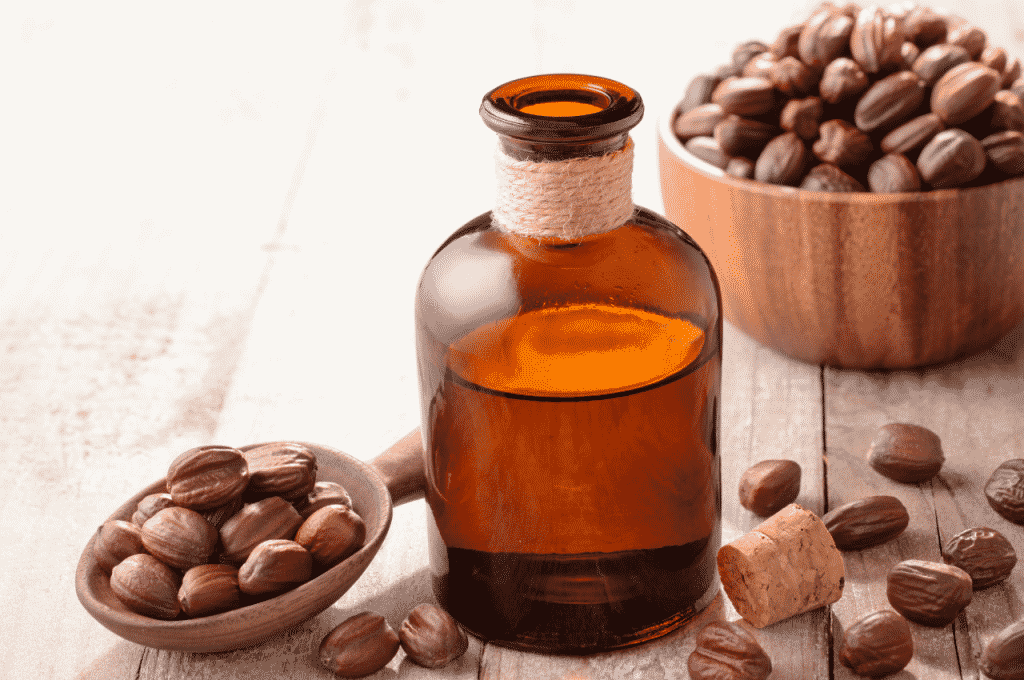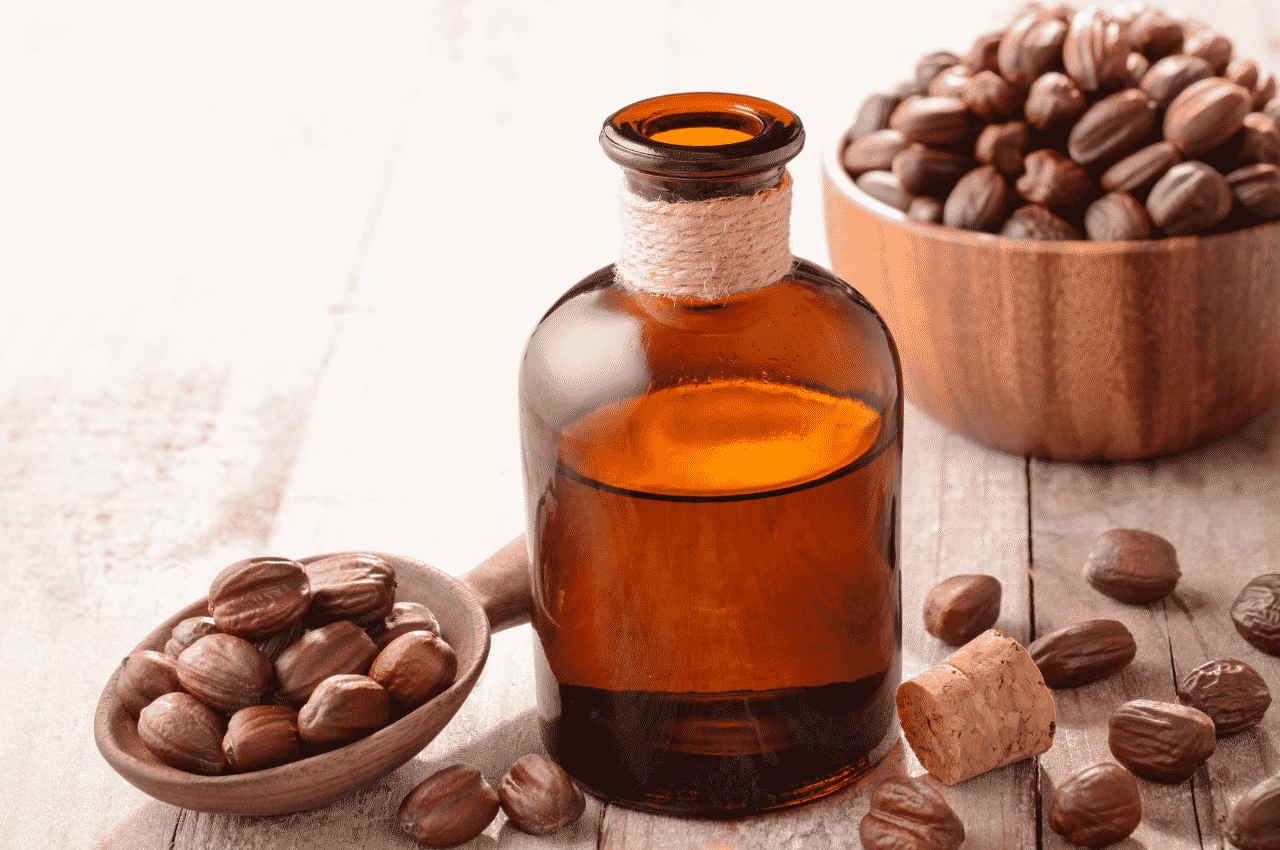 6. Grapeseed Oil
When it comes to hair care, grapeseed oil is a must-have.
It's rich in vitamin E and linoleic acid which helps to moisturise your locks while also preventing breakage when you're combing or styling them too.
Grapeseeds are packed with Vitamin A and C, so they can help nourish the scalp from root to tip. This means that it will make sure that those pesky dry patches on top of your head won't show through at all either.
Grapeseed oil can help loosen any dry skin you may have on your scalp, which will make it easier to remove. It's also a great way of helping you get rid of any dandruff problems that may be causing an issue for those with sensitive scalps too!
Grapeseed Oil Benefits:
Prevents breakage.

Helps nourish the scalp.

Helps prevent dry patches.

Great for those with sensitive skin.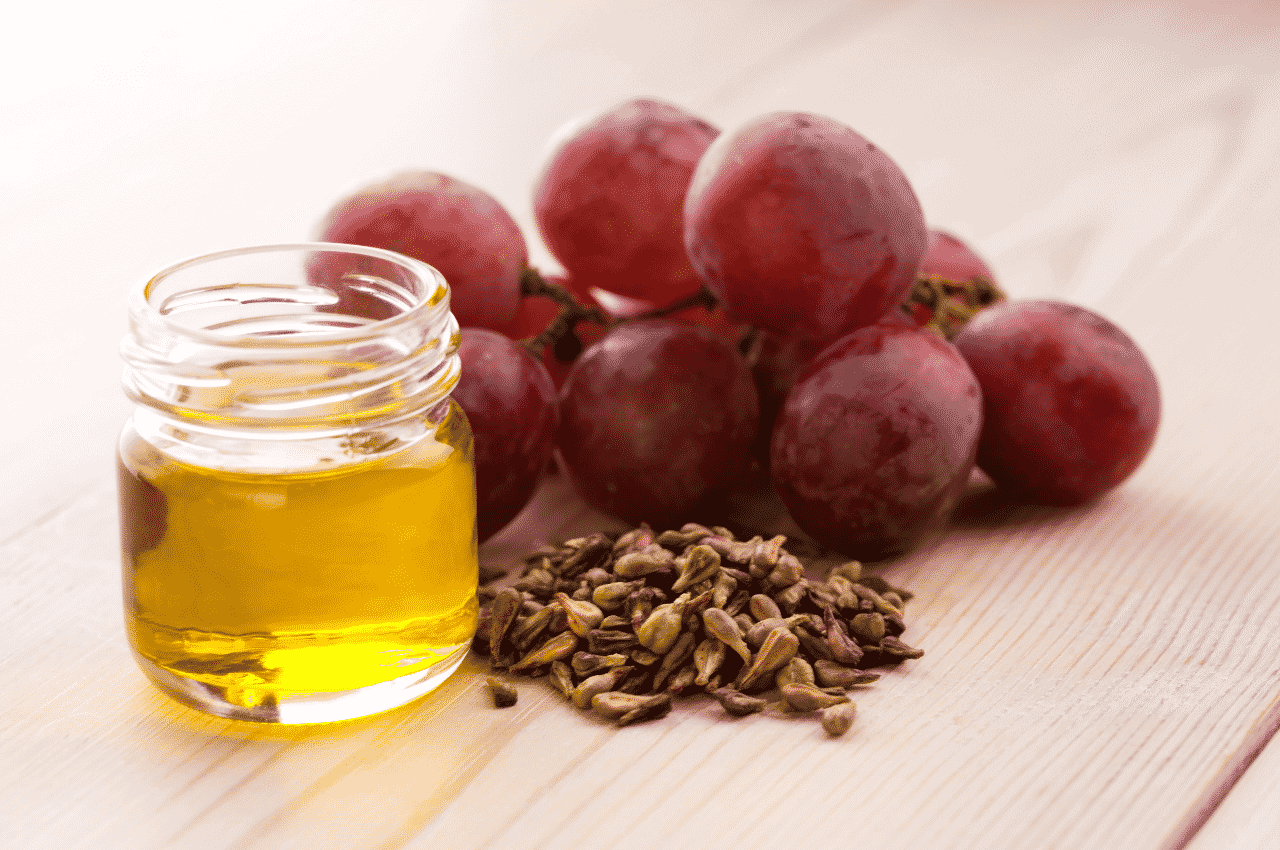 ---
FAQs – Questions You May Have
What does sebum do?
Our hair actually produces its own oil called sebum. This is the oil that keeps our hair moisturized and healthy. However, sometimes it's not enough to keep your locks looking their best! That's where natural oils come in handy – they are a great way of supplementing sebum production for those who have dry or damaged strands from heat styling tools like flat irons and hair dryers.
What's the difference between a hair oil and a hair serum?
Although very similar, hair oils and hair serums are indeed different. Hair oils are usually thicker and contain a higher concentration of natural ingredients. They coat the outer layer of your hair cuticle to impart shine and smoothness.
Whereas hair serums tend to be lighter in texture, they are emollients that penetrate deep within the hair shaft to repair damage and soften it. An emollient is a substance that softens or soothes the skin.
Hair Oil Benefits:
Helps prevent frizziness while also helping you get rid of any dandruff problems.
Coats the hair shaft with a protective layer that will help your hair retain moisture.
Helps to keep the cuticle closed, which prevents breakage and split-ends from occurring.
Hair Serum Benefits:
Prevents hair breakage from heat styling tools by sealing the cuticle layer together with your strands' outermost layers.
Helps nourish damaged ends that may have split-ends due to too much time spent under harsh weather conditions or heat from styling tools.
Helps to reduce frizziness.
What natural oils stimulate hair growth?
The best oil for stimulating hair growth is castor oil.
Castors are a great source of vitamin E, which is known to stimulate hair growth and help prevent breakage too. t's also packed with omega-rich fatty acids that can make your locks look shinier than ever before – perfect for those who want their mane looking its best at all times without having the need to use any harsh chemicals on it either.
What natural oils promote a healthy scalp?
Grapeseed oil is probably the best oil for promoting a healthy scalp. This is because it's packed with antioxidants that can help nourish the scalp and make it healthier.
It also has a high concentration of linoleic acid, which is known to promote hair growth too. So if you're looking for an oil-based treatment or serum then this could be your best bet!
What are the best natural ingredients for hair?
So many hair care products are packed with harsh chemicals that can damage your hair and scalp, which is why it's important to look for natural ingredients.
Natural oils are a great way of getting the best benefits from what you put on them – they're packed with vitamins that will help nourish both strands as well.
Here are a few other great natural ingredients that can help with taking care of your precious locks:
Aloe Vera – Beneficial for the scalp and hair follicles.

Coconut Oil – Helps to seal in moisture and prevent breakage.

Olive Oil- A great natural moisturizer that can also help with hair growth.

Lavender Oil – Helps to soothe the scalp and hair follicles.

Castor Oil – A natural humectant that can help with dryness.

Honey – Rich in antioxidants that can combat hair damage.
What is the best homemade hair moisturizer?
Many people with dry hair have found that using a home remedy is the best option for their issue.
However, not everyone finds that this is enough and some moisturizers may be necessary to get your natural locks back on track.
If you're looking for a new alternative, here are 3 different ways of making a homemade hair care mask:
Apply avocado oil directly onto your scalp in circular motions – This is a great natural moisturizer that can also help with hair growth.

Mix 1 tablespoon olive oil into 1 cup coconut milk – This will help with conditioning your hair.

Use honey as a conditioner by applying it generously from root to tip before wrapping up in plastic wrap overnight and rinsing out the next day (repeat if needed) – This will help with dryness and frizz.