We all want to have glowing, clear skin. Many products on the market claim they can do just that, but there is nothing like making your own homemade DIY face serum for natural and healthy-looking skin! In this blog post, you will learn how to make a DIY face serum by following these easy steps. This recipe is made with ingredients from your kitchen pantry, and it's simple enough for anyone who wants to try it out!
Disclosure: Some of the links in this post are affiliate links. If you go through them to make a purchase I will earn a commission. Keep in mind that I link these companies and their products because of their quality and not because of the commission I receive from your purchases.
---
What Is a Face Serum and What Does It Do?
A face serum is a skin-care product that helps to reduce the appearance of fine lines, wrinkles and other signs of aging. It is applied in a thin layer under face moisturizers. Face serum ingredients work together to produce collagen, which keeps your skin hydrated by giving it elasticity and firmness while also preventing damage from free radicals.
Why Should You Use a Face Serum?
Face serums are great because they give your skin a plump and youthful appearance without the use of heavy moisturizers. They are also easy to apply, lightweight and don't have an oily texture that can clog pores or make you break out.
Face serums can help give your skin a glowing look and feel and are great for sensitive skin types.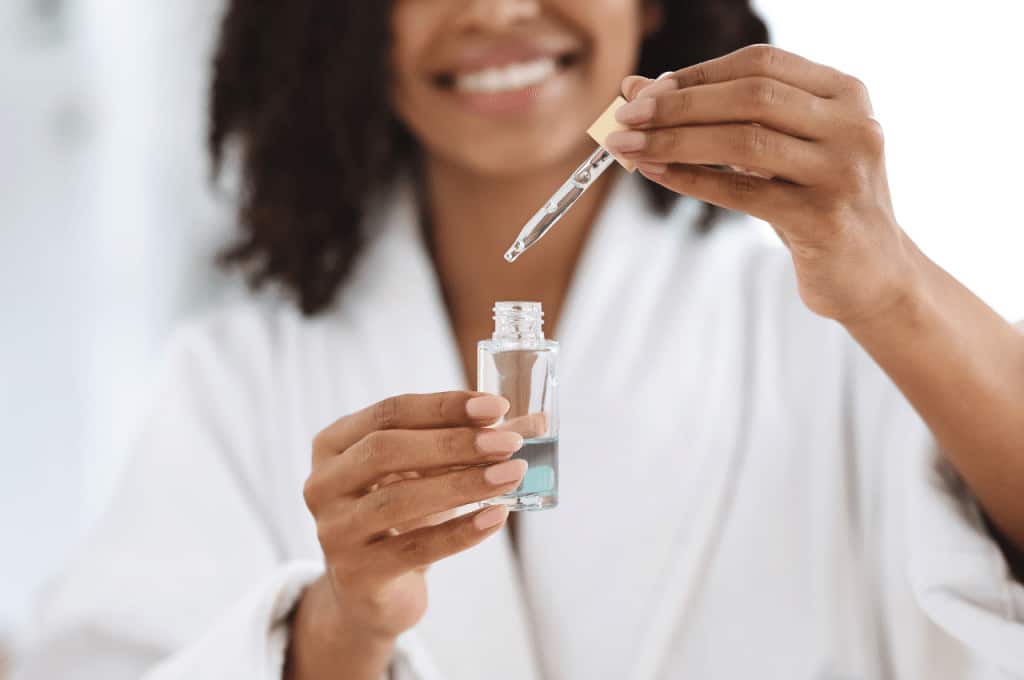 ---
How to Make DIY Face Serum
Carrier Oils
Carrier oils are a must when creating your own DIY face serum because they will hold the other ingredients together. They can be made of many different oils and should be chosen based on your skin type.
Jojoba Oil
Best for those with normal or combination skin but can be used for all skin types.
Jojoba oil is a natural moisturizer that can balance the production of sebum in your face. Sebum helps create collagen and elastin, which help keep your skin firm and youthful-looking.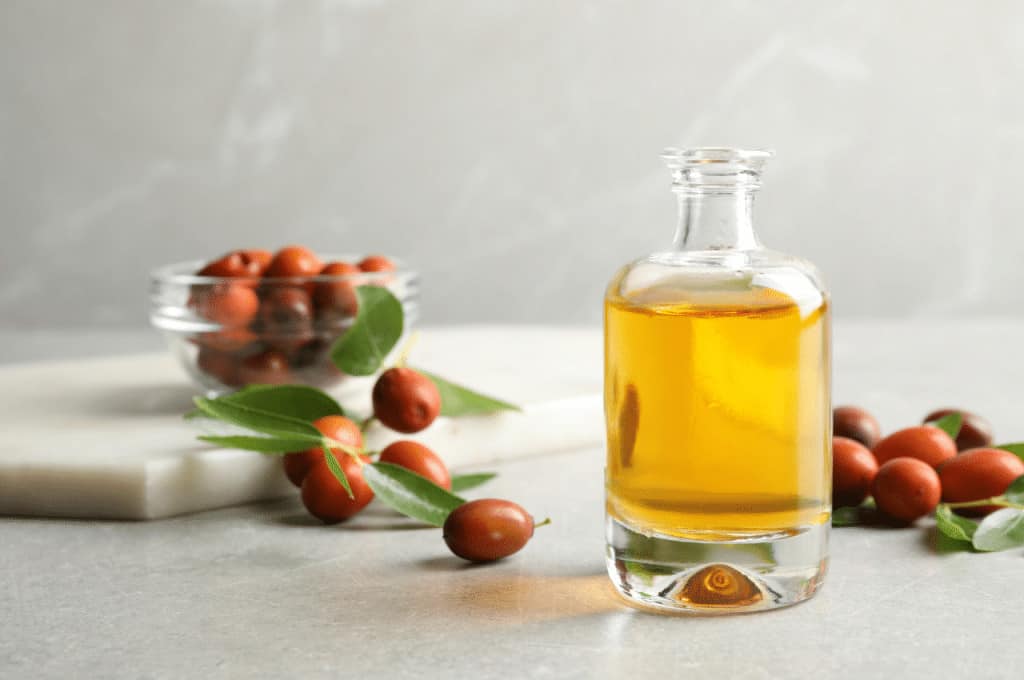 Argan Oil
Good for those dry and ageing skin that needs more hydration.
Argan oil is high in oleic and linoleic acids, which helps with moisturizing without clogging pores.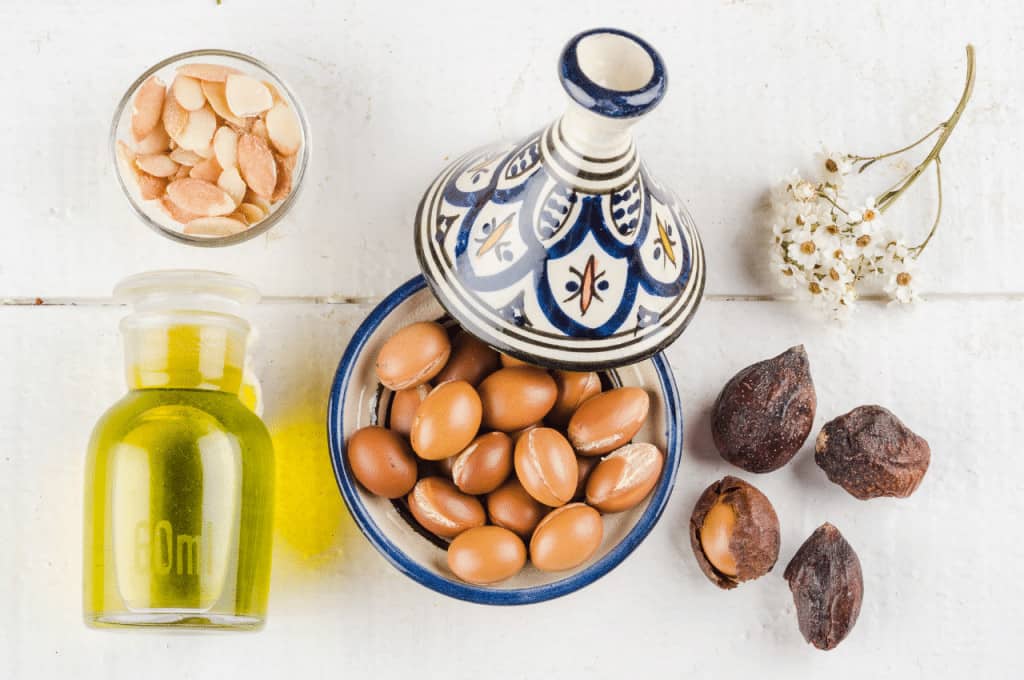 Grapeseed Oil
Good for most skin types.
Grapeseed oil is a good addition to homemade face serum for clear and glowing skin because of its high linoleic acid content.
Grapeseed oil also helps tighten pores and reduce the appearance of scars, so I occasionally add a bit of this into my mixture.
It works best mixed with other carrier oils to get specific benefits.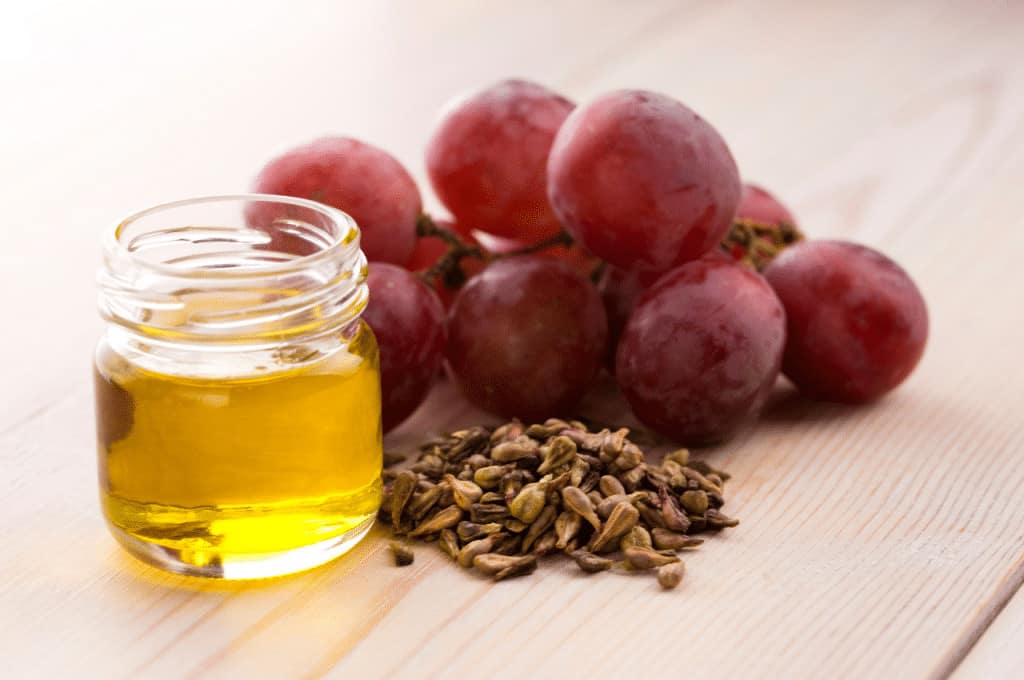 Figuring Out Your Skin Type
Most people know what skin type they have, but it can be difficult to tell at times, especially when your skin is in a dry phase.
If you want to know what skin type you have, try this experiment. Wash your face and let it air dry without using any products or lotions. If your skin feels tight, has a dry appearance, and doesn't appear oily at all, your skin is most likely sensitive (whether it be sensitized/natural-sensitive) or normal).
However, if there is a noticeable sheen to the surface of your skin after washing and drying off with a towel, then it's probably safe to say that you have an oily complexion.
If you are still unsure about what kind of skin type you have, you can also ask yourself these questions:
Do I get oily throughout the day?
Is my face sensitive to cold and windy weather?
Am I prone to breakouts?
These factors might help identify which type of oil you should use for your homemade DIY serum. If not, it's always best to experiment with different oils until one works well on your particular skin!
How To Pick The Right Oils For Your Skin Type
The key to using face serum is to find the right one that matches your needs in terms of ingredients and price. There are formulas made with natural or organic ingredients, making it a better option than some of the other products on the market because they contain fewer chemicals. Organic serums also use botanical extracts instead of artificial fragrances, dyes, or preservatives.
If your skin is oily, you might prefer a serum containing silicones, which will help reduce shine and leave the skin feeling softer and smoother. A creamier formulation may be better at night, so it doesn't cause any problems with makeup application in the morning.
If your skin is sensitive or dry, look for formulations with moisturizing ingredients like shea butter or aloe vera. This can help give hydration without adding oiliness to the texture. If you want a matte finish on normal/oily skin, opt for an oil-free formula because they contain fewer drying agents.
Best Face Serum Recipe For Glowing Skin
This recipe for homemade DIY face serum is great if you're looking to get glowing skin that doesn't have any harmful ingredients found in many skincare products on the market. Make sure you know your skin type before making a decision, but this DIY face serum should work well on most people and provide them with a healthy glow instead of an artificial one.
Ingredients:
Directions:
Mix all of the ingredients and pour them into the glass container.
Apply 2-3 drops of the serum to clean skin on your face and neck, avoiding the eye area and massage well.
Repeat every morning.
Use within 6 months.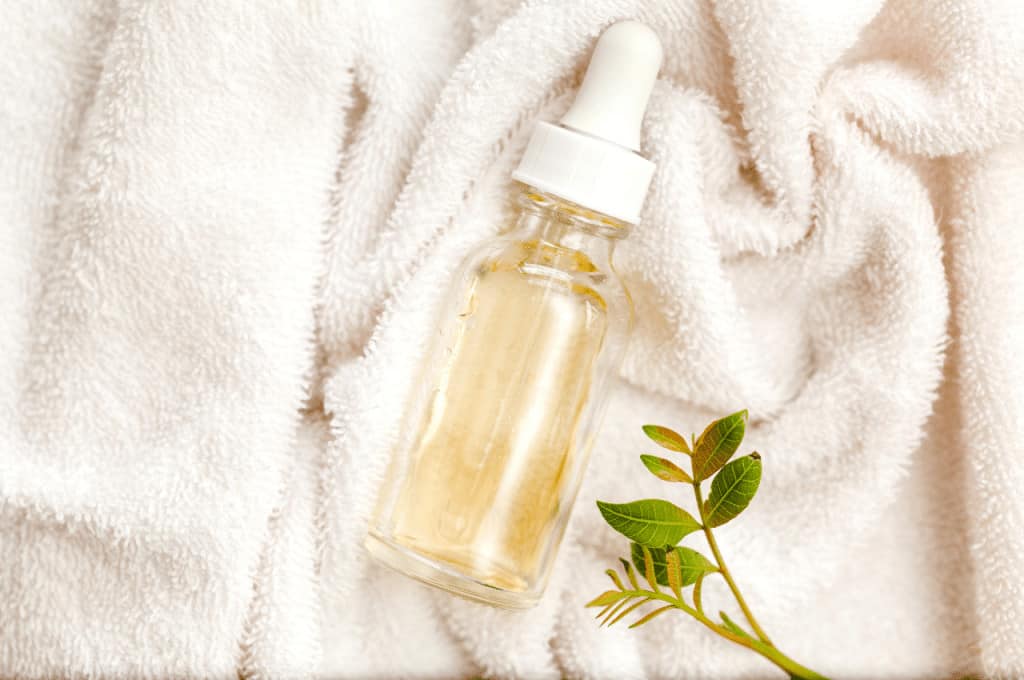 How Often Do You Apply The Face Serum?
It's best to apply the face serum once a day to avoid clogging the pores.
The ideal time to apply serum is at night because it will be able to work its magic on your skin overnight so you can look fresh-faced in the morning! However, if you need a boost during the day, applying some under makeup may help.
---
Best Face Serums On The Market Today
Best Overall
Antioxidants are the key to great skin. They help protect your skin from free radicals, which cause premature aging and wrinkles.
But most antioxidants in skincare products don't absorb well into the skin. And those that do often have a short shelf life, so they lose potency before you can use them up. 
Mad Hippie Vitamin C Serum is an ultra-stable form of Vitamin C that absorbs quickly, penetrates deep into the dermis and lasts for months without losing its effectiveness. This serum protects against sun damage with potent antioxidants, as well as reduces redness and blemishes.
Click here now and order your own bottle of Mad Hippie Vitamin C Serum before they're all gone!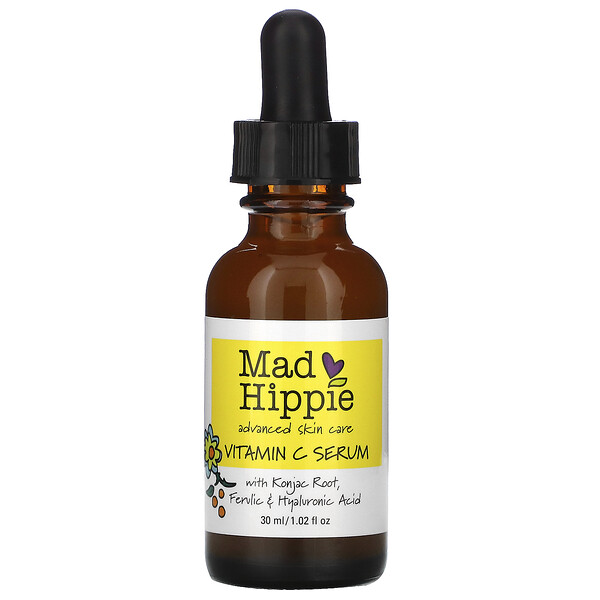 Top Features
Tighten, brighten and smooth the skin.
Reduce sun damage over time. 
Get a glowing complexion in no time!
Best Retinol Serum
Looking for a night serum that will help you look more radiant and youthful?
Peter Thomas Roth Retinol Fusion PM Night Serum is an innovative, time-released formula that delivers 1.5% Microencapsulated Retinol to the skin all night long. It's infused with Vitamins C and E, which protect against environmental aggressors like pollution and free radicals. This moisturizing formula suits all skin types – so it's perfect for anyone who wants to improve their appearance in the morning!
You deserve a product that works hard for you while you sleep – your skin deserves nothing less than the best.
Give this serum a try today. Click here to purchase now!
Top Features
Increase cellular turnover and repair skin damage.
Reduce the appearance of fine lines and wrinkles. 
Look more youthful and radiant in the morning.
Best Anti-Aging Serum
Do you want to look younger?
L'Oreal Paris Revitalift Face Serum is a dermatologist validated, anti-aging plumping serum that intensely hydrates and locks in moisture for dewy-looking skin. It's clinically proven to reduce wrinkles by up to 10% after just one week of use. Experience the power of this lightweight yet powerful formula that instantly plumps your skin from within.
You deserve the best! With this serum, you can experience softer, smoother and more radiant-looking skin without irritation or dryness. This product will make it easy for you to achieve the perfect complexion with its fast-acting results and long-lasting benefits. Get ready for compliments on how great your skin looks!
Click here now and try out L'Oreal Paris Revitalift Face Serum today!
Top Features
Improves the appearance of fine lines and wrinkles.
Instantly plumps skin to reduce the look of age spots, dark circles, and puffiness.
Skin looks smoother and softer in just one week.
Best Serum For Acne-Prone Skin
Have you been looking for a natural serum that will soothe your skin?
The IUNIK tea tree relief facial serum is formulated with non-irritating, alcohol-free and natural ingredients. It provides an all day long moisturization without clogging pores or a greasy, sticky feeling. This moisturizing formula with tea tree water will be absorbed deeply through the layers of skin without irritating the skin. The facial face serum helps to restore hydration and healthy skin tone.
If you're looking for an all-day-long moisturization that won't irritate your acne skin, this is it!
Get your hands on this soothing serum today by clicking here!
Top Features
Natural ingredients that won't irritate your skin.
Deeply hydrating without clogging pores or feeling greasy.
Soothing and calming for acne skin.
Best Serum For Dry Skin
Dry skin is no fun. It's uncomfortable, itchy and can even lead to more serious skin conditions like eczema.
CeraVe Hyaluronic Acid Serum is a lightweight facial serum that blends seamlessly into skin and can be applied alone or underneath a moisturizer. This refreshing gel-cream formula contains 3 essential ceramides, our highest concentration of hyaluronic acid and vitamin B5. It's developed with dermatologists to replenish skin's hydration while helping to improve the appearance of dry lines for instantly smoother, softer skin.
You deserve the best possible care for your dry skin. Give your face the moisture it deserves by using this product every day. Your friends will notice how radiant you are in no time!
Click here to purchase now on Amazon!
Top Features
Helps restore the skin's natural moisture barrier. 
You'll have a radiant, healthy glow.
Your skin will feel more hydrated, less itchy, and healthier overall.
Best Serum For Sensitive Skin
Sensitive skin? We've got you covered.
Aveeno Calm + Restore Triple Oat Hydrating Face Serum is a gentle facial serum that helps soothe dry, skin and fortify its moisture barrier. The hydrating face serum absorbs quickly and leaves skin feeling soothed and hydrated after just one use.
You won't regret trying this product because it will leave your face looking radiant while giving you all-day protection against environmental aggressors like pollution or harsh weather conditions. It's also formulated without fragrances or dyes, which makes it perfect for sensitive skins too!
With this soothing formula from a dermatologist-recommended skincare brand, your skin will feel hydrated in no time.
Click here to purchase Aveeno Calm + Restore Triple Oat Hydrating Face Serum today!
Top Features
Moisturizes your skin all day. 
Soothes sensitive skin. 
Leaves your face feeling soothed and hydrated for a radiant glow.
---
FAQs
Can I use essential oils in my serum recipe?
Yes, you can use essential oils, but it's important to remember that they are very potent and strong.
Although you can apply some essential oils directly to your skin, I'd be wary of doing this if you have sensitive skin.
It's usually best to mix the essential oils with a carrier oil when you plan on using them twice a day.
Do I really need a face serum?
I would always recommend using a face serum because they are a great way to protect your skin and maintain it in the best condition possible.
As well as protecting you from daily aggressors that may cause breakouts or other skin concerns, it should also reduce redness caused by blemishes and leave behind a clear, bright complexion.
If you want really smooth skin, then this is one of the quickest ways to get there! Face oils provide good hydration, too, while at the same time helping remove excess oil on your face.
Can face serums be used daily?
Yes, it's always best to use your serum daily. As well as protecting your skin, this will also help to keep it in the best condition!
Can face serums cause acne?
You may experience acne or breakouts if you start using a face serum.
If this occurs, I'd recommend you stop using the serum because you could be allergic to the ingredients.
It's always best to speak to a dermatologist before starting a new skincare product if you have sensitive skin.
Can I skip serum and use moisturizer?
You don't have to use a serum if you don't want to, but it will improve your skin.
No matter what, you should never skip using a moisturizer because it is the best way to prevent dryness and aging.
We recommend using a moisturizer with sunscreen because it protects from environmental damage as well!
Do I need both serum and moisturizer?
As mentioned above, you don't have to use both products, but it will improve your skin and prevent dryness.
Most people find it easiest to use the serum in the morning before makeup or at night, while they would typically use a moisturizer throughout the day.
The best way to know what works for you is just experimenting with different routines!
---
Final Thoughts
Now that you know the ingredients get to work and whip up your own DIY serum for glowing skin. Let us know how it goes for you in the comments below!