Not Pot is a great place to start if you're new to CBD gummies. The best part about them is how effective they are! Whether you're using them as a beginner or as a regular customer, they have made things easy for their customers at every stage of the way. However, I found it disappointing that there was only one dosage option though, so hopefully, they'll add some more options in the future!

No published lab test results.

Use coupon code: NPFREESHIP at the checkout to receive free shipping.
The modern trend of CBD has taken the world by storm, and as someone who has trouble relaxing and going to sleep, I decided to give CBD a try. In this article, I wanted to review the socially conscious CBD brand; Not Pot.
There are many CBD brands out there, but Not Pot is one of the most popular. I first heard about Not Pot when I stumbled across their Instagram feed. Their posts had a fun, millennial vibe to them, and their branding stood out.
Disclosure: Some of the links in this post are affiliate links. If you go through them to make a purchase I will earn a commission. Keep in mind that I link these companies and their products because of their quality and not because of the commission I receive from your purchases.
---
Who is Not Pot?
No Pot is a socially conscious CBD brand that aims to help the world by providing a healthier THC-free alternative to other products out there. They pride themselves in creating products that are free from artificial ingredients – and their gummies are even vegan and gluten-free (yes, vegan gummies!)
Not Pot even donates some of their profits to The Bail Project, a non-profit organization dedicated to reforming the justice system and taking on mass incarceration. As part of the program, The Bail Project offers grants for those fighting injustices through bail or other legal fees.
---
Not Pot Review – CBD Orginal Gummies
First impressions
As a vegan, it can be hard finding vegan gummies (trust me, I've looked.) So when I saw that Not Pot gummies were vegan, I was extra excited!
I ordered the original strawberry flavor CBD gummies, which was pretty easy to do. The jar of gummies cost me $30 without shipping costs, and the jar contains 30 gummy bears. The product didn't take long to arrive, about 3 days which is standard shipping time. I was even given a tracking number so I could keep an eye on my package.
When the package arrived, I was excited to try these gummies as soon as possible. Not having tried CBD products before, I wasn't sure what to expect, but the little beard-shaped gummies looked cute AND delicious.
Taste
Not Pot recommends taking 1 gummy bear a day, so that's exactly what I did.
I was surprised to see that Not Pot CBD gummies didn't taste artificial at all – it tasted like real strawberries! They were soft and chewy (definitely gummies and not hard candies), but they were easy to chew and almost dissolved in my mouth.
Effects
Excited but a bit nervous, I took one of the gummies the next day. I waited for about an hour and a half to see if they would kick in, and after waiting patiently, I started to feel more relaxed.
The relaxation feeling came on gradually. It wasn't as if I felt high or anything like that – it felt like you're wrapped up in blankets with a cup of hot chocolate without a care in the world.
The most noticeable effect was definitely how easy it is to relax with these gummies. I love cuddling up after a long day at work and watching Netflix in the evening, but sometimes it's hard for me to turn my brain off. With the Not Pot gummies, my mind was clear and relaxed. It was an enjoyable feeling of calmness and contentment.
It seems that the effect lasts for about 5 hours; enough time for you to settle down and get some real sleep (and dream!) afterward!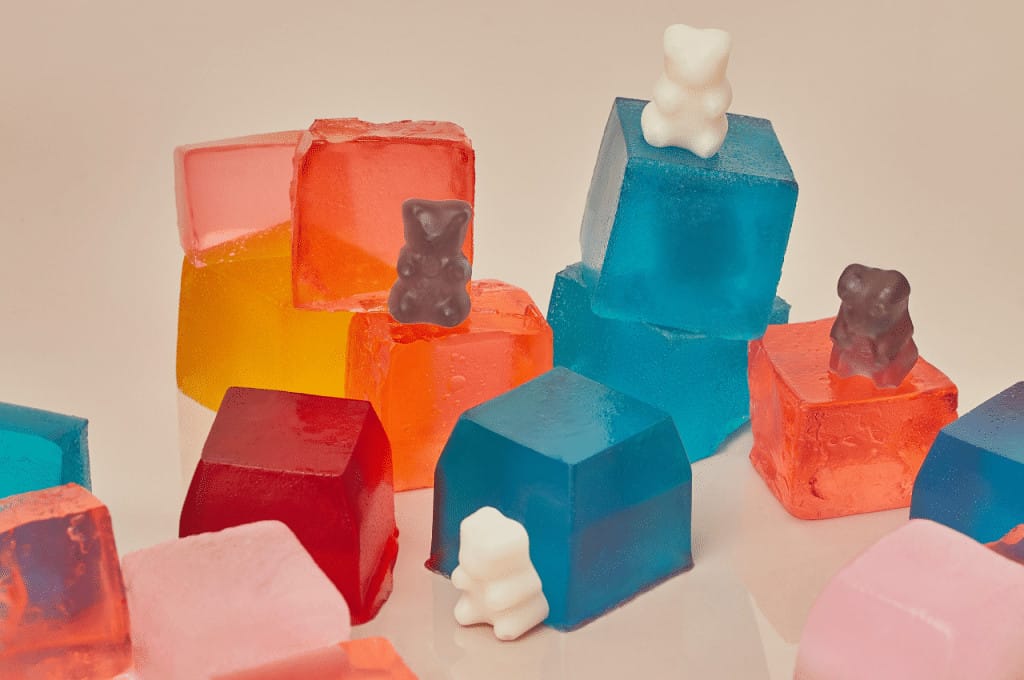 Price
The CBD market is huge with many brands out there trying to cash in on the craze. Unfortunately, many CBD products can cost a lot.
However, I was pleasantly surprised when I found out how reasonably priced Not Pot gummie bears were. For only $30, you get 30 delicious and effective little gummies. The price-per-gummy was a steal (especially considering they're vegan!)
Shipping costs aren't included in the original jar price, so you'll have to factor that into your total.
Product selection
Not only do Not Pot sell the original gummie bears, but they sell a large variety of other CBD products as well. They have CBD body cream, CBD pet oil, CBD bath muscle soak, and a lot more. You can find the full selection on their shop.
As I'm new to CBD, I've only tried the gummies so far. They've been effective in relieving stress and anxiety, as well as inducing sleep – but I'm curious about trying the bath soak next time!
---
Pros – why choose Not Pot?
On point branding
One thing that drew me to Not Pot was the fact that their branding was so on point. The millennial, quirky, almost anime vibe gives the brand a fun, social feel. Oh, and the beard-shaped gummies are cute as hell (and delicious!)
Once you see their branding, you feel like you need their products in your life. Their Instagram page is also a plus – it's fun, entertaining and super aesthetically pleasing.
Partners with The Bail Project
By purchasing from Not Pot, you're able to give back to a great cause by donating to The Bail Project. The Bail Project takes action against mass incarceration and helps people who can't afford bail. Not Pot donates a percentage of their profits to this organization, which means that you can feel good about buying CBD from them!
Natural ingredients
All of Not Pot's products use natural ingredients that you can actually pronounce! That's something that I appreciate because it's hard to find healthy and natural products for an affordable price.
A lot of their products are also vegan and gluten-free, and all of their products are cruelty-free.
Membership with exclusive
Something I really like about Not Pot is the fact that they have a membership program, which most CBD brands don't have.
By becoming a member you can receive exclusive perks, as well as a discount of $4.20 on each product you buy. This is great for those who order from Not Pot regularly.
Great customer experience
There's nothing worse than buying a product that doesn't work, right? Well, luckily customer satisfaction has been a top priority for Not Pot.
Not only is their website is full of positive reviews from customers, but they are easy to contact if you have any issues with your order or if you just want to make a suggestion.
---
Cons – what could be better?
Limited dosage options
Most CBD brands offer products with different dosages. For the most part, Not Pot only offers one dosage option for their products, which could be limiting for some customers.
It would be great to see Not Pot expand their product line to offer products with different dosages.
No published lab test results
When looking at some of the bigger brands of CBD oil, they all publish their lab test results.
Unfortunately, Not Pot doesn't share this information about their products. This means that you don't know what percentage of CBD is in each gummy. However, it's important to keep in mind that most CBD companies are not required by law to publish lab test results.
---
Overall
As someone who has never tried CBD products before, Not Pot are a great place to start. They have a great selection of fun and cute products that are also really effective. Whether you're just trying them out or you want to be a regular customer, they have made things easy for their customers at every step of the way.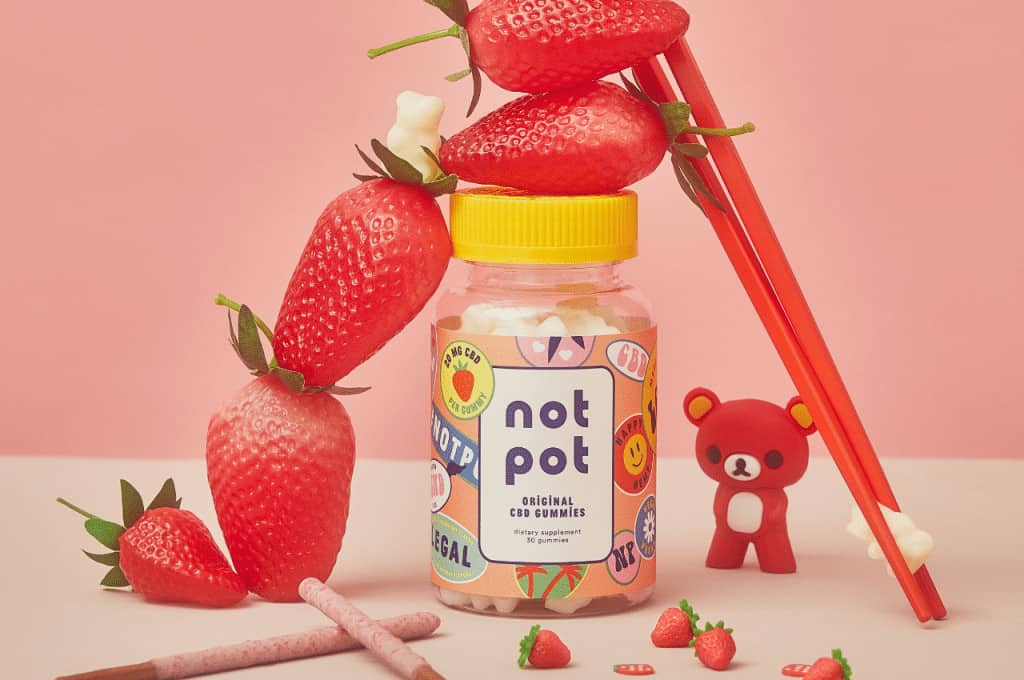 What I loved
The best thing about Not Pot's CBD gummies is the fact that they actually work. As someone who was skeptical about CBD, this one has definitely been a game-changer for me. I will continue using their CBD gummies as part of my unwind and relax routine in the evenings.
I loved that the gummies were vegan and cruelty-free. Vegan gummies are pretty rare, so that was a pleasant surprise!
I also loved Not Pots branding, as it standouts and really helped to draw me in.
What I didn't like
I didn't like that Not Pot only offers the CBD gummies in one dosage option. It would be great to see them offer the gummies in different dosages at some point, even if it was just a few options to choose from.
---
Technical breakdown
| | |
| --- | --- |
| | |
| | $30 / $25.80 if you're a member. |
| | Strawberry and blueberry. |
| | |
| | |
| | 10mg of CBD per 1-pc gummy in a jar |
| CBD Concentration per Serving Range | |
| | Sleep gummies, body cream, ice gel, tincture oil, pet tincture oil, bath soak. |
| | |
| | |
---
FAQs
Is Not Pot legit?
Yes, Not Pot are legit. They have been featured on several health blogs and they also have a pretty impressive social media following.
Is Not Pot vegan?
Most of Pot Pot's products are vegan, which means that no animal products were used in their production. This includes the CBD gummies, which are made from organic ingredients.
What is the best CBD oil for anxiety?
The best CBD oil for anxiety is Not Pot's Multi-Purpose Glow Oil.
This CBD oil can be used on your skin, as an ingredient in your favorite recipes, or taken internally to help with anxiety and pain relief. This product is vegan, has clinical strength, and contains nothing artificial.
You deserve the best of everything this year, so why not start now? Get yourself some glowy skin and calm thoughts with our all-natural, cruelty-free CBD oil today!
Use my coupon code: NPFREESHIP to receive free shipping.
Click here to purchase Not Pot's Multi-Purpose Glow Oil!
---
Final thoughts
Overall, I was really impressed with the CBD gummies from Not Pot! They were a lot more effective than I expected them to be.
The great thing is that they use natural ingredients, and are vegan and cruelty-free! They offer products that are pretty affordable, and I'm excited to try more of their products in the future.
If you are wanting to try CBD products that are affordable and that actually work, then check out Not Pot today!
Use my coupon code: NPFREESHIP to receive free shipping.