Bath soaks are not limited to essential oils and epsom salt. There is a whole range of natural ingredients that can be used for creating your own bath soak recipes at home. So, why don't you try one of these 10 DIY Natural Bath Soak Recipes? Totally natural and good for your skin.
Browse our other bath & beauty content.
---
What is a bath soak?
Bath soaks are often made from bath salts, which are commonly made from magnesium sulfate. For some, adding bath salts or using a bath soak can be used as a tool for pain relief. Mixing bath salts into your warm water may help soothe aches and pains due to muscle tension or arthritis.
Benefits of using a bath soak
Bath soaks are a great way to unwind after a long day. The warm, salty water will relax your muscles and take the stress away from your life. They also help you sleep better at night because they work as aromatherapy.
Bath salt is a type of mineral that provides the body with a healthy dose of magnesium. Magnesium helps to alleviate stress, pain, and promote relaxation. It also can help to regulate blood pressure and balances sugar levels in your body!
Why should you use a homemade bath soak recipe?
You may be wondering, "Is making my own homemade bath soak really worth it?" The answer is absolutely!
Here are three reasons to try it out: firstly, you'll save money by making your own because it's cheaper than store-bought products; secondly, less packaging means less waste; and thirdly, you can save even more money by making your own because homemade detergent lasts much longer.
---
10 DIY Natural Bath Soak Recipes
The benefits of bath soaks are numerous, but they can be a challenge to make. There's the time investment and sometimes it just isn't practical to create them every time you want one. Luckily there are alternative ways that you can enjoy these relaxing baths without all the hassle of making your own soak recipes.
1. DIY Charcoal Bath Salts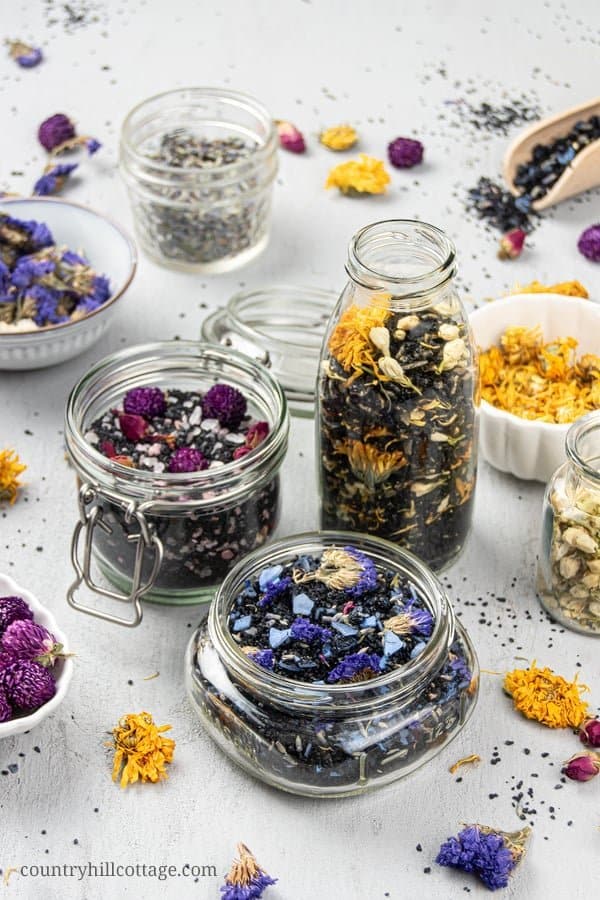 Article image from – countryhillcottage
This 5-minute easy activated charcoal bath will have you glowing and relaxed! See how to make a DIY floral bath soak recipe packed with natural ingredients and essential oils. A black salt bath is excellent for relaxation and stress relief, detox and to soothe sore muscles.
2. DIY Simple Herbal Bath Salts Recipe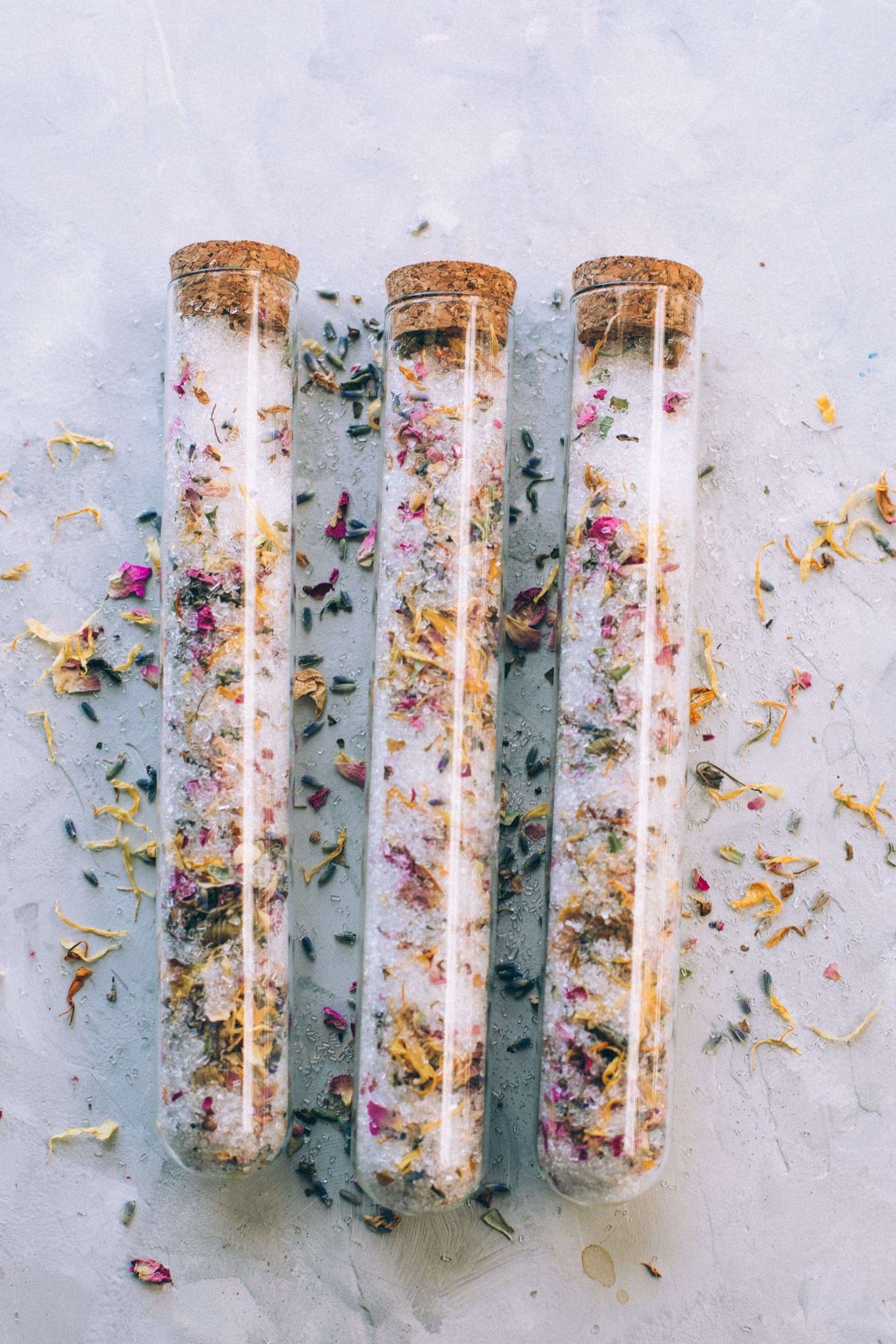 Article image from – mytinylagunakitchen
Making your own bath salts is refreshing and relaxing. Find out how to make your own and enjoy the magic mix when you are finished!
3. DIY Aromatherapy Bath Soak Recipe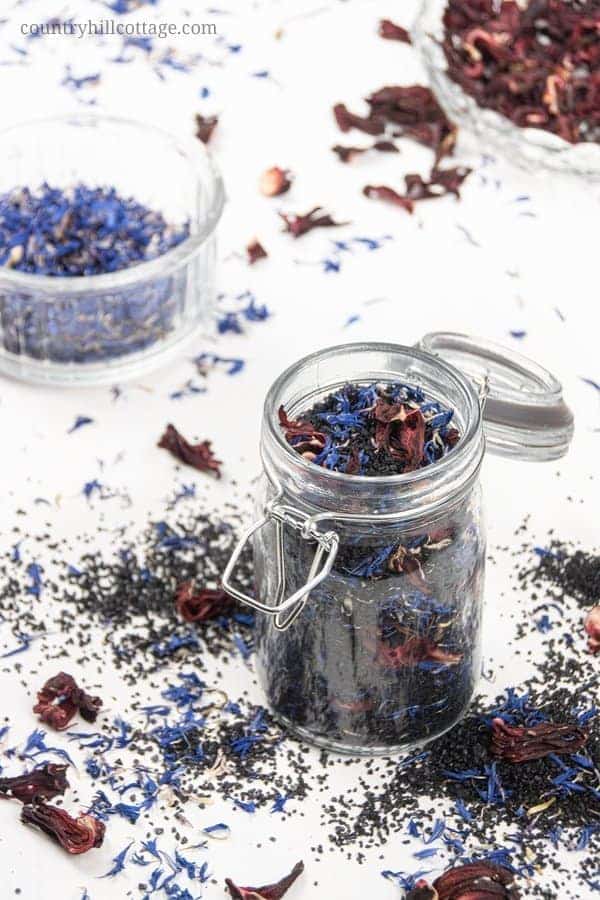 Article image from – countryhillcottage
DIY Hawaiian black lava bath salts are a treat for all senses and perfect to relieve stress and tension! See how to make aromatherapy bath salt that contains minerals and antioxidants to cleanse and detox the skin.
4. DIY Fizzy Juniper Rose Bath Salts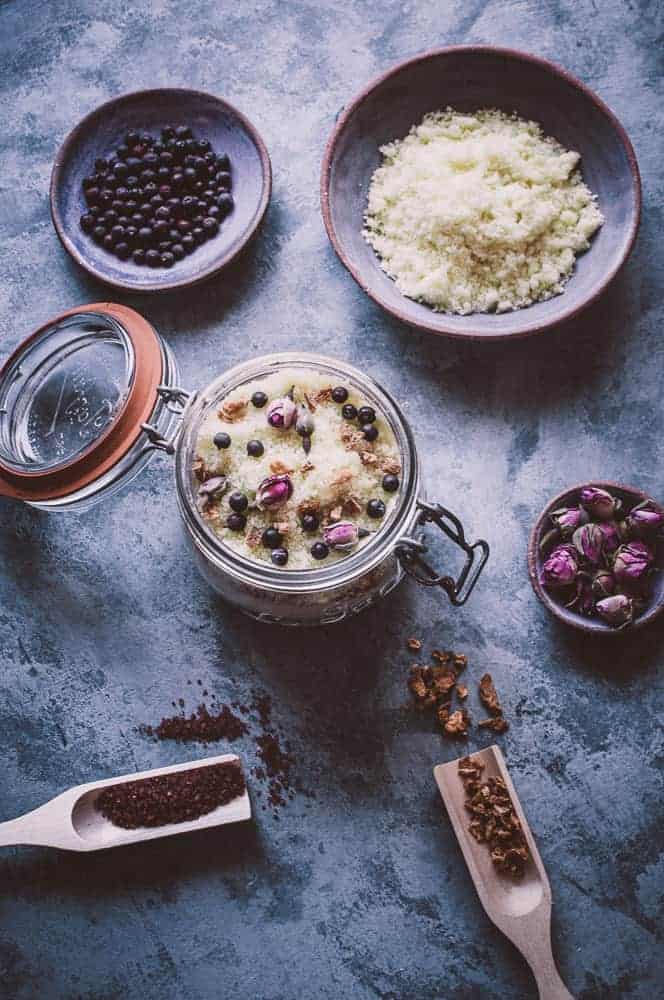 Article image from – moonandspoonandyum
Enchanting DIY Fizzy Bath Salts with hints of Rose, Juniper Berry, Rosemary, Grapefruit, and Aloe. This soul-soothing bath salts recipe not only makes for a fun project but results in super soft and supple skin.
5. Lavender Bath Soak Recipe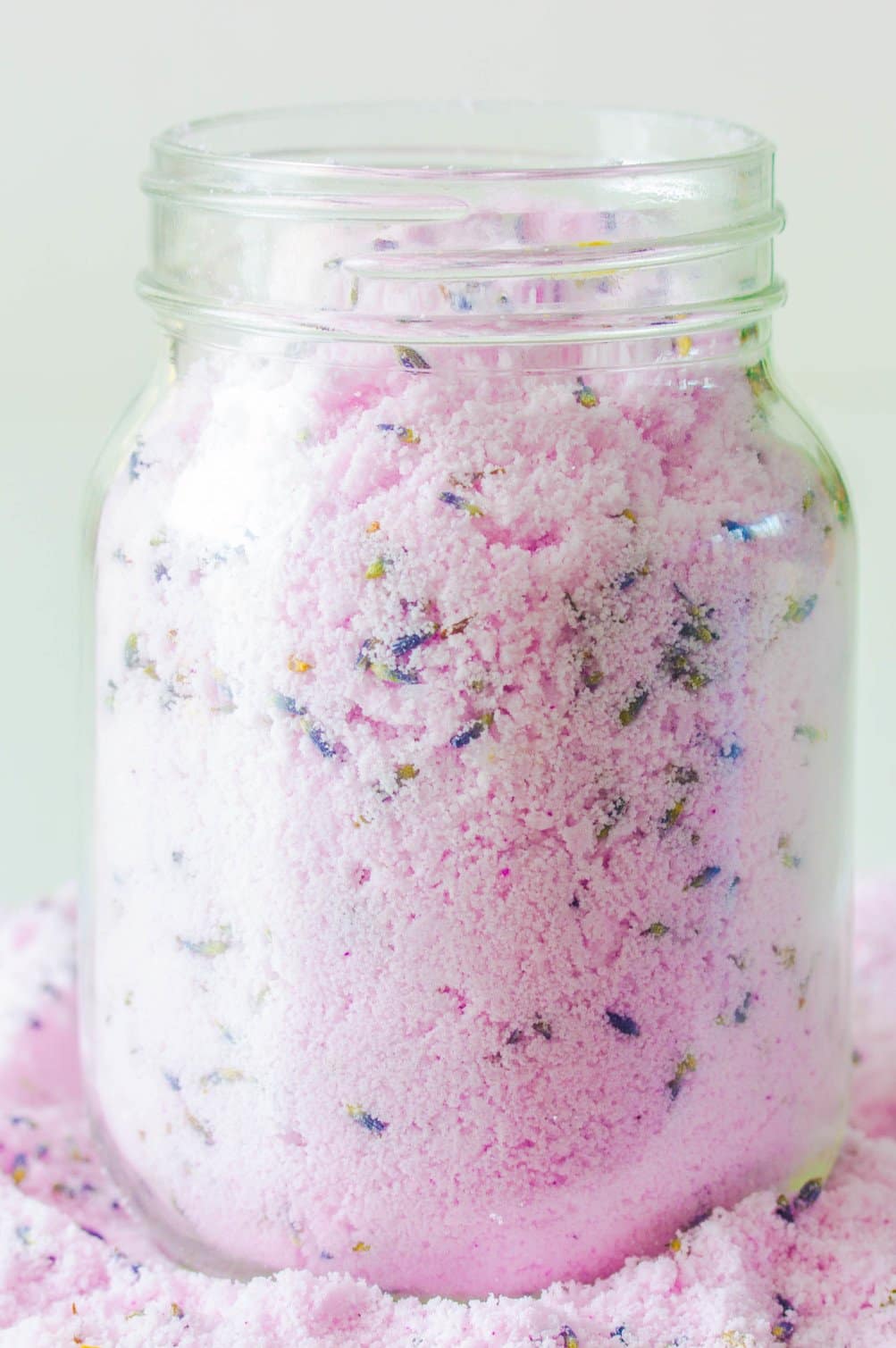 Article image from – savynaturalista
Bath season is upon us and I have so many DIY's to make for this bath season. We are going to start with a lavender bath soak. Lavender is one of those flowers that will always have a special place in my heart. It's so versatile; it can be used as a herb, in cooking and of course in skincare.
6. Relaxing Bubbly Bath Soak Recipe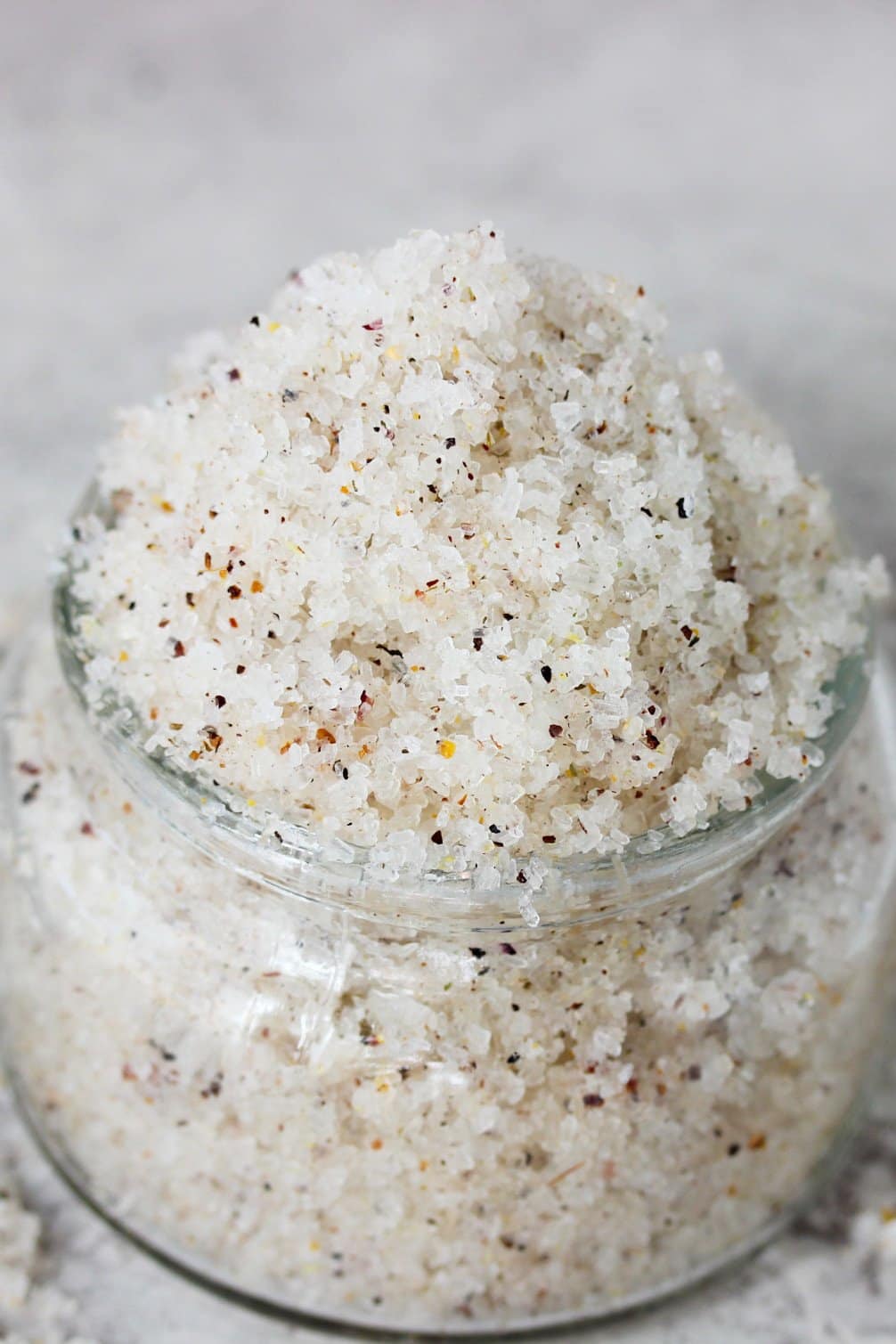 Article image from – savynaturalista
I decided to make this relaxing bubbly bath soak, because once I get off work I can take a nice hot bath and finally relax. As the essential oils reminded me I really should take a chill pill. If you ever have one of those days (where your about to scream) just take a few minutes to enjoy a nice relaxing bubbly bath soak.
7. DIY Lavender Rose Bath Soak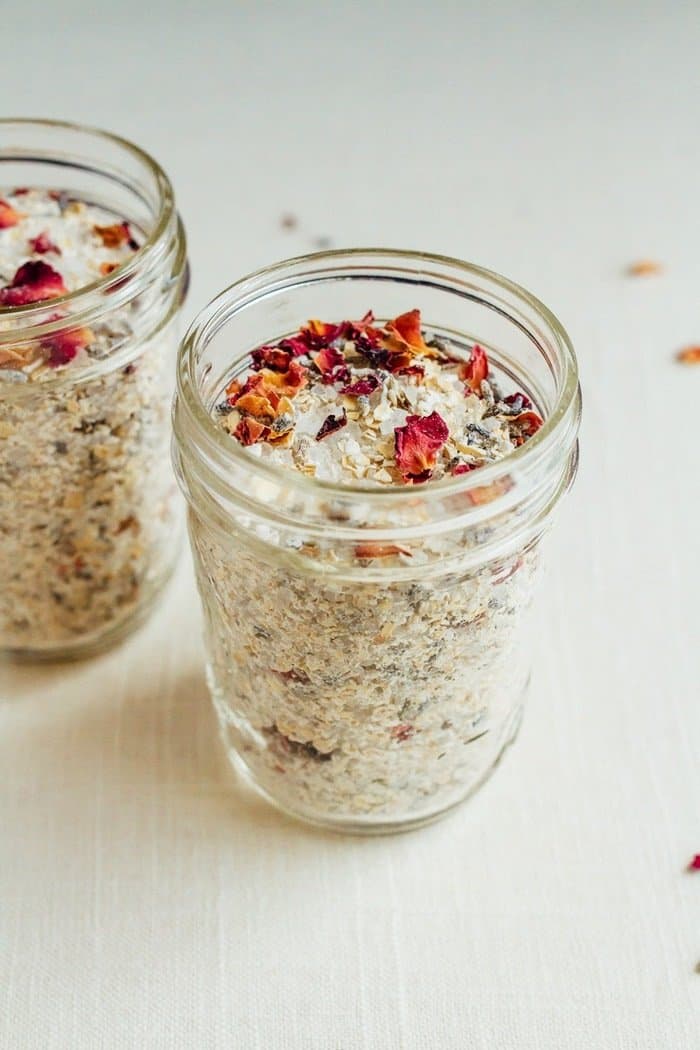 Article image from – eatingbirdfood
This quick and easy DIY lavender rose bath soak turns a regular bath into a relaxing, spa-like experience. Make a batch and treat yourself to an indulgent soak or package the mix into cute jars to give as a gift.
8. Coconut Milk Bath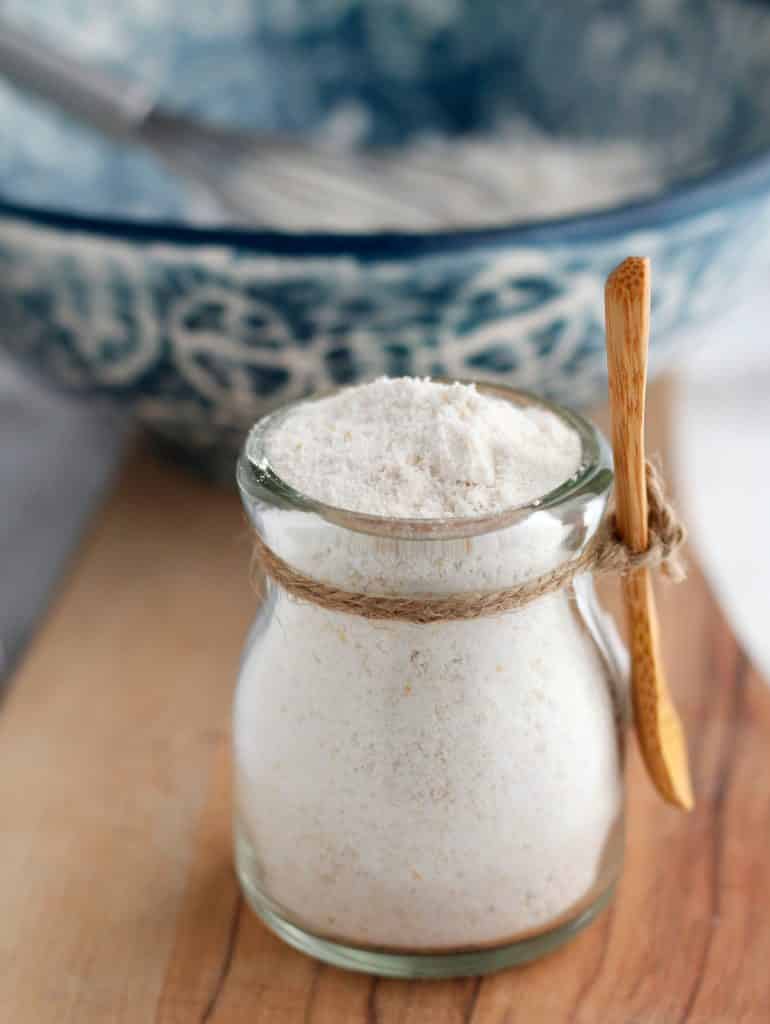 Article image from – tweakandtinker
A luxurious, silky addition to your bath with skin soothing and nourishing properties and a wonderfully relaxing scent thanks to lavender essential oil.
9. Tangerine Bath Salts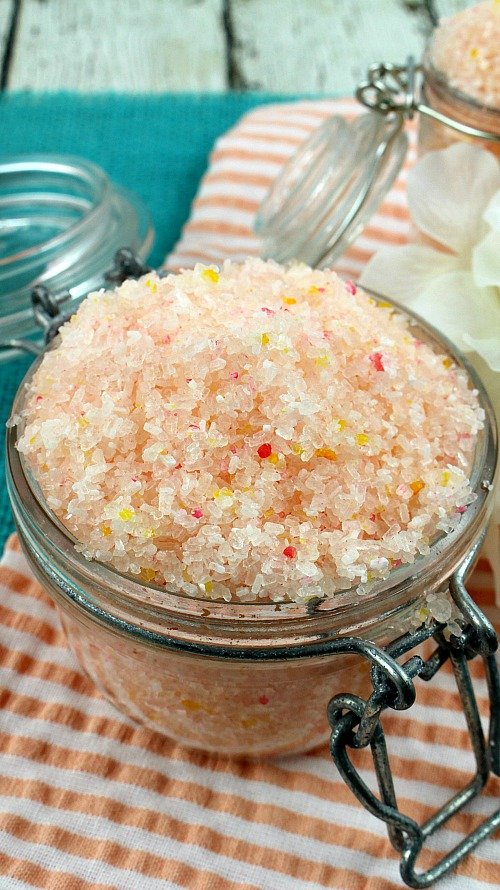 Article image from – acultivatednest
The Epsom salts in this mixture are very helpful at relaxing your body, reducing muscle pain, and detoxing. But the addition of tangerine essential oil makes these salts even better! Tangerine essential oils have sedative properties, helping to calm your body and reduce mental stress.
10. Back Pain Aromatherapy Bath Salts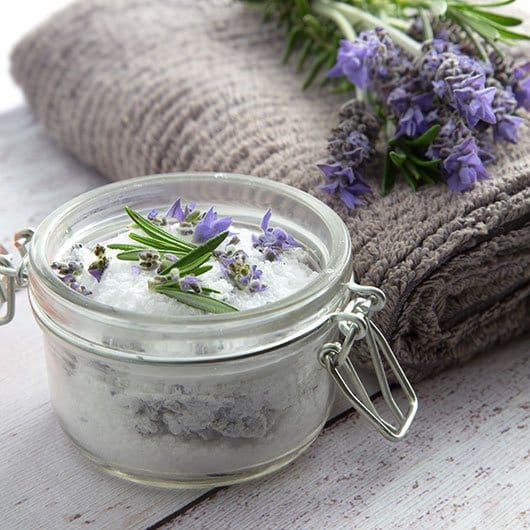 Article image from – omnomally
Use this selection of anti-inflammatory and antispasmodic essential oils in your Epsom salts for a brilliant home remedy for back pain, cramping or tired, sore muscles. 
---
FAQs – Questions You May Have
How often should I use a bath soak?
That is an excellent question! Bathing in a salt solution can be very soothing and provide rejuvenation for the skin. The health of your skin will depend on how often you bathe in a salt solution, but it is recommended that one should do so at least two times per week to maintain healthy skin. So what are you waiting for? Get started now!
What is the best bath soak?
One might ask themselves what the best bath soak is. Some people will say they like to use salt and lemon as one of their ingredients because it's refreshing and smells nice. Others may prefer a more relaxing option such as lavender, eucalyptus, or peppermint oil in their mixture. There are many options available for us to choose from and it can be difficult to decide which is the best choice for you.
My personal favourite store-bought bath salts solution is the Dead Sea Bath Salts by Asutra. When it comes to a natural, homemade bath soak, I love using Epsom salts and lavendar.
Can I put honey in my bath water?
Sure, you can put honey in your bathwater. Honey is a natural humectant, meaning it can help trap moisture so you feel softer. Many people enjoy adding honey to their baths because the antibacterial properties of honey helps fight acne and other skin conditions.
What does a vinegar bath do for females?
A vinegar bath is typically used to help relieve the symptoms of pre-menstrual syndrome, menstrual cramps, and menopausal hot flashes. It also helps regulate these hormones that can lead to pain and discomfort from these conditions. The acetic acid in the vinegar is thought to act as an anti-inflammatory by inhibiting prostaglandin production which causes inflammation.
What ingredients help soothe muscles in a bath?
There are many different things you could put in your bath for muscle relief. Epsom salt is good because it contains magnesium and sulphate minerals – both of which have been shown to reduce inflammation and ease pain. Lavender oil also works well because it's known to promote relaxation and lower anxiety levels while reducing stress-related tension throughout the body. You could also try peppermint oil or chamomile extract, two more aromatherapy favourites!