Chia puddings make a great breakfast because they're filling and healthy. From banana chia pudding, to mango chia pudding. Find a chia pudding recipe to suit you in this list of 15 Clean Eating Healthy Chia Pudding Recipes.
Browse our other healthy recipes.
A Truly Ancient Superfood
When it comes to superfoods, chia seeds have been one of the most discussed seeds of the last decade.
Chia is an edible seed that comes from the desert plant Salvia Hispanic, which grows in Central America and its use can be traced back as far as the Mayan and Aztec cultures. "Chia" literally means strength, and folklore has it that these cultures used the tiny black and white seeds as an energy booster.
The Best Plant Based Source of Omega 3 Oils
Chia seeds are a very concentrated food containing, carbohydrates, protein, fibre, antioxidants, and many other vitamins and minerals. They are also possibly the best plant-based source of omega-3 and omega 6 fatty acids.
Rich In Soluble Fibre
Almost all the carbohydrate content of chia seeds is fibre, which neither raises blood sugar nor requires insulin to be disposed of. Though it belongs to the carbohydrate family, its health effects are drastically different from those of digestible carbs like starch and sugar. Because of their high soluble fibre content, chia seeds can absorb up to 10–12 times their weight in water, becoming gel-like and expanding in your stomach. They also feed the friendly bacteria in your intestine, which is important for better digestive health.
Protein Rich
Chia seeds really are an excellent source of protein, especially for people who eat little or no animal products. Because chia seeds are about 14% protein, they are a source of very high protein, compared to most plants. They also have a good balance of essential amino acids, so your body can make use of their protein content.
Amazing Mineral Content
The mineral content of chia seeds is amazing, and you can see some of the benefits below (% RDI based on a 28g/1 oz serving):
Manganese (30% RDI) – Rich in manganese, which is essential for metabolism, growth, and development.
Phosphorus (27% RDI) – Contributes to bone health and tissue maintenance.
Iron (20% RDI) – As a component of haemoglobin in red blood cells, iron is involved in the transport of oxygen throughout the body.
Magnesium (30% RDI) – Magnesium plays important roles in many bodily processes.
Calcium (18% RDI) – The most abundant mineral in your body, calcium is essential for bone health, muscle development and healthy nerves.
There are three other minerals that seem to be some disagreement about and they are listed below. All the research I have done kept resulting in different figures, so all I can surely say is that chia seeds contain a certain amount of selenium copper and zinc.
Zinc – Is vital for the body's defensive (immune) system to properly work. It plays a role in cell division, cell growth, wound healing, and the breakdown of carbohydrates.
Copper – A mineral often lacking in the modern diet, copper is important for heart health
Selenium – An important antioxidant, selenium is involved in many processes in your body and brain. See link here
Chia seeds also contain significant levels of vitamin B1 and B3 and a number of other beneficial plant compounds
Chlorogenic acid – An antioxidant that can lower blood pressure.
Caffeic acid – A substance that may help fight inflammation in your body.
Quercetin – A powerful antioxidant may reduce your risk of heart disease, osteoporosis, and certain forms of cancer.
Kaempferol – This antioxidant has been associated with a decreased risk of cancer and other chronic diseases.
Fibre and Digestive Health
Chia seeds are an amazing source of fibre. Just one ounce of chia seeds provides 10 grams of fibre, almost half the daily recommendation.
A diet with adequate fibre prevents constipation and promotes regularity for a healthy digestive tract. Regular bowel movements are crucial for the daily excretion of toxins through the bile and stool.
The fibre in chia seeds is soluble fibre, so they are much more beneficial than non-soluble fibre. They have also been reported to have the impact of making people feel fuller for longer. Though this has major implications for anyone trying to lose weight, but so far the scientific research seems a little lacking.
In my opinion, it seems obvious that using chia seeds as part of a calorie controlled diet will have a positive effect. As to how much difference it will make, that is yet to be confirmed scientifically.
Eating a healthy, fibre-filled diet can reduce pressure and inflammation in the colon by absorbing water and making bowel movements easier to pass. Increased fibre intake has also been shown to lower blood pressureand cholesterol levels. It may also play a role in regulating the immune system and inflammation and this may decrease the risk of inflammation-related conditions, such as diverticulitis crohn's disease ulcerative colitis and irritable bowel syndrome. As well as cardiovascular disease, diabetes, cancer, and obesity.
Diabetes
While there aren't many studies on the effect of chia on blood glucose and insulin resistance, a 2017 study suggests that chia seeds may have the ability to convert glucose into a slow-release carbohydrate, and this could have a positive effect on people with type 2 diabetes.
To lower your risk of developing diabetes, implement a high-fibre diet into your life. Eating high-fibre meals also helps to keep blood sugar stable.
The National Institute of Medicine conducted a review and found that diets with 14 grams of fibre for every 1,000 calories were associated with.
General Information
Clean, dry chia seeds also have an extended shelf life because the antioxidants they contain protect their fats from damage.
Making a great addition to any diet, chia seeds are a whole-grain food with a low glycaemic index so they are easily absorbed by the body. The mild, nutty flavour makes them an easy addition to many foods and beverages, so you can soak them and add them to porridge, make them into pudding, and use them in baked goods. You can also simply sprinkle them on top of salads, cereal, sauces, vegetables, rice dishes, yogurt and mix into drinks.
Chia seeds can also be used to thicken sauces or as an egg replacement because of their ability to absorb liquid and form a gel.
1. Banana Chia Pudding
Article image from – mykidslickthebowl
Banana Chia Pudding is a super quick an easy way to make a pudding for little people. Sweetened with fruit it has no added sugar and it is an allergy friendly recipe.
2. Vanilla Overnight Chia Pudding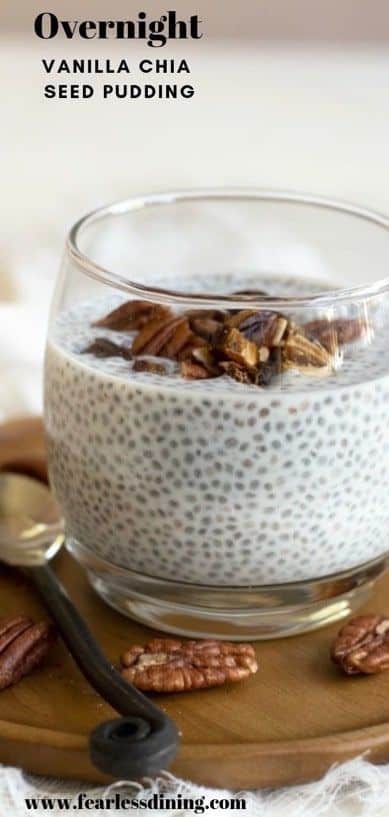 Article image from – fearlessdining
Are you in the same old breakfast rut and need something new? This super easy vanilla overnight chia pudding is creamy and perfectly sweetened throughout. This recipe is Paleo, vegan, and naturally gluten free!
3. Chocolate Peanut Butter Chia Pudding

Article image from – createmindfully
This Chocolate Peanut Butter Chia Pudding is so healthy, it can be eaten anytime of the day!
4. Pumpkin Spice Latte Chia Pudding

Article image from – choosingchia
This pumpkin spice latte chia pudding with the delicious fall flavours you love in a traditional pumpkin spice latte.
5. Vanilla Raspberry Chia Pudding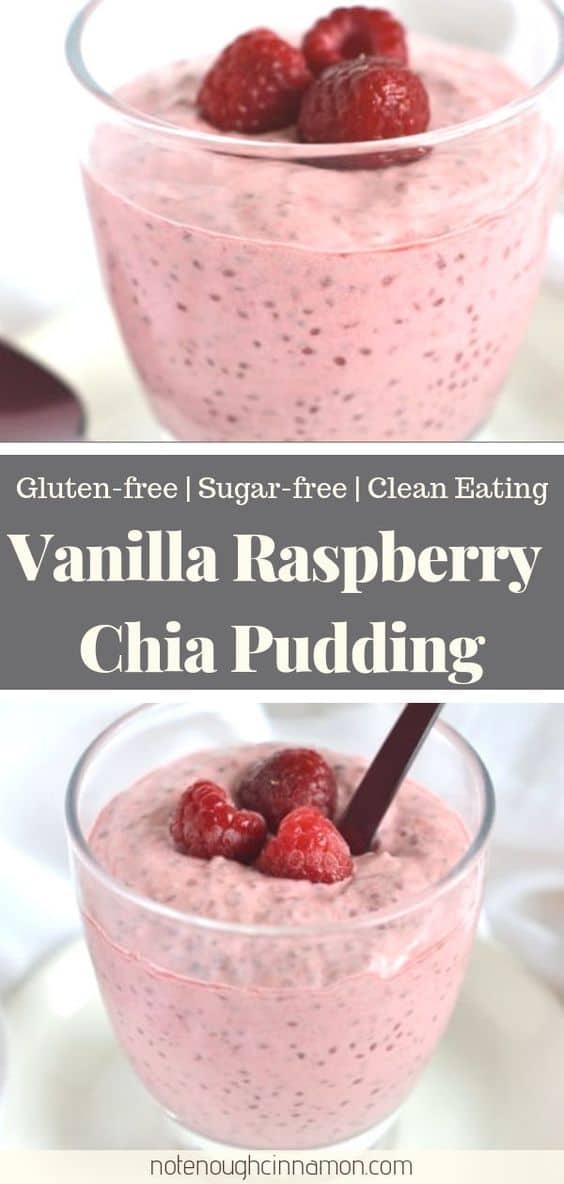 Article image from – notenoughcinnamon
You are going to love this creamy Vanilla Raspberry Chia Pudding! Quickly blend all ingredients before you go to bed, let the pudding set overnight and wake up to a healthy, satisfying breakfast pudding that tastes like dessert!
6. Vanilla Blueberry Chia Seed Pudding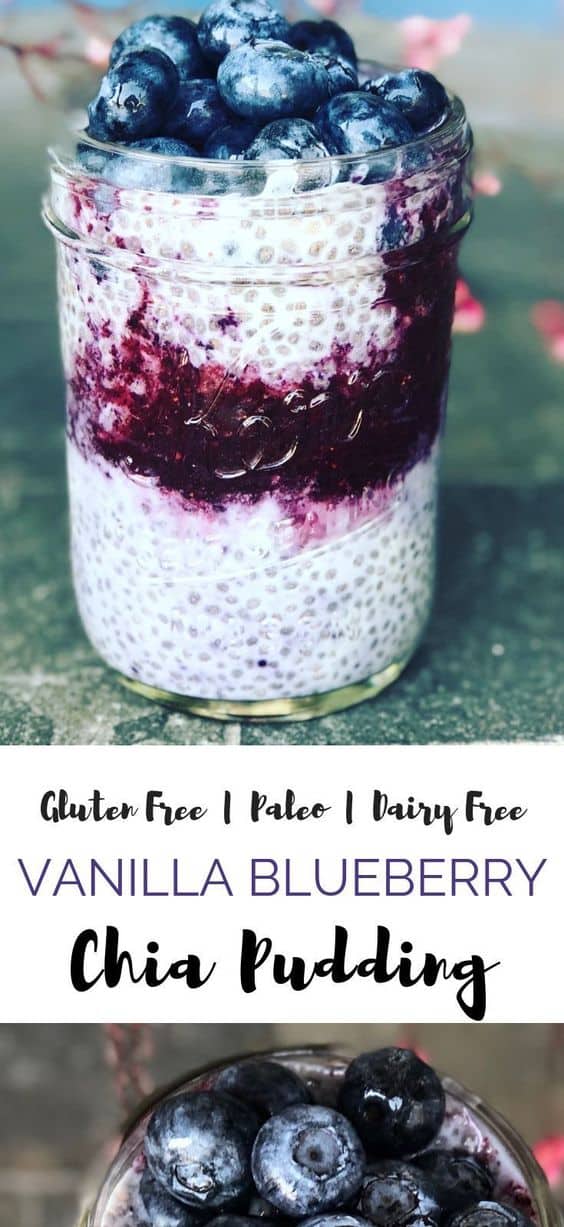 Article image from – morganelizabethhealth
Lemme tell ya this stuff is delicious. I'm kind of a chia seed pudding enthusiast just because of how easy and delicious it is, plus it's supaaa healthy. It's perfect for a grab and go breakfast, or a complete post workout meal to get you all recovered up. Plus it's vegan, paleo, and gluten free if that's what you're into!
7. Coconut Milk Chia Seed Pudding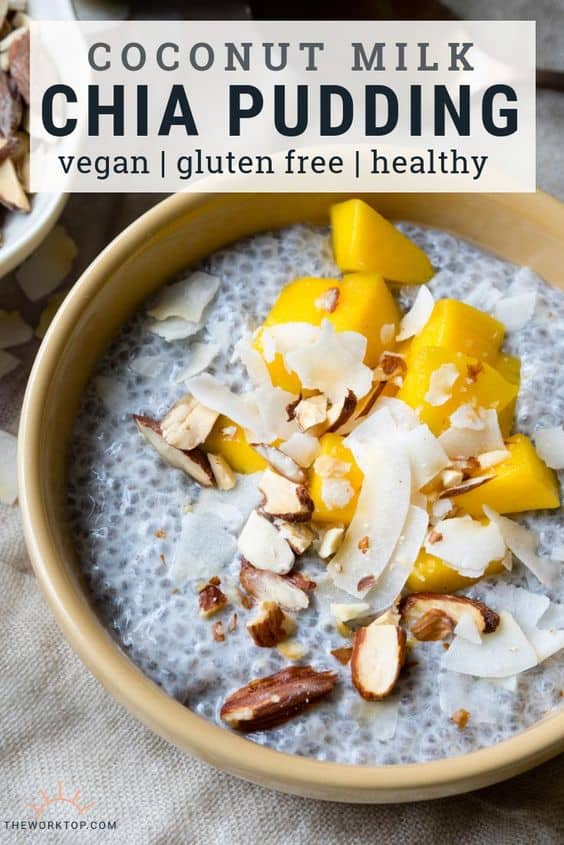 Article image from – theworktop
Enjoy this Chia Pudding with Coconut Milk as a healthy breakfast packed with natural flavor. Use coconut three ways in this chia seed pudding – soaked in coconut milk, mixed with coconut yogurt and topped with toasted coconut.
8. Chocolate Almond Butter Chia Pudding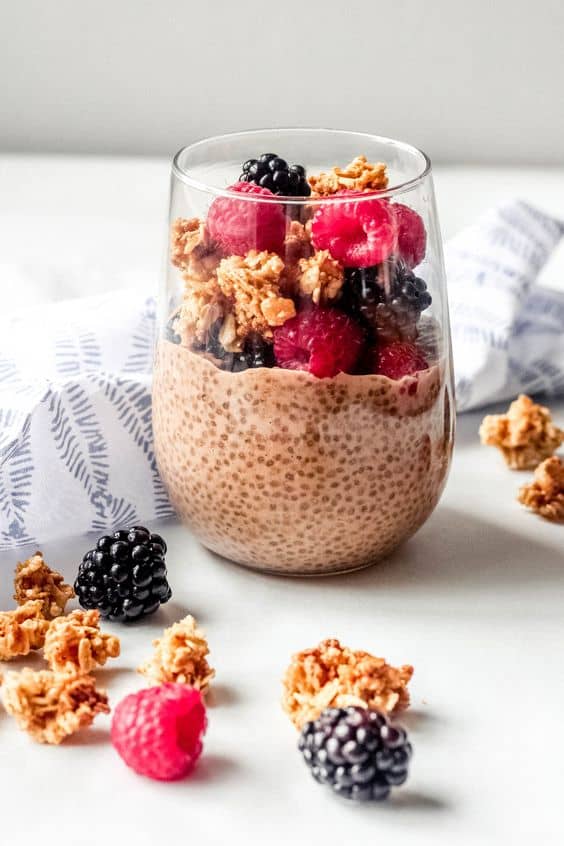 Article image from – allthehealthythings
Keeping this post short and sweet today because the recipe pretty much speaks for itself. Chocolate Almond Butter Chia Pudding…can you say delicious?
9. Mango Chia Pudding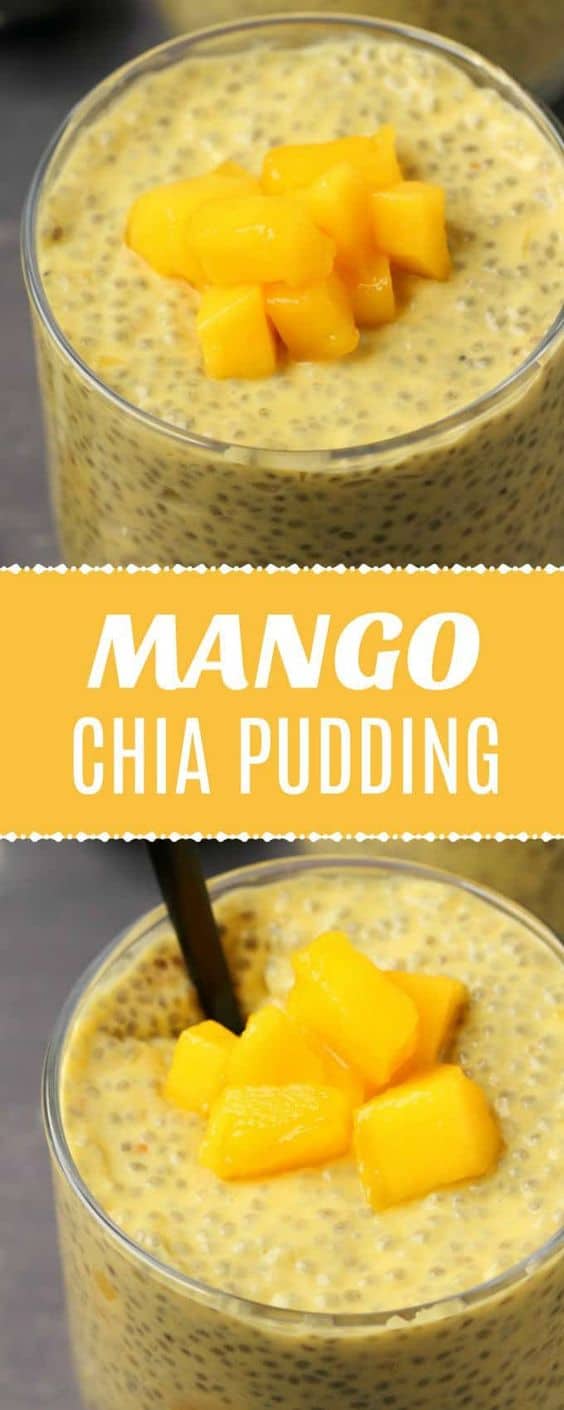 Article image from – lovingitvegan
Creamy mango chia pudding. This perfectly sweet and delicious pudding is only 4-ingredients and so healthy it doubles as breakfast or dessert.
10. Blueberry, Maple, and Almond Milk Overnight Chia Pudding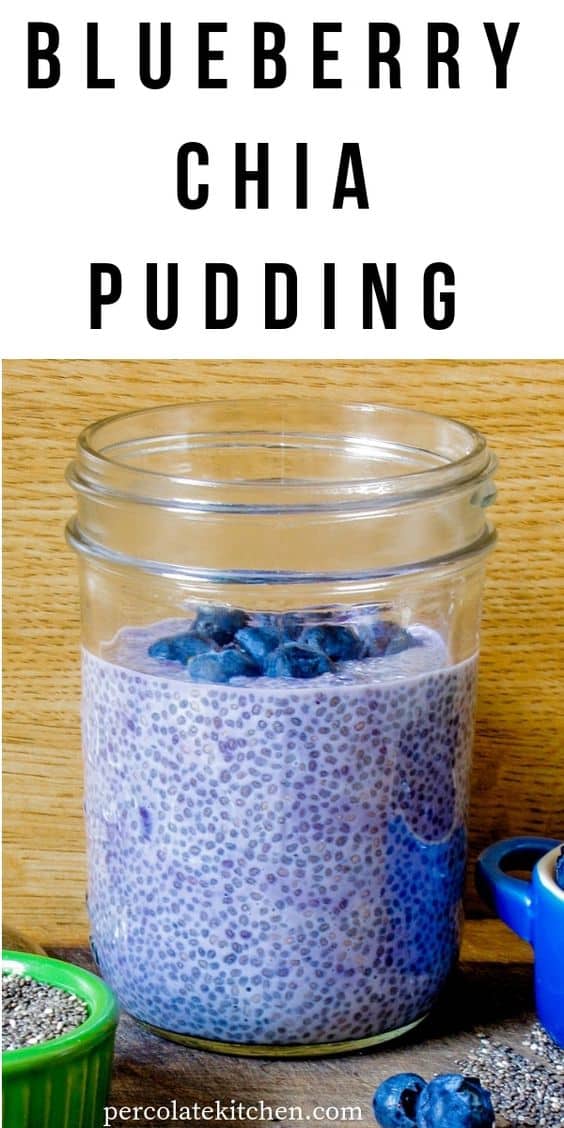 Article image from – percolatekitchen
This Overnight Blueberry, Maple Syrup, and Almond Milk Chia Pudding is lactose-free, and the perfect quick, grab-and-go easy breakfast recipe for busy mornings!
11. Chocolate & Orange Chia Pudding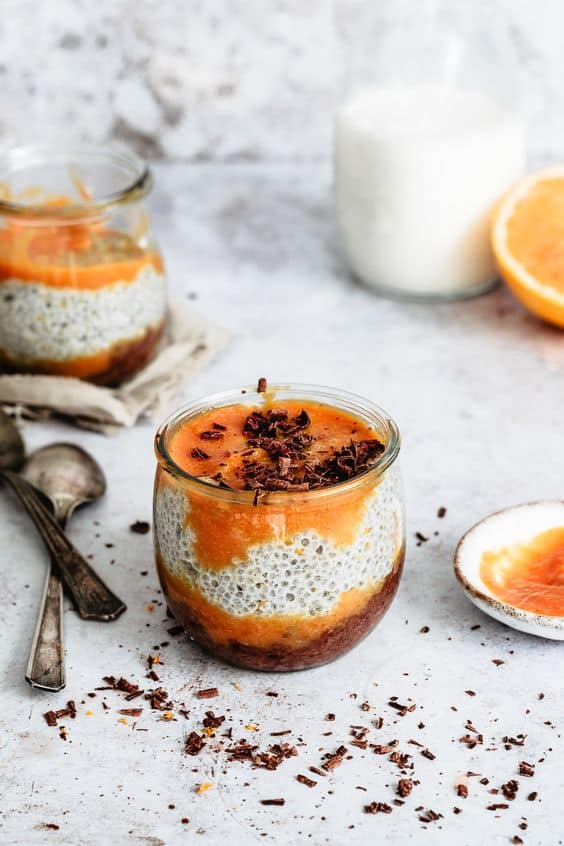 Article image from – healthylittlecravings
Chia pudding almond milk, cocoa and orange puree: an easy and healthy breakfast to enjoy in Winter!
12. Light Creamy Strawberry Chia Pudding
Article image from – joyfulhealthyeats
Paleo & Gluten Free Strawberry Chia Pudding made with only 5 ingredients. Filled with fresh strawberries, naturally sweetened with coconut milk and honey. This Chia Pudding recipe is great for a light breakfast option or healthy dessert!
13. Cinnamon Apple Chia Seed Pudding

Article image from – choosingchia
Grab a spoon and dive into a cup of this cinnamon apple pie chia pudding! It tastes just like apple pie! This recipe is naturally vegan and gluten-free and a healthy option to have for dessert, a snack or even for breakfast.
14. Chocolate Cherry Chia Pudding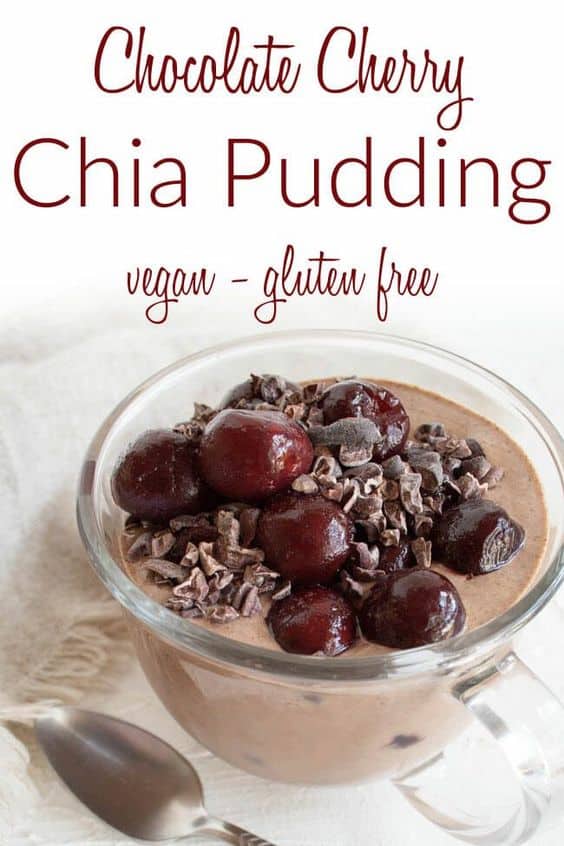 Article image from – createmindfully
This easy Chocolate Cherry Chia Pudding feels indulgent but is quite healthy. Made with almond milk and cacao powder.
15. Matcha Mint Chocolate Chia Pudding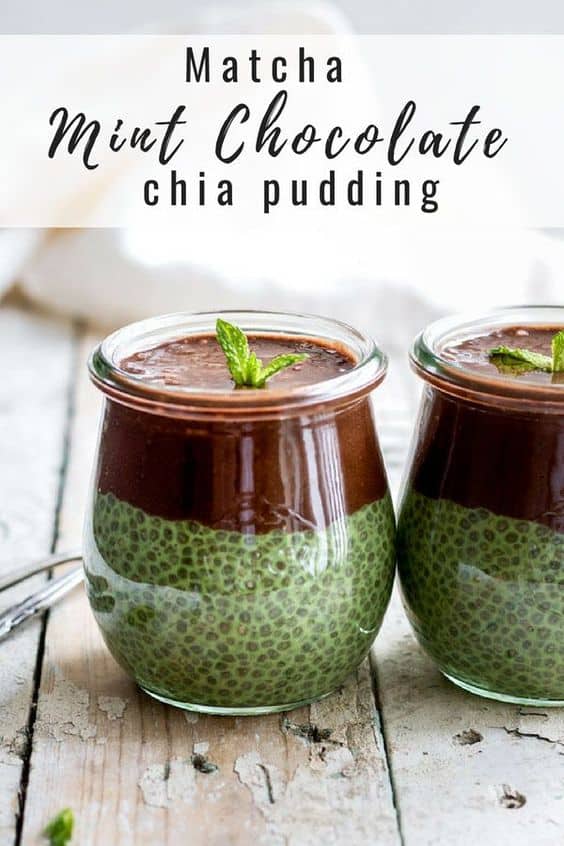 Article image from – choosingchia
This matcha mint chocolate chia pudding starts with a minty matcha chia pudding and is topped off with a thick chocolately smoothie!
This post contains affiliate links to products. We may receive a commission for purchases made through these links.