Curry is healthy and will fill you up throughout the cold, autumn days. From chickpea spinach curry, to vegetable curry. Discover 15 Comforting Fall Vegetarian Curry Recipes.
Browse our other vegetarian recipes here.
Being the Curry addict I am, I always keep my eyes open for new ideas. You can find a curry for any occasion, but I tried to choose some here with an autumn feel to warm up those colder days.
1. Sweet Potato, Chickpea and Spinach Curry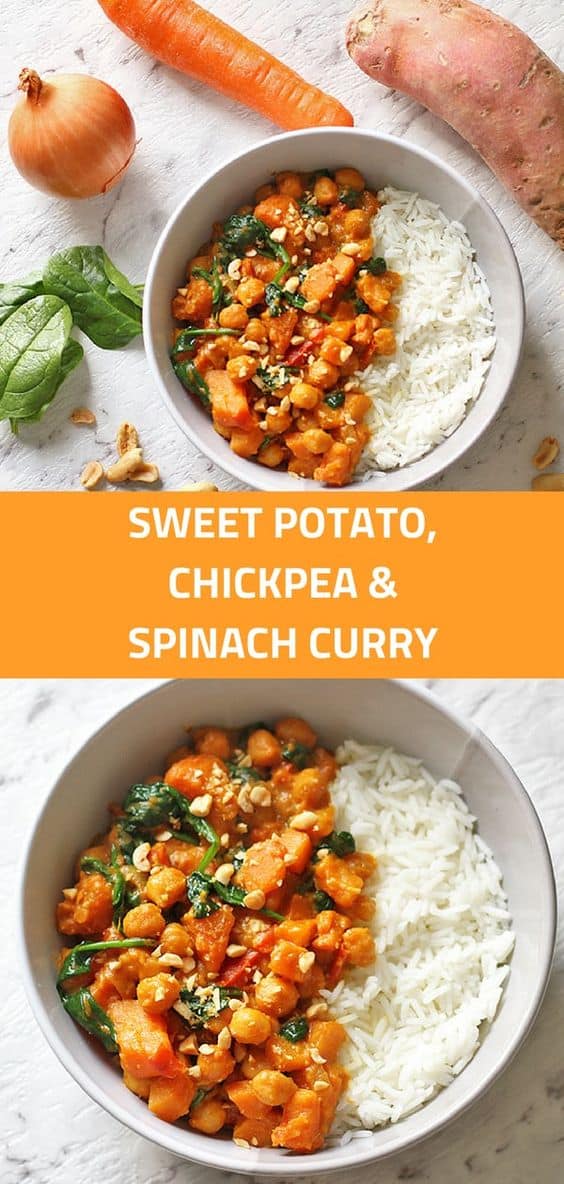 Article image from – cookitrealgood
This easy and healthy Sweet Potato, Chickpea and Spinach Curry is an easy 30 minute one pot wonder! This vegan and gluten-free dish uses yellow curry paste and coconut milk as a base to make a seriously delicious and creamy curry. This curry freezes beautifully, so store some away for those nights you don't want to cook.
My Alternative To Sweet Potato, Chickpea and Spinach Curry
Food Of The Gods
To me Chick Peas really are one of those ingredients I never get tired of. They are so versatile and full of nutrition they can be made to work with most savoury recipes, but always with any Vegetarian curry recipe. The high protein content makes them the perfect addition for any vegetarian or vegan meal. I jokingly call them my Food Of The Gods. They really are hard to beat.
Helping To Keep You Healthy
Sweet potato is the perfect accompaniment to the chick peas too. With vitamin A, vitamin C and vitamin B6, magnesium, potassium, folate and zinc all provided in significant amounts you know you are getting a meal that will fulfil you nutritionally. The high levels of protein and fibre will also help keep you healthy.
Balanced Nutrition
Adding the spinach, carrot, peppers and onions all adds to that final package of nutrition. Creating balanced nutrition with everything you need for the day is never easy, but this Vegetarian curry recipe comes closer than most.
Sprinkle On Some Seeds
You can always toss in some seeds to finish the meal off. As well as improving the overall nutritional content they can have a huge impact on taste. Try toasting some sesame seeds and sprinkling the on top just before you serve the meal. They add an amazing rich flavour and a wonderful aroma.
2. Indian Roasted Cauliflower Curry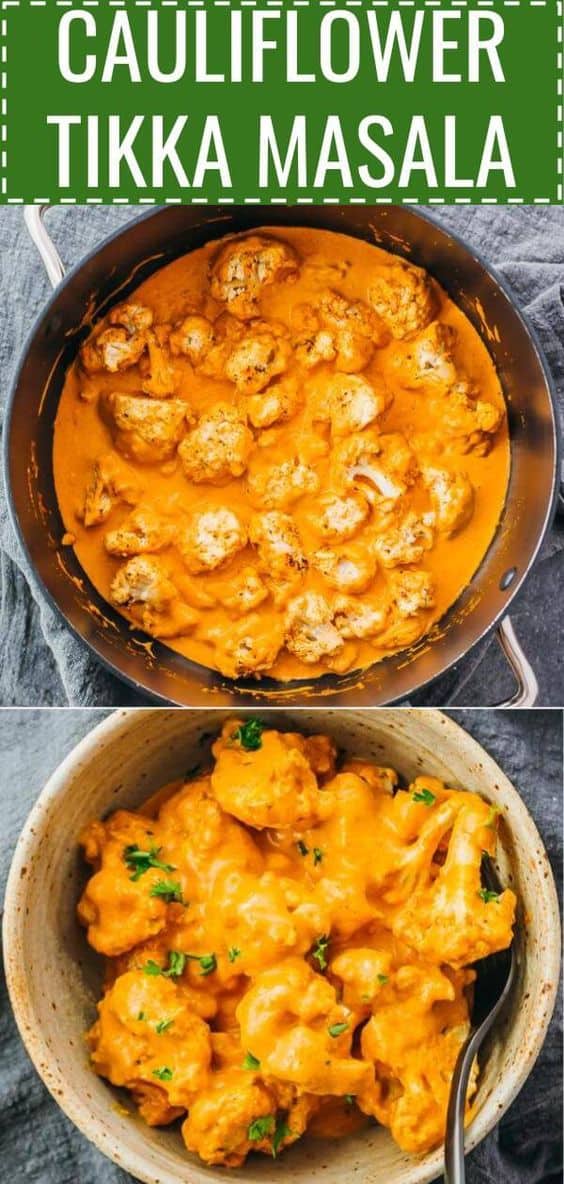 Article image from – savorytooth
A low carb, vegetarian Indian curry with oven roasted cauliflower and a spicy tikka masala sauce.
My Alternative To Indian Roasted Cauliflower Curry
Nutritionally Wonderful
Cauliflower can be seen as the poorer relative of this amazing family of foods that also includes broccoli, spinach and kale. It shouldn't be, it is nutritionally wonderful with an ever growing mountain of evidence to support its own specific range of health benefits. It contains a mass of vitamins and minerals including folate and vitamins B6, C, and K. Research is also being done on a phytochemical compound it contains known as isothiocyanate. Although the subject still needs more research it has a proven link in the fight against certain cancer cells.
Don't Boil It
To take full advantage of cauliflower's health giving properties, avoid boiling it — which kills a large proportion of the phytochemicals. Steaming or roasting it is much better in this and any other Vegetarian curry recipe.
3. Chickpea Spinach Curry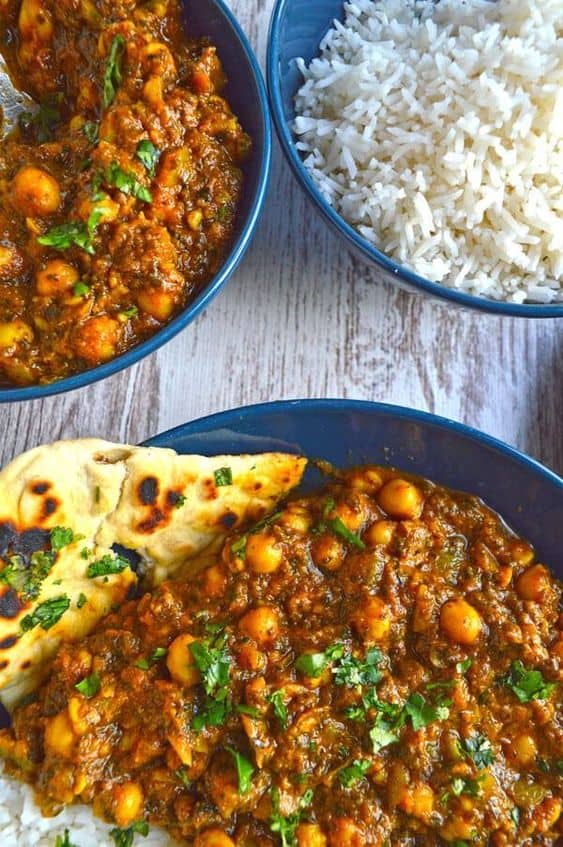 Article image from – thefieryvegetarian
Tired of paying a fortune for takeaways, or just fancy something healthier? Try this tasty healthy chickpea spinach curry, with a tomato and onion spiced gravy and a touch of coconut milk for richness.
My Alternative To Chickpea Spinach Curry
Better Than A Takeaway
If you are one of the people immediately drawn to Saag or Palak dishes on the menu at takeaways, this is the fall vegetarian curry recipe for you. Chick peas, spinach, tomato and onion pack a great nutritional punch together and help make this a wonderful Vegetarian curry recipe to warm those colder days.
Healthy Body And A Healthy Mind
Spinach contains some amazing compounds. Zeaxanthin and Lutein are both linked to improved eye health. It also contains an antioxidant that attacks free radicals called Kaempferol. Spinach is one of the richest dietary sources of quercetin, another antioxidant, which can ward off infection and inflammation. It also contains high levels of nitrates, which may help to promote heart health.
4. Easy One Pan Lentil Daal Curry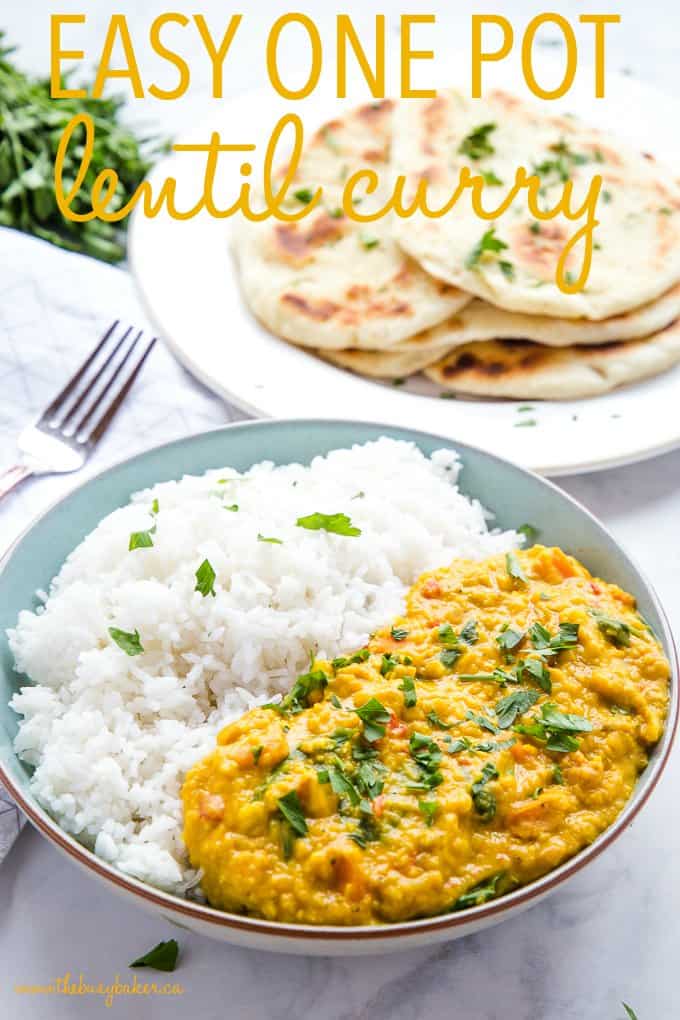 Article image from – thebusybaker
This Easy One Pan Lentil Daal Curry is the perfect easy and healthy weeknight meal that can be made vegetarian, vegan and dairy-free! Skip the Indian Restaurant and make this delicious Indian Daal Curry recipe at home in minutes!
My Alternative To Easy One Pan Lentil Daal Curry
Help To Keep Everyone Happy
This Vegetarian curry recipe is super quick and easy. The best dhal is usually quite simple, but you can add to the recipe in many ways to make a much more complex dish too. Personally, I would say the best solution is to present a classic Indian Thali, with several dishes that can be eaten separately or mixed together as each diner prefers. Including a quick and easy dhal recipe like this will help keep everyone happy.
5. Vegan Thai Red Curry with Cauliflower and Potatoes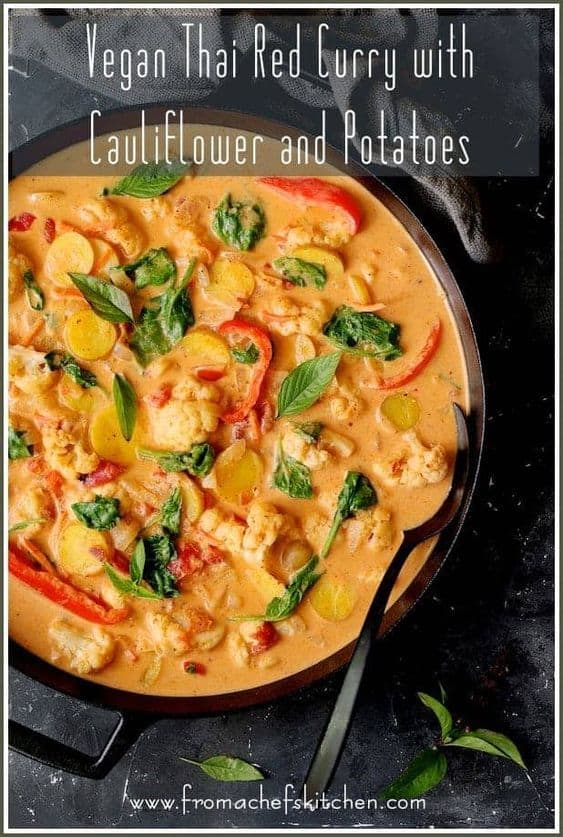 Article image from – fromachefskitchen
Vegan Thai Red Curry with Cauliflower and Potatoes is spicy and delicious with a side of healthy! It's the perfect, satisfying veggie-packed meal!
My Alternative To Vegan Thai Red Curry with Cauliflower and Potatoes
Saving You Time
Thai curries are often quite different to their Indian counterparts. This can be down to the preparation as much as the ingredients. Take some time to read through all the instructions properly before you start cooking. Spending a little time to do that now will save you time in the long run.
Micronutrient Heaven
When this Vegetarian curry recipe contains onions, Red pepper, potatoes, cauliflower, carrots and spinach looking at nutrition information seemed a little pointless. All have high levels of a great balance of vitamins and mineral, as well as a wonderful array of antioxidants and other micronutrients. Together they have so many potential health giving properties it is hard to know where to start.
Amazing Fall & Winter Superfoods
You will find more information in the blog here to help you understand the benefits better. It can all sound a bit scientific and complicated in many descriptions so I have tried to keep it simple. You could do some research yourself, it is a fascinating subject.
6. Vegetable Curry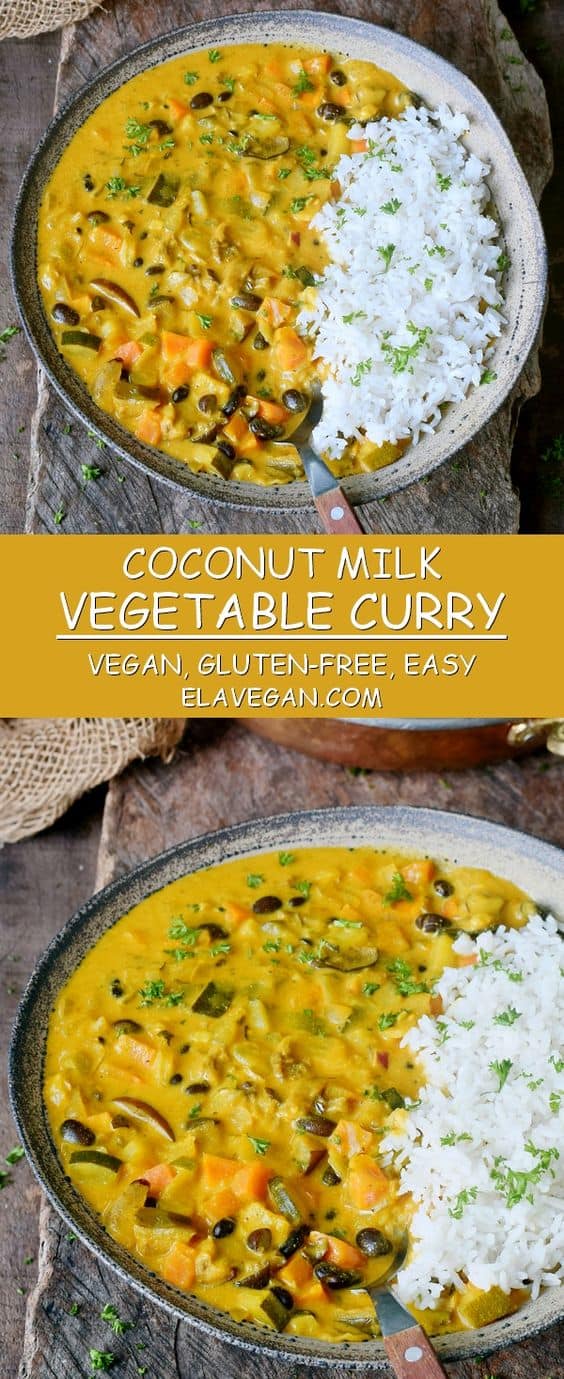 Article image from – elavegan
Vegetable curry recipe with coconut milk, pineapple, and chickpeas (or beans)! This healthy comfort meal is vegan, gluten-free, oil-free, easy to make and can be also prepared in a slow cooker.
My Alternative To Vegetable Curry
Perfect For Thali
If you are making a Thali as I talked about above, this is a great recipe to complement the Easy One Pot Lentil Daal Curry recipe (4. Easy One Pan Lentil Daal Curry) Including a sweeter dish with the Thali is always a good idea and this is another great and easy recipe to use. As a guide I tend to choose one fairly plain dish, one hot spicy dish, one sweet spicy dish and some sort of flat bread.
A Thai Twist
The coconut milk gives the Vegetarian curry recipe a Thai style twist. The cooling effect of the coconut calms the chilli down a little allowing you to use more without the heat getting too much.
7. Creamy Coconut Lentil Curry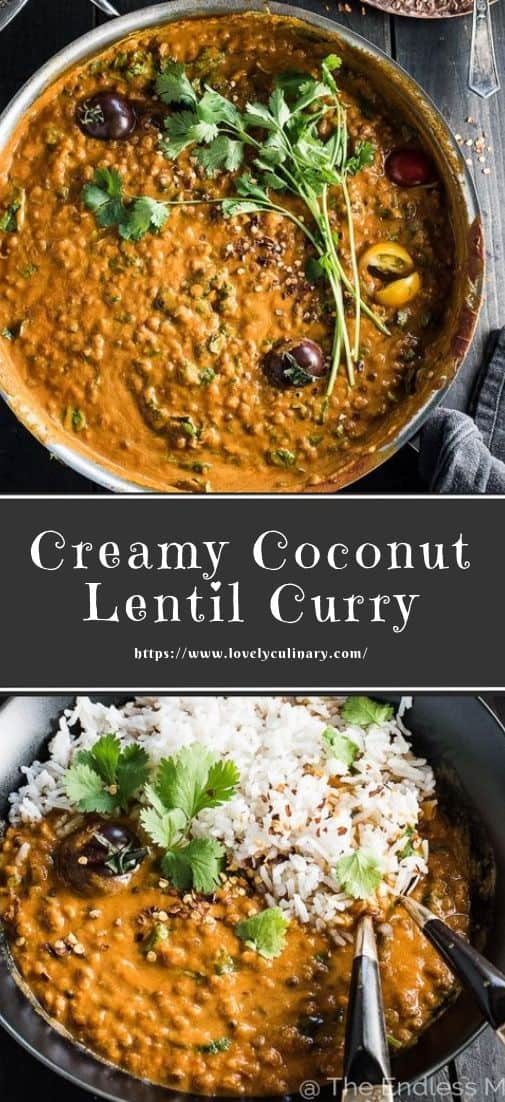 Article image from – theendlessmeal
This easy to make Creamy Coconut Lentil Curry is a healthy vegan recipe that makes a perfect meatless Monday dinner recipe. It takes less than an hour (mostly hands-off time) to make and is packed full of delicious Indian flavors. Make extras and you'll have a giant smile on your face at lunch the next day.
8. Thai Green Curry Tofu

Article image from – choosingchia
This Thai green curry tofu is a simple and healthy recipe that's bursting with Thai flavour! Cook it up and have dinner ready in less than 30 minutes!
My Alternative To Thai Green Curry Tofu
Tofu, The Chinese Protein Bomb
Tofu is an amazing food and can be cooked in many ways. I do like the firm Tofu best and I am a fan of the smoked varieties too, deep fried smoked tofu gives this Vegetarian curry recipe an exciting twist and adds beautifully to the flavour.
The Magic Of Pumpkin Seeds
You can use some slowly roasted pumpkin seeds as a garnish to finish this recipe off in style. Pumpkin seeds contain healthy oils, magnesium, and other nutrients that enhance the health of the heart, bones, and general body function.
Essential Fatty Acids
The omega-3 and omega-6 fatty acids within the seeds contain a range of beneficial nutrients, such as sterols, squalene, and tocopherols. The seeds are also a great source of magnesium, important for bone formation and increasing bone density. This has been shown to reduce the risk of osteoporosis, and help protect against type 2 diabetes.
Creating The Perfect Cholesterol Balance
The combination of fatty acids, antioxidants, and fibre benefits both the heart and liver. The fibre helps lower the total amount of cholesterol in the blood and decrease the overall risk of heart disease. Just 100 g of pumpkin seed kernels contains 265 mg of total sterols. This is the amount known to help reduce levels of "bad" LDL cholesterol.
Immunity Enhancement
Also high in Vitamin E, these amazing seeds help strengthen the immune system and maintain a healthy cardio vascular system.
9. Cauliflower Chickpea Coconut Curry
Article image from – veganhuggs
This Cauliflower and Chickpea Coconut Curry is pure comfort in every bite! The mouth-watering sauce is made with tomatoes, garlic, onions, ginger, serrano peppers, curry powder, and coconut milk. It's a little spicy and zesty with a hint of sweetness!
10. Eggplant Curry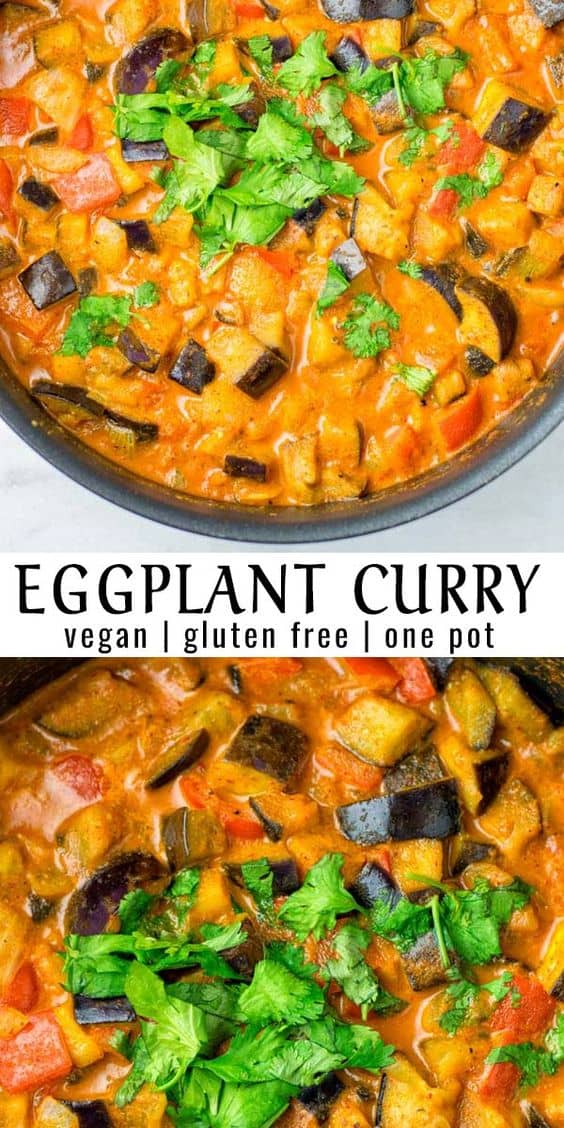 Article image from – contentednesscooking
This Eggplant Curry is made in one pot, amazing for your under 30 minutes meals, full of flavors and naturally vegan. You don't need more than eggplant, bell pepper, onions, coconut milk, and yellow curry paste to have an amazing meatless lunch or dinner for the whole family.
11. Easy Vegetable Chickpea Curry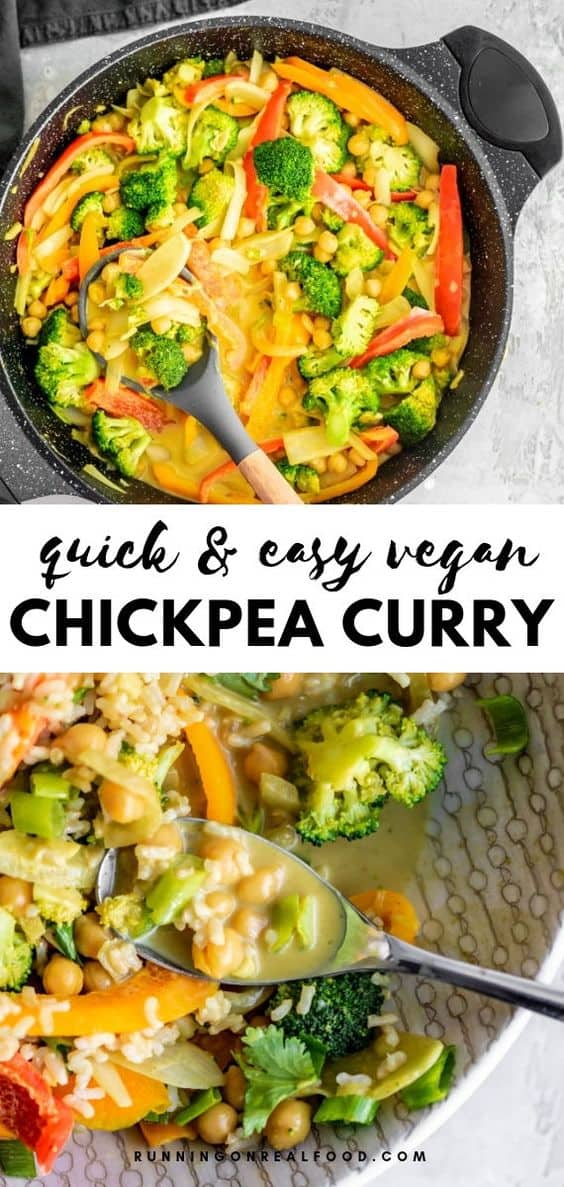 Article image from – runningonrealfood
This quick and easy vegetable chickpea curry might just be your new favourite go-to dinner. Have this delicious, healthy vegan meal on the table in 20 minutes or less with minimal ingredients required.
12. Healing Lemongrass Chickpea Thai Green Curry

Article image from – ambitiouskitchen
This vegetarian Thai green curry is made with chickpeas, ginger, garlic, turmeric, green curry paste, and lemongrass. The ultimate bowl of healthy comfort food to eat when you're feeling under the weather. Served with a delicious coconut infused brown rice!
My Alternative To Healing Lemongrass Chickpea Thai Green Curry
Herbs And Spices For Health
The wonderful health giving benefits of herbs and spices feature heavily in this Vegetarian curry recipe. Garlic is effective treating colds and is also known to fight infections naturally. Its health benefits are at their best if you can eat it raw. I always try to chop some into my salads. Ginger is really good for when you have an upset stomach. Whether it's in your smoothie or in this curry it can help soothe the angriest tummy. Lemongrass leaves can also help with stomach cramps and other problems (Check out how else lemongrass is commonly used here). I love the flavour it gives to any curry. One of the latest trending superfoods turmeric is delicious and a known anti-inflammatory spice. It is being heavily researched at the moment as initial studies revealed so many different health benefits.
13. Vegan Panang Curry Tofu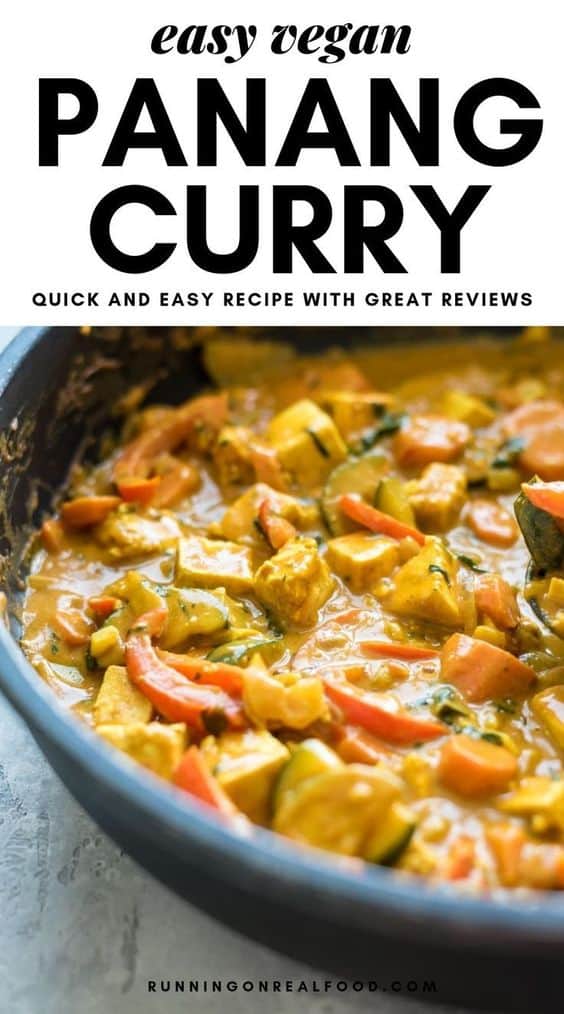 Article image from – runningonrealfood
This vegan panang curry recipe is one of my favourite meals. The rich, curried tomato peanut sauce has just the right amount of spice and always tastes incredible. This recipe is easy to make with simple pantry ingredient like tomato paste, light coconut milk, peanut butter and curry powder. The vegetables can be customized as needed, it has tofu for extra protein and the can be served on it's own or over rice, noodles or quinoa.
14. Pumpkin Coconut Curry

Article image from – sarahsveganguide
What if I told you you don't need to go out to a restaurant to enjoy a delicious flavorful curry? Would you believe me? Well, try this creamy vegan pumpkin coconut curry and see for yourself! It has become one of my favorite recipes because it is so easy to make and yet so flavorful.
15. Vegetable Chickpea Curry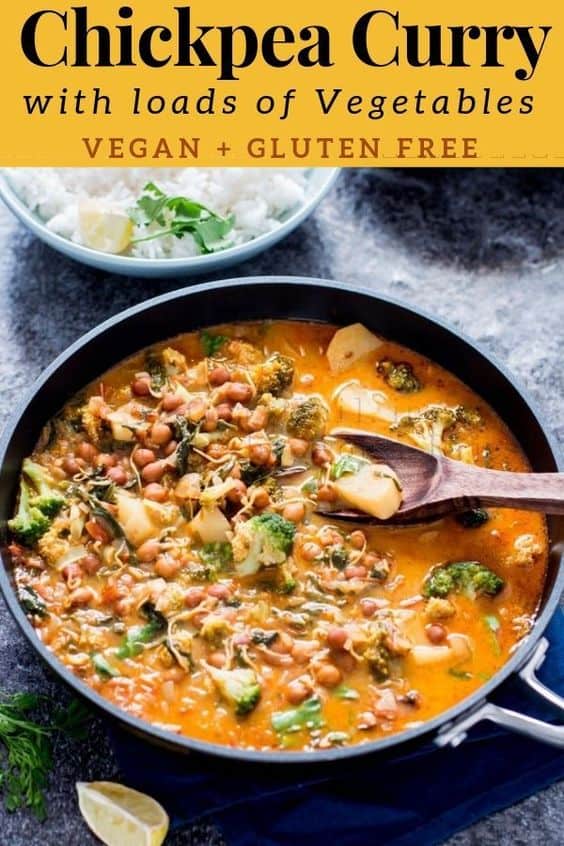 Article image from – currytrail
Chickpea curry that is loaded with vegetables is easy healthy (vegan + gluten free) weeknight dinner you will not bother having every single day. A curry that you can use to clean out your fridge the next time you find yourself stumped with odds and ends.
My Alternative To Vegetable Chickpea Curry
Using What You Have Left-Over
Having a Vegetarian curry recipe that helps you use the last of any bits of vegetables you might have around is always good. You will love how simple and adaptable this recipe is. Chick peas are always a great place to begin any curry recipe and with this recipe it's easy to see why.
Try Cashew Nuts For A Delicious Change
You could use many other beans. Gungo beans make a wonderful curry and black eyed beans are great too. For something a bit different why not try some roasted cashew nuts instead of the chick peas. They are an equally wonderful source of protein and are my favourite nut for cooking.
Conclusion
Experimenting with Vegetarian curry recipes is great fun. You will find yourself deconstructing any takeaway meals you may have, analysing the taste to figure out those hidden ingredients. We all have favourites, but there is no such thing as the perfect dish for everyone, so you will always have chance to try new options.
Using the ingredients that need using is a great way to make the most of each shop you do too. Cutting the waste we produce gets more important every day. Anything that helps has to be a good thing, and it will save you money too. I hope you enjoy the recipes and ideas we have collected together. Don't forget to message us with your ideas and stories of success. If there are any recipes you would like us to feature feel free to message us with the details. Obviously we can't publish every recipe, but we always like to try new ideas.