Gingerbread and Christmas go hand in hand, especially gingerbread cookies. All recipes in this list are totally vegan! Why not make one of these 15 Delicious Vegan Christmas Gingerbread Snack Recipes this holiday season.
Browse our other vegan recipes.
1. Vegan Gingerbread Cake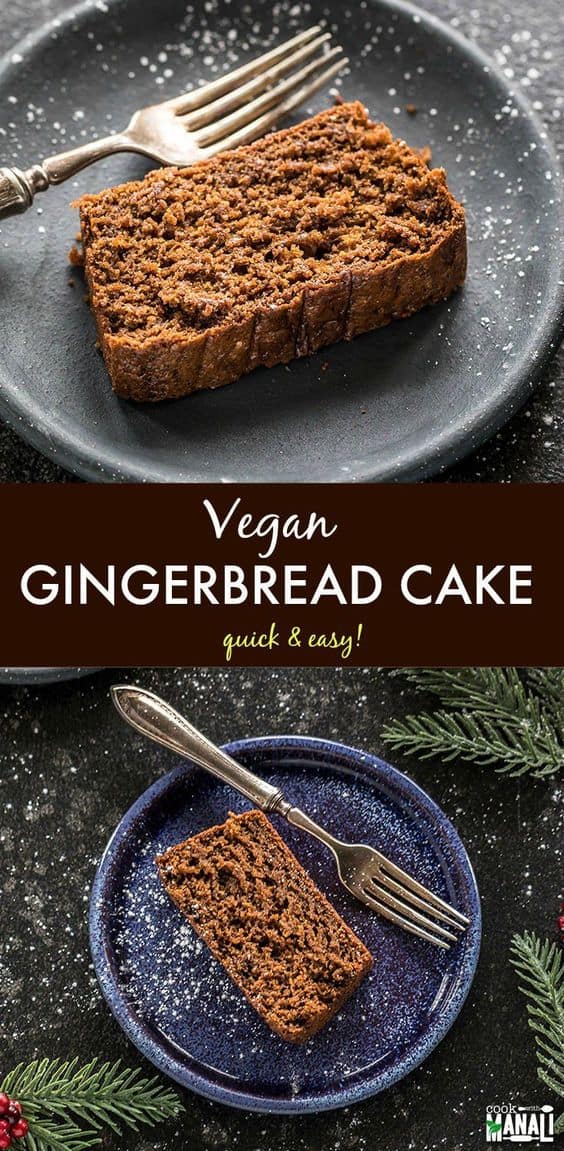 Article image from – cookwithmanali
Spiced Vegan Gingerbread Cake is a quick and easy dessert to whip up for the holidays! This cakes come together quickly and tastes great with just a dusting of powdered sugar on top.
2. Vegan Ginger Cake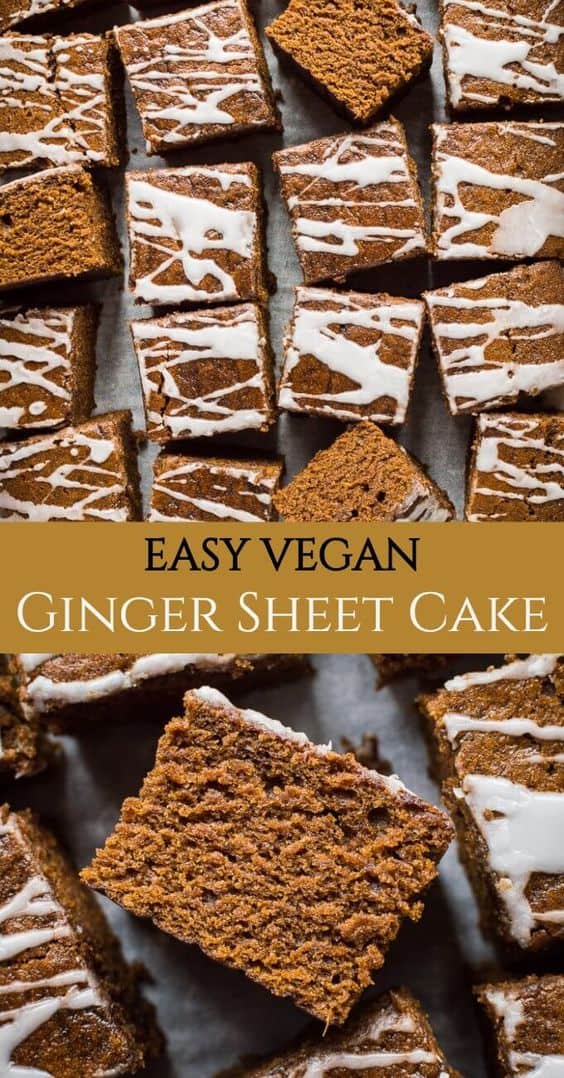 Article image from – domesticgothess
Easy ginger cake – this one bowl sticky vegan ginger cake is so quick and easy to make and tastes amazing; it is the best ginger cake (vegan or otherwise) I have ever eaten! Egg and dairy free.
3. Vegan Gingerbread Loaf with Cranberry Glaze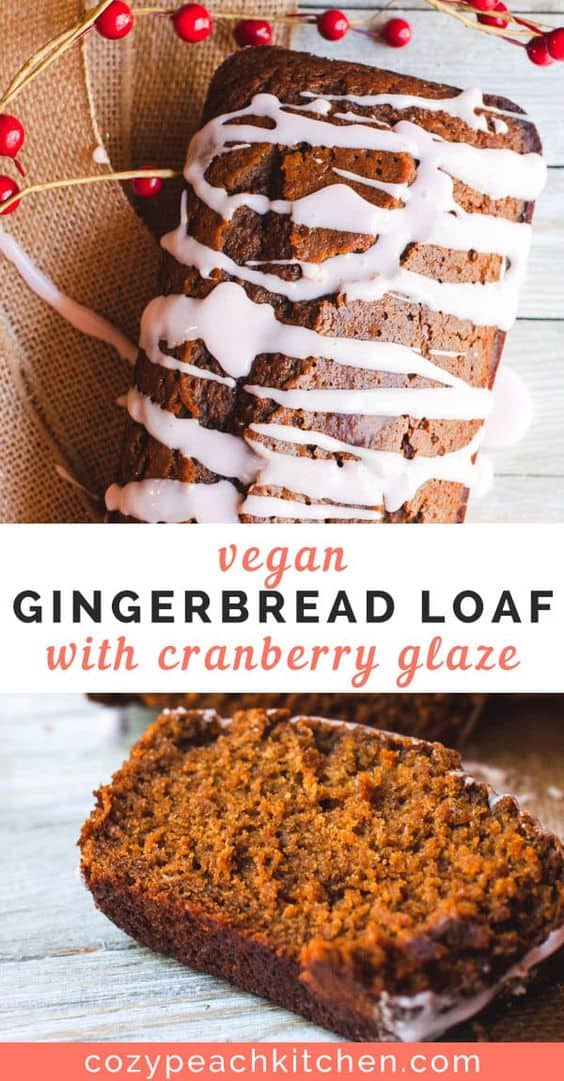 Article image from – cozypeachkitchen
4. Healthy Gingerbread Pancakes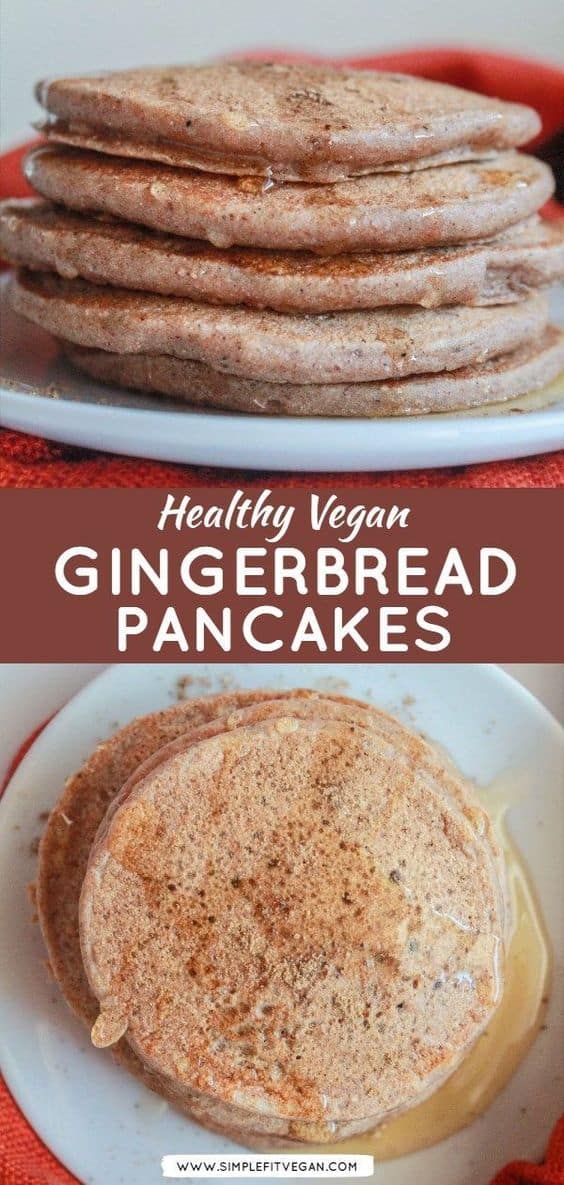 Article image from – simplefitvegan
This is the best homemade Healthy Gingerbread Pancake recipe! Made from scratch with simple ingredients – it will make your winter mornings oh so jolly!
5. Vegan Gingerbread Cookies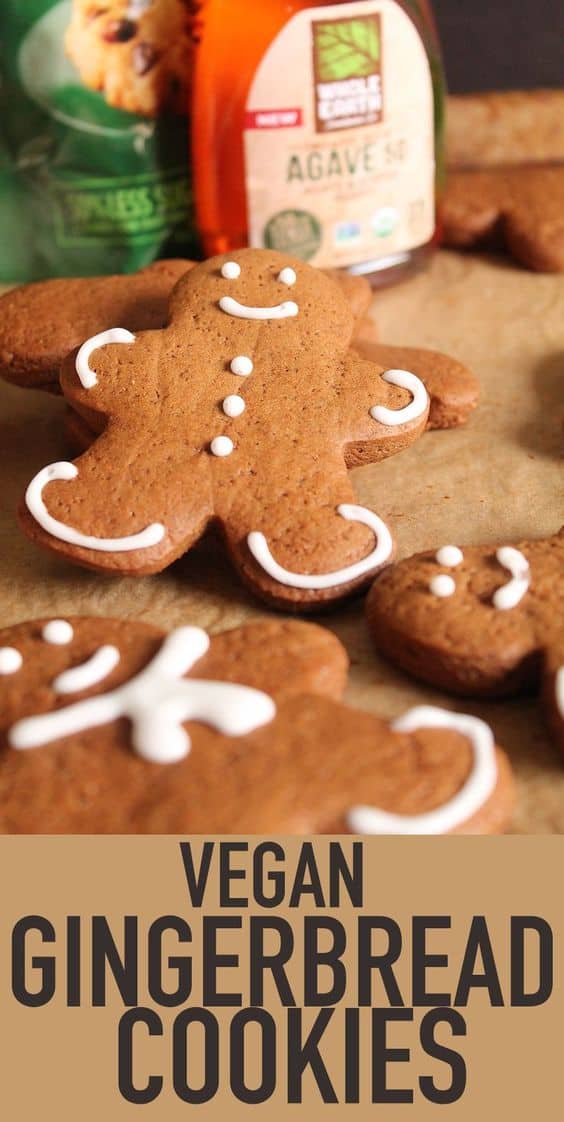 Article image from – mydarlingvegan
Delicious vegan gingerbread cookies made with Whole Earth Sweetener Co. sugars for a low-sugar cookie; the perfect Christmas cookie to share with friends and family.
6. Vegan Gingerbread Cake

Article image from – mydarlingvegan
This Vegan Gingerbread Cake is the perfect dessert for your holiday. A sweet and spicy cake filled with flavor and dusted with powdered sugar.
7. Soft Gingerbread Cookies

Article image from – bakerita
These Soft Gingerbread Cookies will be a holiday staple! They're incredibly chewy with tons of flavor from the molasses and warm spices. These gluten-free, paleo, and vegan cookies are sure to be a hit.
8. Vegan Gingerbread Donuts

Article image from – choosingchia
These vegan gingerbread donuts with gingerbread sugar are baked to perfection and made healthier with natural ingredients!
9. Vegan Gingerbread Cake

Article image from – thevegan8
Classic Old-fashioned Gingerbread cake that is vegan, oil-free, whole grain and out of this world delicious, moist and full of amazing flavor from cinnamon, ginger, nutmeg, allspice, cloves and molasses.
10. Vegan Gingerbread Rolls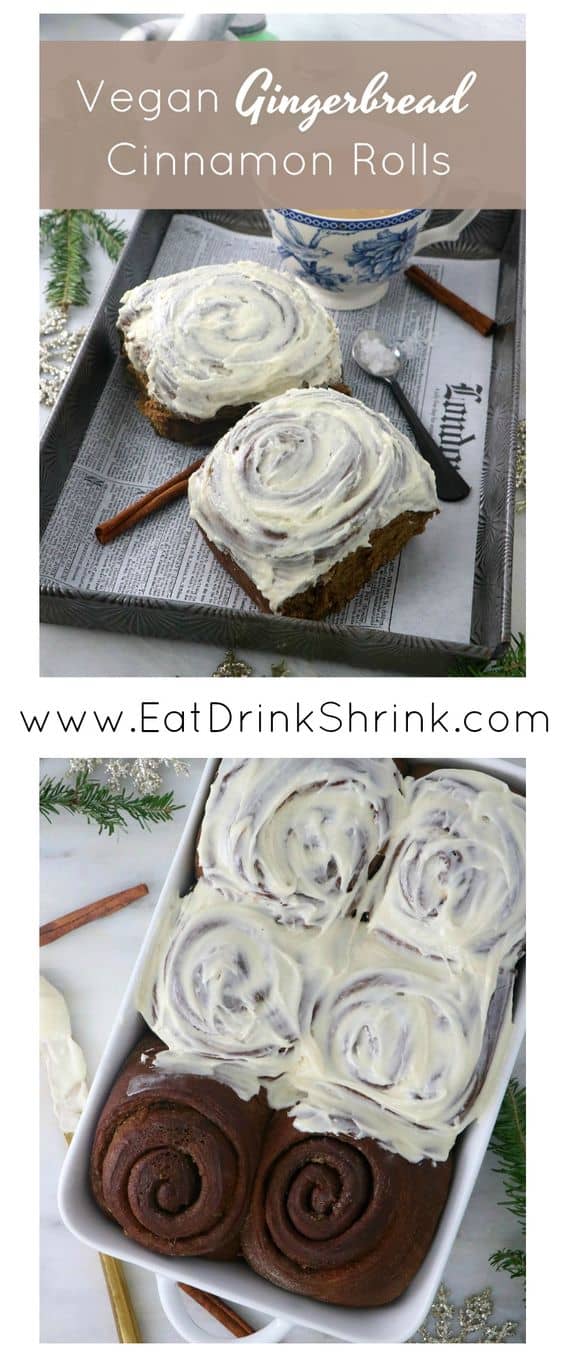 Article image from – eatdrinkshrink
11. Gingerbread Cheesecake Bars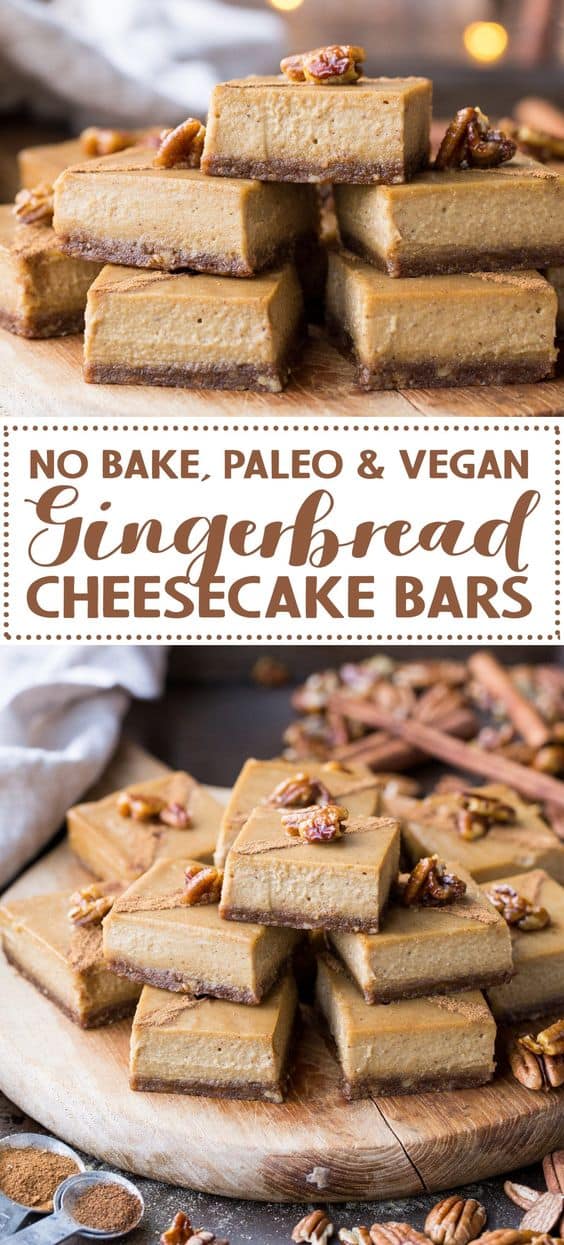 Article image from – bakerita
With an easy pecan-and-date crust and tons of warm spices, these Gingerbread Cheesecake Bars highlight the holiday season's warm flavors. We make these "cheesecake" bars with soaked cashews to replicate cheesecake's creamy texture—no dairy or baking necessary. You won't miss the dairy one bit in these gluten-free, vegan bars.
12. Vegan Gingerbread Cake With Coconut Frosting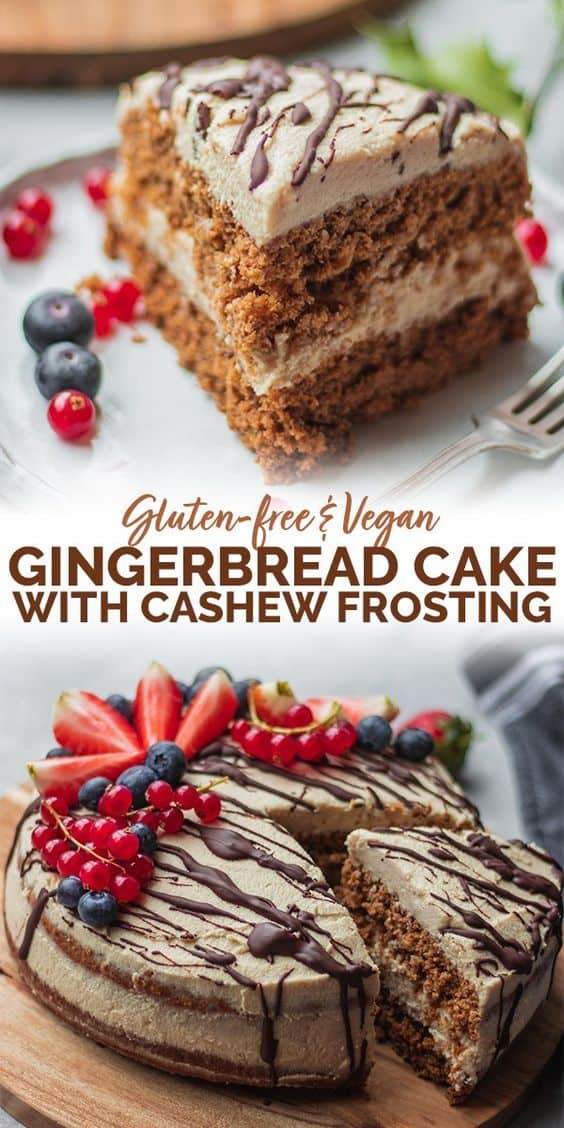 Article image from – earthofmaria
This gluten-free vegan gingerbread cake is a delicious festive dessert, perfect for Christmas and any other special occasions, as well as oil-free, dairy-free and beginner-friendly. Decorated with an easy coconut frosting made from cashew nuts.
13. Vegan Gingerbread Scones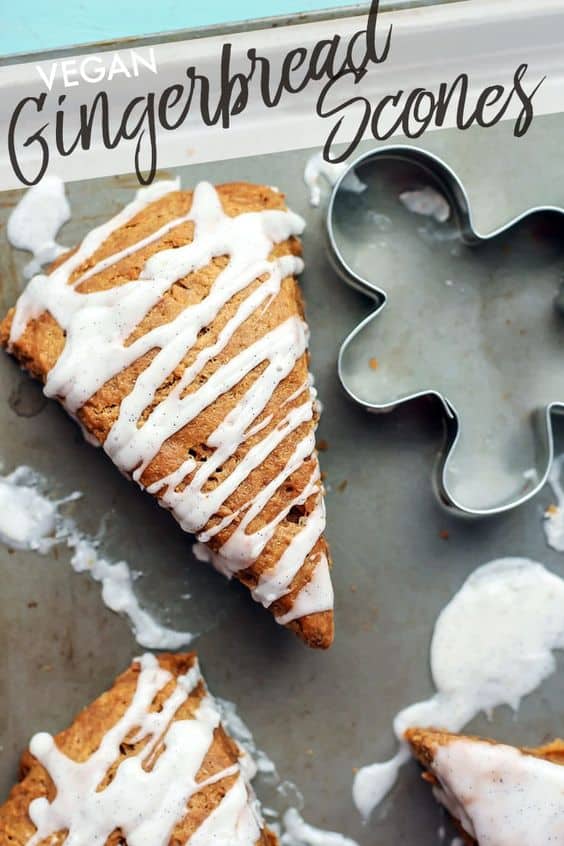 Article image from – fitmittenkitchen
Whole wheat and vegan GINGERBREAD SCONES. The flavor in these scones is out of this world. Sweetened with molasses for the classic gingerbread flavor and topped with vanilla bean glaze.
14. Vegan Gingerbread Latte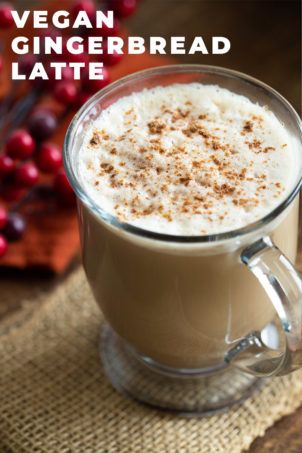 Article image from – veganricha
Creamy Warming Vegan Gingerbread Latte. This vegan version of the Starbucks gingerbread latte has fresh ginger, homemade gingerbread spice and amazing flavor. Can be made caffeine-free. Vegan Glutenfree Recipe
15. Vegan Gingerbread Cookie Bars

Article image from – saltandlavender
These vegan gingerbread bars are sweet, sticky, easy to make, and wonderfully festive.