Pasta makes the perfect dinner dish, add vegetables for a healthy recipe. From tomato pasta, to vegan fagioli pasta. Enjoy 15 Vegetarian Pasta Recipes For Dinner.
Browse our other vegetarian recipes.
1. Creamy Lemon Broccoli Pasta Recipe
Article image from – nospoonnecessary
This quick and easy Creamy Lemon Broccoli Pasta can be ready in 25 minutes, or less! Al dente pasta tossed with broccoli and an easy sauce made with ricotta cheese, then finished with crispy lemon breadcrumbs. This easy pasta is a weeknight dinner winner!
2. Roasted Cauliflower Pasta with Creamy Garlic Sauce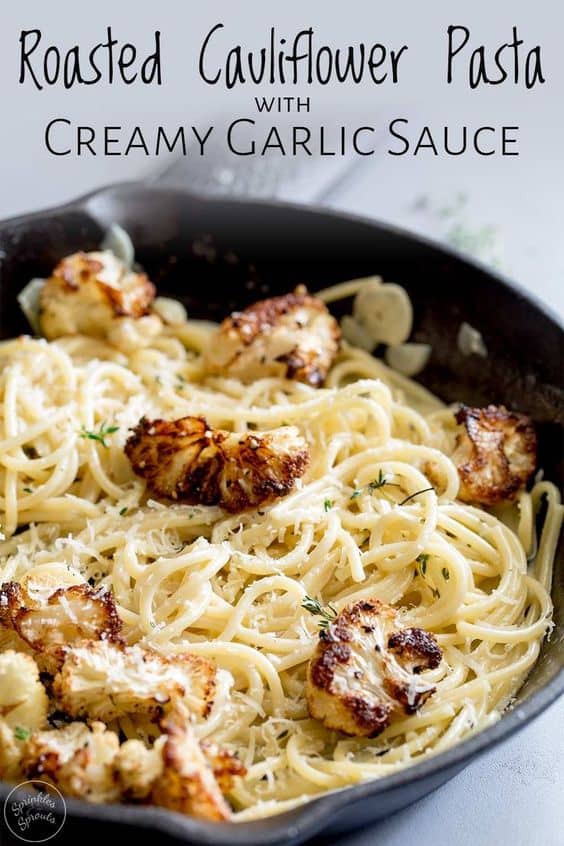 Article image from – sprinklesandsprouts
This Roasted Cauliflower with Creamy Garlic Pasta is an elegant yet simple vegetarian pasta dinner. Perfect for entertaining or dinners on meatless Monday.
3. Marinated Vegetarian Pasta Salad
Article image from – recipetineats
How do you make a Vegetarian Pasta Salad so fabulous that even the hardest of hardcore carnivores can't get enough of it? MARINATE the vegetables. This big, fat pasta salad recipe is a standout – it's juicy, it's flavour loaded and it looks as amazing as it tastes!
4. Creamy Spicy Sun Dried Tomato Pasta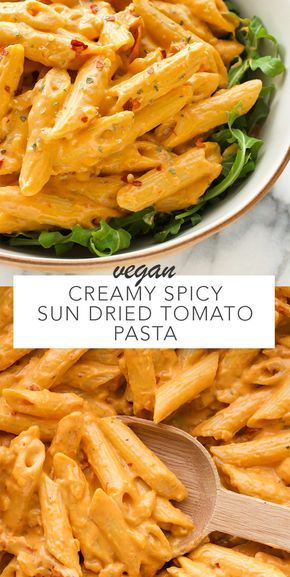 Article image from – amylecreations
A creamy spicy sun dried tomato sauce that's simple and quick to make. Uses simple ingredients which makes it perfect for a weeknight dinner. Vegan and gluten free when using your favourite gluten free pasta.
5. Instant Pot Creamy Tomato Basil Pasta
Article image from – cookwithmanali
Creamy Tomato Basil Pasta made in the Instant Pot! This one pot meal takes only 20 minutes to cook!
6. Orecchiette Pasta with Broccoli Sauce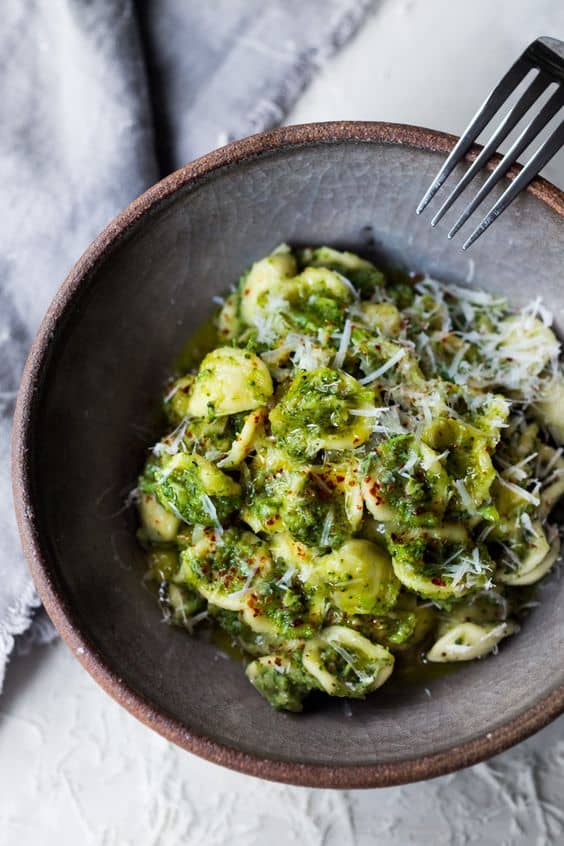 Article image from – feastingathome
A simple delicious vegetarian recipe for Orecchiette Pasta with Broccoli Sauce – full of flavor and nutrients! 
7. Creamy Bow Tie Pasta
Article image from – juliasalbum
Creamy Farfalle Pasta with Spinach, Mushrooms, and Caramelized Onions.  This simple meatless Italian dinner is pure comfort food!  The bow-tie shaped pasta is perfectly matched with rich and buttery Parmesan sauce!
8. Mediterranean One Pot Pasta
Article image from – midwestfoodieblog
This 20 minute, one pot Greek pasta is loaded with veggies and all your favorite Mediterranean flavors of olive oil, fresh dill and feta cheese. 
9. Creamy Mushroom Pasta Bake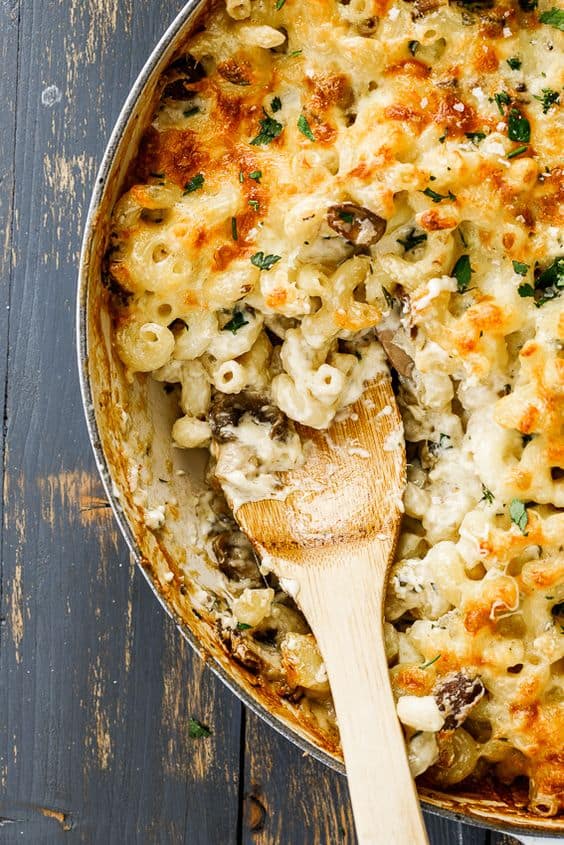 Article image from – simply-delicious-food
This creamy mushroom pasta bake is the perfect comforting vegetarian casserole for easy weeknight dinners. Make ahead and freeze for no-fuss meals
10. Mushroom Asparagus Pasta
Article image from – recipesfromapantry
This Mushroom Asparagus Pasta recipe is the perfect recipe for those days when you just want something simple (but soooo good). It is made with everyday ingredients, vegetarian and quick aka ready in only 20 mins!
11. Vegan Street Corn Pasta Salad
Article image from – sweetsimplevegan
In less than 15 minutes you can enjoy this simple and delicious vegan street corn pasta salad. It's the perfect budget-friendly side to bring to BBQ's & Picnics all summer long!
12. Pesto Pulse Pasta with Roasted Zucchini
Article image from – nourisheveryday
This delicious pesto pulse pasta makes a healthy vegetarian dinner that's super easy to make. High-protein San Remo Pulse Pasta is cooked with pesto, oven roasted zucchini and extra parmesan and pine nuts. So delicious.
13. Creamy Vegan Lemon Pasta with Fresh Peas and Spinach
Article image from – abraskitchen
Creamy vegan lemon pasta with fresh peas and spinach. No heavy cream or butter, a simple dish loaded with flavor.
14. High Protein Mushroom Swiss Pasta Bake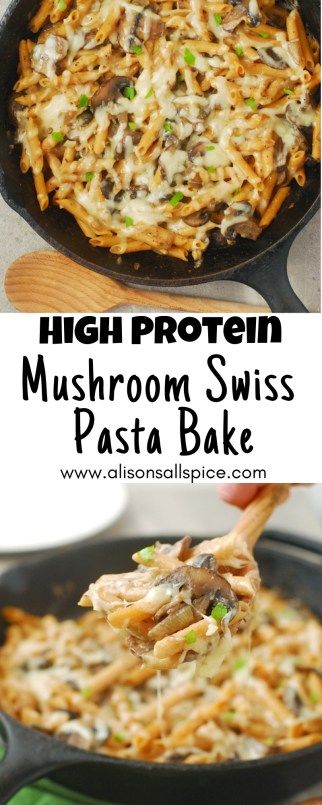 Article image from – alisonsallspice
This high protein mushroom swiss pasta bake has 44 grams of protein/serving! Chickpea pasta and Gruyere supply the protein, while mushrooms and miso paste pack in the flavor!
15. Vegan Pasta Fagioli
Article image from – thecleaneatingcouple
This Healthy Vegan Pasta Fagioli is packed with protein and so cozy. It's the perfect nutritious, veggie packed winter dinner anyone will love!