Peanut butter makes the perfect snack, and you can add it to just about anything. It's healthy and it's also vegan. If you've looking for some homemade peanut butter snack recipes, you've come yo the right place! From peanut butter cookies, to peanut butter granola. Discover 20 Healthy & Delicious Homemade Peanut Butter Snacks.
Browse our other healthy recipes.
Feel free to quick jump!
I can't take all the credit here, as usual with my recipes I start by looking around for inspiration. I have credited people where appropriate for these amazing peanut butter recipes and you will find links to the original recipes.
Once I had collected together some ideas I started to let my imagination run. Not everything worked (as always), but I did have some incredible successes. So why not get creative! Take the peanut butter recipes here and adapt them for your family and friends. You know what you like, so include the ingredients you prefer where you can.
Personalising cooking for the person you are sharing with can be easier than you think. Just take some time to think about their likes so you can adapt the recipes for them.
1. Peanut Butter Cookies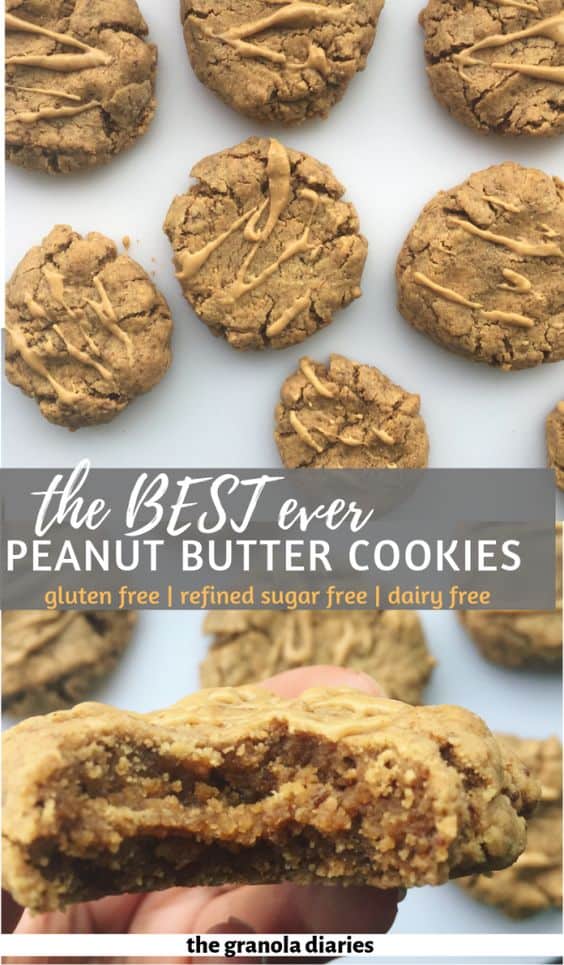 Article image from – thegranoladiaries
Just look at that cookie and tell me you don't want to reach through the screen and grab one of these Healthy Peanut Butter Cookies!
My Version Of Peanut Butter Cookies
My Peanut Butter Cookie recipe was inspired by the one on the link above, so try both. Personal taste can take you on an amazing journey. I love sesame seeds and they make a great combination with peanut butter, so it was an obvious choice for me to include some toasted sesame seeds in the recipe. Use your imagination to create your own.
Because of environmental issues I prefer to avoid palm sugar. I don't want to add to something that is such a huge problem already. Think about your ingredients and shop responsibly.
Ingredients:
1 cup of smooth/creamy peanut butter

¼ cup Raw Cane Sugar (Demerara, Muscovado or any unbleached cane sugar is fine)

¼ cup of Set Honey

¼ cup of Oat Milk (almond or any other nut milk works too)

2 – 3 Tbsp Coconut flour

1 tsp baking soda

A pinch of Sea salt (if your PB isn't salted)

¼ cup of sesame seeds
Directions
Preheat oven to 375 and line a baking sheet with grease proof or parchment paper (you can just grease the baking sheet with oil or butter if you don't have any paper).

Mix the peanut butter, sugar, honey and oat milk with a nice wooden spatula. Then, add in 2 Tbsp of the coconut flour, baking soda, and a dash of salt and mix until it's thoroughly combined. The mixture can be quite sticky depending on what sugar and honey you use. If it seems TOO sticky, add the 3rd Tbsp of coconut flour.

Use a spoon and the wooden spatula to scoop the mixture into rounds on the baking sheet. You can leave them as they are or roughly shape them with the spatula or your fingers. Top with a sprinkling of sea salt flakes.

Sprinkle on a generous layer of sesame seeds and gently press them into the surface of the cookie with the back of a spoon. There is no need to toast the sesame seeds; they will be cooked during baking.
2. Peanut Butter Banana Pancakes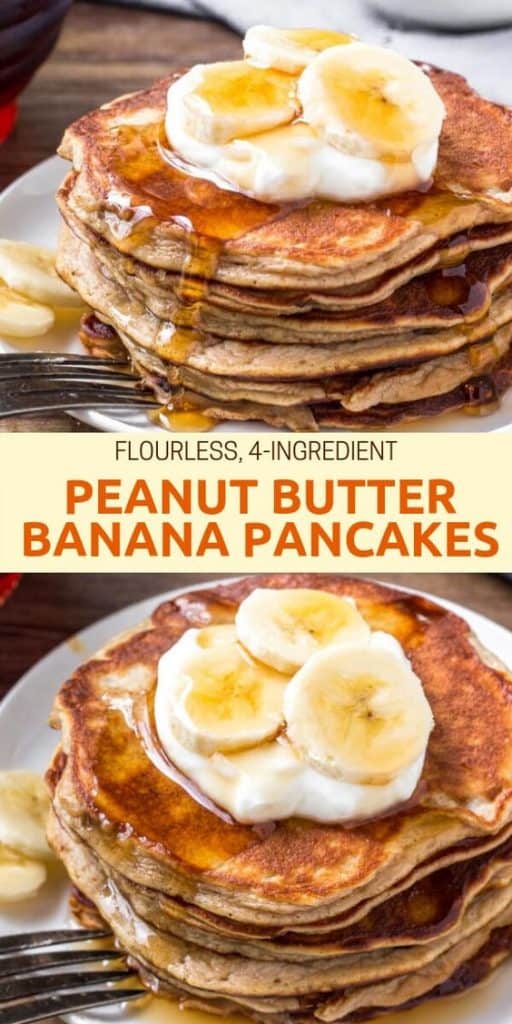 Article image from – justsotasty
There's only 4 ingredients – so you likely have everything you need already in your pantry. They have a delicious peanut butter banana flavor, and despite being flourless, they really do taste like your favorite pancakes.
My Version Of Peanut Butter Banana Pancakes
A Vegan Alternative
This next recipe is amazing, so I'm not going to change a thing really. However, if you want a vegan peanut butter and banana pancake alternative, mixing a tablespoon of gram flour with a tablespoon of cold pressed olive oil or sesame oil makes a great vegan egg alternative. As well as binding the ingredients it provides great protein too!
3. Peanut Butter Granola Cups

Article image from – omgchocolatedesserts
Need a quick and healthy snack? No Bake Peanut Butter Granola Cups are easy and healthy snack for kids and adults and perfect breakfast to grab and go on busy mornings.
My Version Of Peanut Butter Granola Cups
Well, my recipe has a few more ingredients than the one it was inspired by above, but personally I think that the effort involved in including the extra ingredients is more than worthwhile.
The maple syrup creates a more complex sweetness overall. The tahini and cashew nuts make for a creamier tasting centre, and the sesame oil gives the chocolate a lovely distinct flavour
Try this one, but the original recipe that inspired it in the link below is also worth a look.
Ingredients:
2 ½ cups granola

1 cup crushed or chopped peanuts

3 Tablespoons peanut butter

2 Tablespoons honey (or more if needed)

1 Tablespoon maple syrup
Filling
½ cup peanut butter-melted

½ cup tahini

½ cup of crushed or chopped cashew nuts
Topping
350grams/12 oz. finally chopped dark chocolate

1 Tablespoon sesame oil
Directions:
To make these Peanut Butter Granola Cups, put the granola, chopped peanuts, peanut butter honey and maple syrup in a bowl and combine well. If the mixture is too dry add more honey to get a nice sticky consistency in the mixture.

Grease cupcake pan and divide the mixture in 12 cups. Press the mixture in well so they hold together and make a dent in the centre of each cup. Freeze for 5-10 minutes, until the cups are firm.

Sprinkle the crushed cashew nuts into the dent in the granola cups

Then, melt peanut butter and pour it into the centre of each granola cup to coat the cashew nuts. Now, freeze for another 5-10 minutes, until firm.

Finally, melt dark chocolate and sesame oil and spoon the melted chocolate mixture across the top of the whole Peanut Butter Granola Cup.

Chill until the chocolate has set.

Store in the fridge in air-tight container, or you can freeze them for long term storage.
4. Peanut Butter Oatmeal Cookies

Article image from – justsotasty
These peanut butter oatmeal cookies are soft, chewy and filled with peanut butter goodness. The oatmeal adds tons of texture, and it's a quick and easy recipe that all peanut butter fans are sure to love
My Version Of Peanut Butter Oatmeal Cookies
The recipe from justsotasty, above is great, but as usual I try to improve and personalise my cooking. Wherever I can, I look to the most natural and unprocessed ingredients I can think of as alternatives, and that's how my version of this recipe developed.
Alternative Ingredients
Sugar
I replaced the white sugar with Demerara sugar and used Muscovado as the "packed" brown sugar. You could substitute honey for either too. This will give you a softer more succulent peanut butter cookie.
Vanilla
Instead of Vanilla extract using a fresh vanilla pod will give you a much improved flavour, and adding some star anise or cinnamon gives it another twist.
Flour
Using strong white plain flour gives you a light yet robust biscuit, whereas using stone-ground wholemeal flour will give you a denser biscuit with a more nutty flavour.
Oats
Personally, I don't use "quick" oats. I prefer to use rolled oats, they have much better nutritional content and use less energy in the processing, so they help the environment compared to finely milled "quick" oats. Sometimes I will just toast the oats in the bottom of the pan for a while if I have the time. This adds to the nuttiness of the flavour.
Making It Easy
At the beginning of the recipe, if you warm the butter and peanut butter until they melt together it will make mixing much easier.
I hope this helps you adapt the recipe for yourself, enjoy experimenting, maybe you could add a little ginger? Or some allspice? The combinations are endless. I'm sure you can make your own peanut butter cookies, and I would love to hear about some of your successes.
5. Healthy Peanut Butter Balls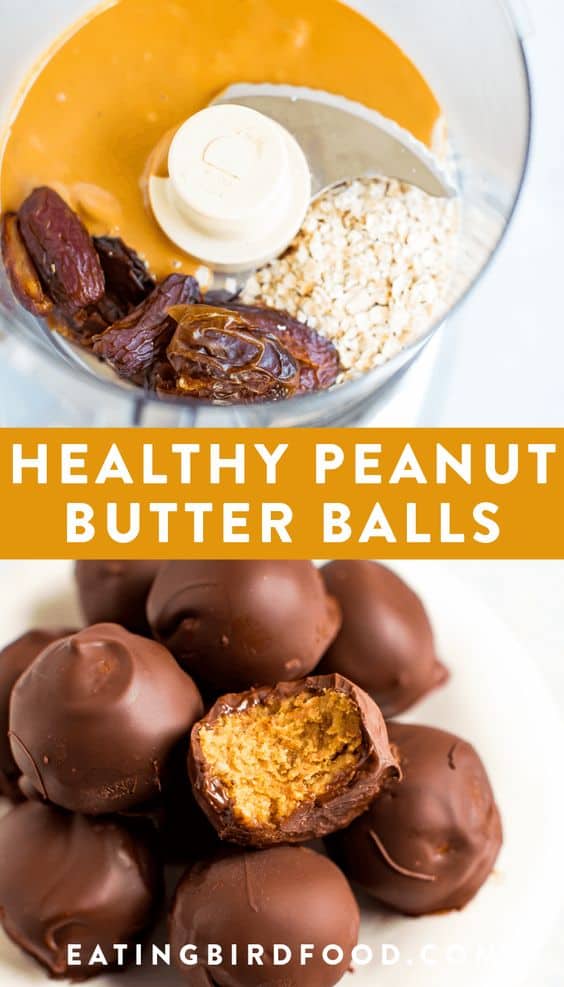 Article image from – eatingbirdfood
Make healthy peanut butter balls with only 5 simple ingredients: peanut butter, oats, dates, chocolate and coconut oil! No powdered sugar or butter needed. These peanut butter balls are dairy-free, gluten-free and vegan!
6. Oatmeal Peanut Butter Chocolate Chip Breakfast Bars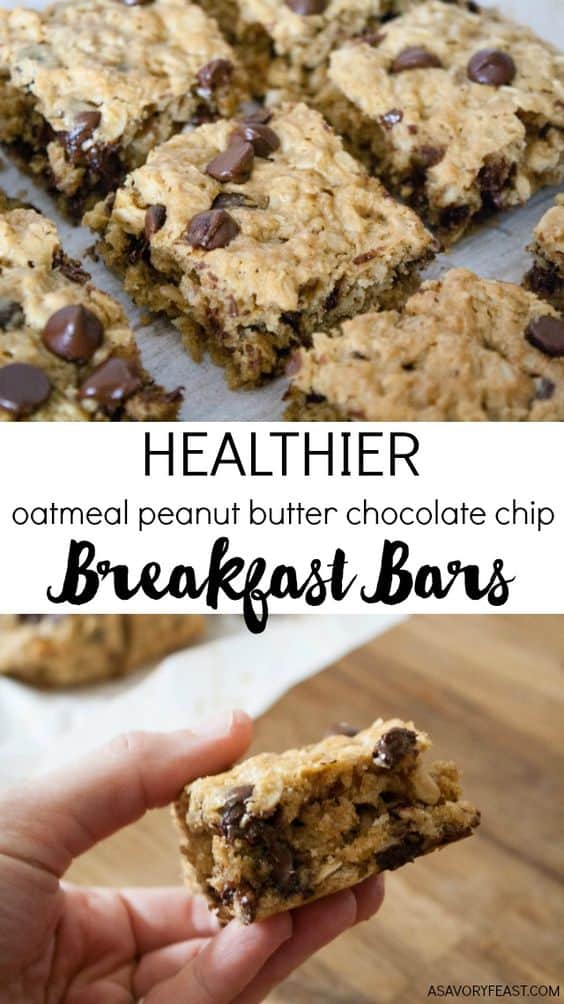 Article image from – asavoryfeast
Everything you need for breakfast: oats, peanut butter and a little bit of chocolate! These Healthier Oatmeal Peanut Butter Chocolate Chip Breakfast Bars are low in sugar and so filling!
My Version Of Oatmeal Peanut Butter Chocolate Chip Breakfast Bars
Oats, peanut butter and chocolate! What more could you ask for (maybe a few toasted sesame seeds?). This is another great recipe, with amazing potential for personalisation.
This is my favourite version so far and the original recipe that inspired it is on the link above.
Ingredients
1 cup lightly toasted rolled oats (uncooked)

½ cup of toasted sesame seeds

½ cup flour (you can use wheat flour or substitute with almond, coconut or any other GF flour)

½ tsp cinnamon

½ tsp allspice

¼ tsp baking powder

¼ tsp baking soda

¼ tsp salt

2 tbsp sesame oil

2 eggs ( 1 Tbsp of gram flour and 1 Tbsp of Olive oil whisked together per egg for a Vegan alternative)

½ cup maple syrup

¼ cup crunchy peanut butter

½ tsp vanilla

½ cup chocolate chip
Directions
Put the oats in an empty pan on a medium heat and keep them moving, you will notice a sweet nutty aroma after a while and the edges of the rolled oats will go a little crispier. Once cooked put them in the empty mixing bowl.

Use the same pan to do the same thing with the sesame seeds, as soon as you start to see them change colour take them off the heat and empty the pan into the mixing bowl with the oats.

Preheat oven to 350 F and line an 8×8 pan with parchment paper.

In a medium bowl, mix together the oats, sesame seeds, flour, cinnamon, allspice, baking powder, baking soda and salt. Set aside.

Warm the sesame oil slightly in a pan. Beat in the eggs. Add in the maple syrup, peanut butter and vanilla. Mix until combined.

Pour the wet ingredients into the dry and mix until just combined. Use a wooden spatula to fold in the chocolate chips. Spread the mixture into the pan.

Bake for 20-25 minutes or until golden brown. Leave to cool a little before cutting into bars. Then you can store them in an airtight container for up to 3-5 days.
7. Salted Dark Chocolate Peanut Butter Cups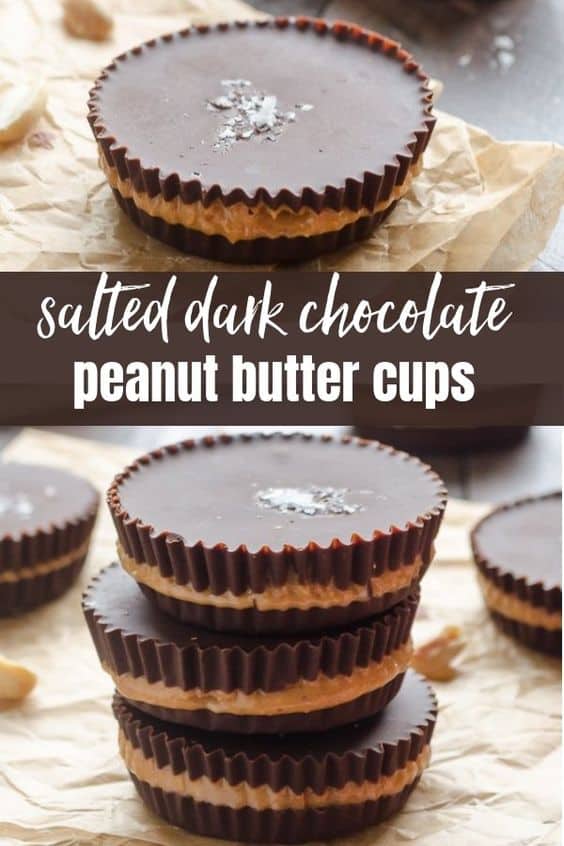 Article image from – flavorthemoments
Salted Dark Chocolate Peanut Butter Cups are a healthier, homemade peanut butter cups with no added sugar and only 4 ingredients!
8. Chocolate Peanut Butter Pie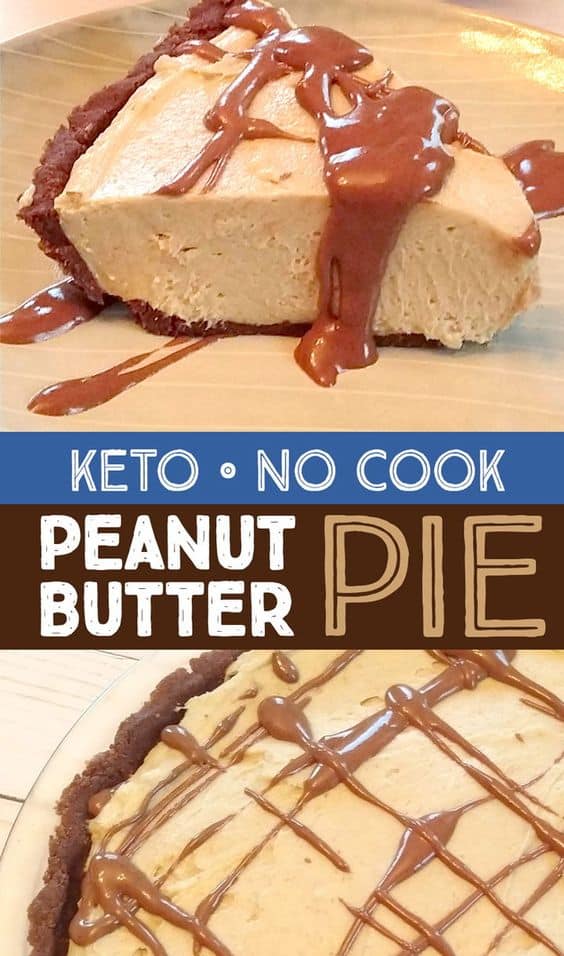 Article image from – cindyhilliard
This no cook keto dessert is delicious, and it easily fits into a low carb/high fat lifestyle!
My Version Of Chocolate Peanut Butter Pie
If I'm honest, this is the recipe I had to work on most to get a flavour that was right for me. However, I have included a link to the original recipe above, as it was in part the inspiration for this recipe.
Ingredients:
Crust
2 Tbsp butter, room temperature

½ cup almond flour

½ cup of rice flour

3 Tbsp of cocoa powder

1½ Tbsp raw cane sugar

½ tsp Vanilla
Filling
2 8 oz. Packages of cream cheese, softened

1 cup Peanut butter or Cashew Nut Butter

2/3 cup set honey

1 cup thick cream or mascarpone cheese

2 tsp vanilla
Topping
1 Tbsp cocoa powder

2 Tbsp golden syrup

2 Tbsp thick cream or mascarpone cheese

Pinch of salt
Directions
With the back of a fork, combine butter, almond flour, cocoa powder, sugar, and vanilla. Mixture will be crumbly. Press into a 9" pie dish, Chill in the refrigerator while making the filling.

With a stand or hand mixer, combine softened cream cheese, peanut butter or cashew nut butter, honey, and vanilla. Blend until smooth and creamy, scraping down sides of bowl with a wooden spatula. Add the cream and fold it into the mixture until it gets evenly smooth and creamy. Pour into crust and refrigerate for about 2 hours.

In a small bowl, combine cocoa powder, golden syrup, thick cream, and salt. If it is too thick to drizzle, warm it for 2-3 minutes on a gentle heat. Drizzle it on top of the pie. Slice and enjoy!
9. Healthy Reese's Peanut Butter Cup Frozen Yogurt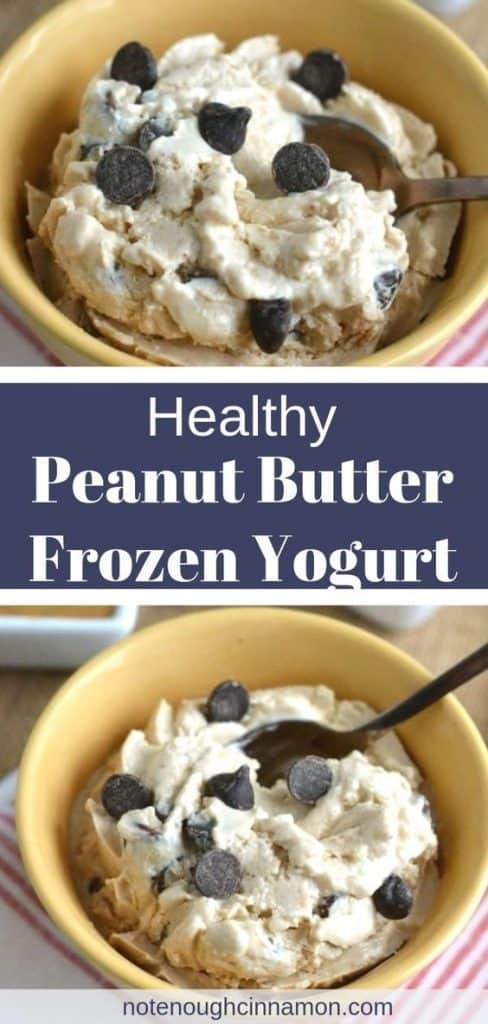 Article image from – notenoughcinnamon
No need to feel guilty about eating a big bowl of this Reese's Peanut Butter Cup Healthy Frozen Yogurt! You don't even need an ice cream maker to make this light frozen ice cream dessert!
10. Peanut Butter Protein Balls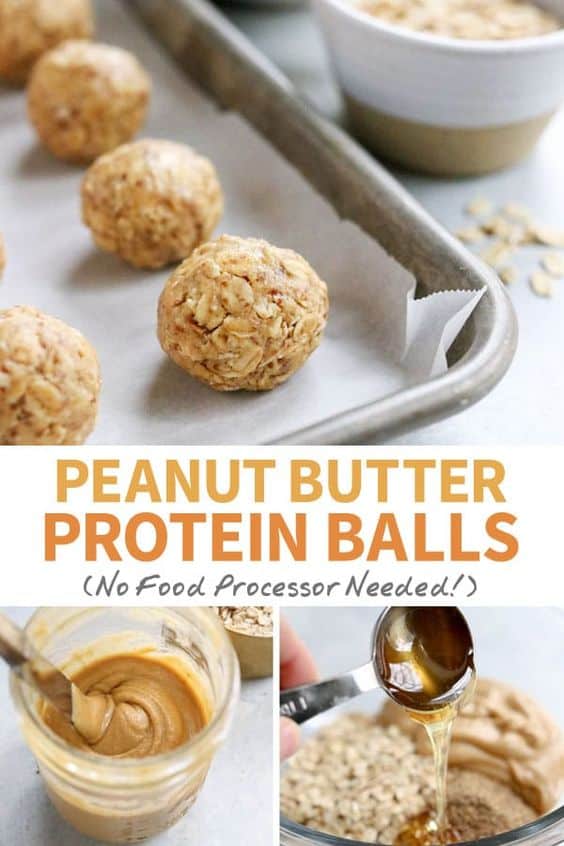 Article image from – detoxinista
These Peanut Butter Protein Balls are a healthy snack that remind me of cookie dough, only more filling. I love that you don't need any special equipment to make them– just a bowl and a spatula for stirring. No protein powder required, either!
11. Vegan Peanut Butter Fudge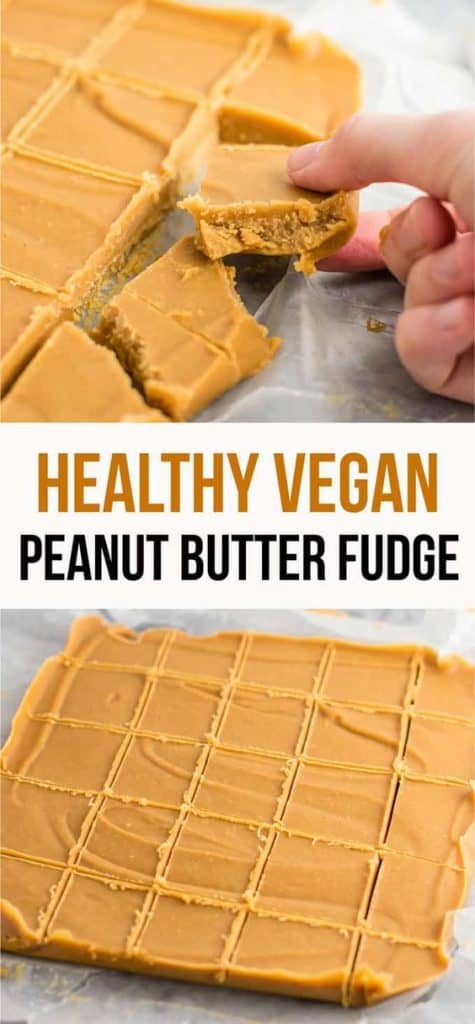 Article image from – buildyourbite
This ultimate healthy vegan peanut butter fudge recipe is made naturally dairy free and gluten free. A dessert you don't have to feel guilty about!
My Version Of Vegan Peanut Butter Fudge
Natural, Vegan and Gluten Free with no added sugar, this upside down peanut butter fudge really is amazing. The toasted sesame and caraway seeds give it a wonderfully distinct flavour. Together with the chia seeds they provide a nutritional punch that you don't expect from a sweet treat.
The recipe that original inspired my "Super Seed, Upside Down Peanut Butter Fudge" recipe, is above my version of the recipe. If you want to practice first, it's a simpler version of the same recipe, just follow the link above.
Ingredients:
1 cup of smooth/creamy peanut butter (choose a good peanut butter with just peanuts and salt and no other ingredients)

½ cup of cashew nut butter

5 Tbsp of coconut oil, measured while solid

2 Tbsp of sesame oil

½ cup pure maple syrup

1 large fresh vanilla pod

2 Tbsp coconut flour

2 Tbsp sesame seeds

1 Tbsp of chia seeds

1 teaspoon of whole caraway seeds

1/2 tsp sea salt
Directions:
First put the sesame, chia and caraway seeds in a pan on a low heat and keep them moving constantly. You will smell the beautiful aroma as the oils are released. As the colour of the sesame seeds starts to darken take them from the heat and pour into a ceramic bowl to cool.

Combine peanut butter, cashew nut butter, coconut oil, sesame oil, maple syrup, vanilla extract, and salt in a medium sized sauce pan.

Whisk on low heat until thoroughly combined (2-3 minutes)

Whisk in coconut flour.

Line an 8 by 8 dish with wax/grease proof paper.

Sprinkle the sesame and caraway seeds evenly onto the wax/grease proof paper.

Pour the fudge mix into the lined dish as evenly as possible and spread with a palette knife or wooden spatula(wet the knife/spatula with cold water to avoid sticking)

Allow to set for 1 hour in the freezer.

Lay another sheet of wax/grease proof paper and a flat tray on the top of the fudge and turn the whole thing upside down.

Lift off the 8 by 8 dish and gently peel the wax/grease proof paper away from the seeded side of the fudge to leave the fudge mix on the flat tray. Then simply cut it into bite-sized pieces.

Return to fridge or to the freezer if you want to store it for longer.

Serve chilled for best texture.
12. Peanut Butter Banana Muffins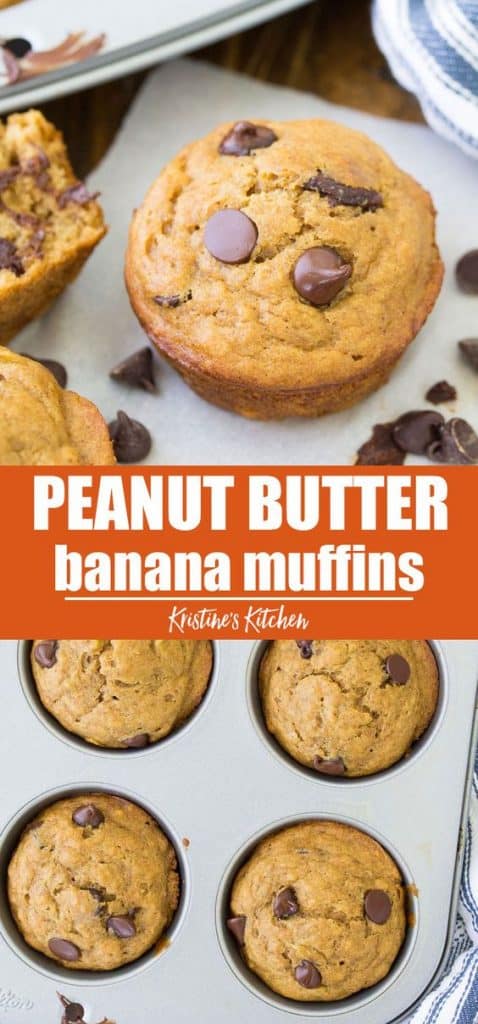 Article image from – kristineskitchenblog
These Peanut Butter Banana Muffins with chocolate chips are easy to make in one bowl. They are a delicious healthy snack or make ahead breakfast!
My Version Of Peanut Butter Banana Muffins
I love muffins, so I had to include a peanut butter muffin recipe and this has to be one of the best. As usual I have made many different versions. The basic recipe on the link above is wonderful as it is, but why not swap some of the peanut butter with cashew nut butter or almond butter? Tahini also makes a great addition.
Alternative Ingredients
I always look at the nutritional content of any food, and simply adding some sesame or poppy seeds will increase the protein content. It will also boost the levels of many vitamins, mineral and micronutrients in your diet.
Berries & Seeds
I have also tried adding berries. Raspberries or blackcurrants make a wonderful addition, just don't add too many. A small handful is plenty.
With the options above you have so many recipes it's easy to make something different. From peanut butter with banana and raspberry, to peanut butter cashew nut and sesame seed with blackcurrants, you are bound to have favourites, but there will always be something new to try for a change.
Honey
Changing the kind of honey you use can also make a big difference to both flavour and texture. Clear "runny" honey will give you a more succulent and softer texture. Lavender honey gives them an incredible flavour. Subtle but distinctly different, it can make a nice change.
Dried Fruit & Chocolate
The chocolate chips can be swapped for carob chips or dried fruit too. Carob has been used alongside chocolate for years and is a great low impact food from an environmental perspective. Raisins, sultanas or even chopped dates can also add something very different and make a great combination with peanut butter.
Honey & Maple Syrup
You can also replace some of the honey with maple syrup or even golden syrup. Combining them together will give much more complexity to the flavour of the finished muffins.
The possibilities really are endless. Different peanut butter muffins for every week of the year may stretch your imagination, but it isn't impossible. Why not see how many different and wonderful taste combinations you can find?
13. Peanut Butter Coconut Energy Bites

Article image from – marshasbakingaddiction
No-Bake Peanut Butter Coconut Energy Bites – Deliciously creamy and fudgy energy bites bursting with peanut butter flavour, and loaded with chocolate chips. A healthy protein-packed breakfast or snack!
My Version Of Peanut Butter Coconut Energy Bites
The recipe above has some amazing variations already, I simply added more options. The original recipe is in the link above, but I have tried to give you flexibility, so you can change the taste, texture and nutritional content to suit your lifestyle.
Ingredients:
1 cup (90g) toasted rolled oats

1/2 cup (125g) crunchy peanut butter

1/3 cup (113g) honey, maple syrup, or agave syrup

1 fresh vanilla pod, cinnamon, allspice or nutmeg

1/2cup (30g) desiccated coconut

1 table spoon pumpkin, chia, sunflower, flax or hemp seeds,

1/2 cup (90g) carob chips
Directions
In a large mixing bowl, mix together the oats, peanut butter, honey, vanilla, coconut, seeds, and carob chips until completely combined.
Refrigerate the mixture until firm enough to roll into balls.
Roll the dough into 1oz balls. Refrigerate or freeze until firm, then serve, or keep them refrigerated in an airtight container for up to 2 weeks. They also freeze well for up to 3 months. Thaw overnight in the fridge before eating.
Alternative Ingredients & Nutrition
Carob has been used as an alternative to chocolate for years. Replacing the chocolate chips in the original recipe with carob chips immediately turbo-charges the protein content, so is a great way to help the body repair itself.
Toasting the oats first gives them a distinctly nutty flavour that I love. It's easy, simply put them in a pan on a medium heat and move them constantly using a good wooden spatula, or shake them around in the pan. You will notice a subtle change in the aroma as the oats begin to toast, and the edges of each oat grain will become "crispy". Empty them from the hot pan into a ceramic bowl when they are done to avoid drying them out too much. 
Spices
Vanilla, cinnamon, allspice and nutmeg all have their own valuable nutritional content too. They aren't just flavours. Cinnamon is incredible; it provides a huge dose of calcium and iron, with significant quantities of magnesium and potassium. It also contains vitamin B6, vitamin A and vitamin C, so is a great addition to anyone's diet.
Seeds
With the seeds, you can combine them or use them individually. Each has their own valuable additions to everyone's diet. Chia seeds have well documented benefits nutritionally, but the other seeds listed as alternatives are just as valuable.
Pumpkin seeds are an amazing source of omega 3 oils but i would suggest toasting them or putting them in a hot oven to roast a little first.
Hemp seed is a concentrated source of omega-3 oils and also contains a specific omega-6 oil called GLA. They also contain phytosterols, which help in reducing the amount of cholesterol in the body by removing fat build-up in the arteries. Complex nutritionally, it contains calcium, iron, magnesium, phosphorus, potassium and zinc and also adds to your daily dose of vitamins C, A, E and some B vitamins. 
Sunflower seeds have high levels of magnesium and vitamin B6 with significant levels of iron and potassium.
Flax seed has huge amounts of magnesium and dietary fibre and significant levels of vitamin B6, calcium and potassium.
All have high levels of protein, which was the base requirement for this recipe. If you know specifically that you are deficient in something, targeting this deficiency with seeds can be an easy solution. Otherwise, I would suggest combing the seeds to make these peanut butter energy bites as balanced nutritionally as possible.
14. Peanut Butter Oat Bars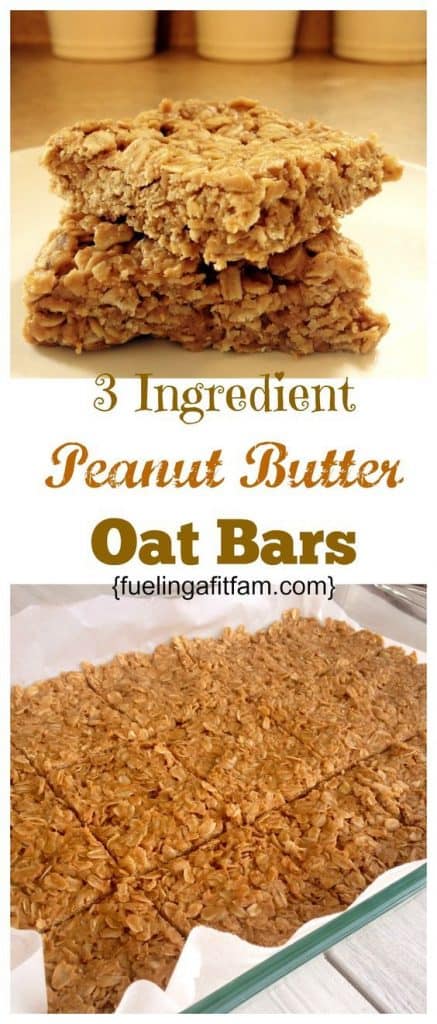 Article image from – fuelingafitfam
So when I am looking for something even easier in the peanut butter bar world I make these Peanut Butter Oat Bars! I am talking easy! They are only 3 ingredients! They are seriously easy and seriously tasty. My girls love them! I mean really, who doesn't like peanut butter, oats and honey?
My Version Of Peanut Butter Oat Bars
Simple is best as far as I am concerned, so when I found the recipe above I was delighted. With 3 ingredients in just 5 minutes you can make these wonderful peanut butter oat bars.
Make It Your Own
Yes you can add other ingredients, quickly and easily, but when something this simple tastes this good, why change it.
The only thing I would do is toast the oats first, but this is purely personal taste. I have told you how to toast the oats in the previous recipes so just scroll up a little if you need to refresh, but you may well prefer the original recipe, so do try both.
It makes something good enough nutritionally to sit alongside any shop bought energy bars and tastes better than most of them too.
15. No-Bake Chocolate Peanut Butter Bars
Article image from – livewellbakeoften
These No-Bake Chocolate Peanut Butter Bars only require 5 simple ingredients and can be prepared in about 10 minutes. The perfect easy dessert for chocolate and peanut butter lovers!
My Version Of No-Bake Chocolate Peanut Butter Bars
When I first saw this recipe I immediately thought of millionaire's shortbread. It isn't the same at all really, but it looks so similar there will always be comparisons. Better nutritionally, they also taste better to me.
Alternative Ingredients
A rich, high cocoa content dark chocolate, will give you a refined taste with a mild bitterness to complement the sweetness of the peanut butter and honey beautifully.
Chocolate
Using a creamy Belgian milk chocolate will soften the flavour, and because the chocolate melts at a lower temperature you get to experience that delightful feeling as the ingredients literally melt in your mouth.
This is one to enjoy anywhere, so why not have afternoon tea with these delightful chocolate peanut butter bars.
16. No-Bake Peanut Butter Bars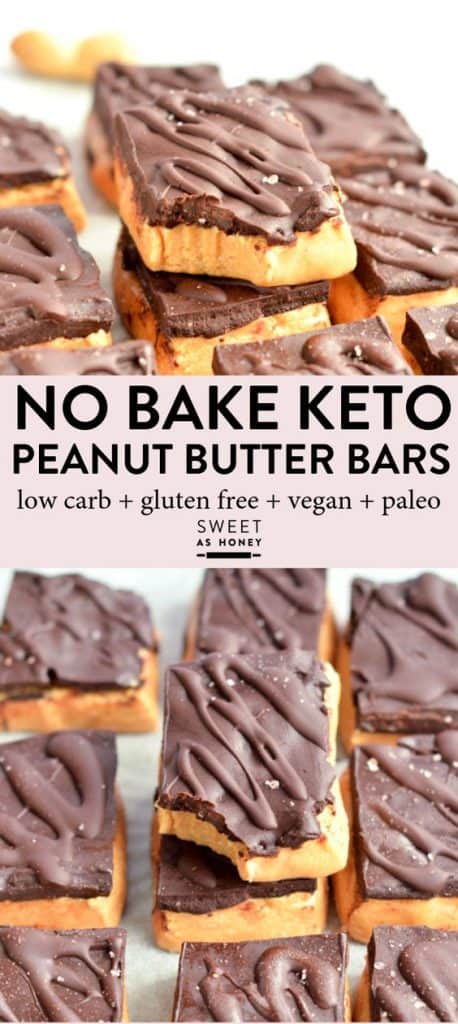 Article image from – sweetashoney
No bake peanut butter bars healthy dessert made with 6 simple ingredients, 100 % sugar free, gluten free and vegan. A delicious easy low carb recipe to fix your sweet cravings with no sugar in less than 20 minutes.
17. Chocolate Peanut Butter No Bake Cookies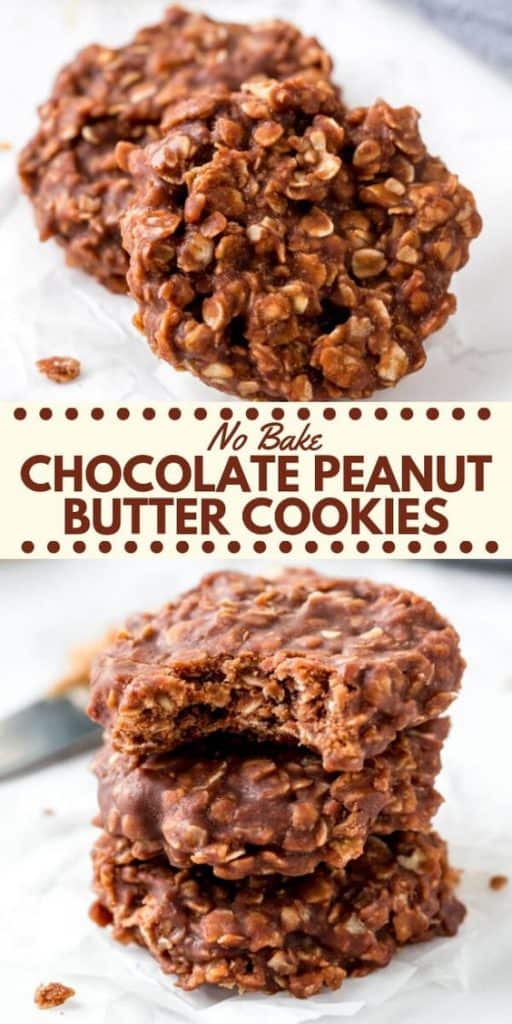 Article image from – justsotasty
These chocolate peanut butter no bake cookies extra chewy, filled with texture and have a delicious chocolate peanut butter flavor. You only need a few simple ingredients to make these highly addictive treats!
My Version Of Chocolate Peanut Butter No Bake Cookies
This is another amazing chocolate peanut butter cookie recipe. The milk helps to make these a rich chewy peanut butter cookie, so they aren't vegan. However, it's easy to replace the milk with oat-milk and the butter with sesame or coconut oil, to "veganise" the recipe.
Ingredients:
1/2 cup goats butter (any butter is fine really, salted or unsalted)

2 cups unrefined raw cane sugar (any good brown sugar will work)

1/4 cup cocoa powder

1/2 cup milk

3/4 cup peanut butter

1 fresh vanilla pod (can just be left whole in the milk mixture and removed before mixing)

3 cups rolled oats
Directions:
Add the butter, sugar, cocoa, vanilla pod & milk to a medium saucepan over medium heat.

Melt the ingredients together while stirring gently.

After the butter is fully melted, bring the mixture to a boil for 3 minutes while whisking constantly.

Remove the pan from the heat.

Stir in the peanut butter.

Stir in the oats.

Drop the mixture into tablespoon-sized mounds on the lined cookie sheets.

Place in the fridge to harden for 30 minutes.
18. Healthy Peanut Butter Breakfast Bars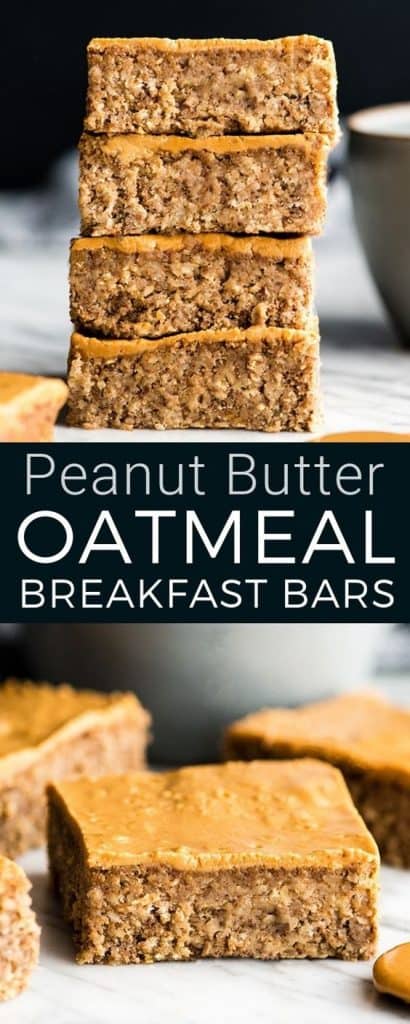 Article image from – joyfoodsunshine
These are the BEST Healthy Breakfast Bars ever! I have eaten one every day for over a decade (seriously)! This easy recipe is made in one bowl in 30 minutes, and is loaded with fiber, protein & omega-3s to keep you full all morning long! Plus they're gluten-free, dairy-free, refined sugar free and vegan!
19. Vegan Peanut Butter Banana Brownies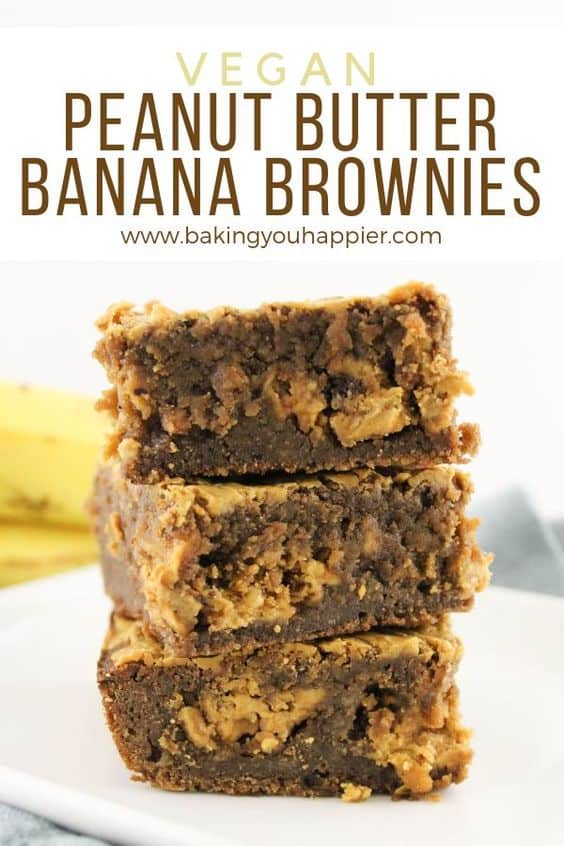 Article image from – bakingyouhappier
A delicious made from scratch vegan ooey-gooey brownie that is loaded with peanut butter, chocolate, and bananas!
20. Healthy Peanut Butter Granola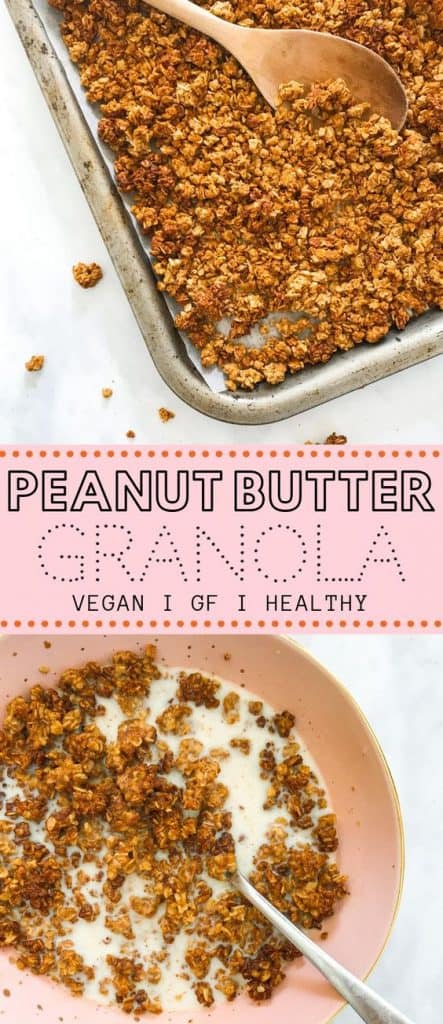 Article image from – georgieeats
Crunchy clusters of peanut butter granola goodness. Make a batch at the beginning of the week to jazz up anything your heart desires! Made from ingredients you might already have in your cupboards, ready in half an hour and super nutritious this peanut butter granola will beat anything you can buy.
My Version Of Healthy Peanut Butter Granola
Alternative Ingredients
There is something decadent about this peanut butter granola. I use a fresh vanilla pod instead of vanilla extract for improved flavour. Coating it in chocolate or sesame seeds (or even both!) turns it into possibly the best granola I have ever tasted.
Using freshly ground cinnamon ensures you get the true nutritional benefits it offers (see above). It really is one of the truly magical spices we have available to us. Take a look for yourself, if you search for "medicinal benefits of cinnamon"  you will find details of the many scientific studies that have been undertaken to identify the benefits that using cinnamon regularly can bring.