I know how it feels to have a hard time sleeping. Sometimes the mind won't turn off, and you are left tossing and turning in bed all night long. The next morning, you feel groggy, tired, and unmotivated for the day ahead of you.
That is why I created this blog post with 30 positive sleep affirmations to help you relax when your mind won't stop racing at night. These are tried-and-true methods that work well for me!
---
How positive affirmations helped me
As someone who has suffered from anxiety and depression in the past, I know how easy it is to get caught up in negative thoughts. I know the feeling of being kept awake at night by anxious thoughts.
It's not good to go to sleep every night with a negative mindset. Doing this too often can lead to a host of negative physical and mental health outcomes.
It's not always easy to change your thoughts, but it is possible!
I've always opted in for more natural remedies to tackle any problems that I'm facing. That's where positive sleep or bedtime affirmations come in to help.
I've found that repeating a few positive affirmations before bed can change my mindset for the better. Doing this has helped me sleep better and feel more energized in the morning.
You deserve to go to bed and wake up in the morning with a positive mindset and outlook, and I believe repeating positive affirmations can help you do that.
This blog post includes positive sleep affirmations to help combat these worries and find peace of mind before bedtime.
After reading this article, hopefully, you will have a little more insight into how you can go to sleep in a positive mindset.
What is a positive sleep affirmation?
A positive sleep affirmation is a saying or sentence that you can repeat to yourself before bedtime. It's like your own personal mantra-like reminder of why it will be better and easier to fall asleep tonight when you feel stressed about something in the day.
They are often phrased as 'I am ____,' followed by the desired quality or action that you're working on manifesting. For example, "I am happy" and "I am healthy."
Affirmations can also be made about what you have already achieved: "This year I was able to reach my goal weight," for instance.
Many people say they have found positive sleep affirmations helpful because by repeating these statements repeatedly before bedtime, they become programmed into their subconscious mind, making them feel better as soon as they lie down at night! This technique not only helps with improving one's mood but also aids in falling asleep faster without unnecessary tossing or turning.
How do affirmations work?
Affirming statements work because they reaffirm your belief in yourself and help open up pathways for creative thinking, leading to increased confidence levels overall.
When used correctly, affirmations provide motivational support during difficult times or when starting new goals. There is power in using these phrases to help you stay focused.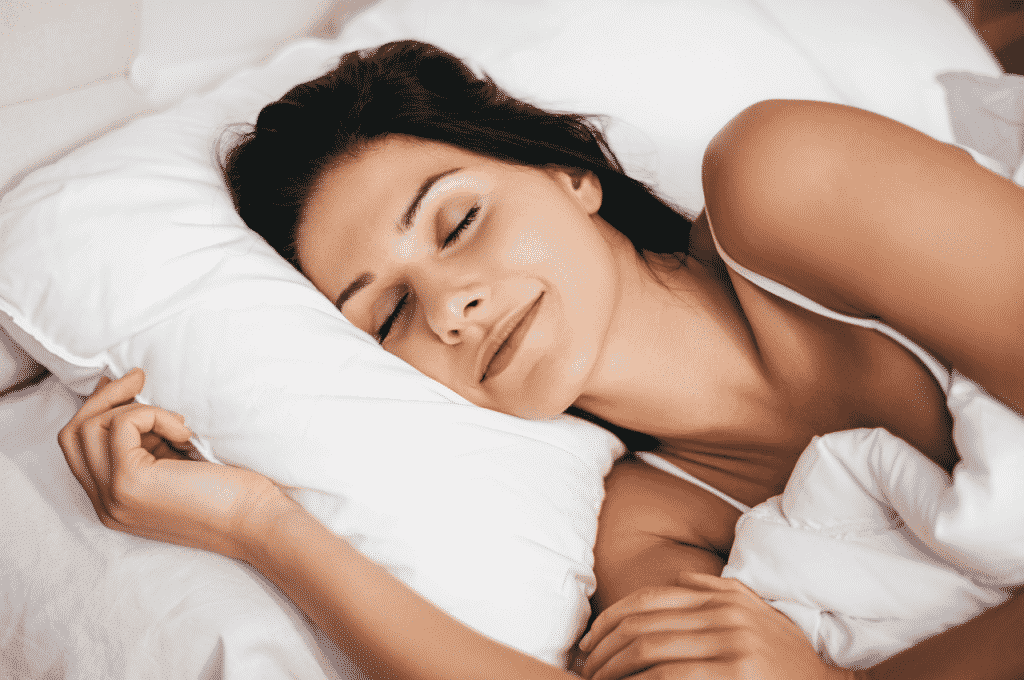 ---
30 positive sleep affirmations to say before bed
Below, I've listed the best 30 positive sleep affirmations to help you relax with your racing thoughts at night. You'll also learn how these are beneficial for mindfulness too!
1. I am ready to sleep. I will be safe in my bed
2. My future is so bright
3. I did my best today. I can continue to give more of myself tomorrow
4. I am filled with positivity and hope as I sleep.
5. I'll rest easy tonight and wake up with a clear mind, refreshed in my body.
6. Good positive thoughts and optimism will fill my dreams.
7. I am surrounded by calm and safety.
8. I let go of all my worries.
9. As I drift off to sleep, I am thankful for another day.
10. I am enough.
11. I will fulfil my dreams and aspirations.
12. Tonight, I sleep soundly, knowing that all is well in the world.
13. It's time to let go of worry and stress; they are taking up too much space in my head tonight.
14. My body deserves rest so it can heal itself from within, for strength like never before.
16. I maintain my mindfulness.
17. My mind is beautiful, my soul is beautiful, and my body is beautiful.
18. Sleep is essential for my well being. A calm, peaceful night awaits me tonight.
19. No matter what I do, I am not defined by my mistakes.
20. My goal is to stop worrying, stressing, and dwelling on negativity.
21. Tomorrow will be on its way soon, and it will be amazing.
22. I have enough energy for tomorrow.
23. I will let all the negativity fade away.
24. If I'm not happy with something, I have the power to change it.
25. Today is going so well!
26. Tomorrow will be even better!
27. Every day gets easier from here on out because tomorrow's another chance at fresh starts.
28. The best days are always ahead of me!
29. I can do anything if I put my mind to it.
30. It's okay that I don't know what tomorrow holds.
A few tips to help you make the most of your bedtime affirmations
Think about your desired outcome and how you will benefit from using this affirmation.
Repeat the affirmation to yourself five times while focusing on what it means to you.
Say the affirmation out loud in a positive tone of voice (not yelling) as if someone else is telling you the words. This helps reinforce that these are true statements for anyone who has been struggling with self-esteem issues or negative thoughts.
Finish by either meditating or doing some relaxing breathing exercises before trying to fall asleep; practising deep relaxation techniques can be an effective way to make affirmations work even better.
Get a good night's sleep, even if it means taking naps during the day.
Stay away from caffeine and other stimulants when trying to fall asleep; these can prevent people from sleeping soundly through the evening.
---
FAQs
How can I be positive before sleeping?
You can be positive before going to sleep by repeating positive affirmations like those mentioned in the post above. These affirmations will help reprogram your thoughts and create a more positive outlook towards life.
You can also try writing down in a journal what you're grateful for. This will make you think about the good things in life and get your mind off negative thoughts.
Do positive affirmations work whilst you sleep?
Yes, I believe they do.
I say them before bed, and then when I lay down to sleep, they become programmed into my subconscious mind. Not only does this improve my mood, but it also helps me fall asleep faster without tossing or turning unnecessarily.
I recommend using these affirmations first thing in the morning and at night for the best results! To get a list of 50 positive affirmations that you can repeat during the day, click here.
---
Conclusion
We hope these 30 positive sleep affirmations have helped you relax and prepare for a deeper slumber. If they've been beneficial to your well-being, please share this post with someone who needs it!