Who doesn't love Girl Scout cookies? Being vegan doesn't mean you have to miss out on these tasty treats. Try one of these 10 Delicious Vegan Girl Scout Cookies.
Browse our other vegan recipes.
1. Vegan Girl Scout Cookies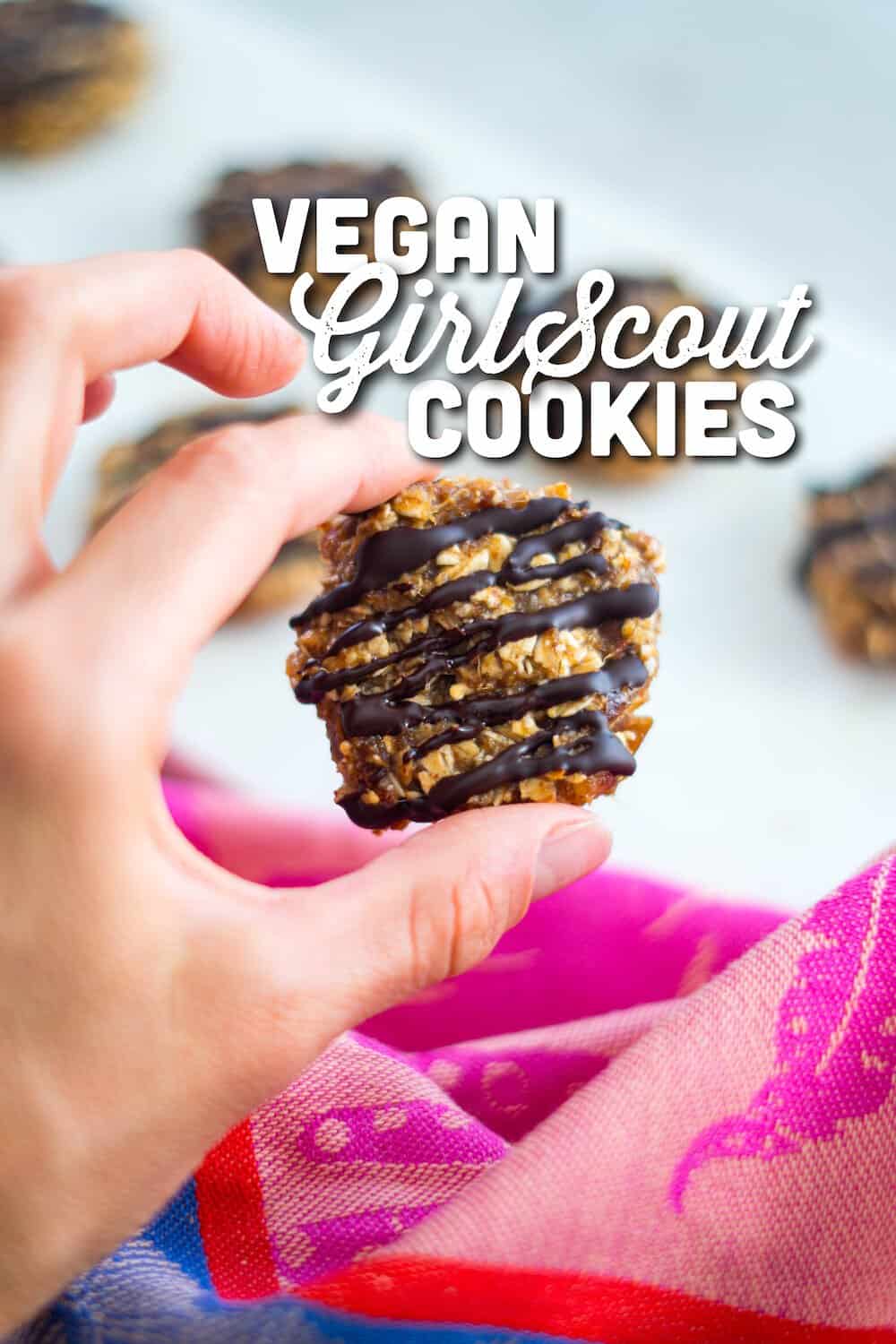 Article image from – eatmoverest
These cookies are so effortless, I have a hard time not making them! If you're looking for something sweetly simple to satisfy your sweet tooth, look no further! Homemade caramel delites are fun to make with the kiddos and they're baby-friendly, too! Max loves when I break off little bits for him to nibble on, and we love to enjoy them as a healthy snack on-the-go or for dessert after dinner. 
2. Healthy Samoa Girl Scout Cookies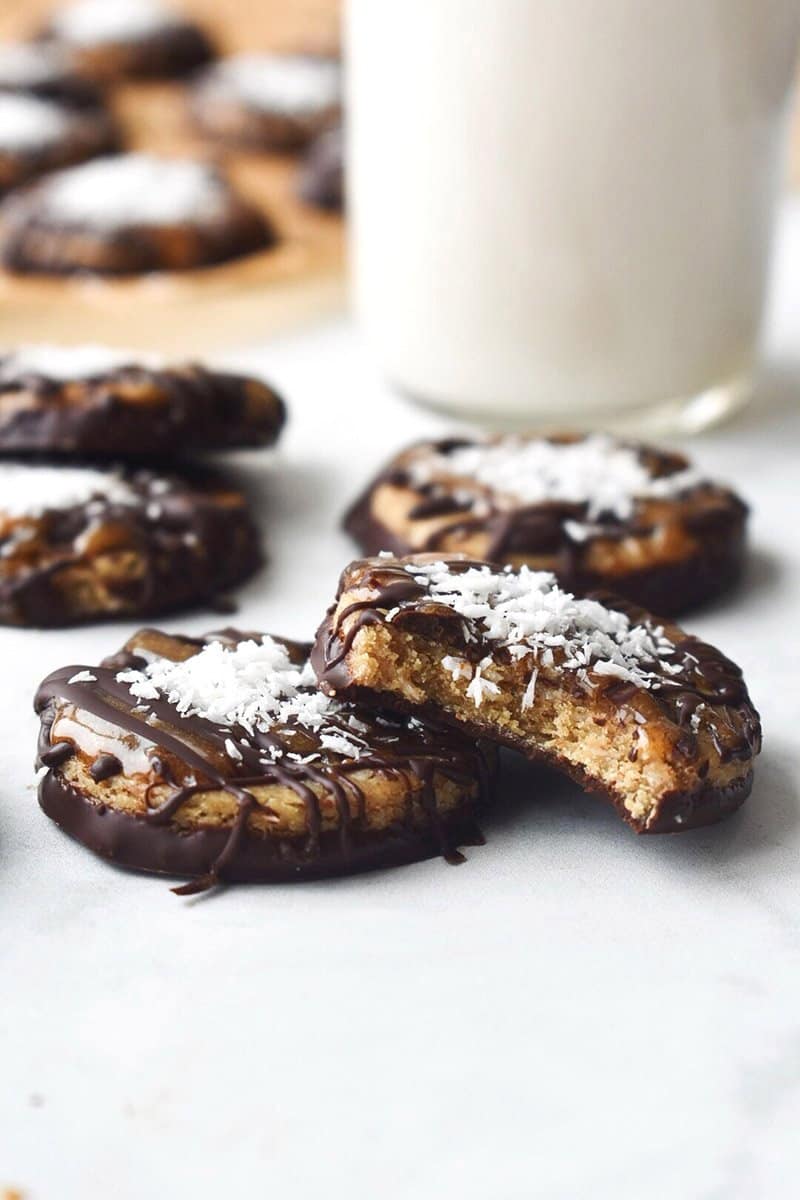 Article image from – amandaleelifestyle
Your favorite Girl Scout cookies just got a healthy makeover! Healthy, 6-ingredient no bake Samoas that are gluten free, vegan, and much lower in sugar than their original counterparts. They're full of nourishing ingredients, but they taste just like the real deal! Sweet, chewy, and coconutty with rich dark chocolate and a creamy almond butter caramel. 
3. Vegan Thin Mints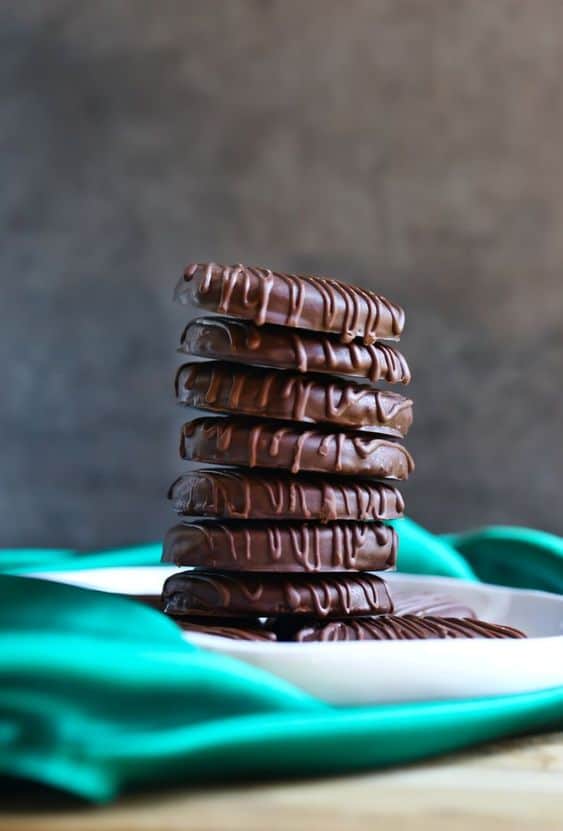 Article image from – thevegan8
These Vegan Thin Mints are the best ever! Just like the Girl Scout Cookies, but are vegan, gluten-free, dairy-free and with no added oils or butters, yet taste just like the traditional! So unbelievably delicious and yet, so much healthier than store-bought! Made with only 8 ingredients!
4. 4-Ingredient Vegan Samoas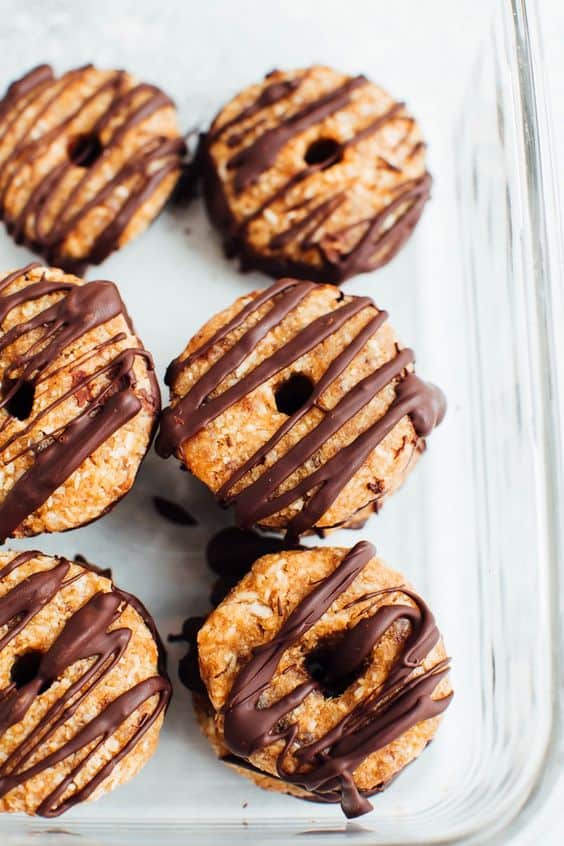 Article image from – eatingbirdfood
It's Girl Scout cookie season and I've got a treat for you. Healthy and simple (but incredible!) 4-Ingredient Samoas that might just taste better than the real deal. Shh…. don't tell the Girl Scouts. Vegan, gluten-free and paleo-friendly.
5. Paleo Vegan Shortbread Lemonades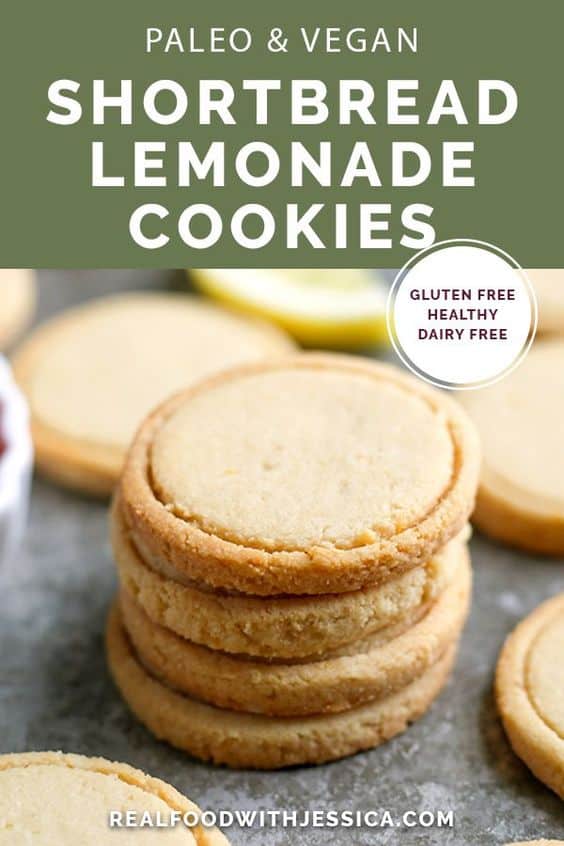 Article image from – realfoodwithjessica
These Paleo Vegan Shortbread Lemonades are a copycat version of the popular Girl Scout cookie. Made with just 6 ingredients and so delicious! Gluten free, dairy free, egg free, and naturally sweetened.
6. Vegan Samoa Cookie Bars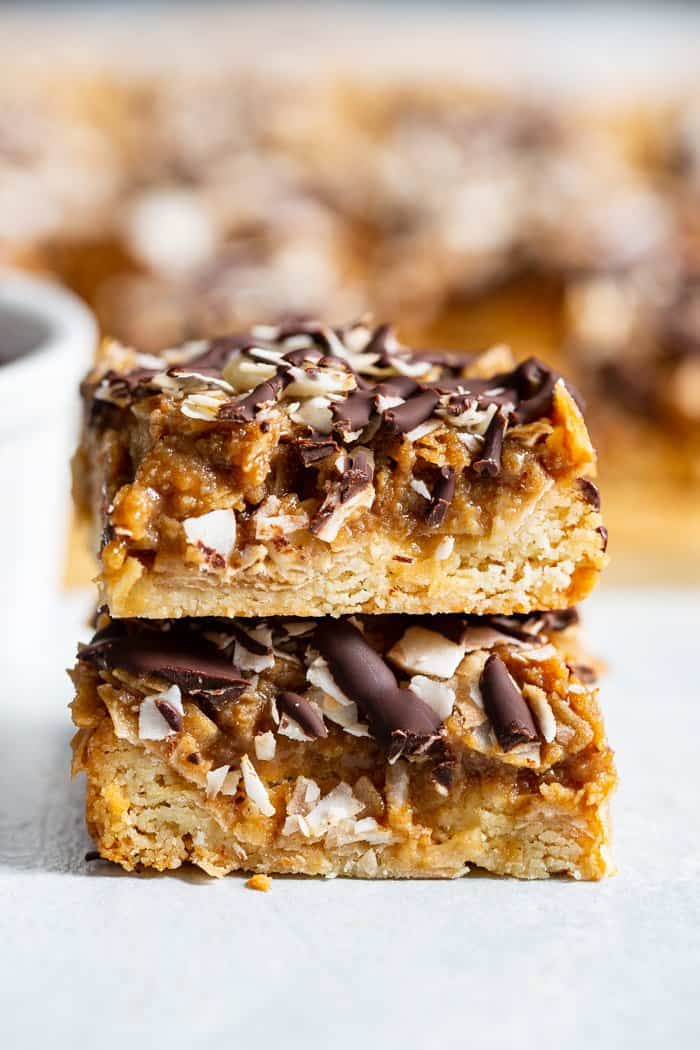 Article image from – paleorunningmomma
These dreamy cookie bars are a healthier spin on my favorite Girl Scout cookies from childhood.  An easy shortbread crust topped with a caramel coconut layer, and drizzled all over with melted dark chocolate.  These chewy sweet Samoa Cookie Bars are gluten free, dairy free, paleo, and vegan.
7. Vegan Samoas Recipe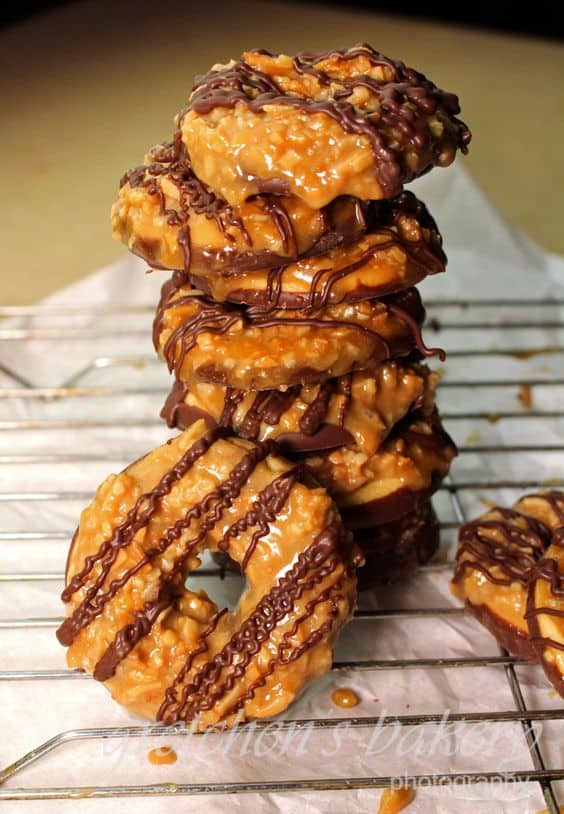 Article image from – gretchensveganbakery
Crisp shortbread cookie topped with gooey and delicious caramel coconut and just the right amount of chocolate to tie it all together!
8. Vegan Samoa Cookie Bars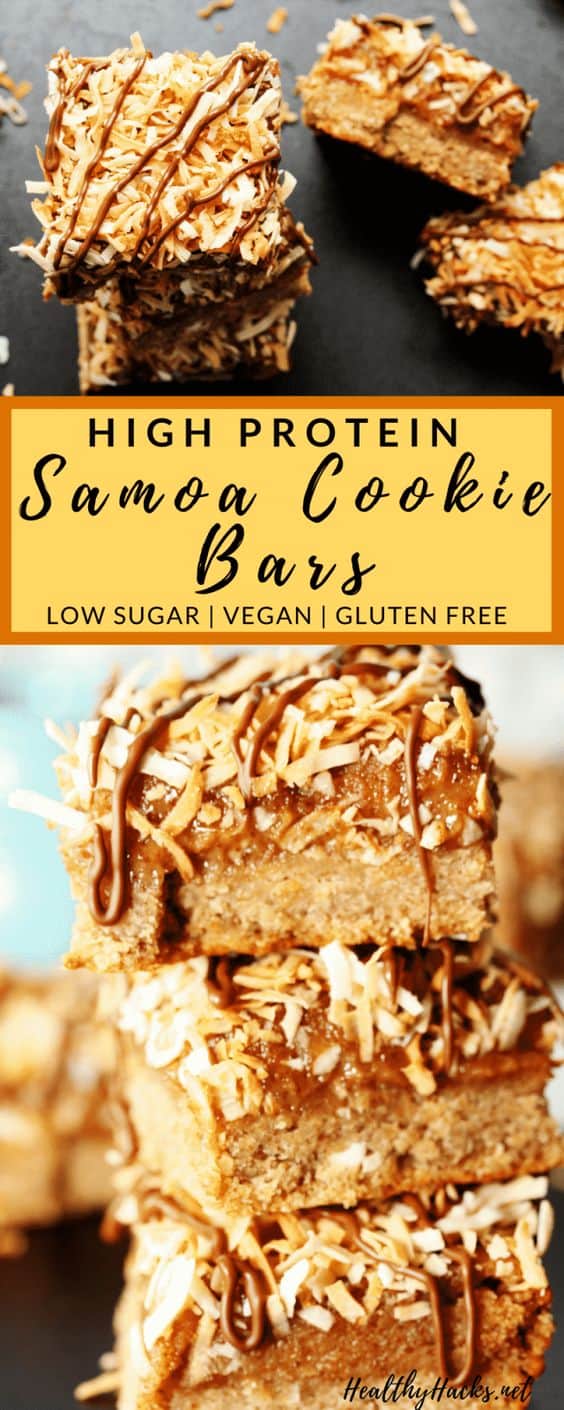 Article image from – healthyhacks
These Samoa cookie bars have something for everyone! They've got a dense, slightly chewy base with a creamy caramel middle, and are topped with coconut and chocolate. They're basically a party in your mouth! 
9. Vegan Samoa Energy Balls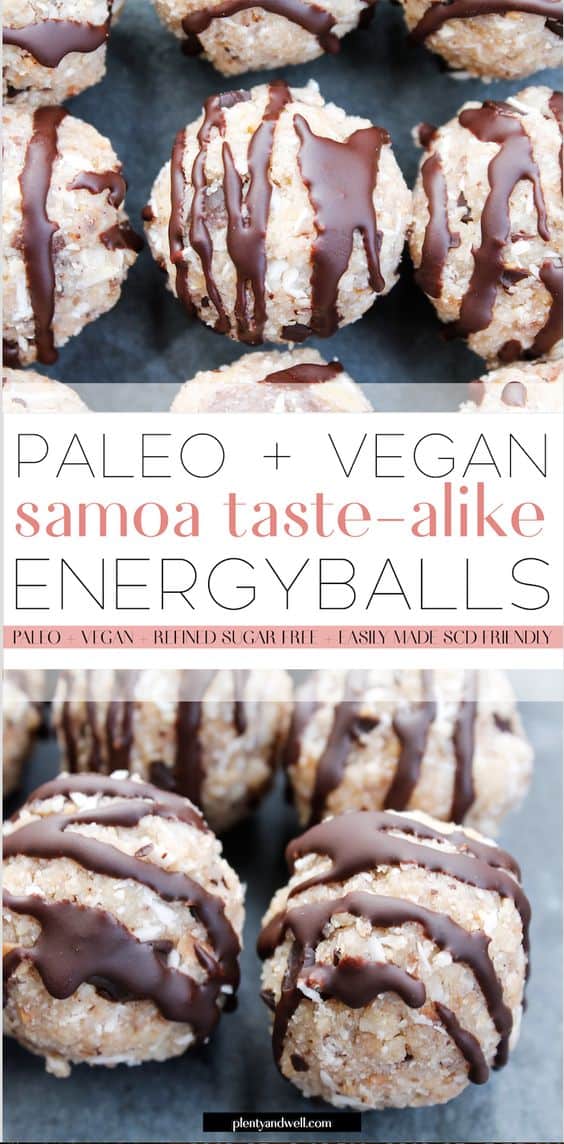 Article image from – plentyandwell
These energy balls are like biting into a Samoa cookie, without any of the gluten, dairy or sugar!
10. Girl Scout Cookie Recipe Thin Mints Gluten-Free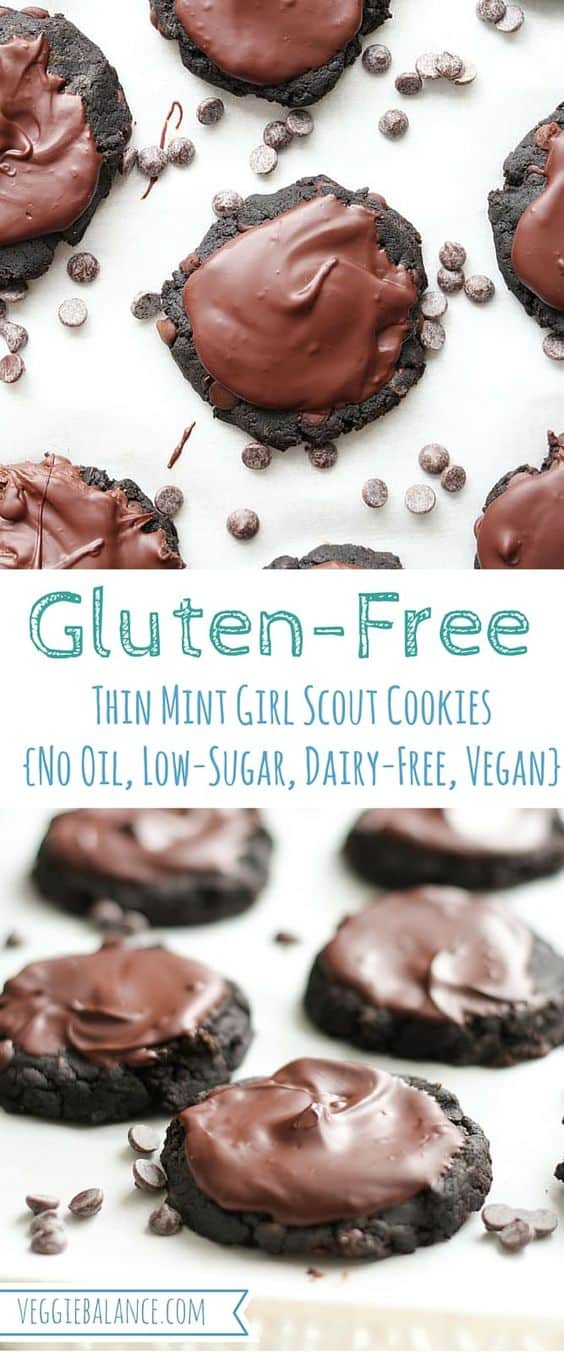 Article image from – veggiebalance
Healthy Girl Scout Cookie Recipe, Thin Mints are Gluten-Free, Dairy-Free, refined sugar-free, no oil added and vegan.