There's nothing quite like eating homemade vegetarian soup on a wet spring day.  From a spring vegetable soup, to vegan split pea soup. Enjoy these 15 Delicious Vegetarian Spring Soup Recipes!
Browse our other vegetarian recipes.
1. Spring Vegetable Minestrone Soup
Article image from – thishealthytable
This hearty, one-pot pasta and veggie soup is a delicious celebration of spring vegetables. Asparagus, spinach, and leeks all shine in this vegetarian minestrone soup. It's easily made vegan by removing the cheese garnish.
2. Smoky Spanish Vegetable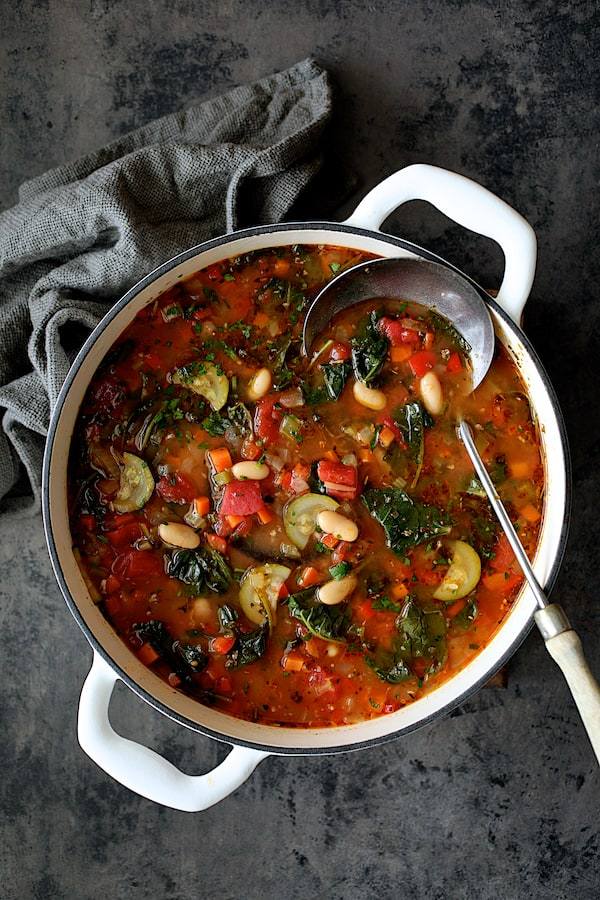 Article image from – fromachefskitchen
Smoky Spanish Vegetable and White Bean Soup with Kale is both hearty and healthful! It's the perfect late-winter-into-early-spring soup that's sure to take the chill off but not weigh you down!
3. Vegan Split Pea Soup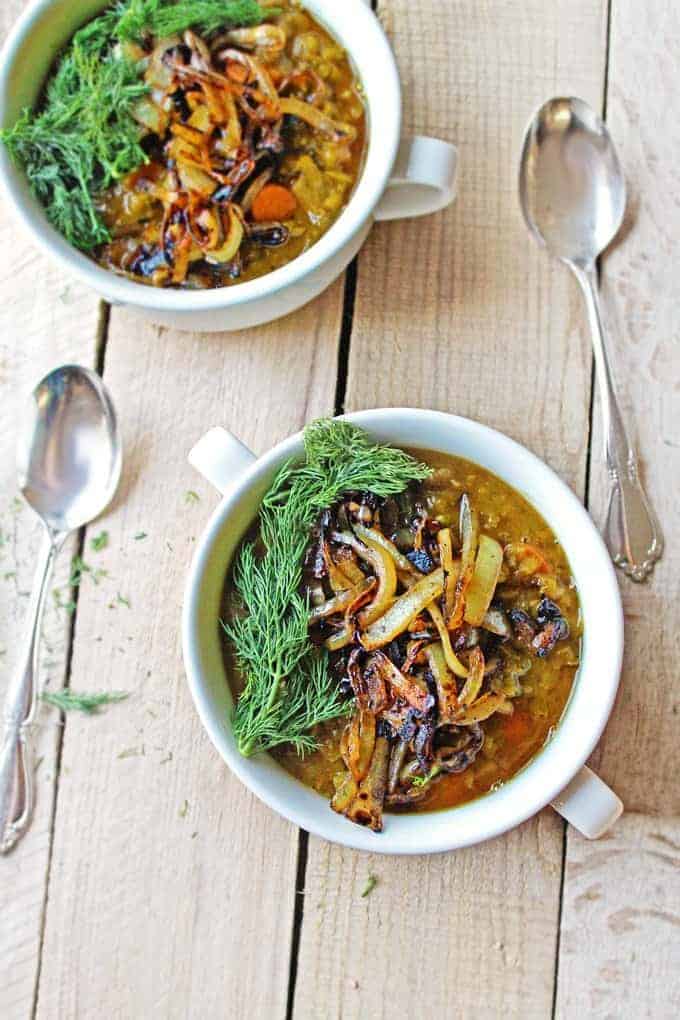 Article image from – rhubarbarians
The best vegan split pea soup recipe! This vegetarian split pea soup is brightened up with fresh dill and topped with crispy, blackened onions.
4. Spring Soup With Cauliflower And Beans
Article image from – lavenderandmacarons
This spring soup is light and refreshing all year long and especially perfect for those warmer weather days when you want to eat and feel satisfied, but keep it light enough to be active and not feel weighted down.
5. Carrot and Ginger Soup
Article image from – thepetitecook
This Carrot and Ginger Soup is the perfect one-pot spring soup – Cozy and satisfying but loaded with vibrant flavours. Plus, it's dairy-free, gluten-free, vegan and ready in just 30 minutes!
6. Spring Minestrone Soup with Chickpeas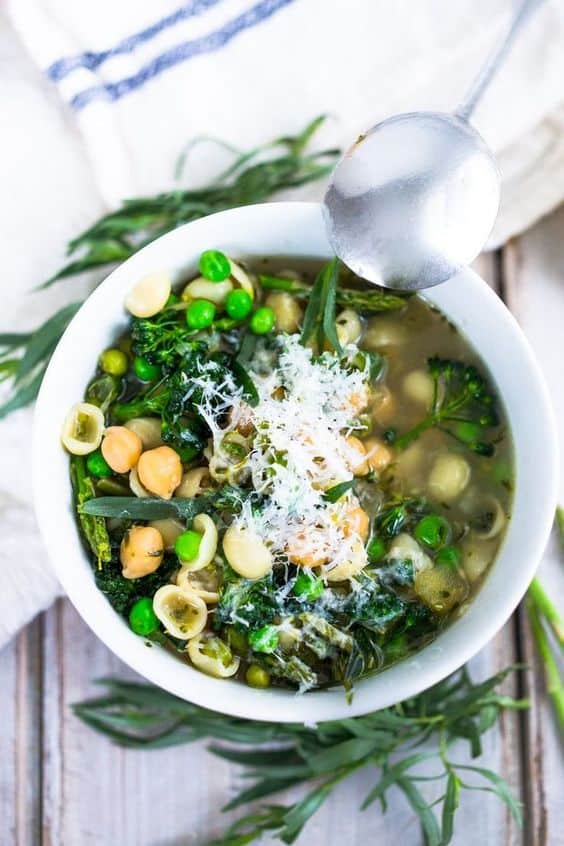 Article image from – feastingathome
Spring Minestrone Soup with Chickpeas and beautiful spring vegetables. Vegan! GF adaptable! Easy recipe, full of great flavor!
7. Fennel & Asparagus Soup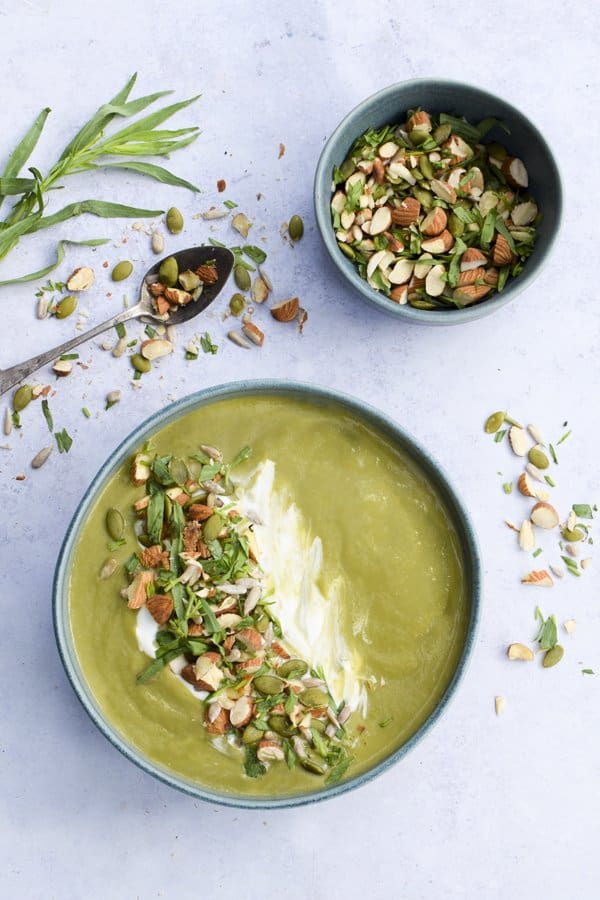 Article image from – theflexitarian
Tarragon gives this fennel & asparagus soup some wonderful flavours. A warming and nutritious light meal, perfect on a chilly spring day.
8. Crockpot Tuscan White Bean and Lemon Soup
Article image from – halfbakedharvest
This soup is cozy, yet still light enough to serve as a healthy dinner and fresh enough to transition us all the way into spring…plus it's easy. Basically, the all around perfect soup!
9. Caprese Tomato Spinach Soup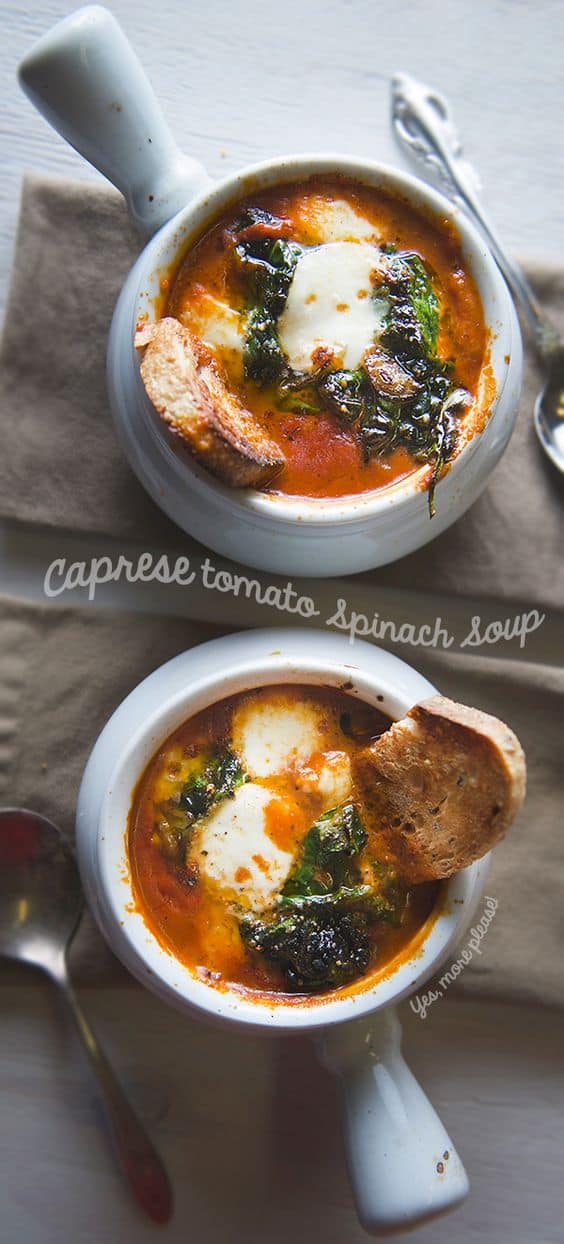 Article image from – yes-moreplease
10. Warm Avocado and Pea Soup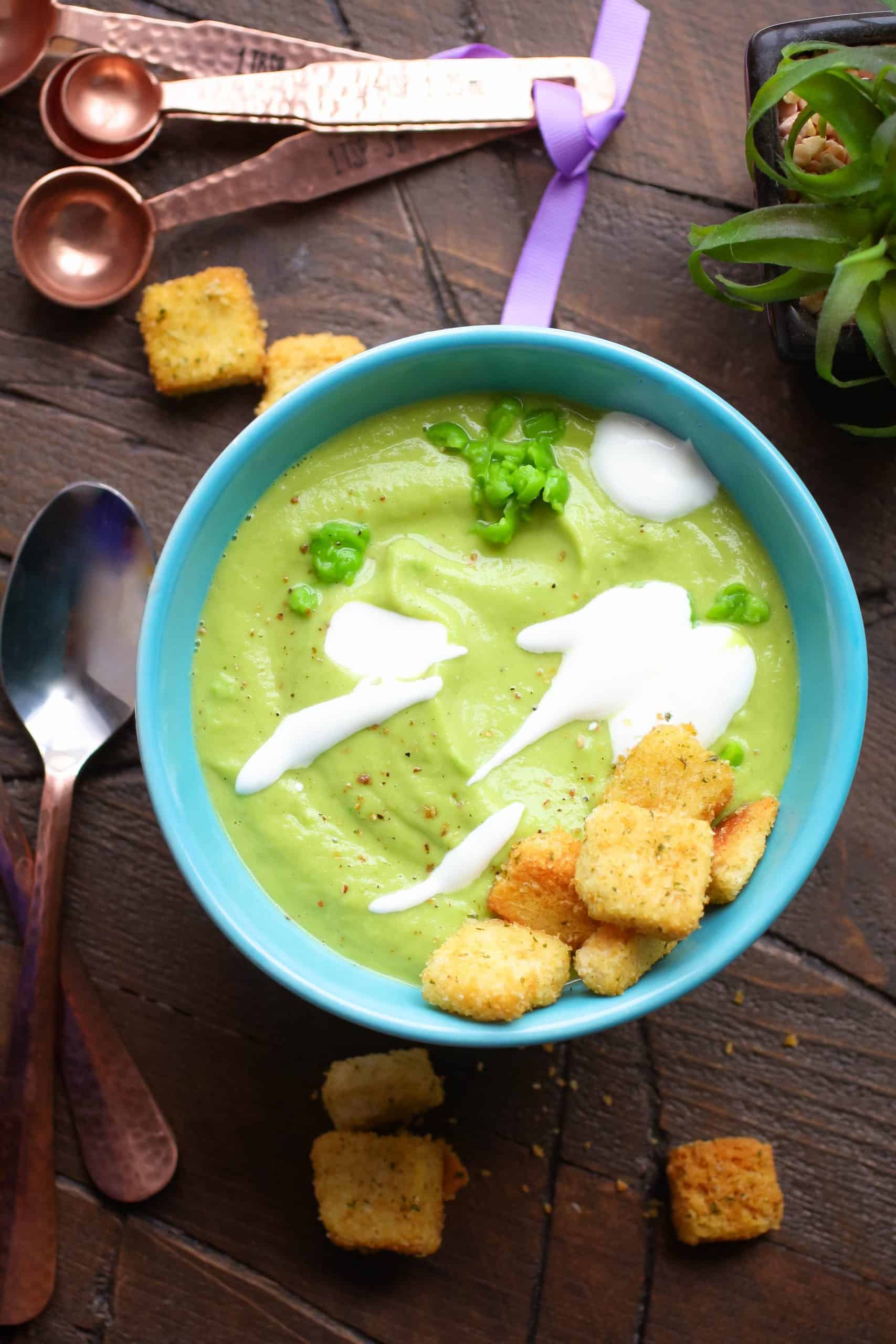 Article image from – azgrabaplate
Warm Avocado and Pea Soup is like springtime in a cup! This soup is simple and flavorful, and you cannot beat the vibrant green color. It's yet another reason to love avocados! 
11. Lemony Orzo Chickpea Soup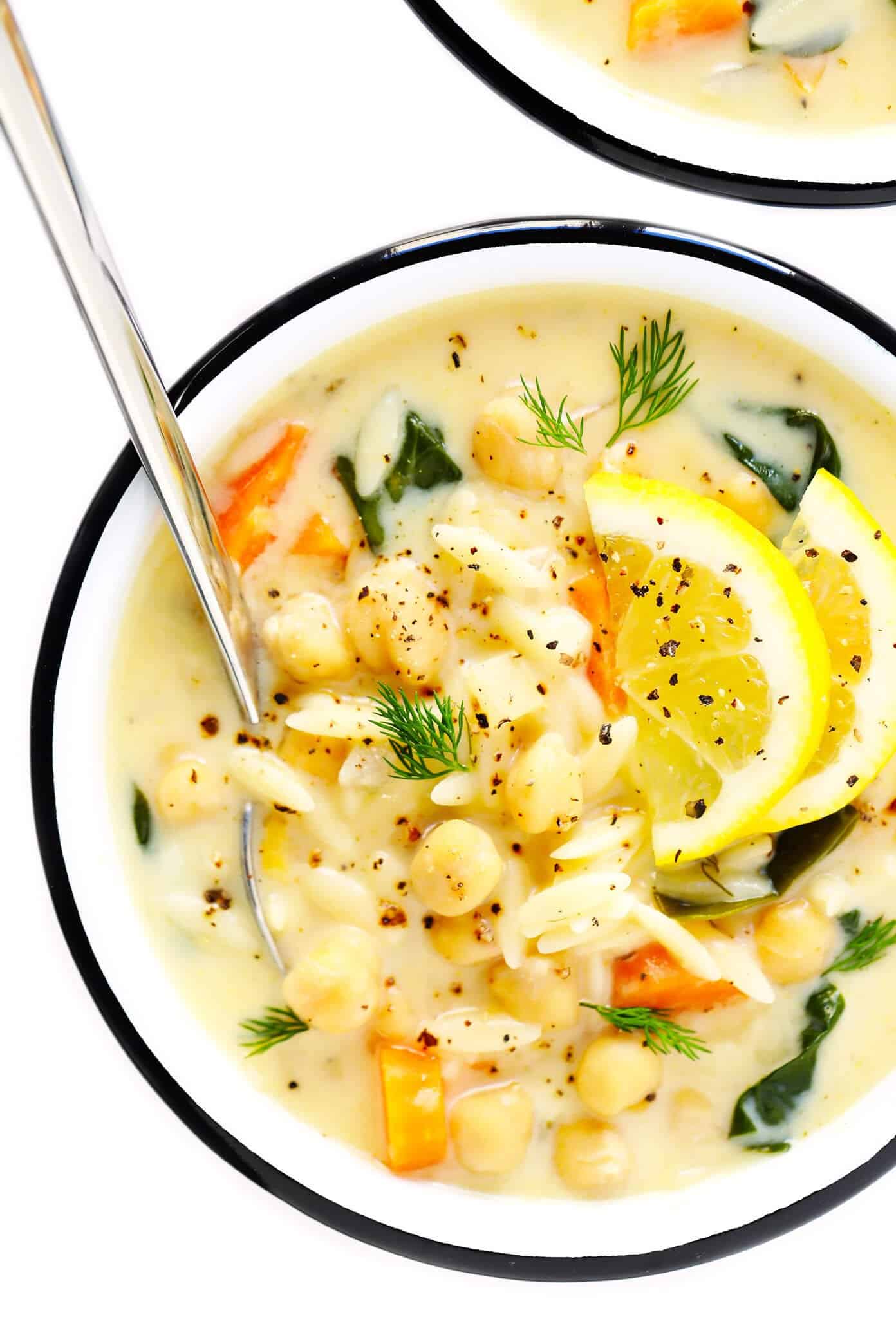 Article image from – gimmesomeoven
This Lemony Orzo Chickpea Soup recipe is a vegetarian spin on Greek avgolemono soup.  It's cozy yet light, brightened up with lots of lemon juice and fresh herbs, and made extra creamy by folding a few eggs into the broth (instead of cream).
12. Lemon Spring Vegetable Soup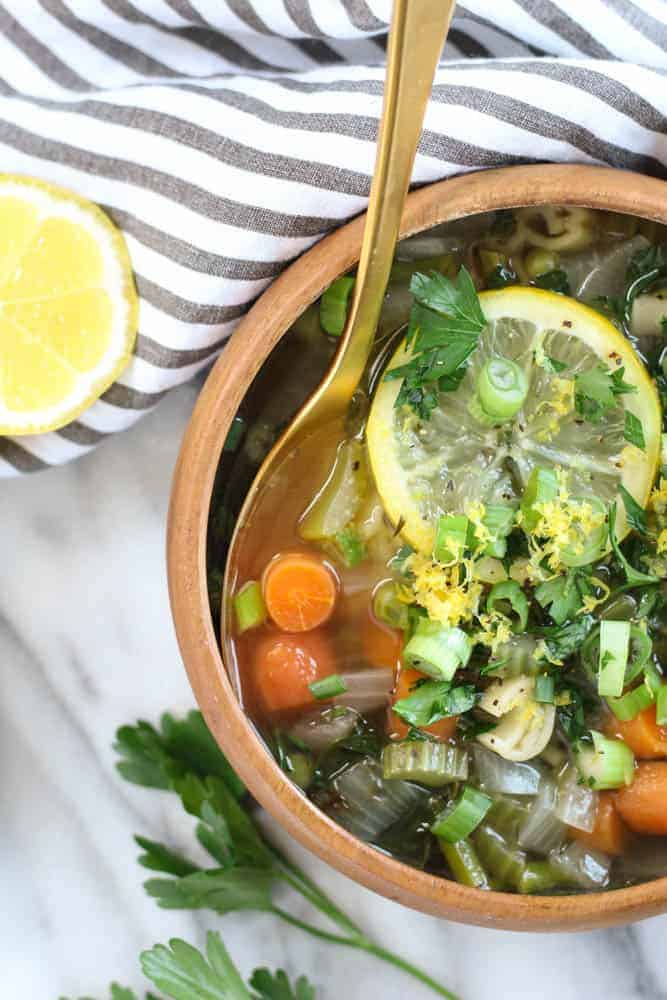 Article image from – pumpkinandpeanutbutter
13. Spring Vegetable Soup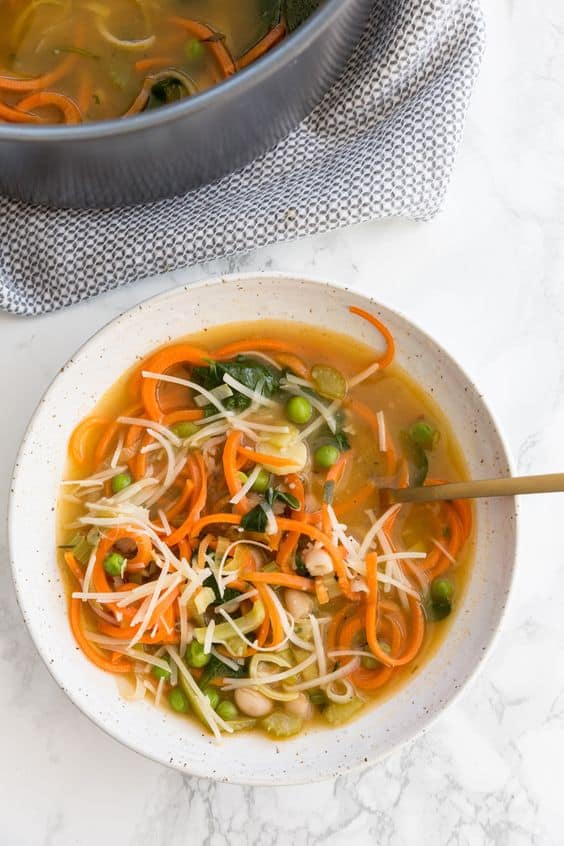 Article image from – inspiralized
I couldn't be more excited to be sharing this Spring Vegetable Soup with spiralized carrots, fresh spring leeks and peas, and tarragon.
14. Creamy Smoky Butternut Squash Soup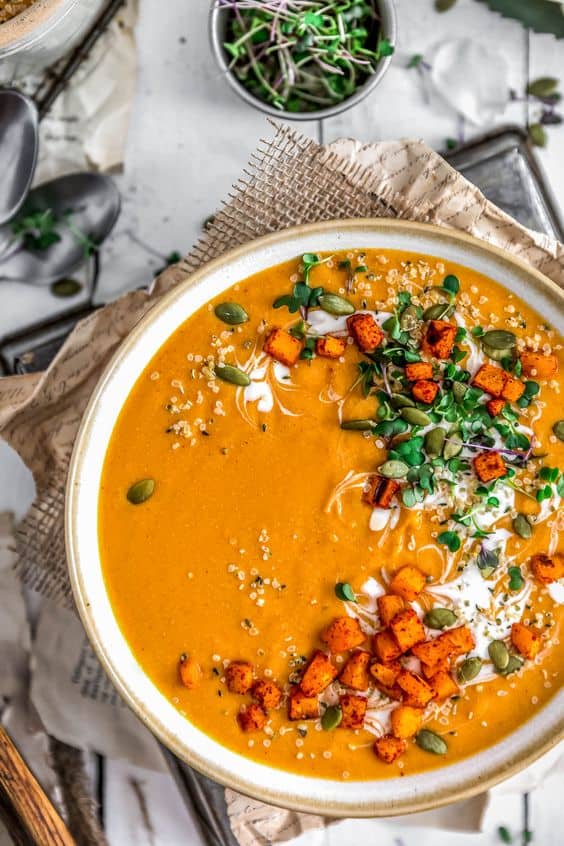 Article image from – monkeyandmekitchenadventures
Rich, luscious, and bursting with flavor, this Creamy Smoky Butternut Squash Soup is clean comfort eating at its best. Vibrant butternut squash, hearty cauliflower, rich cashews, garlic, onions, and spices all blended together and topped with velvety almond cream, crispy seasoned butternut squash "croutons," buttery pumpkin seeds, and hemp hearts for deliciousness in every bite.
15. Spring Veg Stew with Pesto & Roast Fennel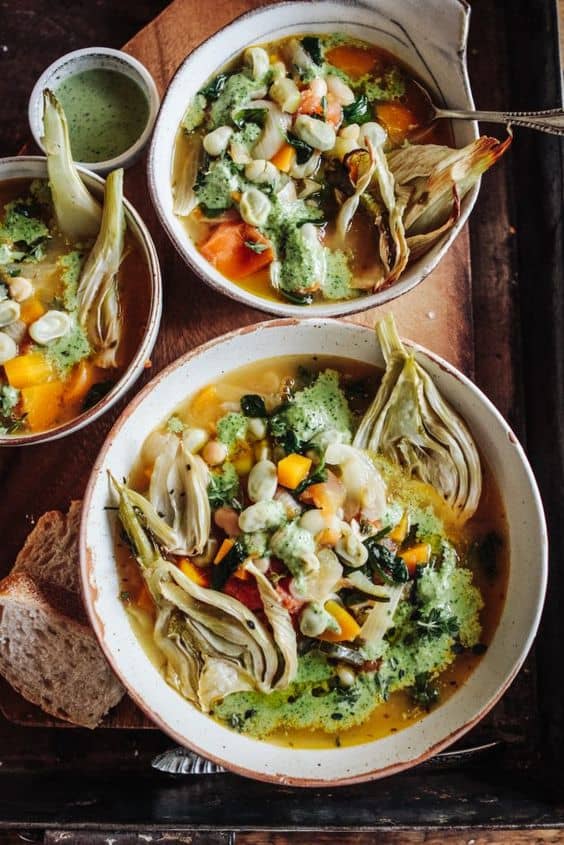 Article image from – rebelrecipes
This lovely spring veg stew is jam packed with seasonal organic veg and beans – Carrots, courgettes, cannelloni and broad beans. It's both fresh and comforting at the same time, and to make it even more delicious I topped it with sticky roast fennel and dollops of Basil pesto stirred through.