Vegetarian ramen is healthy and makes a nutritious snack. From classic vegetable ramen to mushroom ramen noodles. Discover 10 Vegetarian Ramen Noodle Recipes.
Browse our other vegetarian recipes.
Presentation Is The Key
Before I go any further I want to clear a few things up. First, Ramen noodles are not a specific kind of noodle. The term Ramen is more to do with the way the noodles are cooked and presented.
Ramen is a term used to describe a noodle soup dish and was made popular by Chinese street food sellers in Japan. From the early 1900's they were called Chinese Soba by the Japanese. The term Ramen became popular in the 1950's and has made a resurgence across the globe in recent years.
A Crucial Difference
Like other noodles, ramen noodles are made from wheat flour, water, and salt. That mixture is kneaded together into a dough, then rolled (or hand-pulled), cut, and steamed. The ingredient that makes ramen different from any other type of noodle is kansui which is a type of alkaline water which gives ramen noodles their springy texture.
Make Your Own Kansui
Kansui, Whether Chinese or Japanese is an alkaline solution often called lye water. It is also sometimes called alkaline solution. Basically it is a mixture of sodium bicarbonate and potassium carbonate in water.
Traditionally used in many Chinese dishes, it gives moon cakes their distinctive dark skin. It can be difficult to find outside Asia, but by dissolving some baking soda in water you can easily make your own.
If you just use baking soda, you can only get a small amount to dissolve in the water. Using 'baked' baking soda you will get a much more alkaline solution. This will give you that wonderful distinctive colour and taste we all associate with Ramen noodles.
That Distinctive Flavour
You might be unsure about using Kansui in your food. Just consider that corn tortillas, hot chocolate, Oreo cookies, cured olives, and pretzels all have alkaline solutions used during their cooking processes. It helps give them all their distinctive flavours and colours.
Choosing The Right Ingredients
What has driven the modern popularity of Ramen noodles is the amazing ingredients that are used to bring the best out of them. Their are some amazing recipes below. You are sure to find something that will excite you and make your taste buds tingle.
A Wonderful Combination
Any sauce or other ingredients you love will bring this dish to life. One of my favourite combinations is super fast to prepare and makes a wonderful snack. Choose a good quality miso to form the basic broth, then simply add some tamarind sauce with toasted sesame seeds. Top it off with finely chopped shallots and some fresh flat leaf parsley as a garnish. It makes a wonderful combination that is great nutritionally as well as being super tasty.
1. Easy Vegetarian Ramen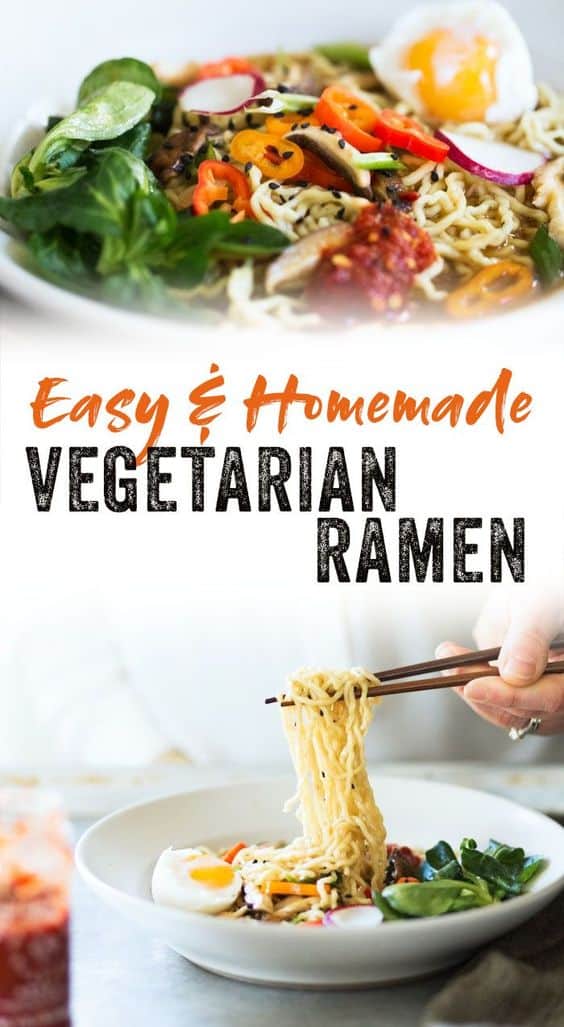 Article image from – acouplecooks
This quick and easy vegetarian ramen recipe is fun to make and oh so flavorful! Packed with umami, this noodle bowl makes a satisfying, slurpable meal.
A Vegan Alternative
This recipe contains eggs, but if you read down the page you will find a great vegan alternative. Garlic and ginger bring excitement to any dish and if shiitake mushrooms aren't your favourite addition, they can be replaced by Portobello or oyster mushrooms. These will transform the whole dish.
Try Something Different
If mushrooms aren't to your taste then you can replace them entirely with some toasted crushed cashew nuts or deep fried tofu for a more protein-packed meal.
The tofu in the vegan version is simply added to the broth in this recipe, but it can be used in many different ways. You could add some good quality silken tofu and cook it down to thicken the broth, or deep fry some thin slices of firm tofu to add a crisp texture to the meal.
Crispy seaweed makes another wonderful addition. Use it as a garnish too add that essential iodine we all need.
2. Easy Vegan Ramen Noodles

Article image from – veggiesociety
Easy vegan ramen noodles recipe in a rich and creamy miso coconut milk broth, with air fried tofu cubes, wild mushrooms and a hint of lime.
Something Creamy For A Change
You can use coconut milk in this recipe to make a much creamier broth. It adds a very different flavour. Using oat milk, almond milk or even cashew nut milk all have a similar effect. They will change the flavour entirely to give you three more very different meals all made with similar ingredients.
3. Vegetarian Miso Ramen
Article image from – loveandgoodstuff
Vegetarian miso ramen is an easy, gut healthy ramen recipe filled with miso, garlic, ginger, shitake mushrooms, kale and a soft boiled egg. Easily adapted to vegan by swapping the egg for tofu, this comforting noodle bowl is ready to eat in 15 minutes.
Rich In Vitamins And Minerals
Miso is a key ingredient in Japanese cooking. The paste is made using fermented soya beans. Usually a grain like rice or barley, salt, and a fungus called koji are also included. It can be fermented from a few weeks to several years, giving a variety of flavours.
High in protein and rich in vitamins and minerals, it also adds a great nutritional boost to any dish. Typically it is salty, but its flavour and aroma can depend on the ingredients used and the length of the fermentation process.
Dont Boil The Miso
You can find other forms but most of the miso available in the west is dark miso. In general, the darker the colour the more intense the taste is.
Since miso is a cultured food, it is best to add it to food towards the end of cooking. Be careful not to boil it too much as heat will kill the active bacteria in the miso, reducing its health benefits.
4. Asian Mushroom Ramen Noodles
Article image from – mfantans
Asian Mushroom Ramen Noodles! Simple, fast and extremely tasty, this is a versatile side dish for any Asian food.
5. Ramen Noodle Stir Fry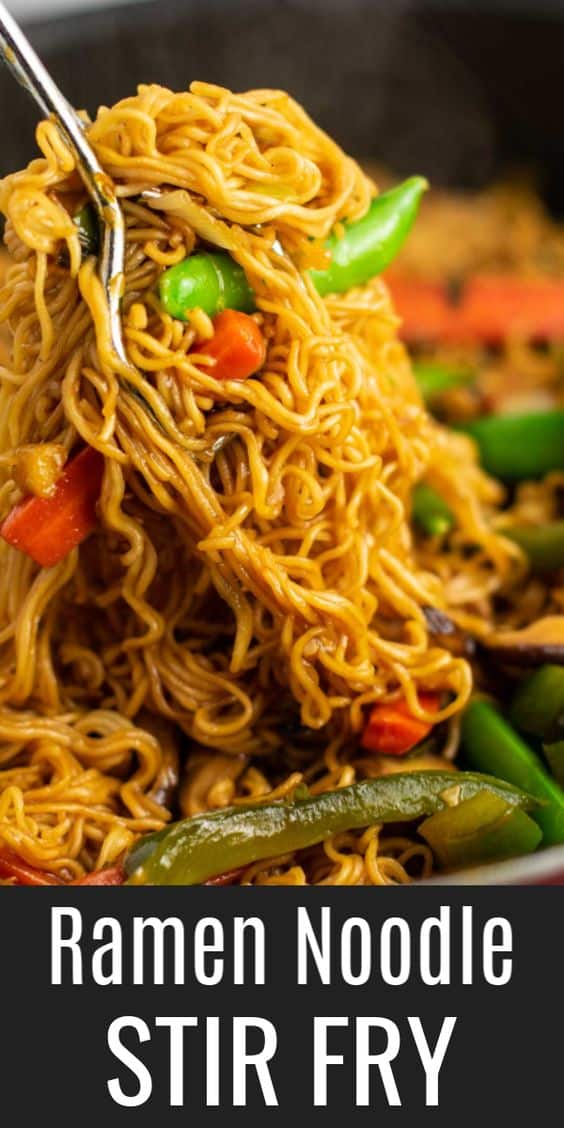 Article image from – buildyourbite
Easy and delicious vegetable stir fry noodles recipe using ramen noodles
Fast And Easy
You will love this recipe if you are a fan of stir fried noodles. Fast, easy and adaptable, it is easy to swap some of the ingredients you use to make a wonderful array of flavourful meals using the same basic methods.
Check For Allergies
Sesame oil adds something quite unique to any stir fry recipe, but peanut oil can be used just as successfully, just remember to check if any of your diners has a peanut allergy first.
You could also try using grated parsnips instead of the carrots for a sweeter flavour. Finely chopped leeks can make a wonderful alternative to the green onions too.
6. Vegetarian Ramen Noodle Soup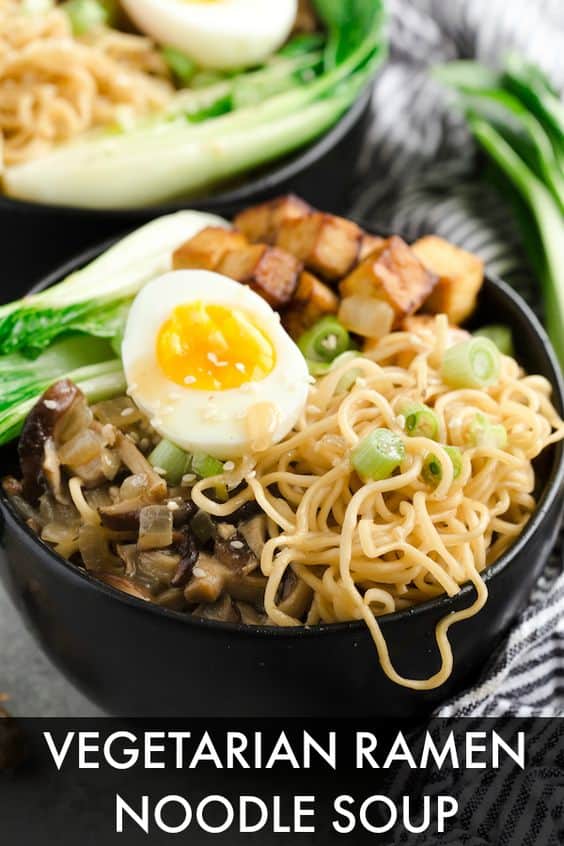 Article image from – greensnchocolate
Vegetarian Ramen Noodle Soup is filled with roasted tofu, mushrooms, bok choy, slurpy ramen noodles, and a flavorful vegetarian broth
A Tasty Addition
Pak choi (bok choy) makes a tasty addition to this warming soup. You could use smoked tofu for a wonderfully exciting taste addition too. Why not try using straw mushrooms as an alternative to the shiitake mushrooms. They have a more subtle flavour but work wonderfully in this recipe.
7. Easy Vegetarian Ramen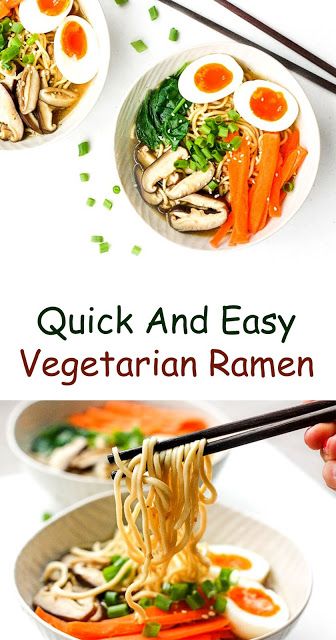 Article image from – aheadofthyme
Put down that cup of instant noodles. Seriously. Why settle for mediocre when you have the real deal… from scratch? Fine, there is an extra 15-20 minutes (gasp) that will go to preparing the real deal, but in my books that is the definition of quick and easy. The extra (small) time investment is soo worth the result. Freshly made, quick and easy vegetarian ramen, get in my belly, now!
8. Easy Vegan Ramen

Article image from – choosingchia
This quick & easy vegan ramen is a delicious homemade soup that is perfect for a cold or rainy day. It's filled with ramen noodles & soft tofu and comes togeher in less than 30 minutes!
Do It Yourself
Making your own seasoning for Ramen noodle dishes is easy and rewarding. It makes sense to 'do it yourself' to get the flavours you want. In this example dried shiitake mushrooms, garlic powder, onion, soy sauce, miso paste and some vegetable broth are used to great effect, but you can adjust it to your own taste. You could use oyster mushrooms instead of the shitake to make a different broth with equally wonderful flavours.
Fresh Is Best
Fresh garlic is always better than using the powdered variety. You can also add a little grated ginger to create another beautiful layer of flavour. Why not try using a little celery salt or some fresh finely chopped celery for another exciting twist to the recipe.
Sweet Or Sour?
To add something really different, a little good quality vinegar added to the vegetables as you finish sautéing them creates a real treat. Apple cider vinegar adds a sharp sourness to the recipe. Balsamic vinegar is another option to try. It brings a special sweetness to the overall taste.
9. Vegetarian Ramen Noodle Soup

Article image from – rachaelhartleynutrition
This vegetarian ramen noodle soup with bok choy and shiitakes is soooo good! The broth is super rich and flavorful thanks to an easy trick. Use whole grain ramen for extra fiber. Plus, you can make it in just over 30 minutes so it's weeknight friendly!
10. Easy Vegetable Ramen

Article image from – countrysidecravings
This super Easy Vegetable Ramen is full of tender crisp vegetables, tender noodles and a flavorful sauce. Plus this meal can be made in only 20 minutes!
Use Seasonal Vegetables
This recipe is truly wonderful, but as with all the recipes here, it can be changed quickly and easily. Using seasonal vegetables is always a great option, but there are many ways to change the recipes. You could replace the sweet bell peppers in this recipe using thinly sliced Padron peppers for a more intense flavour.
Why not try replacing the broccoli with cauliflower florets for another great alternative. You could also try using aubergine instead of the zucchini (courgette) to add an excitingly different flavour to the recipe.
Conclusion
All the recipes here give you a great place to start. If you use your imagination the possibilities are endless. You can add sweet and sour, or savoury and umami flavours. They will help you create the most wonderful Ramen noodle recipes all your own.
Deep-fried smoked tofu, toasted sesame seeds, roasted cashew nuts or almonds all make great additions. Sun-dried tomatoes, crispy seaweed or crispy deep-fried onions all make wonderful garnishes to sprinkle over the top and some freshly chopped basil, fenugreek leaves or parsley can finish off any of the dishes with other exciting flavours to make each and every recipe here your own.
Fresh chillies add a wonderful flavour as well as that wonderful heat, and Sichuan peppercorns or paprika will add very different kinds of heat to any of the dishes we have included. You could add some whole cumin seeds to the oil before you start frying as another wonderful alternative and some finely chopped lemongrass will add another amazing layer of flavour to finish off the stir-fried recipes beautifully.
Your imagination really is the only limitation. Enjoy experimenting. You could make some notes about the way the different flavours work together, so as time goes on you can create flavour combinations that really complement each other.