Mac and cheese is the perfect side dish for the thanksgiving holiday. From classic mac and cheese, to bacon mac and cheese. Feed the family with these 15 Best Thanksgiving Mac and Cheese Recipes.
Browse our other recipes here.
Soul Food
Whether you want to call it soul food or comfort food, few recipes give that feeling of satisfaction that Mac and Cheese does. As a side dish or main meal it is sure to please your guests.
Different Options
As you will see there are some recipes here that contain meat, but I will try and give you some ideas how to make meatless versions that will make your taste buds tingle.
1. Baked Macaroni and Cheese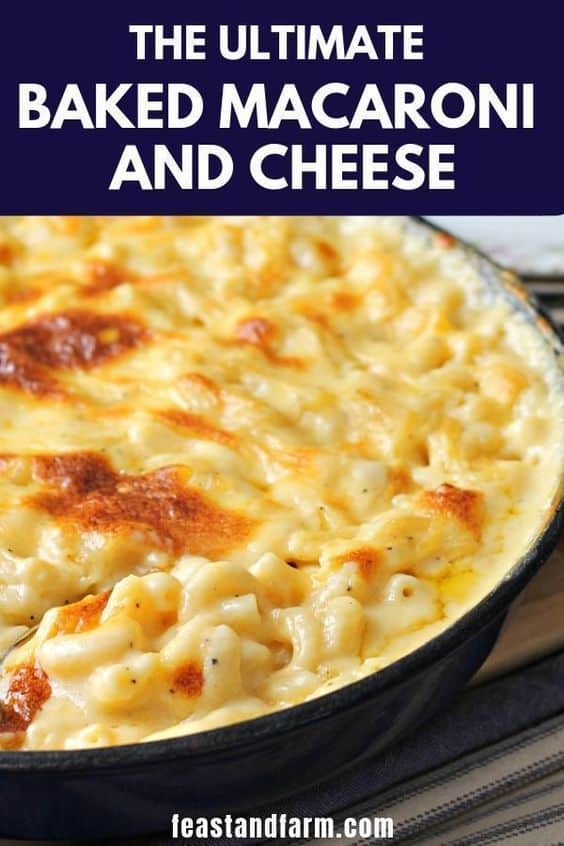 Article image from – feastandfarm
Baked macaroni and cheese doesn't have to be complicated with layers of ingredients to be the soul-warming food you crave. This homemade baked macaroni and cheese is my most favorite and has pleased crowds, small families, kids and picky eaters alike–give it a try and you'll see why.
My Alternative To Baked Macaroni and Cheese
A Classic Recipe
This really is a classic mac and cheese recipe. Simple but delightful it will bring comfort to any meal.
The Choice Is In The Cheese
A nice strong cheddar cheese makes the best start for this recipe. For me the stronger it is the more I like it. I do try to buy traditionally made cheese rather than the processed modern cheese. It always lasts better and the flavour is wonderful.
Creating an Amazing Garnish
To give this recipe something special you could make a baked onion garnish. When it is cooked break it up into a bowl. You can use it as a garnish for any meals but it works amazingly with this mac and cheese. It adds a wonderful sweetness and the texture to the recipe.
Fry the onions with a pinch of salt over a medium heat for about 30 minutes until they are caramelised and brown. Stir occasionally throughout to ensure it isn't sticking; you may need to add a small splash of water.

Now preheat your oven on 180 degrees c.

Lightly coat a 7″ baking tray with oil and spread the onions on the base.

Put them in the middle of the oven and cook for about 25-30 minutes until they form a crunchy layer
2. Best Mac and Cheese Recipe
Article image from – thewhoot
If you are looking for the best ever Mac and Cheese Recipe, today your tastebuds are in for a treat.
My Alternative To Best Mac and Cheese
Another Wonderful Topping
With this recipe the topping is again the real treat. The smoked paprika works so well with the parmesan and breadcrumbs. You could try adding smoked cheese to the main recipe instead of using the gruyere cheese. I love smoked flavours and it complements the paprika beautifully.
Try Mascarpone
You can create an even more luxurious meal by swapping the heavy whipped cream for mascarpone cheese. It will add to the creamy texture and has a wonderful taste that is hard to describe.
3. Bangin' Mac and Cheese
Article image from – tablefortwoblog
Bangin' Mac and Cheese recipe made from scratch comfort food just– perfect for potluck dinners.
4. Roasted Garlic Mac and Cheese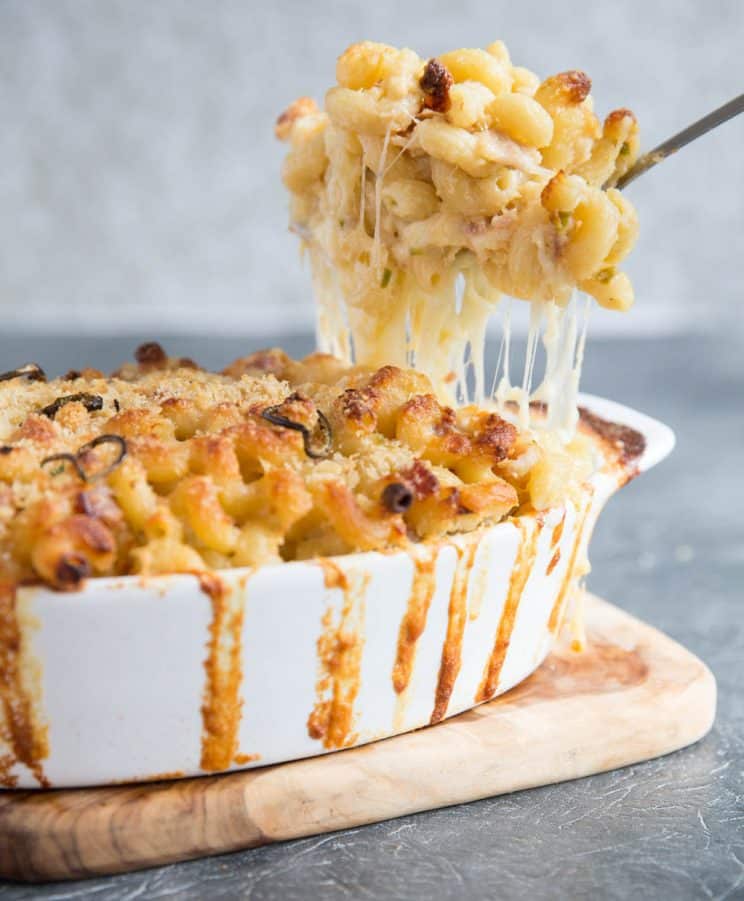 Article image from – dontgobaconmyheart
Take your homemade mac and cheese to new heights by adding Roasted Garlic. The caramelized hint of the garlic makes this baked mac and cheese truly irresistible!
My Alternative To Roasted Garlic Mac and Cheese
Caramelised Garlic
You can roast garlic so it caramelizes and it transforms the flavour into something sweet and nutty. You get a gorgeous garlic flavour, without it being so intense. With roasted garlic, you can put an entire large bulb of garlic in and you'll still want more.
How to Roast Garlic
Slice off the tip of the bulb to expose the cloves.

Drizzle with olive oil and wrap in foil.

Roast at 356f/180c for 45mins-1hour or until golden brown and buttery.
5. Bacon Broccoli Mac and Cheese
Article image from – peasandcrayons
Bacon broccoli mac and cheese loaded with broccoli and topped with crispy bacon… this cheesy comfort food is ready to rock your face off! My family goes nuts over this easy macaroni and cheese casserole!
My Alternative To Bacon Broccoli Mac and Cheese
Broccoli or Cauliflower
You can swap the broccoli in this recipe for cauliflower. It gives you a recipe that's part mac and cheese and part cauliflower cheese and the taste is wonderful. Both are nutritionally great adding significant levels of vitamins and minerals. You can find more information here and  here.
Vegetarian Bacon or Smoked Tofu
There are several vegetarian bacon substitutes on the market now and you really can use any. Another option is to thinly slice some smoked tofu and fry that off beforehand. It will add a delightful crunch as well as its glorious smoked flavour.
6. Chicken Bacon Ranch Mac and Cheese Casserole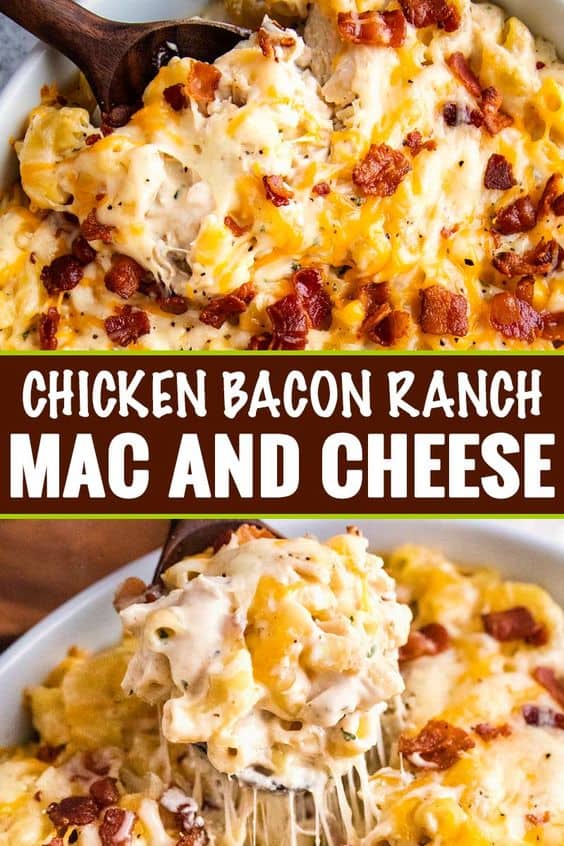 Article image from – thechunkychef
Classic baked mac and cheese gets a comforting and family-friendly chicken bacon ranch flavor twist!
7. One Pot Chili Mac and Cheese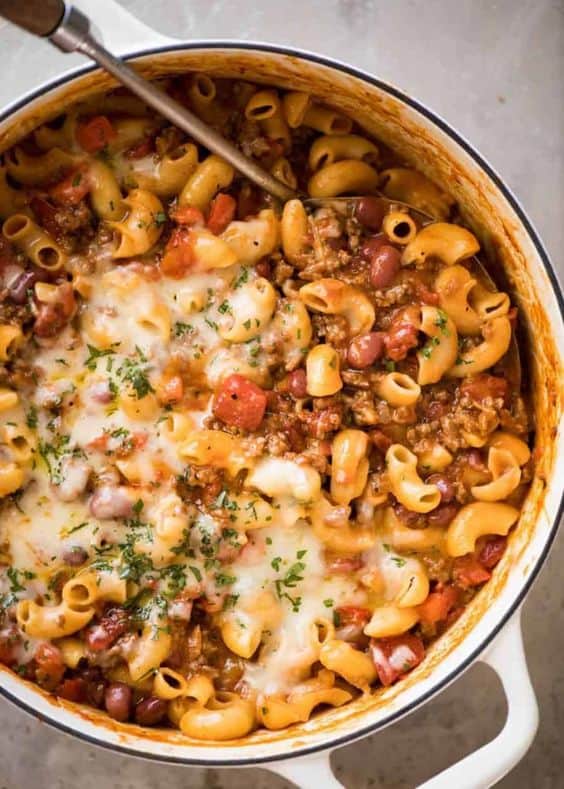 Article image from – recipetineats
A homemade Chili with the addition of macaroni and cheese = Chili Mac 'n Cheese! This is terrifically moorish and a fabulous one pot meal. Super quick too! The key with this recipe is to turn the stove off as soon as the pasta is just cooked – it will keep cooking in the residual heat.
My Alternative To One Pot Chili Mac and Cheese
Fresh Is Best
You can use fresh chilli in this recipe instead of cayenne pepper. Chilli peppers are rich in various vitamins and minerals, but because they tend to be used in small amounts they don't provide a huge amount of anything. They can be used raw or fried for a little while first. Personally I would say bird eye chillies are my chilli of choice but you really can use anything from jalapenos to scotch bonnet peppers.
Calming The Heat
The Capsaicin in the chillies is what causes the heat and it is concentrated in the seeds and white inner flesh of the chillies. You can remove the seeds and some of the white flesh if you prefer to get the wonderful flavour without the recipe getting too hot.
8. Green Goddess Mac and Cheese
Article image from – simplyrecipes
Get your power greens in this macaroni cheese! With loads of baby spinach, parsley, garlic, white sharp cheddar, Parmesan, and macaroni pasta.
My Alternative To Green Goddess Mac and Cheese
Adding Nutrition
Spinach and parsley are wonderful additions nutritionally and give this mac and cheese recipe a distinctly different flavour. The choice of greens is entirely up to you really. Kale and basil make another great combination. My personal favourite would be spinach and fresh chives. They all add individually to the nutritional value of the meal.
Sensational Sesame Seeds
To finish this recipe off with a flourish why not sprinkle some sesame seeds over the top with some gorgeous manchego cheese then put it in the oven on the top shelf on a high heat or under the grill to toast the seeds and melt the cheese. The nutty flavour of the cheese is perfect with sesame seeds and complements the spinach beautifully.
9. The Best Baked Mac and Cheese
Article image from – willcookforsmiles
My Alternative To The Best Baked Mac and Cheese
A Vegetarian Alternative
I was given the challenge of creating a non meat topping for this recipe and wanted a crunch with a smoky flavour. Thinly sliced smoked tofu fried on a high heat gives you a wonderful texture and flavour and you can finish this off with smoked paprika, toasted sesame seeds and a little of the baked onion garnish described below recipe number 1.
Steamed Broccoli
Adding some steamed broccoli to the cheesy pasta adds flavour and nutrition to this mac and cheese recipe too. Cauliflower also makes a great addition and when baked it gives a wonderful flavour.
10. Jalapeño Popper Mac and Cheese
Article image from – momontimeout
The BEST Jalapeño Popper Mac and Cheese you'll ever try! Extra creamy, loaded with bacon, cream cheese, jalapeños, and kicked up a notch with TABASCO® Sauce, this delicious and easy mac and cheese is sure to be a new favorite!
11. Lobster Mac and Cheese
Article image from – africanbites
Lobster Mac and Cheese – one of the most comforting side dish loaded with cheesy goodness, chunks of lobster meat and great flavors for an absolute decadent meal!
12. Garlic Parmesan Mac and Cheese
Article image from – cafedelites
Does homemade mac and cheese get any BETTER than this? I don't think so. Switch up your favourite macaroni cheese recipe and make way for this glorious dish full of flavoured comfort food. I can guarantee THIS will become your new favourite.
My Alternative To Garlic Parmesan Mac and Cheese
Crushed Or Baked
The garlic in this recipe makes it stand out for me. You can use it crushed as described in the recipe or you could try roasting it first like I suggest below recipe number 4.
Alternatives To Parmesan
The recipe also gives you plenty of alternative ingredients to try. Grana padano or pecorino Romano are two other hard cheeses that work really well on pasta. They taste a little different than parmesan, but both have excellent flavour and are often less expensive than parmesan. Good Spanish Manchego cheese is another of my favourites and gives a subtler nutty flavour to the topping.
13. Bacon Mac and Cheese
Article image from – spaceshipsandlaserbeams
This simple, hearty bacon mac and cheese is loaded with extra cheese, tender noodles — and plenty of bacon.
14. Gluten-Free Mac and Cheese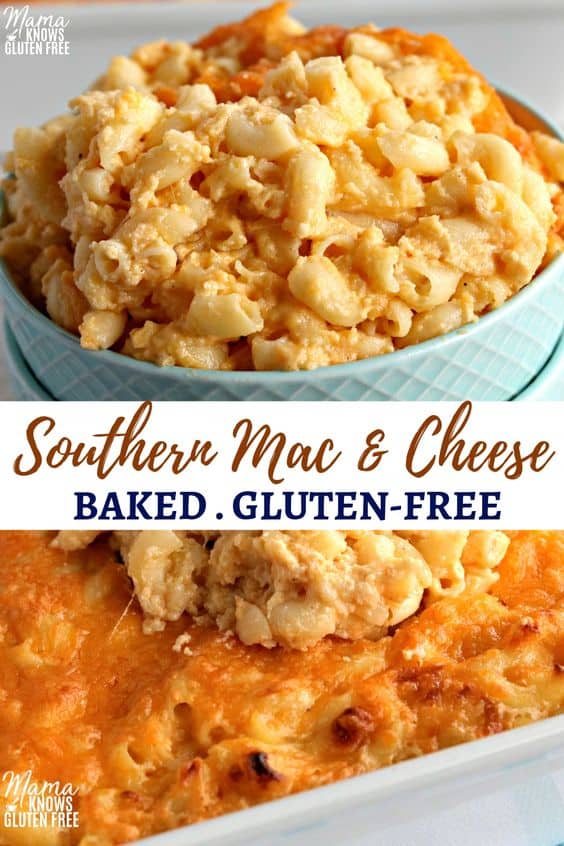 Article image from – mamaknowsglutenfree
Super creamy gluten-free southern baked macaroni and cheese recipe loaded with three kinds of cheeses. The best gluten-free mac and cheese baked to perfection in just 20 minutes.
15. Smoky Chipotle Bacon Mac and Cheese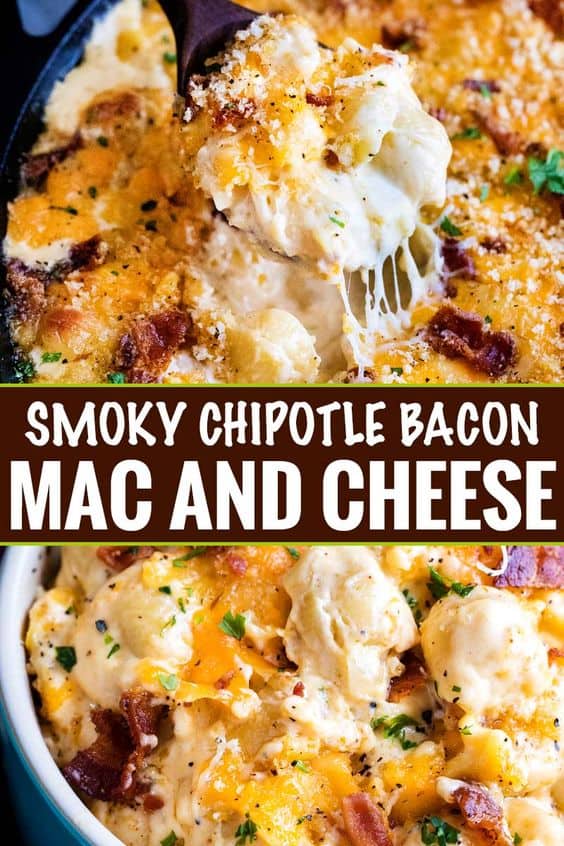 Article image from – thechunkychef
Deliciously savory and smoky, this mac and cheese recipe uses two kinds of cheese, bacon, chipotle peppers and a buttery panko topping. Epic comfort food!
My Alternative To Smoky Chipotle Bacon Mac and Cheese
Comforting Soul Food
This recipe is just as good without the bacon and will certainly not leave your guests thinking there was something missing. So why not try it on a vegetarian night? You can find plenty of vegetarian cheeses now and the Crunchiness of the topping is lovely. You could add the baked onion garnish described above in recipe number 1, and even some toasted sesame seeds to the breadcrumbs for extra effect.
Add Chilli To Taste
Any good chilli peppers will do but the recipe works well with capsicum or other sweet peppers too. Whatever your choices the meal will leave you satisfied and you really can change it easily to suit the taste of your guests.
Conclusion
With all these mac and cheese recipes you are sure to find something you like. You can use any of your favourite cheeses in some way. That might be Mozzarella for its distinctive flavour, Mascarpone to add a creamy texture, or maybe even some Norwegian Jarlsberg instead of the Gouda. Endless choices mean endless opportunities and I hope you enjoy experimenting to achieve that perfect flavour for you.