These 15 Comforting Fall Vegetarian Stew Recipes will warm you through the colder months and provide you with the nutrients you need. From a delicious chickpea potato strew recipe, to a vegetarian moroccan stew.
Browse our other vegetarian recipes.
1. Tuscan Kale & White Bean Stew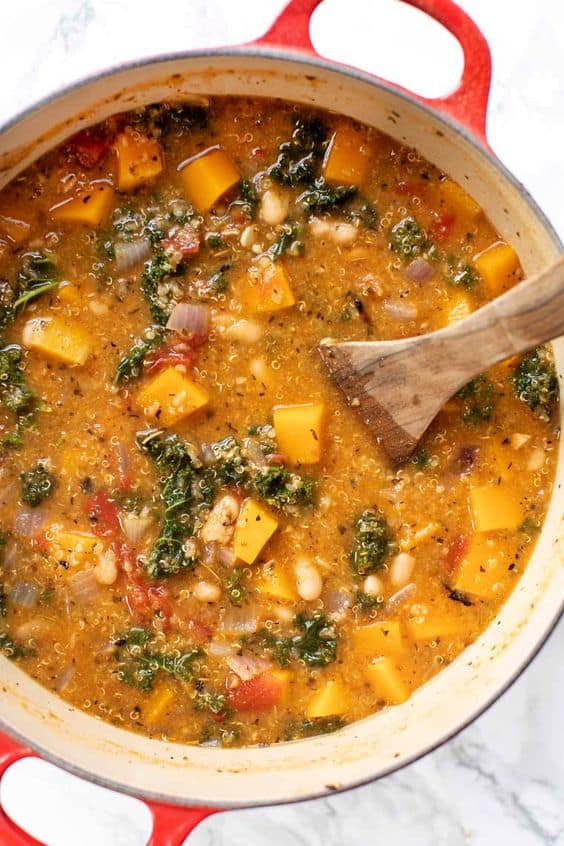 Article image from – simplyquinoa
This hearty white bean stew combines classic Tuscan spices, kale, butternut squash and quinoa for a delicious and cozy meal. It's vegan and gluten-free too!
2. Hearty Chickpea and Potato Stew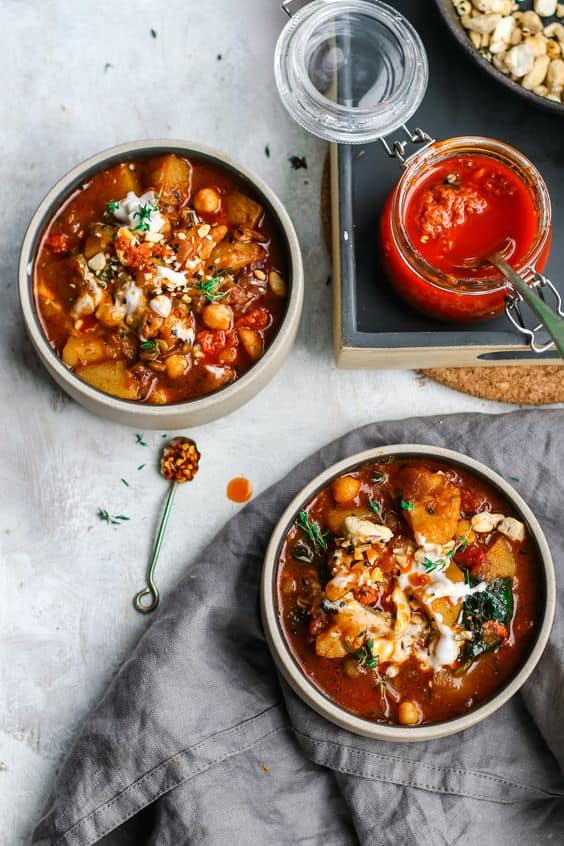 Article image from – lucyandlentils
3. Vegetarian Instant Pot Moroccan Stew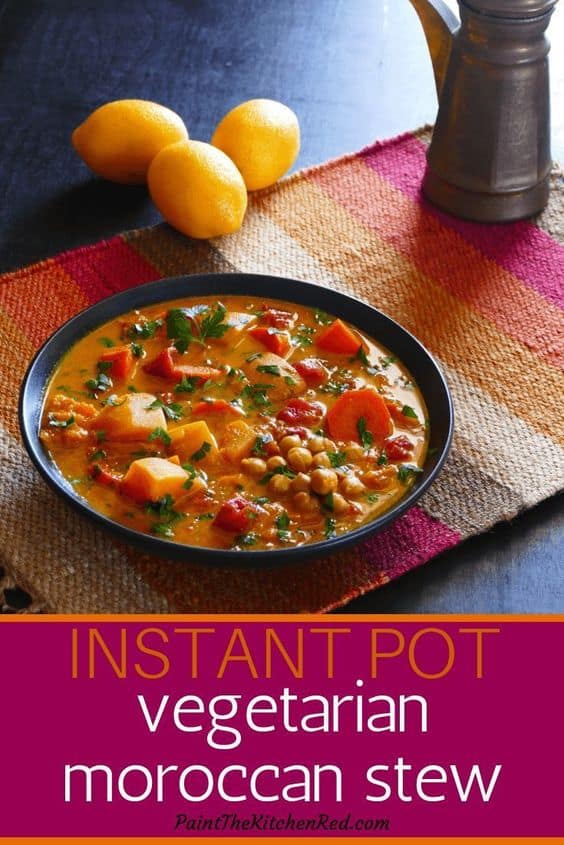 Article image from – paintthekitchenred
This Vegetarian Instant Pot Moroccan Stew is so delicious that you won't miss the meat! The stew has a dynamite combination of ingredients that gives it a rich, complex flavor that you're going to love. Serve with a lemon and herb couscous, or quinoa.
4. Butternut Squash, Chickpea & Lentil Moroccan Stew

Article image from – ambitiouskitchen
A healthy Moroccan stew with cozy spices, butternut squash, chickpeas, and lentils! You'll love this protein and fiber packed meal!
5. Vegan African Peanut Stew (Slow Cooker)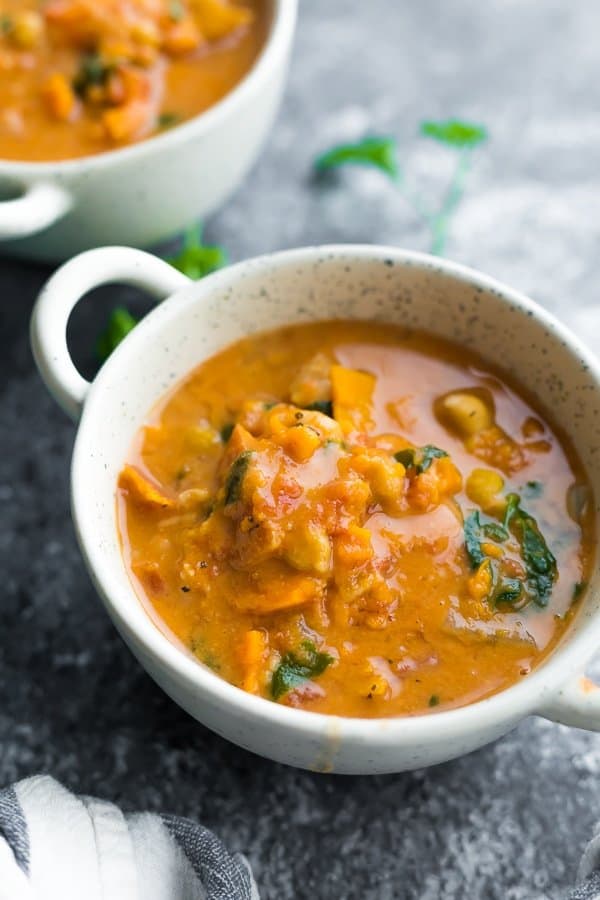 Article image from – sweetpeasandsaffron
Slow cooker African peanut stew is vegan comfort food at it's finest! With chickpeas, sweet potatoes, and peanut butter. You can assemble this ahead and freeze as a crockpot freezer meal.
6. Vegan Barley Mushroom Stew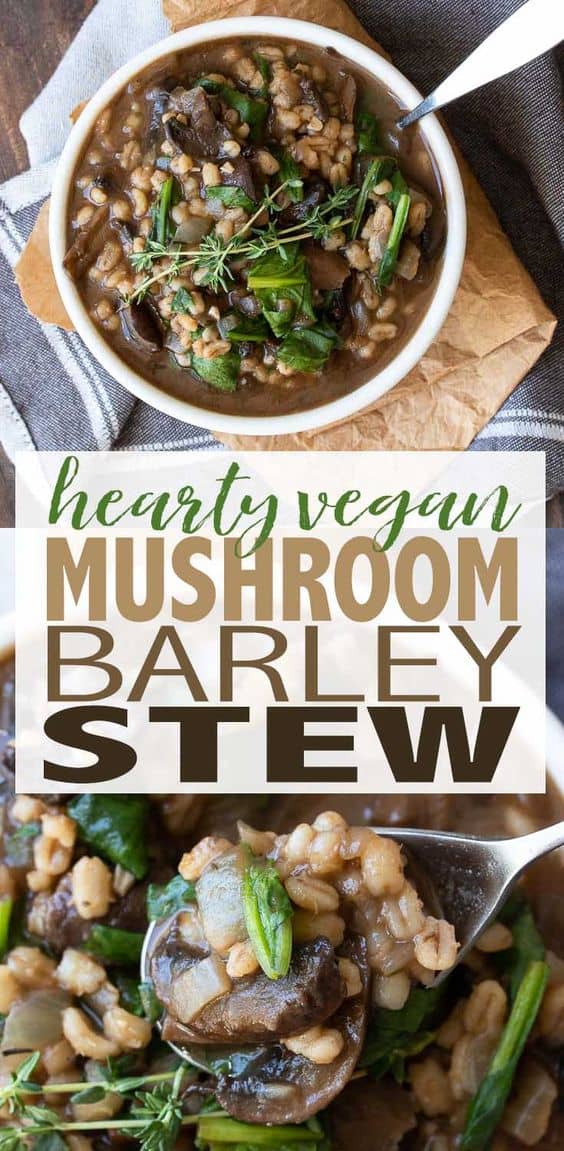 Article image from – veggiesdontbit
Vegan mushroom stew with barley is the perfect easy weeknight dinner as we transition into cooler weather. Hearty, amazing depth of flavor, and super simple to make!
7. Vegan Stew with Beans & Sweet Potato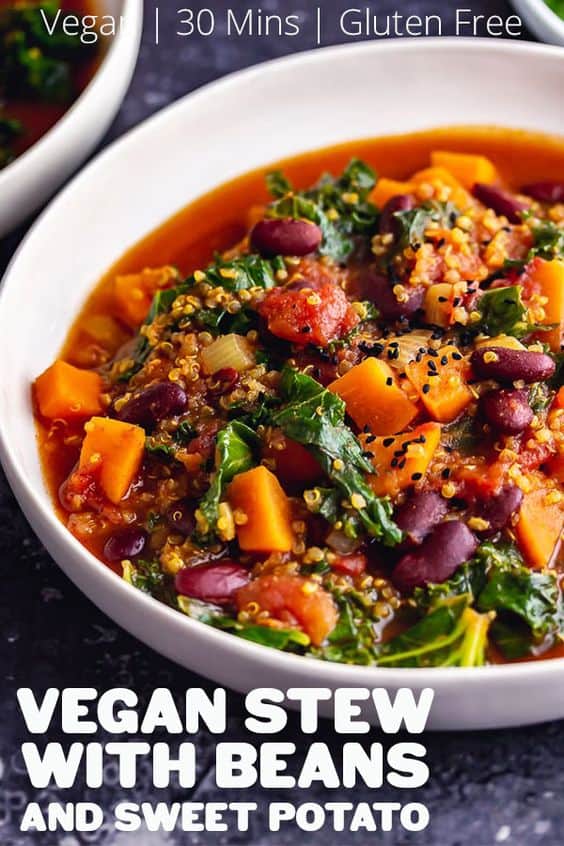 Article image from – thecookreport
Healthy vegan stew is the perfect winter warmer full of nourishing hearty ingredients like beans, quinoa and sweet potato. Serve with crusty bread for an easy dinner.
8. One-Bowl Chorizo Chickpea Stew with Greens

Article image from – familystylefood
A rich, hearty soup with layers of flavor. This chickpea stew is a nourishing, delicious one-dish meal that cooks in about 30 minutes. Make it with your choice of meat or vegetarian chorizo.
9. Mediterranean Chickpea Stew with Spinach & Feta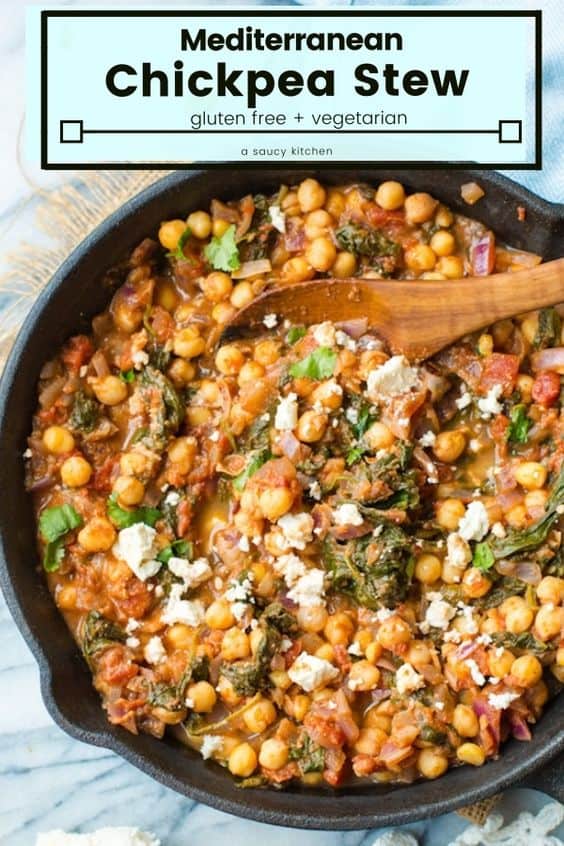 Article image from – asaucykitchen
Mediterranean Chickpea Stew with Spinach & Feta – all made in one pan in under 20 minutes! Sautéed red onion and garlic with Mediterranean spices stewed with crushed tomatoes, chickpeas and spinach.
10. African Peanut Stew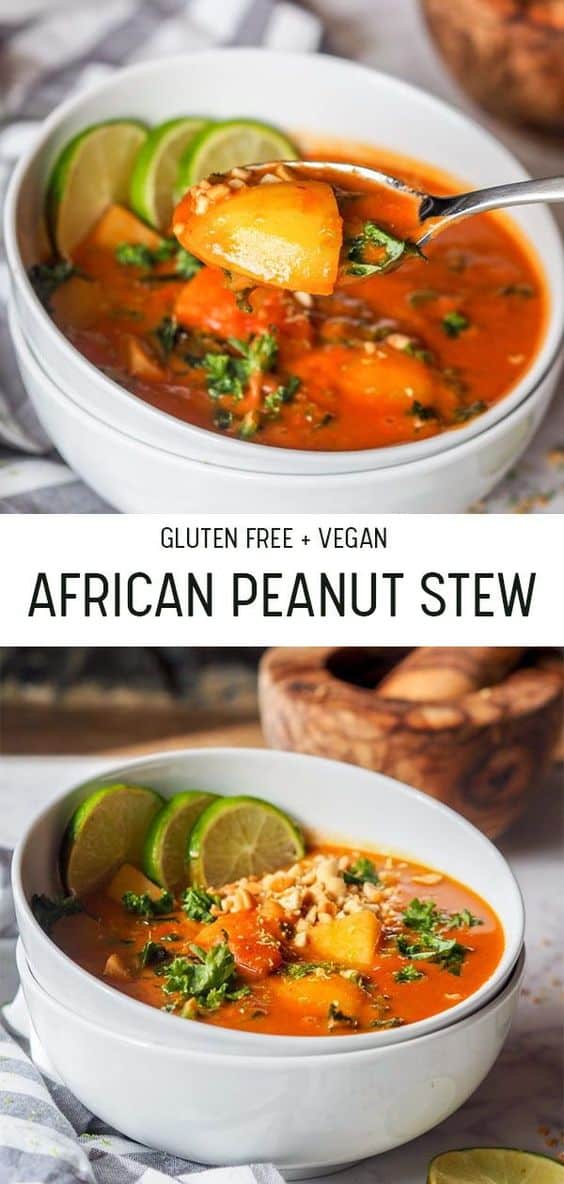 Article image from – avocadopesto
This Vegan African Peanut Stew makes for the perfect comfort meal with a tomato peanut base and filled with potatoes and kale. Gluten Free too. Ready in 40 mins.
11. Delicious Spiced Vegetable Stew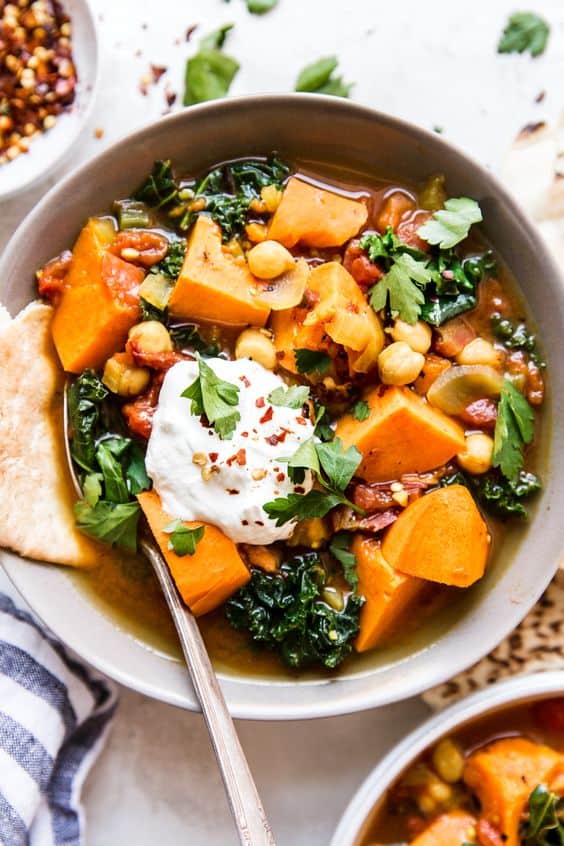 Article image from – themodernproper
This tasty vegetarian spiced stew is packed with hearty vegetables and a rich broth seasoned with turmeric, cinnamon, and cumin- and is sure to warm you up, even on the coldest of days.
12. Vegan Roasted Garlic Mushroom and Barley Stew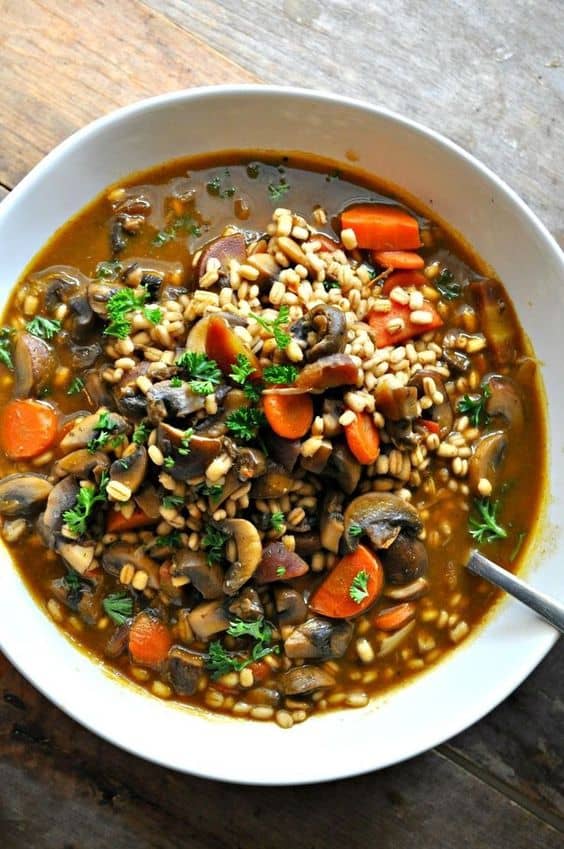 Article image from – rabbitandwolves
13. Moroccan-Style Instant Pot Chickpea Stew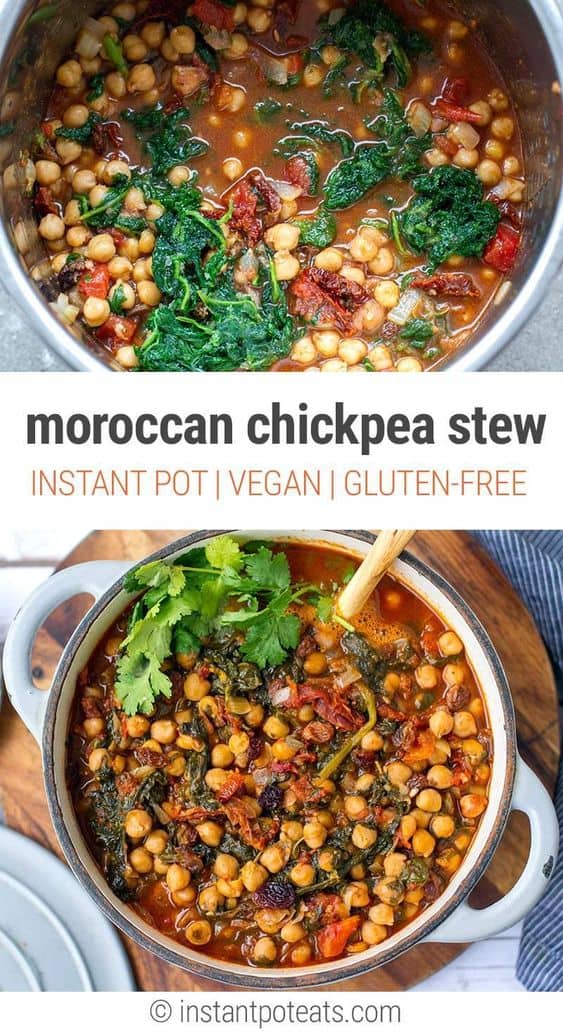 Article image from – instantpoteats
This vegan and gluten-free friendly Instant Pot chickpea stew is a delicious main meal full of Moroccan-influenced spices and flavours. Serve it over rice, couscous or with some crusty bread.
14. Vegan Jackfruit Stew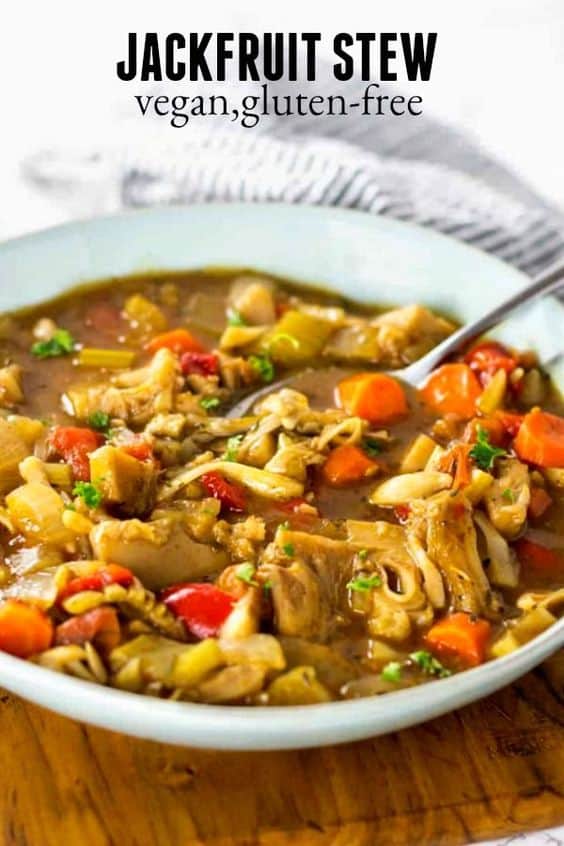 Article image from – healthiersteps
Vegan Jackfruit Stew bursting with flavors, a perfect comfort stew that tastes amazing! Jackfruit cooked with aromatic herbs and spices with carrots, onion, garlic, bell pepper, and celery.
15. Cauliflower & Lentil Stew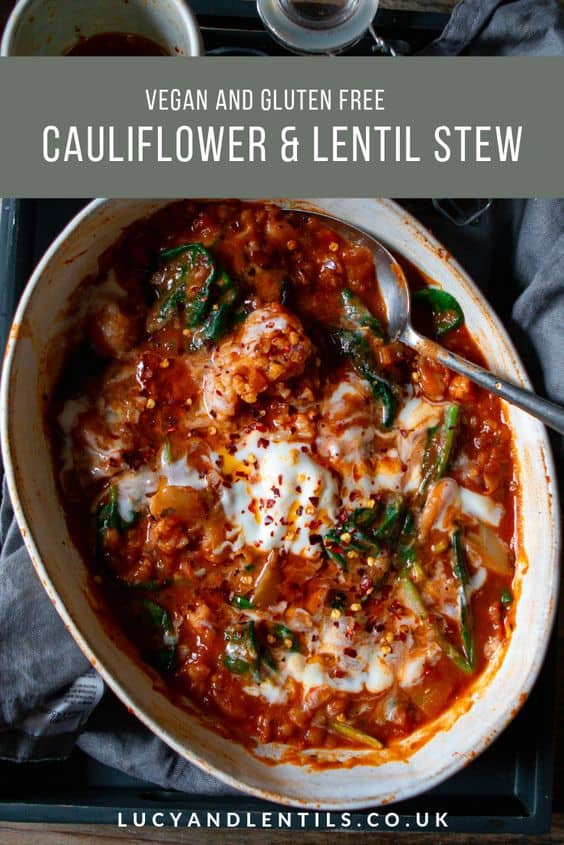 Article image from – lucyandlentils