Baked Oatmeal makes the perfect, healthy breakfast or snack. From raspberry baked oatmeal, to pumpkin baked oatmeal. Enjoy 15 Healthy Baked Oatmeal Breakfast Recipes.
Browse our other healthy recipe.
The Basics
You can find many versions of the humble oat, but oatmeal is a ground porridge made from oats.
Oat Groats are the whole oat kernels that have been cleaned, but only the loose, inedible hulls removed. Groats contain the intact germ, endosperm, and bran.
Oat bran can be removed and eaten on its own as a cereal. It can also be added to recipes which will increase fibre content.
Steel-cut oats contain the whole oat grain, including the oat bran. They are passed through steel cutters which chop them into pieces.
Rolled oats are de-hulled and steamed. This cooks the oats and they are then flattened between two rollers. You will sometimes see them referred to as old fashioned oats.
Scottish Oats are stone-ground into a course oat meal which makes a porridge-like texture when cooked.
Instant oats are produced in a similar way as rolled oats, but they are steamed for longer to completely cook them before the drying process begins. Instant oats can often have sweeteners or flavors added to them.
You should use the least processed oats you can whenever possible. they contain more fiber and you will get more health benefits from eating them.
My personal favourite are rolled oats and toasting them before use can also be a great way to create variations in a recipe. You can toast the oats in a hot pan to release a wonderful nutty flavour which also adds to the texture of porridge and other recipes.
A Fantastic Source Of Fibre
The soluble fibre In oatmeal helps you feel fuller for longer because it stays in the stomach longer. It will help slow down the digestive system and has been shown to help with maintaining a healthy weight. It may also help you avoid the health problems associated with over eating.
You can get all the many health benefits of the fibre from just a half cup of oatmeal a day.
You cannot digest fibre. It is the part of plant materials which humans are unable to digest. It is an important component in maintaining gastrointestinal health and it does this by regulating transit time through the intestinal tract and adding bulk. This will increase the feeling of fullness and help prevent constipation. Choosing a high fibre diet has many benefits and it has been shown to reduce the risk of colon cancer. You should eat 25-30 grams of fibre per day to reach the recommended daily amount.
Soluble and Insoluble Fibre
You may be aware that there are two types of fibre: soluble fibre absorbs water and becomes a viscous gel. As it moves through the intestines it is fermented by bacteria. Because insoluble fibre does not absorb water, it acts as a bulking agent, and is not fermented by bacteria.
Oatmeal contains both types of fibre but has the largest proportion of soluble fiber of any grain. If eaten as part of a low-fat diet, the soluble fibre in oatmeal has been shown to decrease LDL or 'bad cholesterol' by 10-15%. Studies also show fibre can decrease the risk of high blood pressure and reduce the risk of mortality from cardiovascular disease.
The water soluble fibre in oats can also help to control blood sugar, because it slows down digestion time. This can help diabetics achieve better glycaemic control and prevent insulin resistance.
You get about 150 calories, 4 grams of fibre (about half soluble and half insoluble), and 6 grams of protein from just one cup of oats. In addition to fibre, oatmeal is also rich in manganese, thiamine, magnesium, phosphorus, zinc, selenium and iron.
The Importance of Manganese
The high levels of manganese in oats are really important. Manganese is an essential nutrient in many body functions. It helps to metabolise macronutrients, improves bone formation, helps in the defence against free radicals and is essential for the normal functioning of your brain and nervous system. It is a critical component in dozens of proteins and enzymes within the body and deficiency can aggravate many different health problems.
The latest research suggests that taking manganese with calcium, zinc and copper can help reduce spinal bone loss and improve conditions like osteoporosis and osteoarthritis.
Manganese forms a part of the antioxidant enzyme superoxide dismutase (SOD). This has been described as one of the most important antioxidants in your body and it helps combat inflammation and fights the negative effects of free radicals. It does this by converting a substance called superoxide (one of the most dangerous free radicals) into smaller molecules that won't damage your cells.
Researchers is ongoing to determine if low levels of manganese contribute to developing diabetes, or if a diabetic state causes manganese levels to drop. Either way it does appear to play a role in regulating blood sugar
Manganese helps to improve cardiovascular health by enlarging the veins which carry blood to tissues around the body. This increases blood flow, lowers blood pressure, improves circulation and has been shown to decrease the overall risk of some health conditions like strokes.
Thyroxin is a vital hormone, important for the normal function of your thyroid gland. Because manganese is vital to the production of thyroxin, it plays a role in appetite control, metabolic levels, weight control and organ efficiency.
Exclusive Antioxidant Content
A specific group of antioxidant called avenanthramides are found exclusively in oats. They have been shown to exhibit anti-inflammatory and anti-itching effects and may provide additional protection against coronary heart disease, colon cancer, and skin irritation. They also appear to play a role in controlling blood pressure.
An Important Note
Pure oats are gluten free but most commercial brands are processed in facilities that also produce gluten-containing wheat, rye, and barley. Cross-contamination can also occur if oats are grown too close to wheat crops. If there is cross-contamination of gluten in an oat product, it is difficult to know exactly how much.
The American Food and Drug Administration allows the voluntary use of the regulated term "gluten-free" to refer to products that contain less than 20 parts per million of gluten. Because the term is voluntary, some brands of oats may actually be gluten-free, but not labelled as such. However, those who have celiac disease or gluten sensitivity may wish to choose oats specifically labelled "gluten-free."
1. Amish Baked Oatmeal

Article image from – cookingclassy
Baked Oatmeal – this delicious breakfast is made with nutritious oats, sweetened with maple syrup and flavored with cinnamon and vanilla. It's a hearty, delicious way to start the day!
2. Baked Pumpkin Oatmeal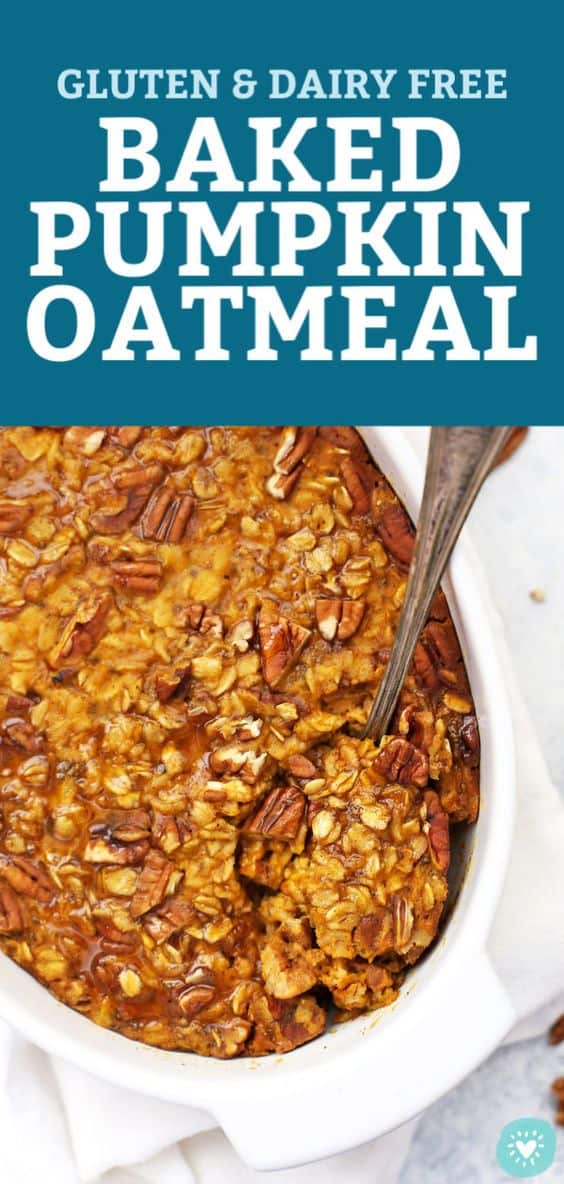 Article image from – onelovelylife
Baked Pumpkin Oatmeal – Studded with pecans and laced with the perfect blend of warm spices, this cozy baked oatmeal hits all the right notes! Whether you're making a batch for a school morning, or a cozy weekend in, it's sure to be a family favorite. (Gluten free, vegan friendly)
3. Mixed Berry Baked Oatmeal

Article image from – celebratingsweets
This easy Baked Oatmeal Recipe is filled with oats, maple syrup, fresh berries and fragrant vanilla. A healthy make-ahead breakfast for busy mornings. Bake it in advance and reheat portions as needed.
4. Apple Cinnamon Baked Oatmeal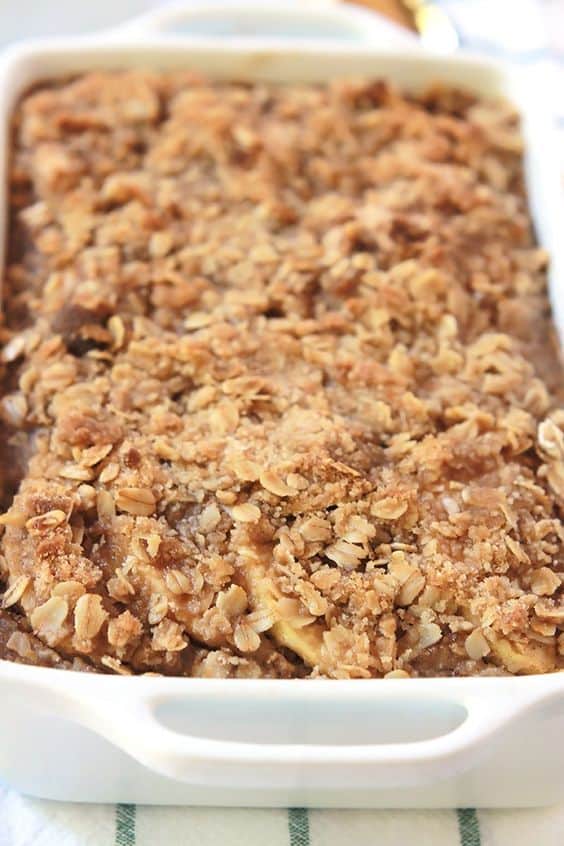 Article image from – thewholeserving
Apples, cinnamon, and brown sugar! Flavors that filled my favorite childhood breakfast, stove-top oatmeal. Today these same flavors are part of my new favorite make ahead breakfast, Apple Cinnamon Baked Oatmeal.
5. Raspberry Almond Baked Oats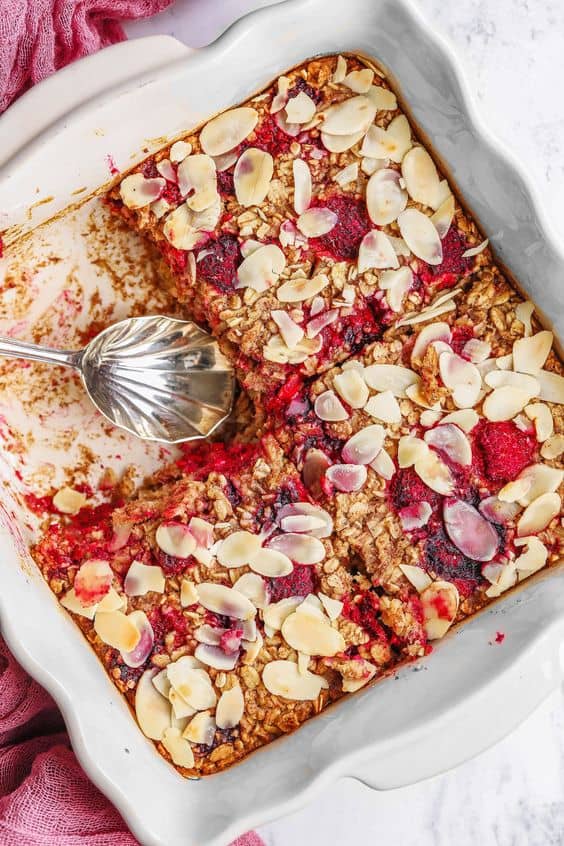 Article image from – nadiashealthykitchen
These raspberry almond baked oats are a great example of a prep in advance kind of breakfast that you can make on a Sunday night and have for the next 4 mornings. You can easily double up the recipe if you're feeding two mouths. It also makes a good snack if you're looking for healthier snack ideas.
6. Blueberry Banana Baked Oatmeal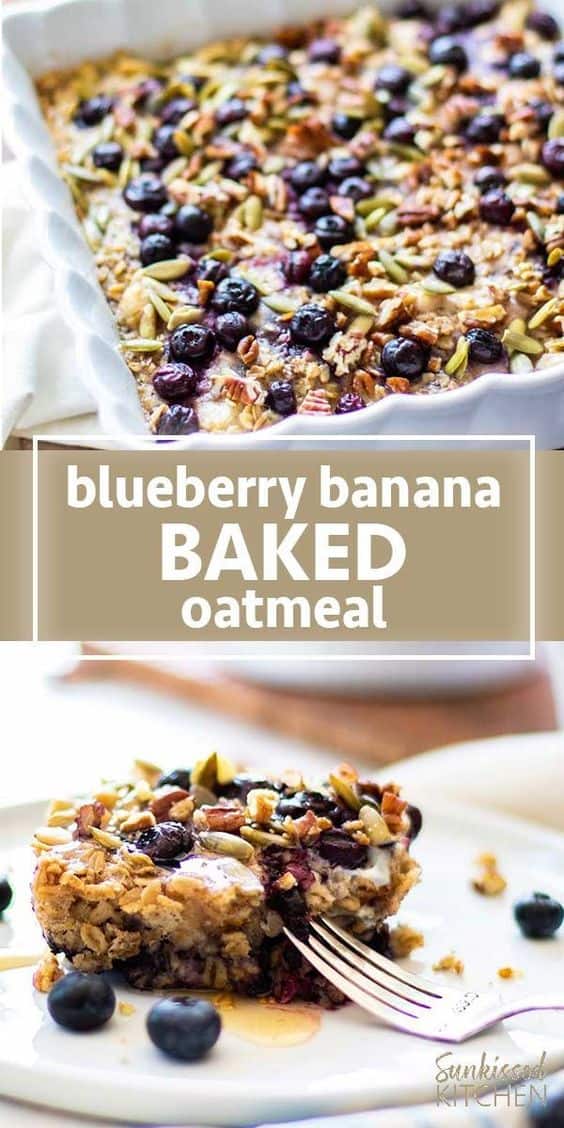 Article image from – sunkissedkitchen
Start the day off right with this healthy Blueberry Banana Baked Oatmeal. Making large casserole breakfasts is a great way to feed your family and be sure of leftovers for the days ahead! This easy healthy baked oatmeal is naturally sweetened with bananas, and topped with crunchy pecans and pepitas.
7. Blueberry Banana Baked Oatmeal

Article image from – livewellbakeoften
This Blueberry Banana Baked Oatmeal is easy to make and perfect for a quick, healthy breakfast or snack throughout the week!
8. Banana Bread Baked Oatmeal Recipe

Article image from – fivehearthome
Banana Bread Baked Oatmeal boasts the delicious flavor of banana bread, but it's made with wholesome oats, pecans, and coconut oil for a healthy, filling breakfast!
9. Banana Chocolate Chip Baked Oatmeal
Article image from – therealfoodrds
This quick-and-easy Banana Chocolate Chip Baked Oatmeal is perfect for a cozy breakfast or healthy snack throughout the week.
10. Healthy Baked Apple Oatmeal Bars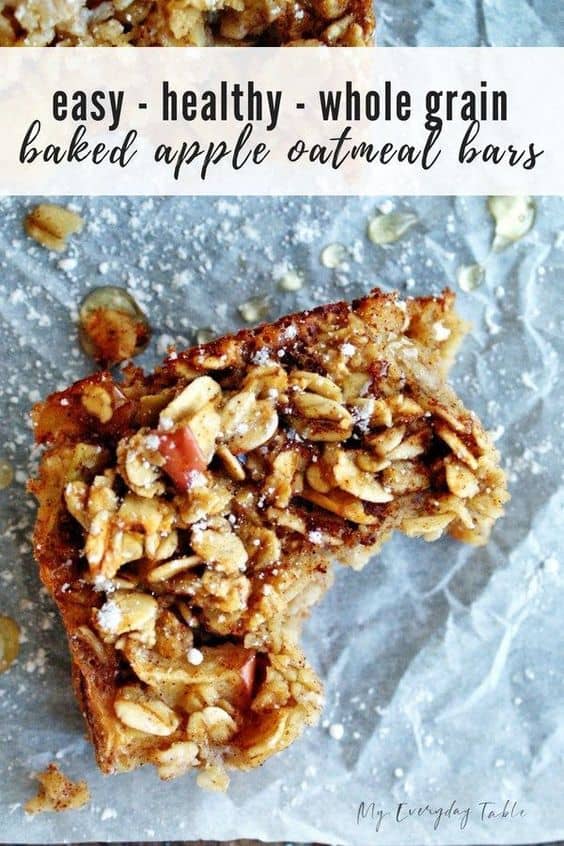 Article image from – myeverydaytable
Healthy Baked Apple Oatmeal Bars are packed with nutritious oats, apples, milk, and eggs and are a filling breakfast or on-the-go snack perfect for little hands.
11. Triple Berry Baked Oatmeal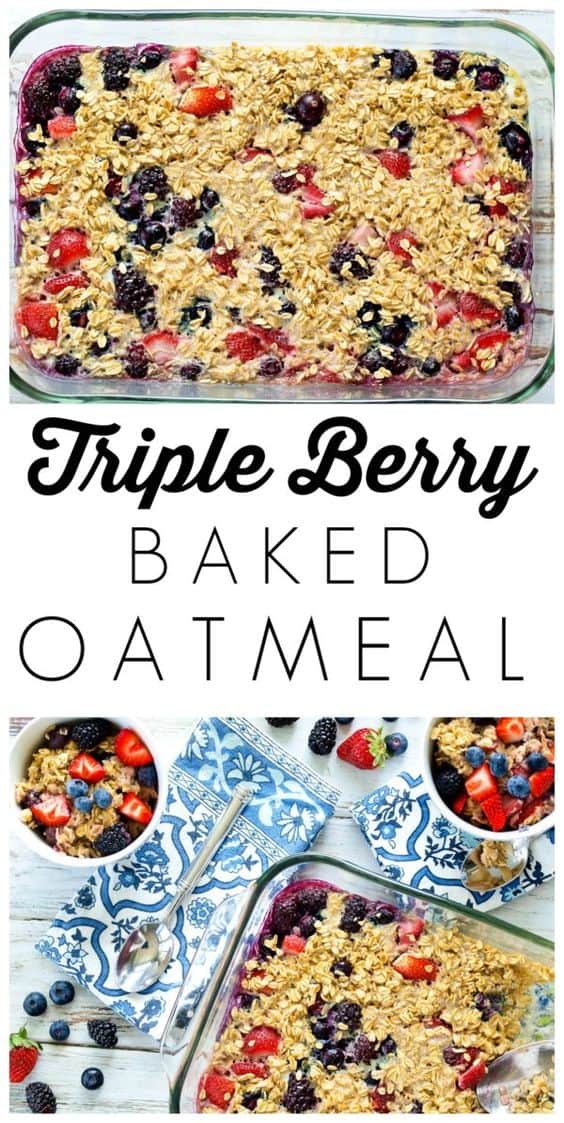 Article image from – happyhealthymama
This Triple Berry Baked Oatmeal makes an incredible, warming breakfast that is healthy and light!
12. Lemon Poppyseed Baked Oatmeal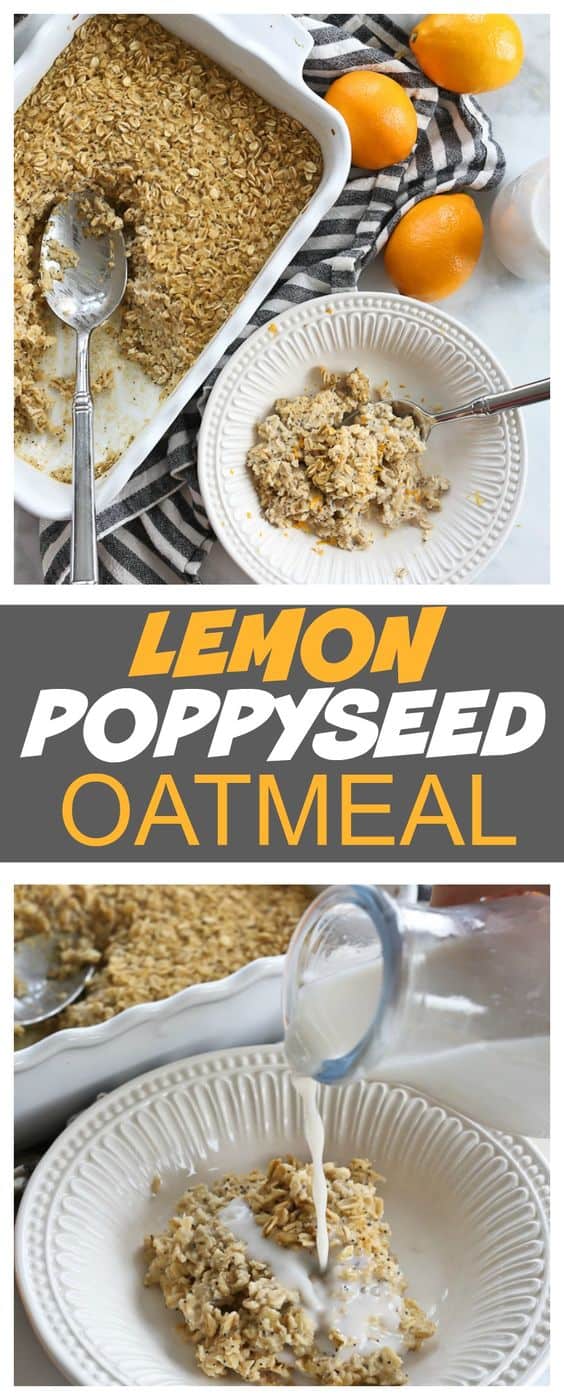 Article image from – happyhealthymama
This Lemon Poppyseed Baked Oatmeal recipe uses sweet Meyer lemons and is a creamy, comforting breakfast that happens to be dairy free.
13. Peaches and Cream Baked Oatmeal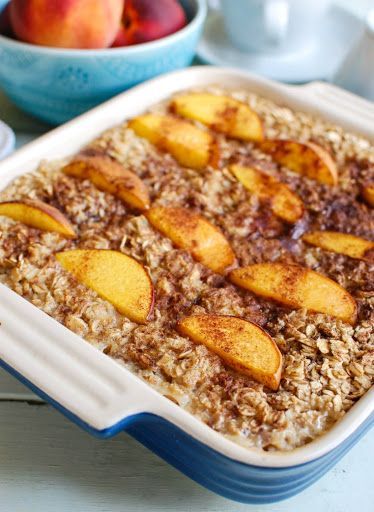 Article image from – yummly
14. Berry Baked Oatmeal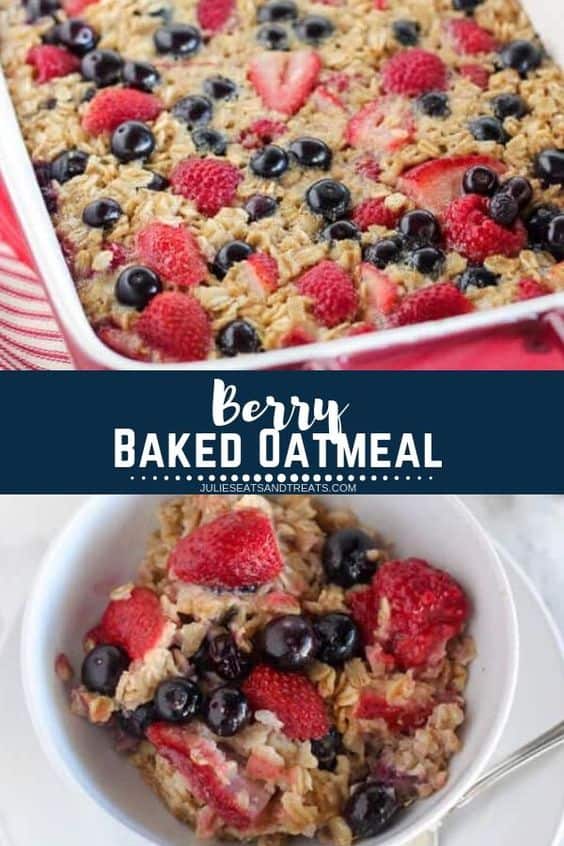 Article image from – julieseatsandtreats
Berry Baked Oatmeal recipe is loaded with fresh fruit like strawberries, raspberries and blueberries, but you can always use frozen berries!
15. Banana Peach Steel Cut Baked Oatmeal

Article image from – bucketlisttummy
Hearty, flavorful breakfast bake, full of satiating fiber and complex carbohydrates. This Banana Peach Steel Cut Baked Oatmeal is perfect for a make-ahead breakfast or snack. It can easily be reheated for on the go snacks and topped with your desired topping choices.