These 15 Comforting Vegan Potato Curry Recipes will fill your house with aromatic spice smells. From chickpea potato curry, to vegan sweet potato curry.
Browse our other vegan recipes.
Feel free to jump to the recipes
The Ultimate Comfort Food
There is something about potatoes that just makes them the best comfort food around. You can cook them in so many ways, they have to be one of the most flexible ingredients in any kitchen. Then we are spoiled by all the wonderful varieties available today. From the humble Maris Piper to the majestic king Edward they all have their own particular flavour and texture.
Boiled, Baked Or Roasted
Freshly harvested Anya new potatoes lightly boiled then served with a garlic and Sesame oil dressing make a wonderful accompaniment to any meal.
You could try baking some thinly sliced Maris Piper wedges before adding them to add extra interest to the meal.
You could even chop some King Edwards into small pieces, toss them in some salt and caraway seeds and roast them in a hot oven before using them in any of these comforting vegan curry recipes to create a more exciting texture within the meal.
Using Fresh Spices
You will see in most of these recipes that people will use pre prepared masala/curry powder mixes, mainly from dry spices. I discovered the advantages of using fresh or freshly ground spices from a flavour and health perspective a while ago now and it is hard to explain the benefits of this in words alone.
Curry Powder Vs Masala Mix
Don't be fooled, the 2 terms above describe what is, essentially, the same thing. The terms are just used differently by manufacturers eager to sell you more products than you need. Both simply defined are a mixture of ground spices. Using a pre-made curry powder or paste, the only thing you have control over is the intensity of the final taste. Imagine being able to increase the flavour intensity of just one of those flavours, or maybe to take one of them out completely?
Making Your Own Masala Mix
Having control of the amount of each spice you use within a masala mix means you can contour that mix to complement the food, the mood, the people and the environment. It can also be used as a way to personalise the meal for the guests you have invited. If your guests aren't fans of hot spices, reduce the amount of chilli and increase the amount of some of the less hot spices like cumin or fenugreek.
Flavour Balance
You will quickly learn that achieving a good balance of flavour isn't so hard. Some spices like cloves have a very intense flavour so less equals more. Changing the amount by just a small amount can have a significant effect on the overall flavour. With other less intense flavours like turmeric, you will need to add or subtract more of the spice to influence the overall taste as much.
Basic Ingredients
My spice cupboard looks quite different these days. I only buy single spices and make my own spice mixes for everything. The exciting part of this is when you find a new spice you have never used before. You can work out which combination of flavours it works best with, and which guests appreciate the different flavour most too.
Coriander, cumin, cardamom, black peppercorns, fennel seed, mustard seed, chillies and turmeric are all common ingredients used in masala mixes and curry powders. Ginger, fenugreek, cloves and cinnamon are also commonly used, as are curry leaves and lemon grass.
Keep It Simple
When I first started I just wanted to try everything and had a tendency to use too many different flavours. This can result in a muddled flavour and it is much more difficult to create a good flavour balance when you use more ingredients.
As a general rule of thumb, I would suggest from 5 to a maximum of 12 ingredients should be used to form the basis of your masala or curry mix. Of these, no more than 5 should be dominant flavours. These are the flavours that anchor the recipe. The rest should be used as secondary flavours, to enhance the primary flavours.
Useful Tips
Using fresh chilli you can remove some or all of the seeds and white pith to reduce the heat, then you can use more chilli's to increase the flavour without making the heat overpowering. Both cardamom and cloves have a wonderful but very intense flavour. Biting into a whole clove or cardamom pod always seems to happen in the last few mouthfuls of a meal. You can use a small amount of the freshly ground spice or in soup style curries you can tie them in a small muslin bag and cook the flavours in that way. Then just remove the bag at the end.
Most often I fry any onions and peppers initially and then add the spices to cook the flavours into these vegetables. However, at times i do use a small frying pan to prepare the spice mix completely separately. This is the best way if you want to make a curry paste that you can freeze ready to use in future dishes. You can simply fill an ice cube tray with the paste and freeze it. Then simply break off however many cubes you need for the recipe you are cooking.
The Art Of Cooking
This is where cooking really does become an art. As you learn you will begin to understand the complex way these flavours interact. You will taste the magic of your work too.
If you are preparing a mix and something just feels right, try it. Some of the best masala mixes I have made have been prepared because of a single thought. If you grind your spices by hand in a pestle and mortar this is an ideal time to practice some mindfulness.
Focus On The Food
Focus your attention on the spices as you grind them. You will smell the aromas as you add and grind them together. You will feel the differences in hardness too. Using a hard spice to help grind a lighter, softer one helps to make your job easier.
My Personal Favourite
To have a singular favourite would be all but impossible. Different spices suit different foods so much. Whatever the meal though I do have certain "Go To" spices.
I rarely cook a curry without a large proportion of fresh ginger, chilli and garlic, finely chopped ready to add to the spice mix. Then I reach for the Cumin (also known as Jeera). Depending on the recipe I may just add a small amount, but more often than not I use it as one of the dominant flavours. Fenugreek is often used as fresh leaves but I use it an awful lot as a dominant flavour, using freshly ground seeds. Coriander would be the next option as a dominant flavour. Freshly ground seeds and fresh coriander leaves impart quite different flavours. Try experimenting with the combination of both. Use the seeds in the masala mix and the leaves as a garnish sometimes to add effect.
Fennel is also a magical spice, especially for sweeter curries and turmeric is a must as one of my secondary flavours as it complements the cumin, coriander seed and fenugreek seed so well. Mustard seed is another seed I use often and it can be used to broaden the heating effect of the chillies.
One Recipe
If I had to choose one curry mix that would work for most recipes and situations, this would be it.
Half Bulb Garlic

3cm square piece of fresh ginger

3 de-seeded bird eye chillies

1 teaspoon of cumin seeds

1 teaspoon of fenugreek seeds

1 teaspoon of fennel seeds

1 teaspoon turmeric

Half teaspoon of coriander seed

Half teaspoon of yellow mustard seed
Flexible Recipes
You can use this, or any other similar mix as a way of making every recipe on this page more flexible. You could also rub some spice mix into the potatoes before roasting them for extra effect and to make a more memorable meal.
Amazing Meals
So by varying the way you cook the potatoes and using different spice mixes you can create an amazing array of dishes that all have a very personal touch. You will never be short of a new idea to try. I guarantee you won't be short of friends who want to try the recipe too.
1. Easy Vegan Potato Curry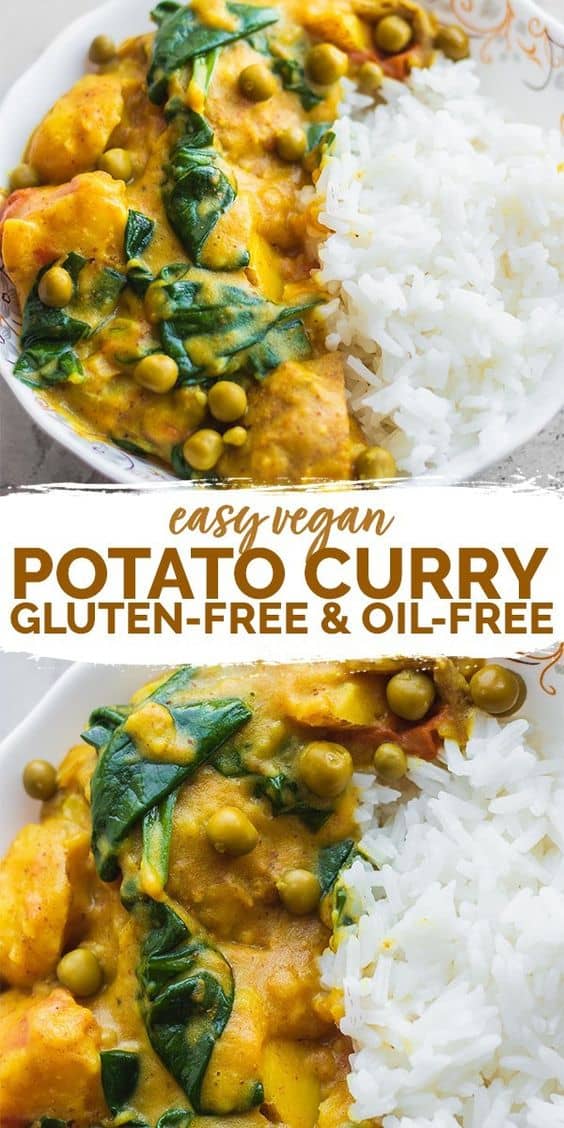 Article image from – earthofmaria
This easy vegan potato curry is perfect for a comforting weeknight dinner that's ready in less than 30 minutes. Made with soft potatoes, flavourful tomatoes and a rich sauce, this is delicious served over a bed of rice. Gluten-free and oil-free.
2. Vegan Cauliflower Potato Curry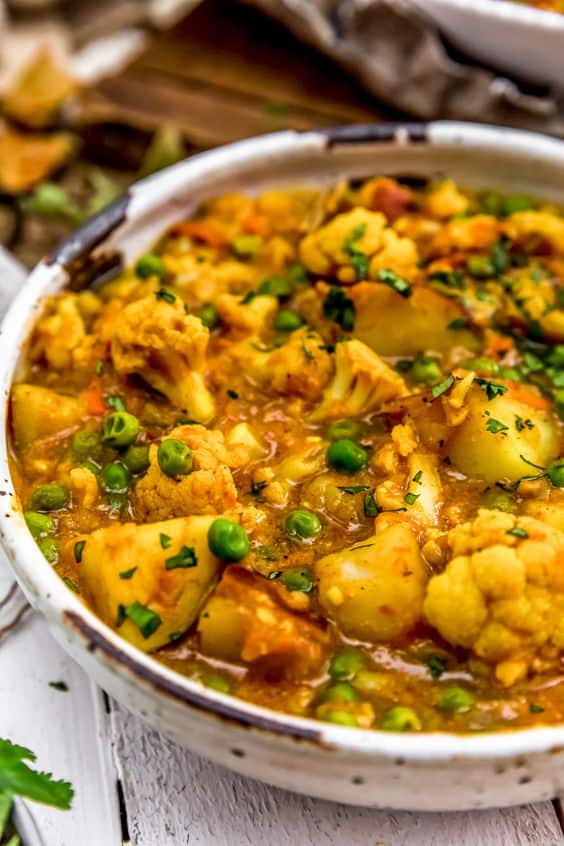 Article image from – monkeyandmekitchenadventures
We are lickin' the bowl of this ultra-flavorful dish! Easy to make using the Instant Pot or Stovetop, this comforting Cauliflower Potato Curry is packed full of aromatic spices and powerhouse veggies. The whole family will be running to the table for this hearty filling dish!
3. Vegan Chickpea Potato Curry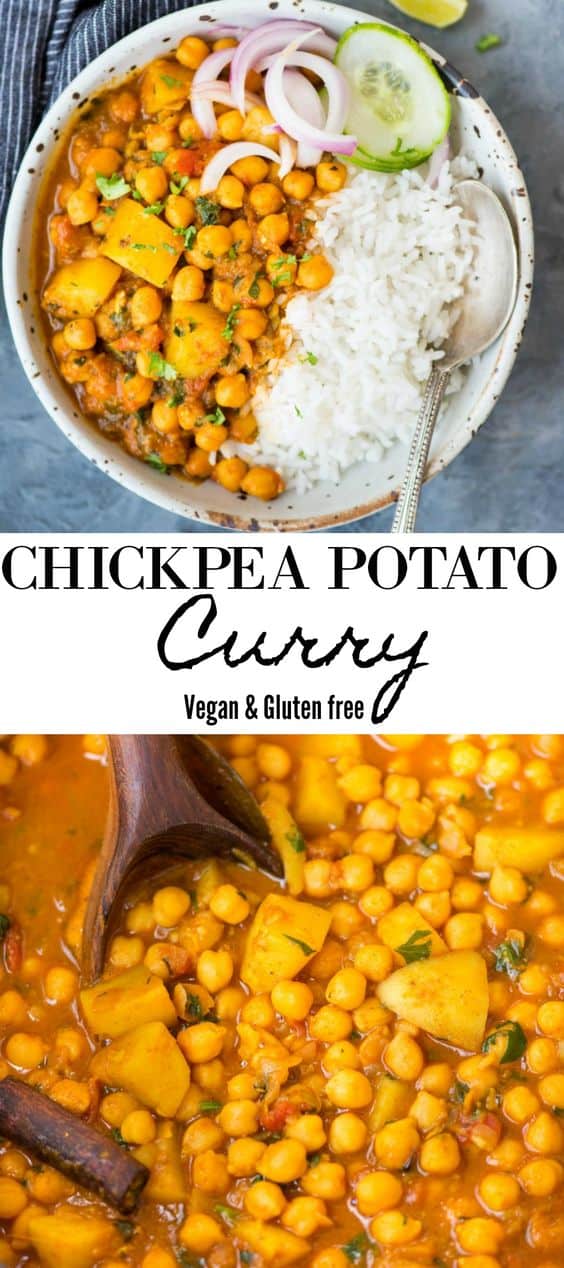 Article image from – theflavoursofkitchen
Chickpea curry with potato or Chana Aloo packed with Indian flavors, nutritious and needs less than 30 minutes to make. This one pot chickpea curry is best served with rice or naan.
4. Potato, Cauliflower, & Green Bean Curry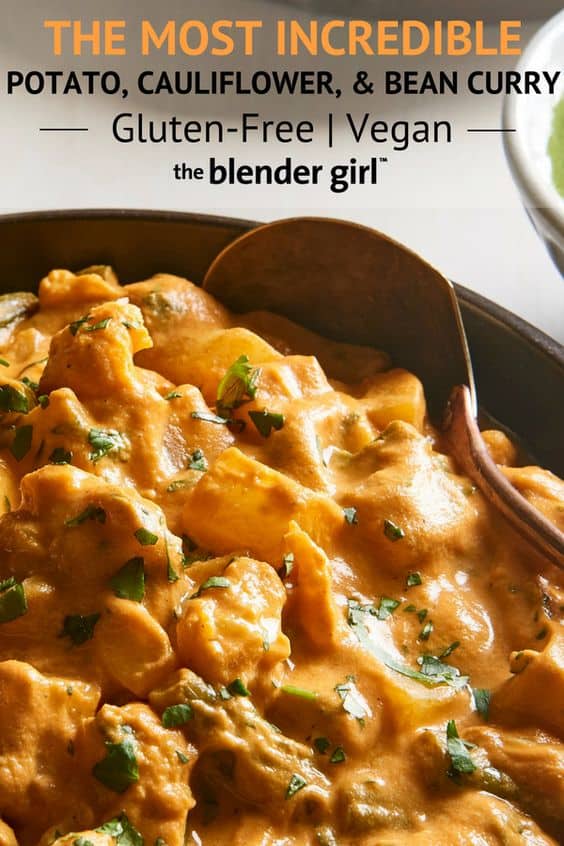 Article image from – theblendergirl
This vegan potato curry with cauliflower and green beans is mild and super tasty. This vegetarian curry goes beautifully with cilantro mint chutney and chickpea crepes for an incredible dinner.
5. Vegan Instant Pot Potato Curry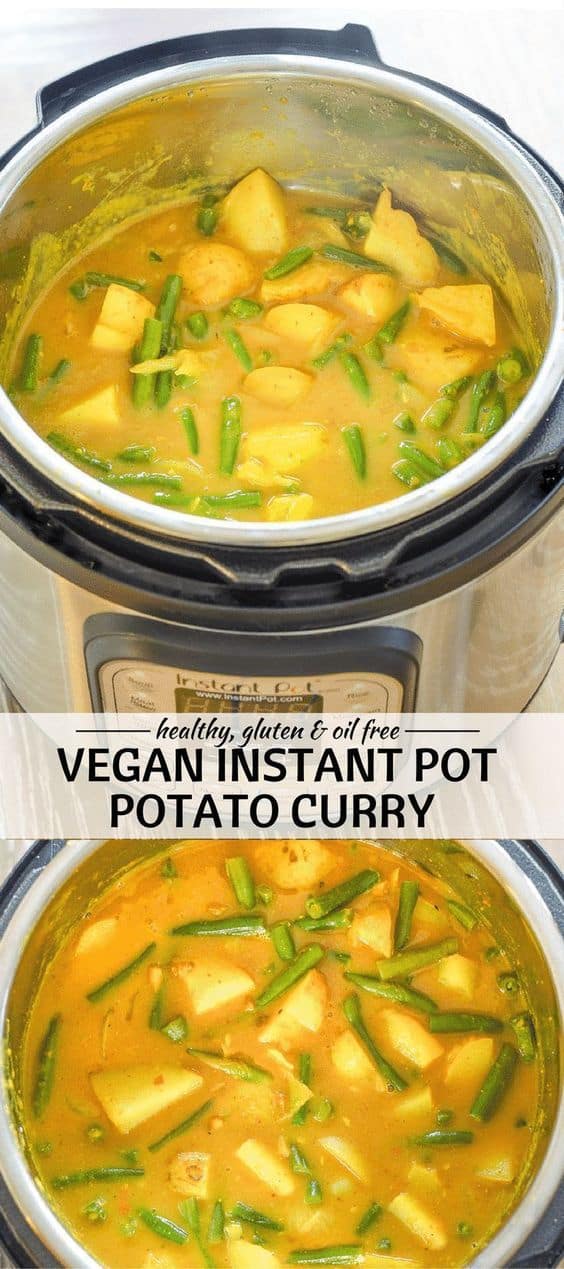 Article image from – avirtualvegan
Vegan Instant Pot Potato Curry! Super quick, easy, nutritious, delicious and no fancy spices needed, plus it's really budget friendly!
6. Vegan Sweet Potato Coconut Curry
Article image from – elavegan
Creamy sweet potato curry with spinach! This is a healthy curry recipe which is vegan (dairy-free), and easy to make in 1-pot on the stovetop OR in an Instant Pot (pressure cooker). I have included the instructions for both! It's a wonderful comfort meal for dinner which is also great for meal prep.
7. Sweet Potato, Chickpea and Coconut Curry

Article image from – biancazapatka
8. Vegan Aloo Curry Indian Potato Curry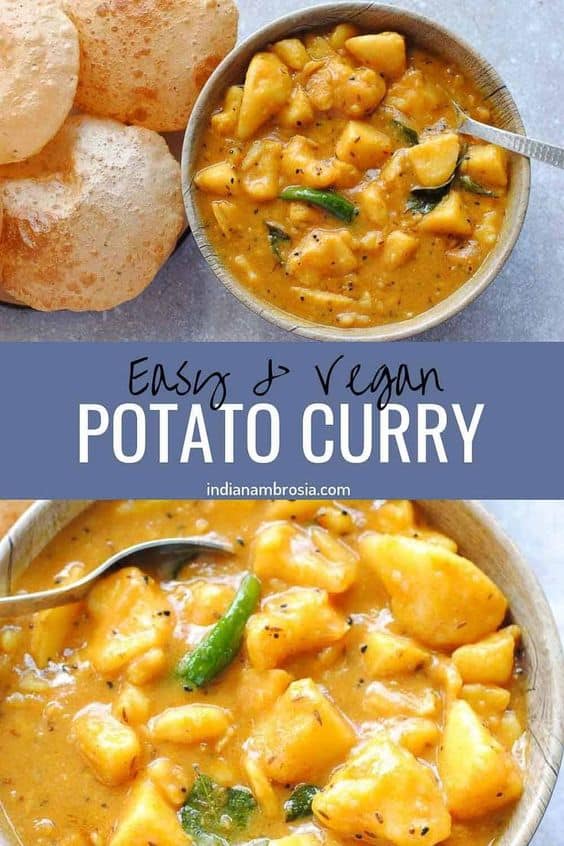 Article image from – indianambrosia
This aloo curry recipe is a simple vegan potato curry that's made quickly with a few choice ingredients. It tastes terrific with freshly made puri, a crisp and puffy Indian bread. Eat aloo puri for a hearty Indian breakfast or brunch!
9. Easy Vegan Sweet Potato Curry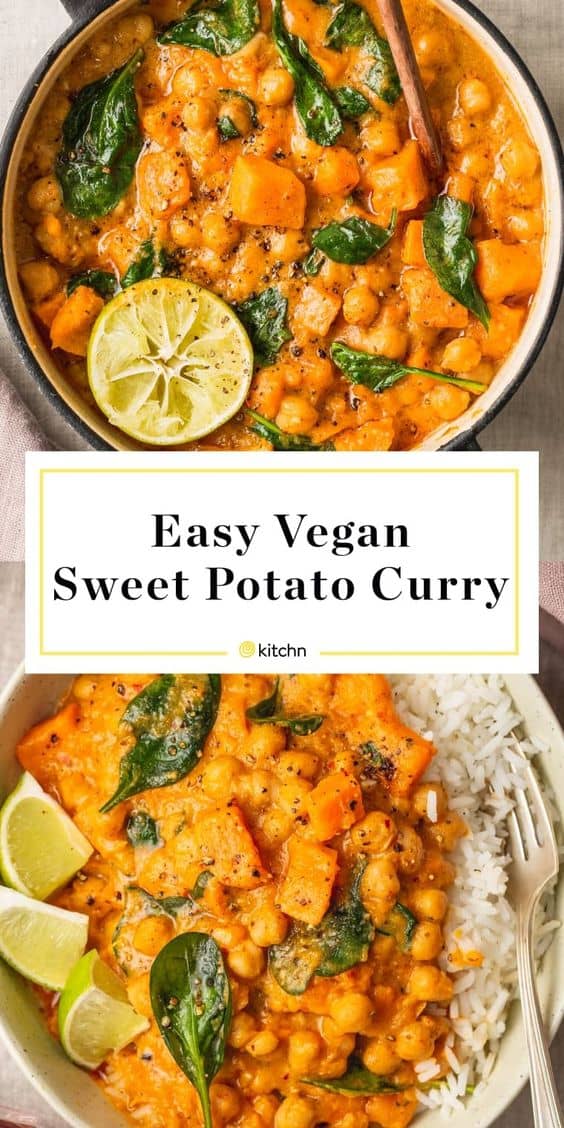 Article image from – thekitchn
This curry is the perfect compromise. Sweet potato and chickpeas, both of which are hearty but won't weigh you down, are swimming in a creamy coconut milk broth that's rich with Thai red chili paste and spicy ginger.
10. Thai Vegan Potato Curry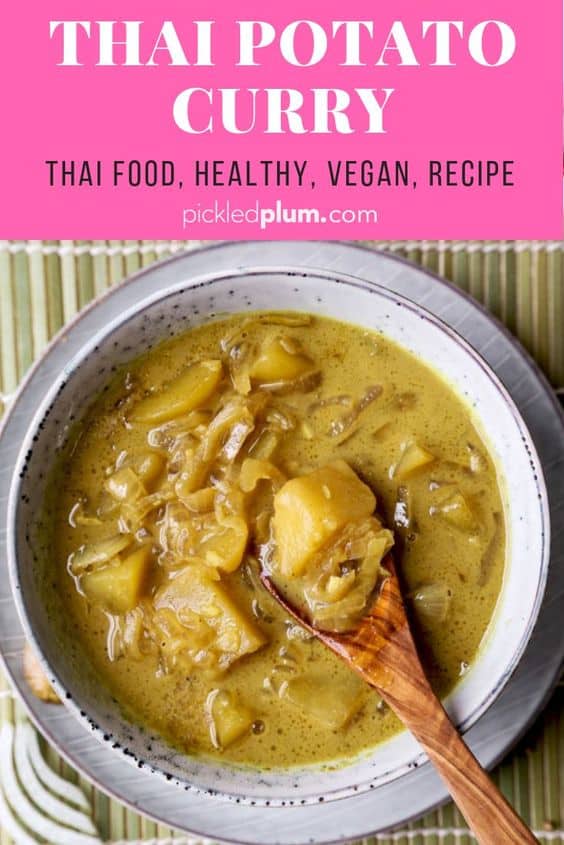 Article image from – pickledplum
Loaded with warming spices and the rich sweetness of coconut milk, this Thai Potato Curry Recipe is a sure hit. Flavor packed and completely vegan, this is one Thai curry you'll definitely want to have seconds of. Ready in under 25 minutes from start to finish!
11. Vegan Eggplant Sweet Potato Curry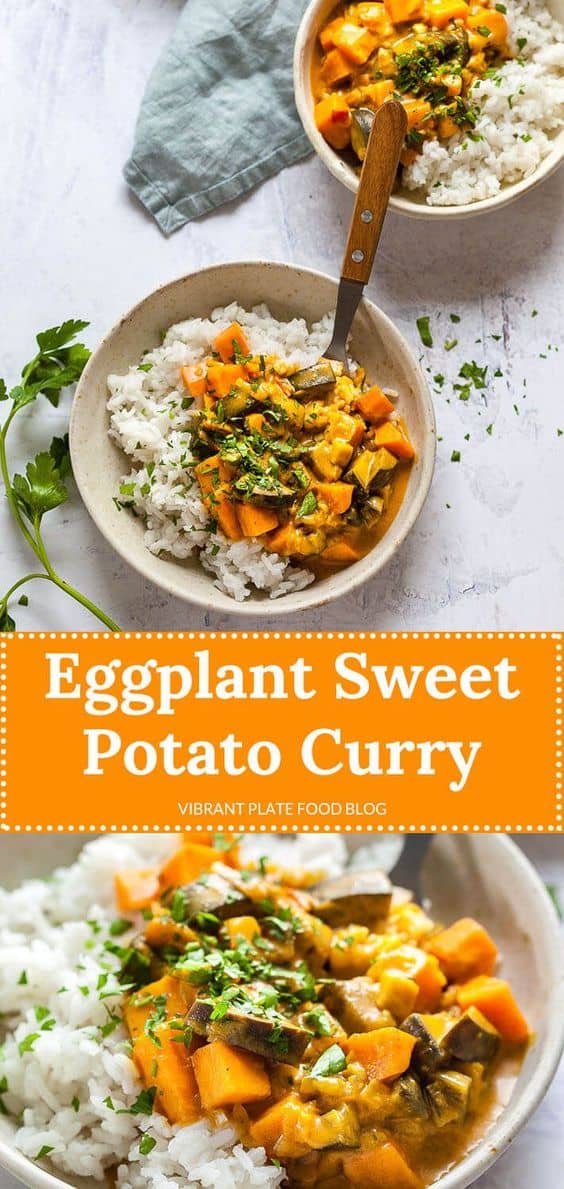 Article image from – vibrantplate
A delightful Eggplant Sweet Potato Curry Recipe that is perfect for Meal-Prep. Fully Plant-Based, Vegan & Gluten-Free.
12. Instant Pot Vegan Sweet Potato Curry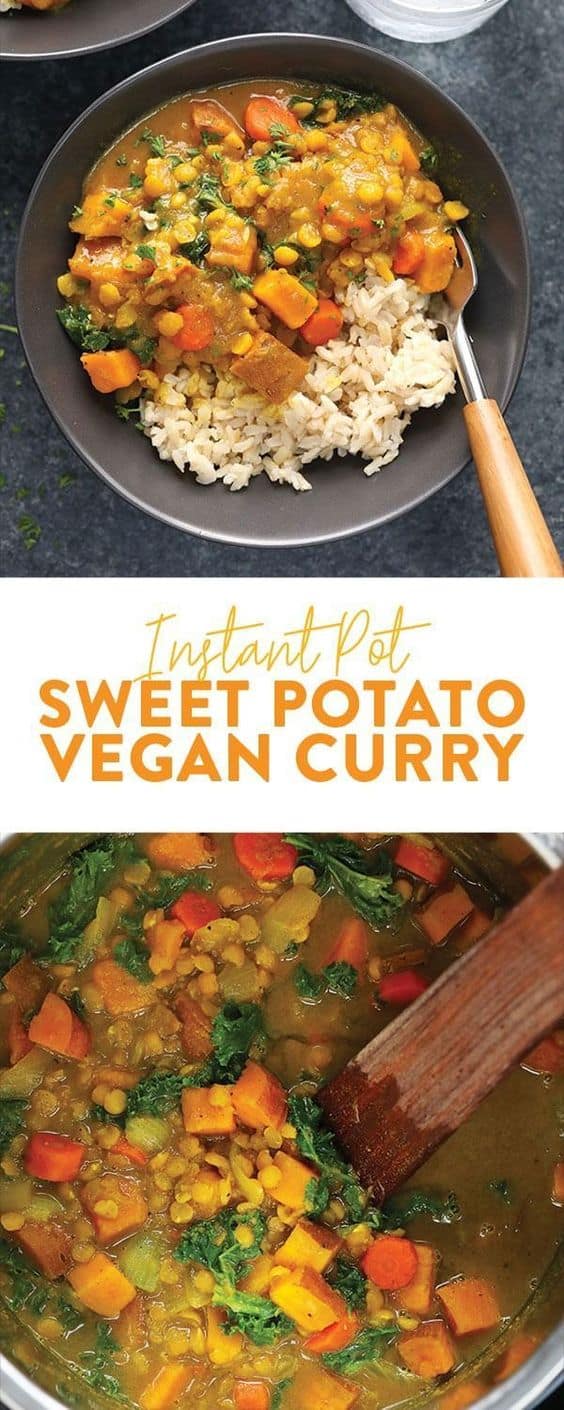 Article image from – fitfoodiefinds
This Instant Pot sweet potato vegan curry is made in no time and with ingredients, you probably already have on hand! So grab your Instant Pot because you'll never want to make vegan curry any other way.
13. Spicy Vegan Potato Curry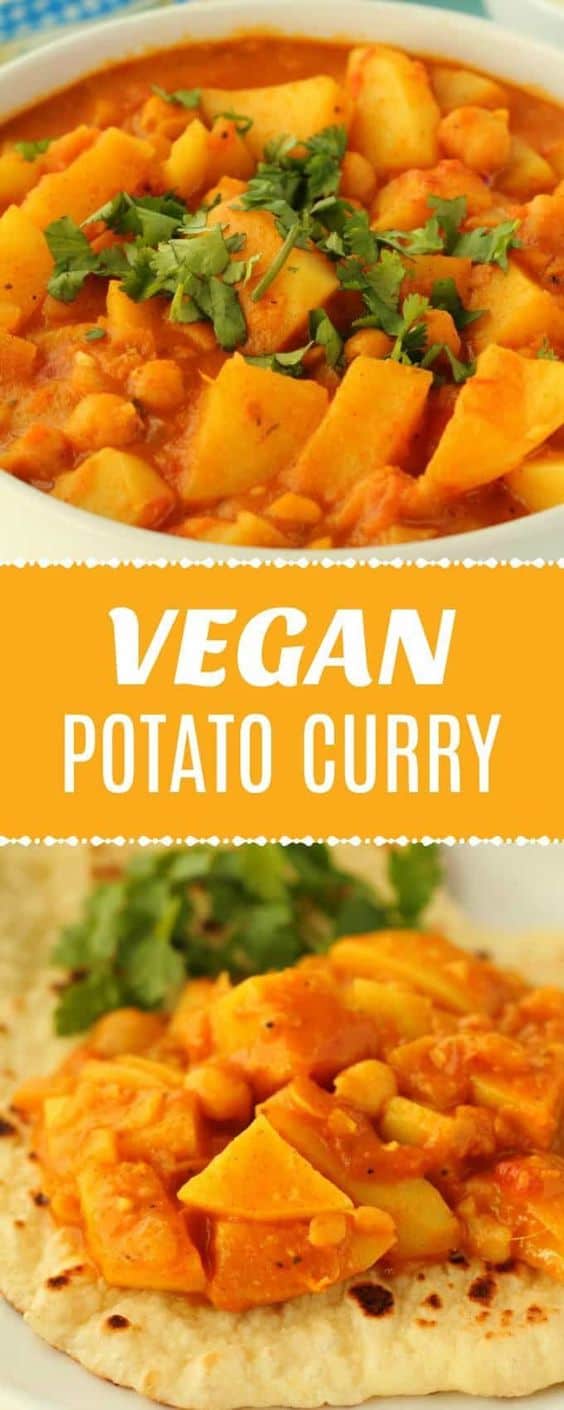 Article image from – lovingitvegan
Rich and fragrant vegan potato curry that is delicious served as is, or over rice or with vegan naan. Super simple recipe with mouthwatering results.
14. Creamy Sweet Potato & Red Lentil Curry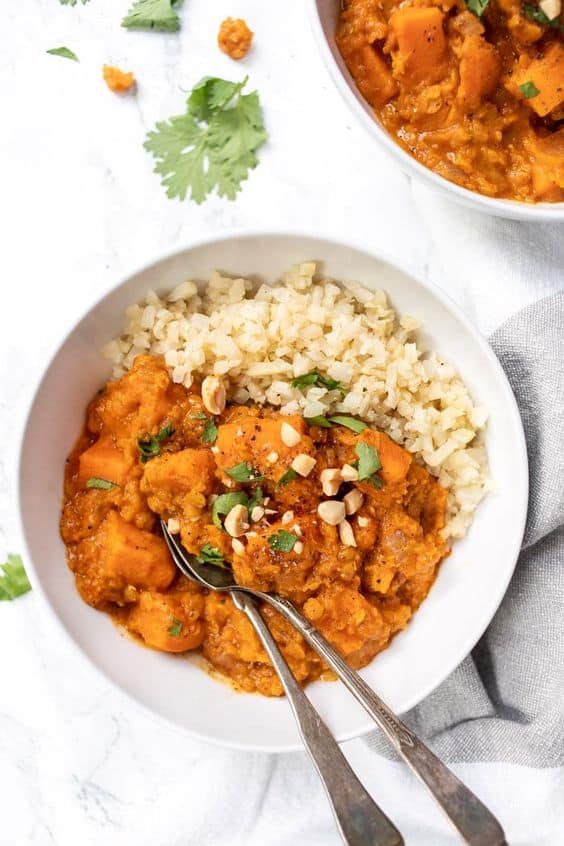 Article image from – simplyquinoa
This creamy Red Lentil Curry uses sweet potatoes, coconut milk and just 9 other ingredients! Made in just one pot, it's also vegan, gluten-free and healthy!
15. One-Pot Vegan Chickpea and Potato Curry
Article image from – karissasvegankitchen
Making curry has never been easier! This vegan One-Pot Chickpea and Potato Curry recipe is SO SIMPLE to make and uses familiar ingredients like rice, vegetables, and coconut milk. Feed the whole family or meal prep for the week!