As fall and winter approach, getting out the crock pot and making yourself a delicious recipe sounds perfect. Theres no meat in these recipes, they're totally vegan! From flow cooker cauliflower soup, to slow cooker lentil soup. Discover 15 Comforting Vegan Slow Cooker Recipes
Browse our other vegan recipes.
Wonderful Tasty Ideas
Slow cookers are a great way to make good food easy. You do all the prep set it off and then you can get on with all the other tasks of the day knowing a hearty healthy meal awaits you. More versatile than you may think they are much more than a stew pot. Here are some wonderful, tasty ideas for you to try.
1. Crockpot Quinoa and Vegetables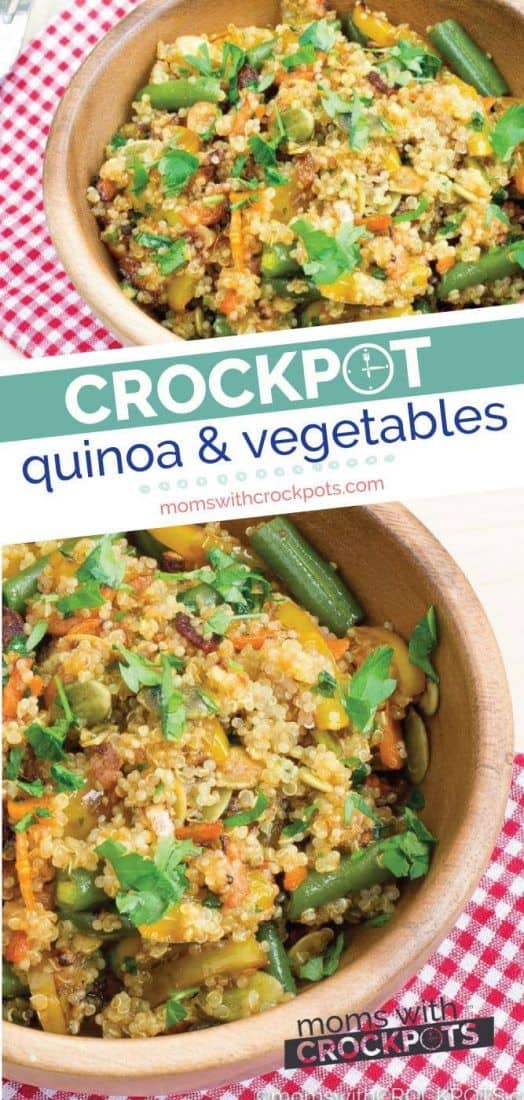 Article image from – momswithcrockpots
Looking for a tasty vegan crockpot option or just something healthy?! Check out this Crockpot Quinoa and Vegetables recipe that turns out delicious every time!
My Alternative To Crockpot Quinoa and Vegetables
Making It Vegan
Although the main ingredient list includes chicken stock, vegetable stock is listed as an alternative and it is a great recipe so I wanted to include it. Making it Vegan is as simple as that. No other changes are needed at all.
The Wonders Of Quinoa
You will inevitably have heard some of the benefits of Quinoa over the last few years. Lauded as a superfood, it has a complex nutritional profile that will add something to anyone's diet.
The Power Of Protein
Unlike most grains it provides that all important protein that is essential for the body to repair itself. In addition the list of vitamins and minerals it contains is a long one. It has very high levels of phosphorus, copper, iron, manganese and magnesium with significant amounts of zinc, folate, riboflavin and vitamins B1 and B6. As well as other compounds in smaller amounts it contains two important antioxidants called quercetin and kaempferol. These both help fight free radicals to minimise cell damage and help prevent disease. The latest research appears to show they also have antibacterial and anti-inflammatory properties.
Well Balanced And Nutritionally Complete
The vegetables that accompany the quinoa help to provide a well balanced nutritionally complete meal. They can easily be swapped around too for something different. Spinach makes a great alternative to the green beans and you could try using leeks instead of onion. Remember, the more different colours you have in the meal the more nutritionally balanced it is likely to be
2. Vegan and Gluten Free Slow Cooker Lasagna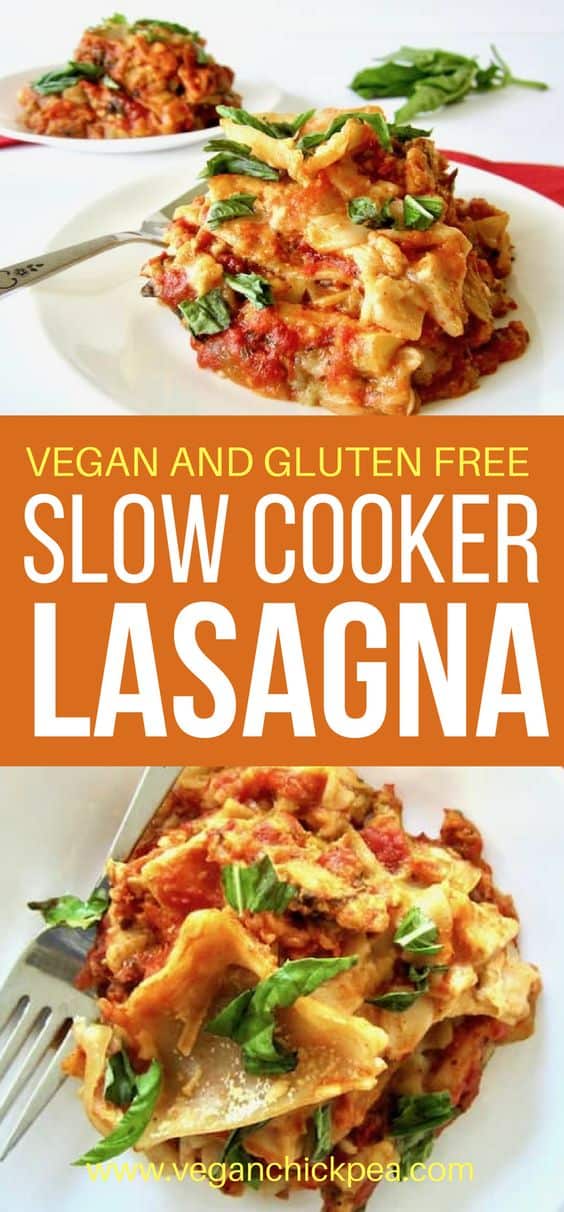 Article image from – veganchickpea
A crowd pleasing, easy recipe for your next family get together!
My Alternative To Vegan and Gluten Free Slow Cooker Lasagna
Flavours That Fit
Going by the tip I use in recipe number one about the more colours the better you know this recipe is going to be good nutritionally right from the start. It wouldn't be my standard choice of vegetables but the flavours fit together very well. Cooking the lasagne in a slow cooker is a master stroke too.
The Dynamic Duo
You get very high levels of vitamin A in Zucchini and equally high levels of vitamin C in the yellow squash. Between the two they contain many valuable minerals, including calcium, iron, magnesium and phosphorus. There is also plenty of potassium, vitamin K, folic acid, B complex vitamins, including folate, niacin, thiamine, riboflavin, pantothenic acid and vitamin B6. Then there are antioxidants too. Together they go a long way to giving you many of your daily needs.
The Magic Of Mushrooms
Low in calories, fat and cholesterol-free, mushrooms contain a modest amount of fibre and over a dozen minerals and vitamins, including copper, potassium, magnesium, zinc and a number of B vitamins such as folate. They are also high in antioxidants like selenium and glutathione.
Terrific Tomatoes
These antioxidants form a powerful defence against cellular damage. They are the compounds that attack and neutralise the free radicals in our bodies that cause damage to our cells every day. Increasing the levels of antioxidants in the blood has been shown to reduce the risk of many of the diseases that have become more common in modern life.
3. Slow Cooker Vegan Saag Paneer
Article image from – delishknowledge
Slow Cooker Vegan Saag Paneer! If you like saag paneer or palak paneer, you will love this vegan version using tofu instead of paneer. Made effortless in the slow cooker for healthy weeknight dinners. Gluten-free.
My Alternative To Slow Cooker Vegan Saag Paneer
Fresh Is Best
Using fresh spices and making your own masala can transform this recipe in so many ways. You could try coating the tofu in spices overnight or if you have time why not flash fry it in a deep fat fryer first to give that wonderful texture so common in great South Asian food.
Try Kale For A Change
You can use kale if you fancy a change too. I added extra onions and garlic as the kale has quite an intense flavour but it was equally successful. Kale is one of the most nutritionally dense foods on the planet. One cup will provide 7 times the vitamin K, twice the vitamin A and more than enough Vitamin C for your recommended daily amounts. It also has high levels of manganese and is loaded with some very important antioxidants and flavonoids.
4. Vegan Slow Cooker Cauliflower Soup
Article image from – bitesofwellness
This slow cooker cauliflower soup is going to become your go-to soup when you are short on time and didn't get your meal prep done! This cauliflower soup is vegan, paleo, whole30, dairy free, gluten free and grain free and requires absolutely zero prep time, so perfect for busy days!
My Alternative To Vegan Slow Cooker Cauliflower Soup
A Wonder Of Nature
Cauliflower can be seen as the poorer relative in the amazing family of foods that includes broccoli, spinach and kale. Try not to make that mistake, because it really is nutritionally wonderful with an ever growing mountain of evidence to support its own specific range of health benefits. It contains a mass of vitamins and minerals including folate and vitamins B6, C, and K and a number of phytochemicals under research.
Don't Boil It
To make the most of cauliflower's health giving properties, avoid boiling it — which kills a large proportion of the phytochemicals. Steaming or roasting it is much better in this and any other Vegetarian curry recipe.
5. Slow Cooker Mediterranean Vegan Cabbage Soup

Article image from – themediterraneandish
Place a bowl of this tasty Mediterranean slow cooker cabbage soup at the table, and people will think it's the kind of soup that takes the better part of the day preparing. Except…your active part in that is about 15 minutes!
My Alternative To Slow Cooker Mediterranean Vegan Cabbage Soup
Great For Vitamins A And K
Cabbage is another vegetable that doesn't seem to excite people in the way some vegetables do but nutritionally it is a great addition to anyone's diet. Primarily it is a great source of vitamins A and K. It contains a whole lot of other vitamins, minerals and micronutrients but these are at much lower levels.
Why Not Try Savoy Cabbage
Savoy cabbage is a great vegetable to grow so that you still have fresh greens in winter. I have harvested them through snow before and they always taste great. Fresh vegetables in winter are always more difficult to find in a cold climate and this humble vegetable will make sure you keep your vitamin levels topped up.
6. Vegan Slow-Cooker Chik'n + Rice Recipe

Article image from – plantpowercouple
This easy slow-cooker vegan chicken and rice is classic comfort food made vegan! Great for a busy weeknight or meal prep session, it's also healthy, gluten-free, and can easily be made oil-free. Basically, it ticks all the boxes for a go-to dinner recipe!
My Alternative To Vegan Slow-Cooker Chik'n + Rice Recipe
Makes Entertaining Some Carnivores Easier
Being totally honest I am not too fond of making fake meat recipes, but it can make entertaining some guests easier so I have included this as a useful example. Flavour and texture are both important and there are plenty of people who have spent a long time developing meatless recipes so I will leave that to them.
Making It With Barley
Pearl barley has started to be recognised for the important role it can play in nutrition as well as taste and is quite rightly called a superfood by many people. It is a very complex food nutritionally and just a single cup will provide all the Selenium and Thiamine you need in a day. That same cupful will give you twice your recommended daily amount of manganese and half of your recommended daily amount of copper, magnesium, phosphorus, Iron and Niacin, and significant amounts of Riboflavin, Potassium, Zinc and vitamin B6. In some ways it might be easier to tell you what it doesn't contain.
High In Protein High In Fibre
High in Protein, fibre and Carbohydrates it is also low in fat. High in antioxidants it also improves the repair of cell damage and the protection of healthy cells. By attacking free radicals it can help with numerous health conditions. As a tonic food it is hard to find anything that has such a rounded and complete nutritional content and you can add it as an extra ingredient in most stews
7. Vegan Slow Cooker Stuffed Pepper Soup

Article image from – peasandcrayons
This tasty Vegetarian Stuffed Pepper Soup has both stove top and slow cooker instructions! Full of flavor and loaded with vegetables, this chunky veggie and rice soup is vegan + gluten-free.
8. Vegan Slow Cooker Tofu Butter Chicken

Article image from – jessicainthekitchen
This Slow Cooker Tofu Butter Chicken is even better than takeout! Incredibly rich in flavour and all one pot, this is great for meal prep all week long!
9. Slow Cooker Chickpea Pumpkin Curry

Article image from – choosingchia
This slow cooker chickpea pumpkin curry is a simple and healthy recipe that comes together like magic in your slow cooker. Serve it on top of rice or quinoa or a warming and filling dinner!
My Alternative To Slow Cooker Chickpea Pumpkin Curry
Protein Packed
The protein from the chick peas makes this one of those satisfyingly filling meals that comfort you. They make the perfect addition for any vegetarian or vegan curry recipe and contain a variety of micronutrients and a great deal of fibre. You can find some information about the health giving properties of Chick Peas here
Include The Seeds
Pumpkin seeds really are amazing and adding some roasted pumpkin seeds to the recipe gives a flavour texture and nutritional boost that will help anyone's diet. They contain healthy oils, magnesium, and other nutrients that enhance the health of the heart, bones, and general body function. High in omega 3 and 6 fatty acids, pumpkin seeds contain a range of beneficial nutrients, such as sterols which are known to help reduce levels of "bad" LDL cholesterol, squalene, and tocopherols. They are also great source of magnesium, important for bone formation and increasing bone density too.
10. Slow Cooker Vegan Sweet Potato Corn Chowder

Article image from – runningonrealfood
This vegan sweet potato corn chowder is easy to make in under 30 minutes with just a handful of simple ingredients. It features sweet potato, red pepper, paprika and chili powder for a simple but flavourful soup that's packed with nutrition.
My Alternative To Slow Cooker Vegan Sweet Potato Corn Chowder
Look For The Darkest Colour
Sweet potatoes are wonderfully healthy and they work with pretty much anything. With vitamin A, vitamin C and vitamin B6, magnesium, potassium, folate and zinc all provided in significant amounts you know you are getting a meal that will fulfil you nutritionally. Choose the ones with the darkest flesh to get the most nutritionally.
Finish It With Style
You can finish this recipe off in style with a toasted sesame seed and baked onion garnish (see number 10 in 25 slimming world recipes). Believe me when I say that none of your guests will forget it the first time they taste it.
11. Slow Cooker Coconut Curry Lentils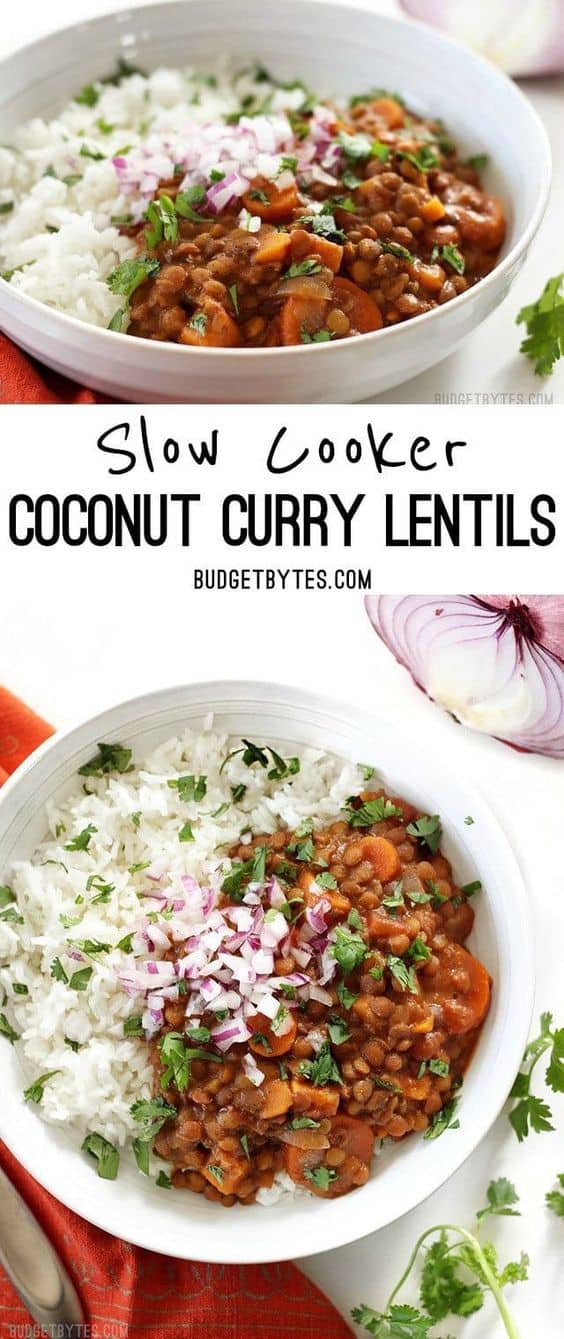 Article image from – budgetbytes
Slow Cooker Coconut Curry Lentils are an easy, hands-off, fiber filled, freezer friendly vegan dinner.
My Alternative To Slow Cooker Coconut Curry Lentils
High In Protein
A full 25% of every lentil is protein. That adds up to an amazing 18 grams of protein in a single cupful (200g). They are also a great source of iron which makes them an obvious choice nutritionally to replace meat. They contain a whole list of other vitamins, minerals and micronutrients too.
Your Choice
There is much said about coconut milk both good and bad and I am not going to go into that here. Suffice to say if you don't want to use coconut milk then almond or oat milk make equally good alternatives. What can't be argued is that coconut milk is an amazing source of manganese and is blessed by containing selenium which is not so common in most foods. Just be aware, it does contain saturated fats.
12. Vegan Slow Cooker Split Pea Soup

Article image from – tabsandtidbits
For many, split pea soup is synonymous with split peas and ham. This Slow Cooker Split Pea Soup has no ham, but has tons of flavor making it vegan and vegetarian-friendly! Split Peas don't take a lot of time to cook, but letting this soup cook in the slow cooker allows for all if the flavors to melt together while giving you a break in the kitchen.
13. Vegan Slow Cooker Jambalaya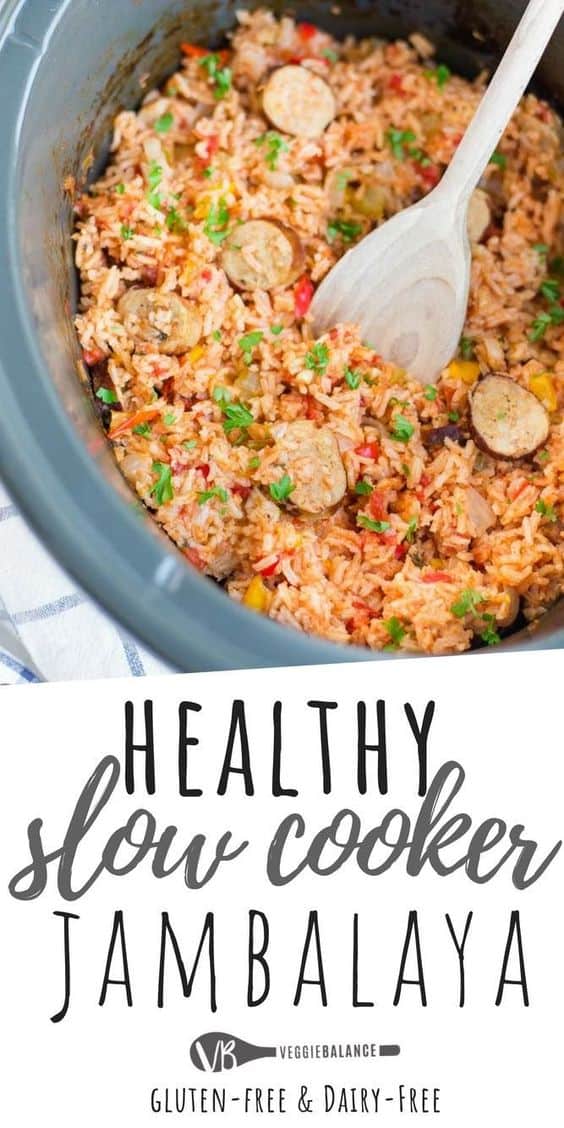 Article image from – veggiebalance
Slow Cooker Jambalaya that is Vegan, essentially hands-free and packed with so much flavor that we make it constantly in our household.
14. Slow Cooker Lentil Soup Recipe

Article image from – choosingchia
This weeknight slow cooker lentil soup makes the perfect lazy weeknight dinner. This is a hearty soup loaded with two types of lentils, sweet potatoes, and veggies!
My Alternative To Slow Cooker Lentil Soup Recipe
A Nutritious Combination
Lentils and sweet potatoes make a great combination. The Sweet potatoes are rich in beta carotene, which your body can convert into vitamin A. They also contain significant quantities of vitamin C, potassium, manganese, vitamin B6, vitamin B5 and vitamin E which all have proven health benefits.
More Than Protein
The lentils provide much more than just protein too. A single cup will provide the full recommended daily amount of folate and they are packed with other B vitamins, magnesium, zinc and potassium, Phosphorous, zinc and copper. Eaten together they make a wonderfully balanced platform for all your daily nutritional needs.
15. Easy Vegan Slow Cooker Cauliflower Soup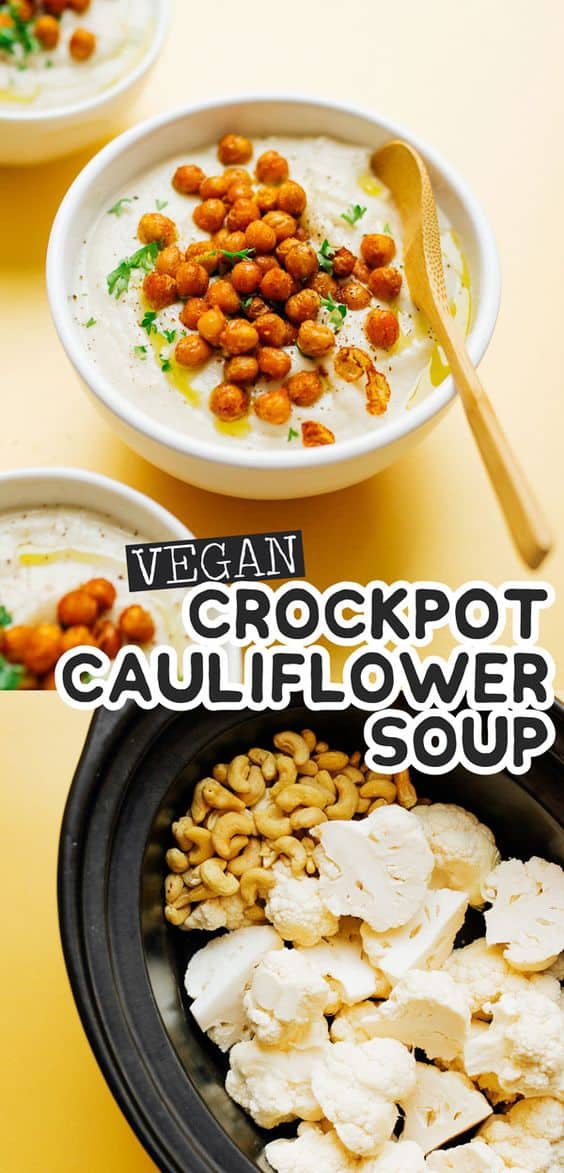 Article image from – liveeatlearn
This Easy Slow Cooker Cauliflower Soup has a handful of ingredients and requires almost no prep time (plus, it's vegan!)
Conclusions
Slow cooker recipes are a great way of creating nutritionally complete food easily. Who can argue with that really? You will find many ways to create new dishes once you get started. Let us know what your own favourites are.