Everyone loves pizza and you don't have to miss out if you are vegan! Here are 15 Tasty Vegan Pizza Recipes for you to try.
Browse our other vegan recipes.
1. Buffalo Cauliflower Pizza with Avocado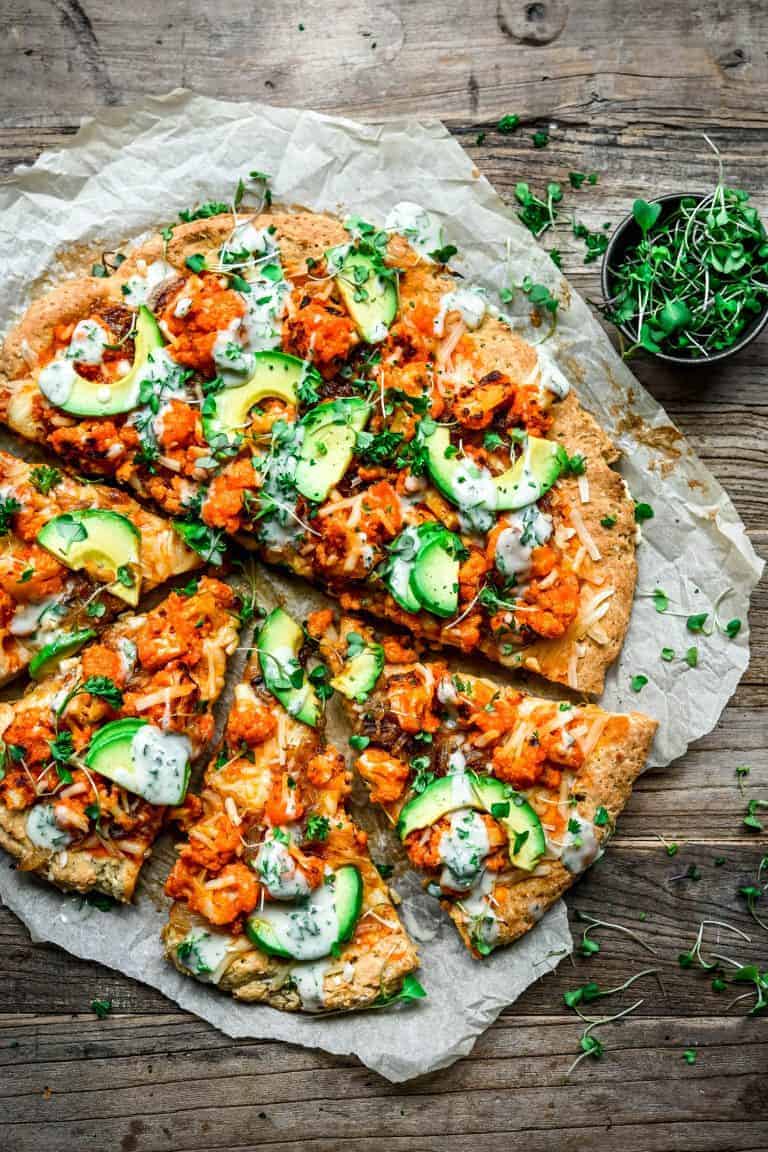 Article image from – crowdedkitchen
This Buffalo Cauliflower Pizza with a creamy homemade ranch drizzle and sliced avocado is the dairy-free comfort food of my dreams. Perfect for a Friday pizza + movie night!
2. Garlic Mushroom and Spinach Pizza
Article image from – biancazapatka
3. Mexican Pizza Recipe With Refried Beans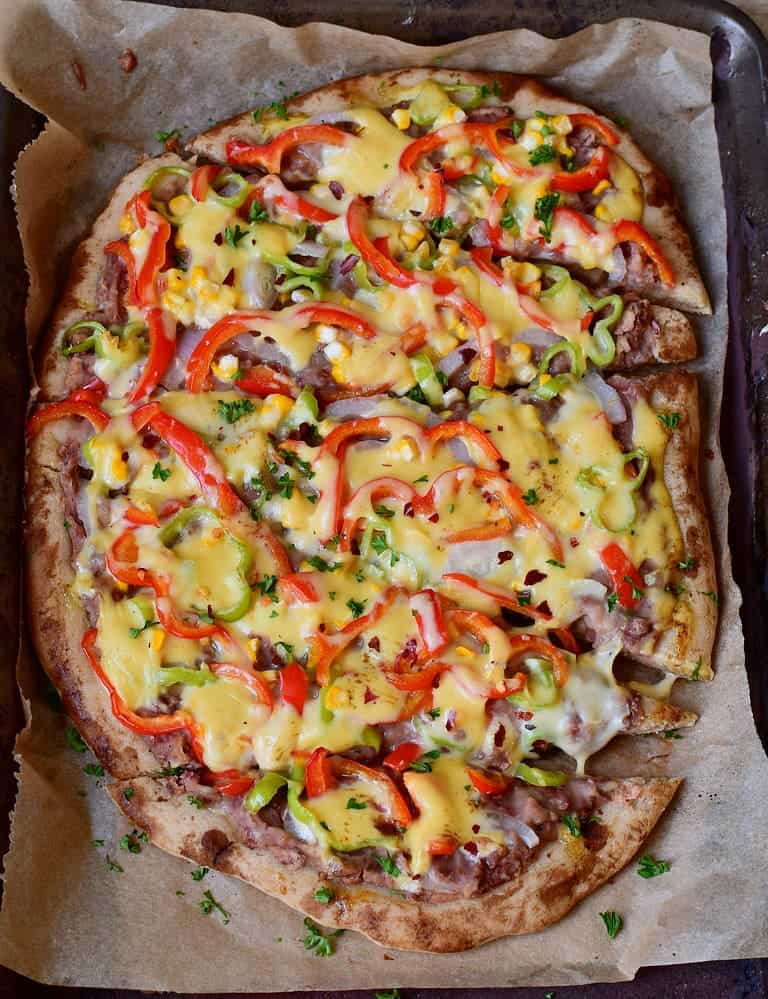 Article image from – elavegan
A delicious homemade Mexican Pizza recipe which is easy to make and healthy! This loaded vegetarian pizza is topped with refried beans, onion, corn, peppers, jalapeño, and cheese. It can be made with a (gluten-free) pizza crust or with flour tortillas!
4. Roasted Cauliflower BBQ Pizza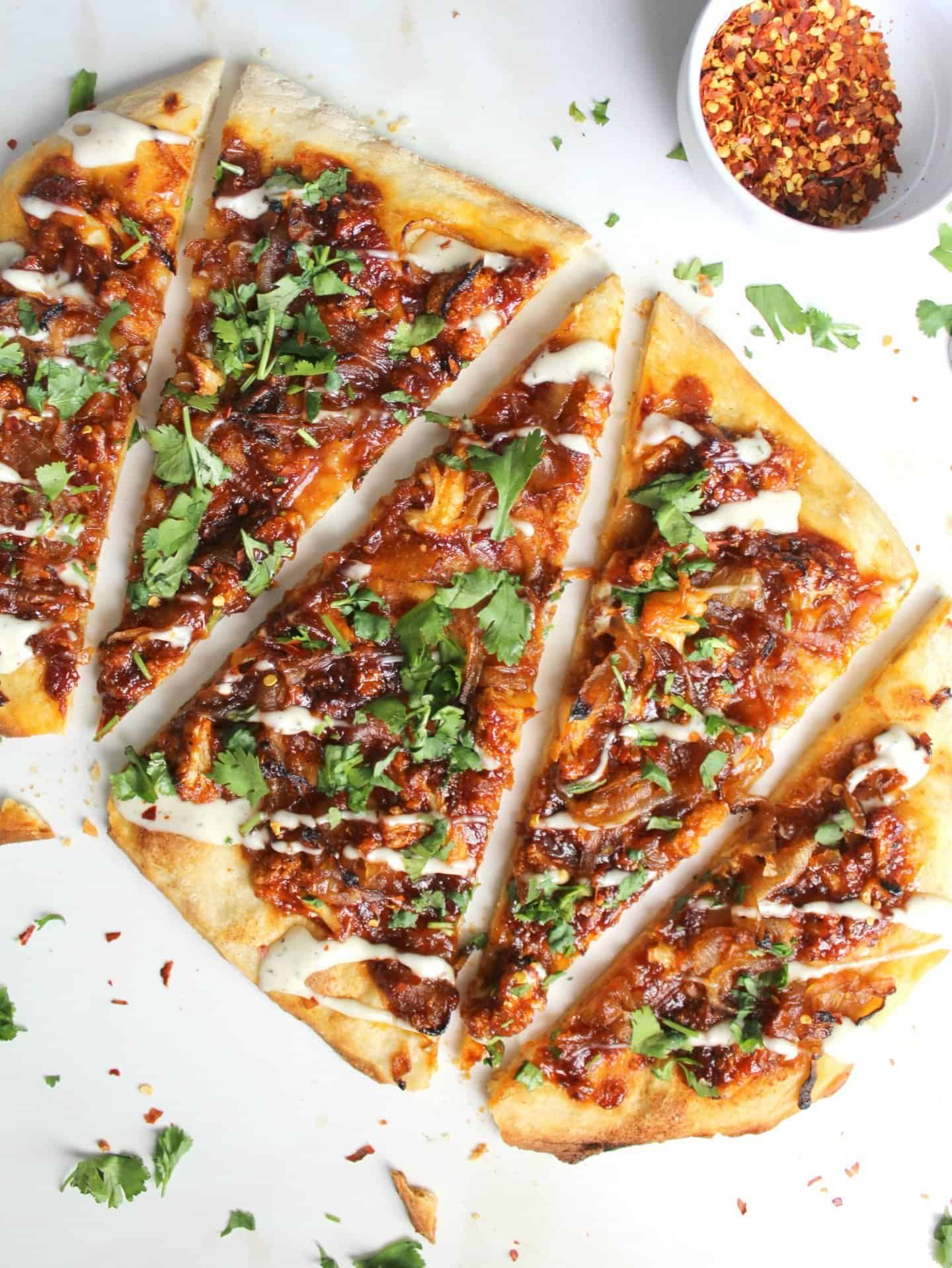 Article image from – thissavoryvegan
One of the best pizza combos is vegan-ized with this Vegan Roasted Cauliflower BBQ Pizza – perfect Friday night eat!
5. Vegan Nacho Pizza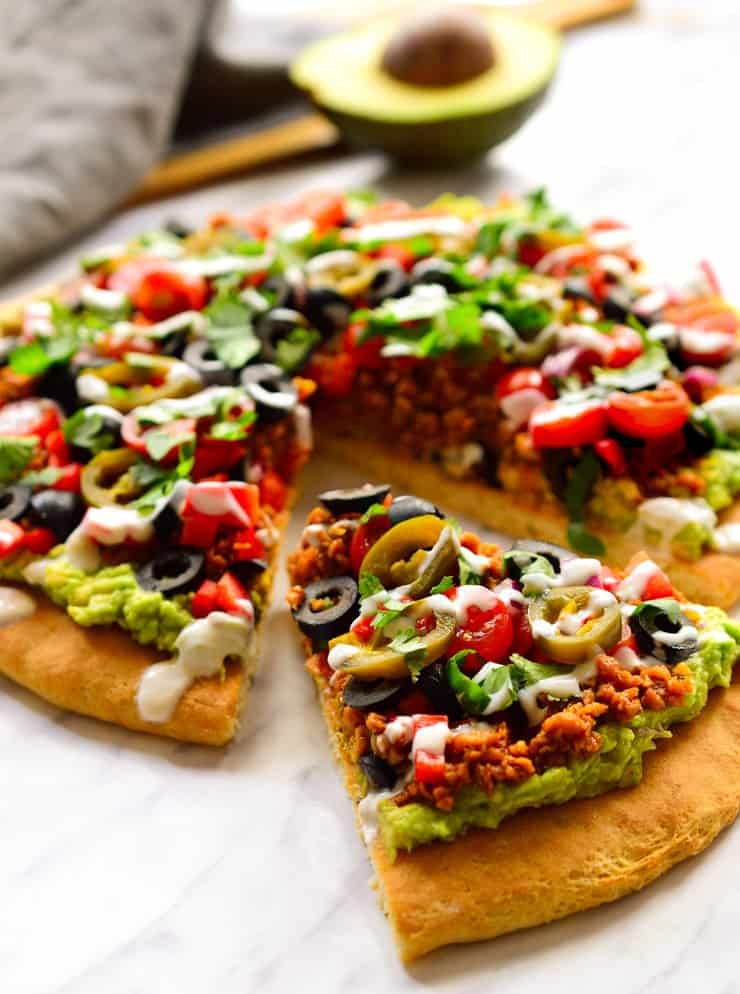 Article image from – thestingyvegan
Vegan nacho pizza is a pizza with nacho toppings. Am I blowing your mind right now? A pizza crust slathered with guacamole and topped with vegan taco meat, veggies, jalapeños, cilantro and vegan sour cream. How many days can I live off this?
6. Hummus Pizza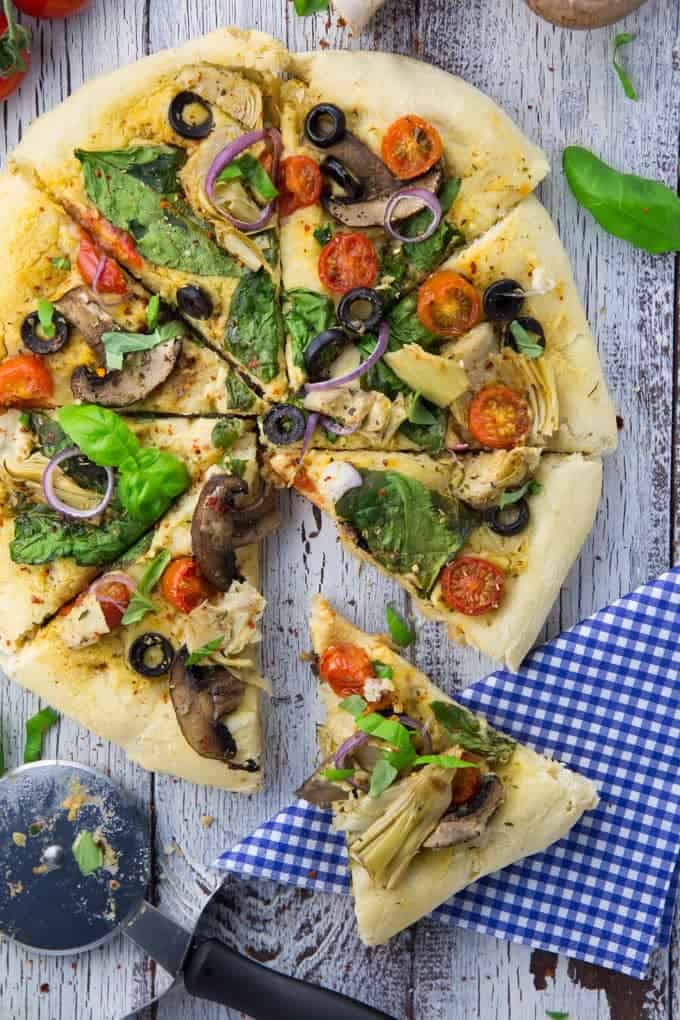 Article image from – veganheaven
If you like hummus, you will LOVE this hummus pizza with artichokes, spinach, and olives. It's one of our favorite pizza recipes around here!
7. Pesto Stuffed Crust Pizza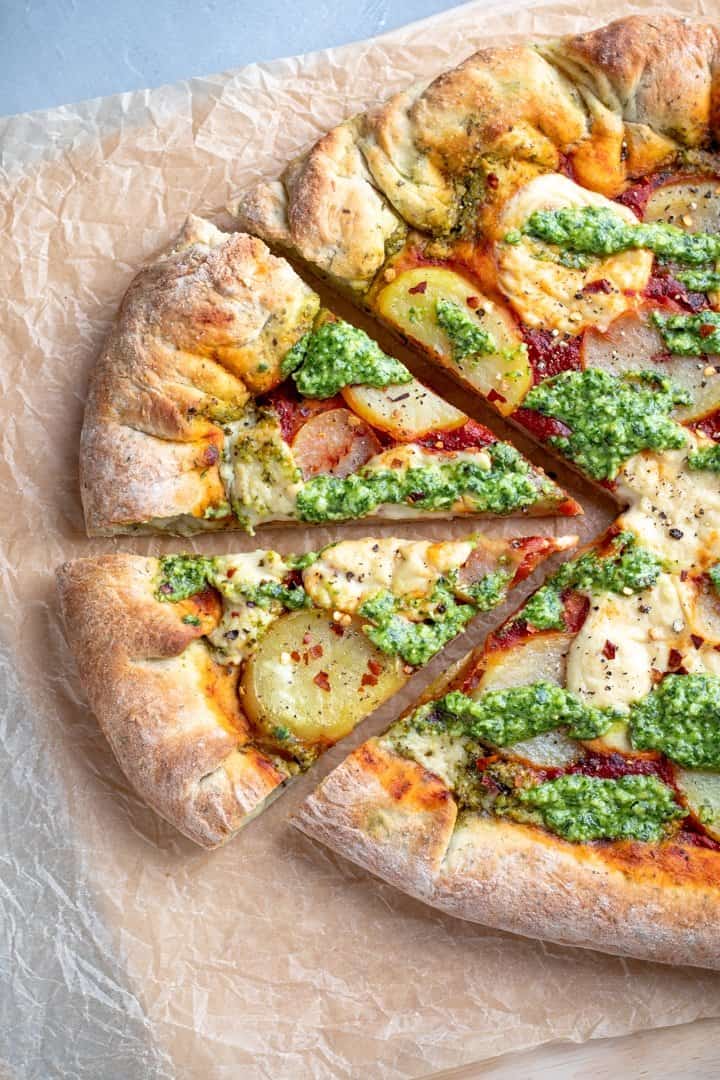 Article image from – myquietkitchen
With potato, marinara, pesto, homemade cheese, and a flavorful herb crust, get your pizza stone ready because it's pizza night!
8. Vegan Margherita Pizza With Cashew Mozzarella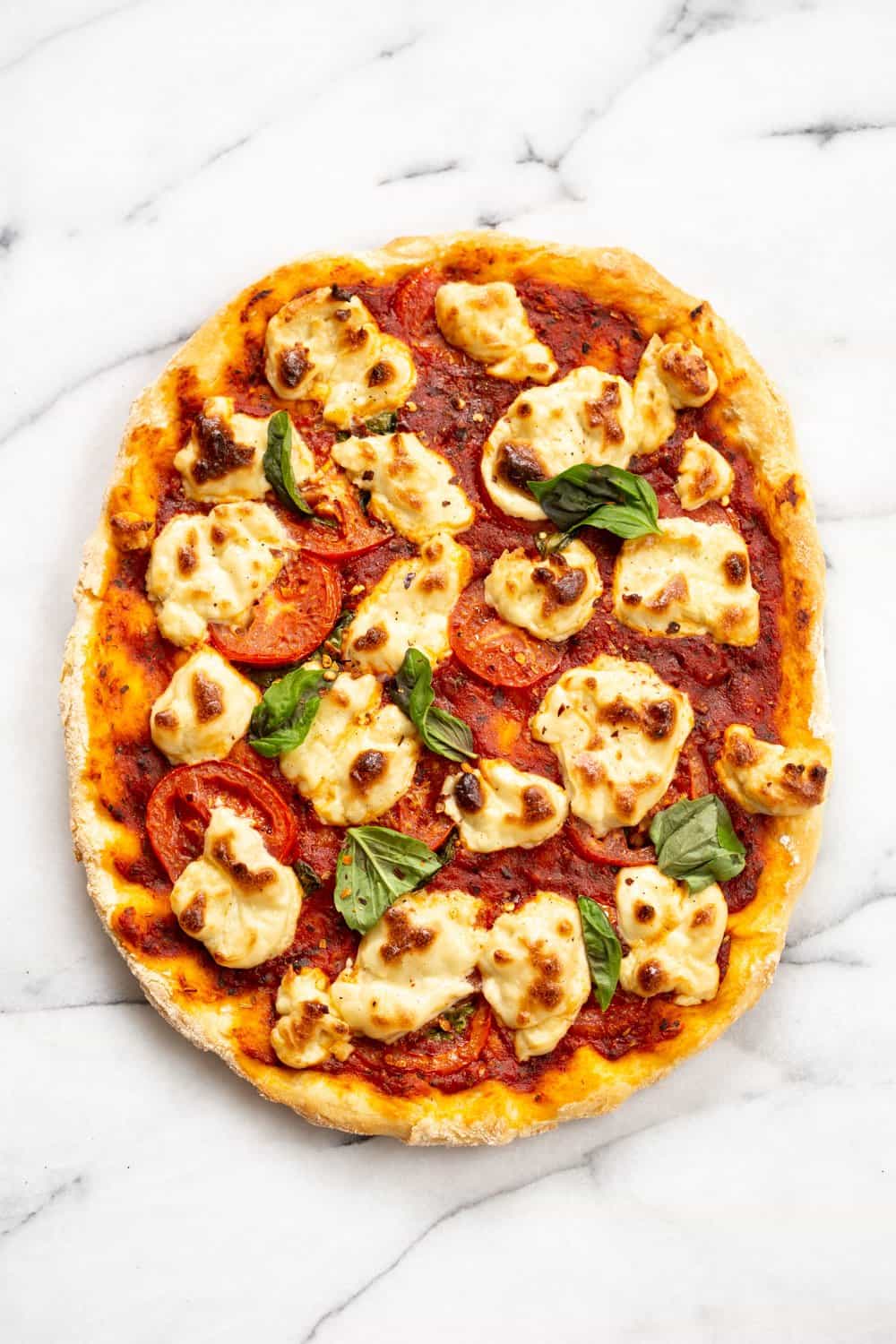 Article image from – veganricha
Homemade Vegan Margherita Pizza Recipe. 20 Minute Pizza crust, 5 minute Pizza sauce and a creamy cashew mozzarella cheese sauce. Vegan Soy-free Recipe. Gluten-free and nut-free options.
9. Vegan White Pizza with Pear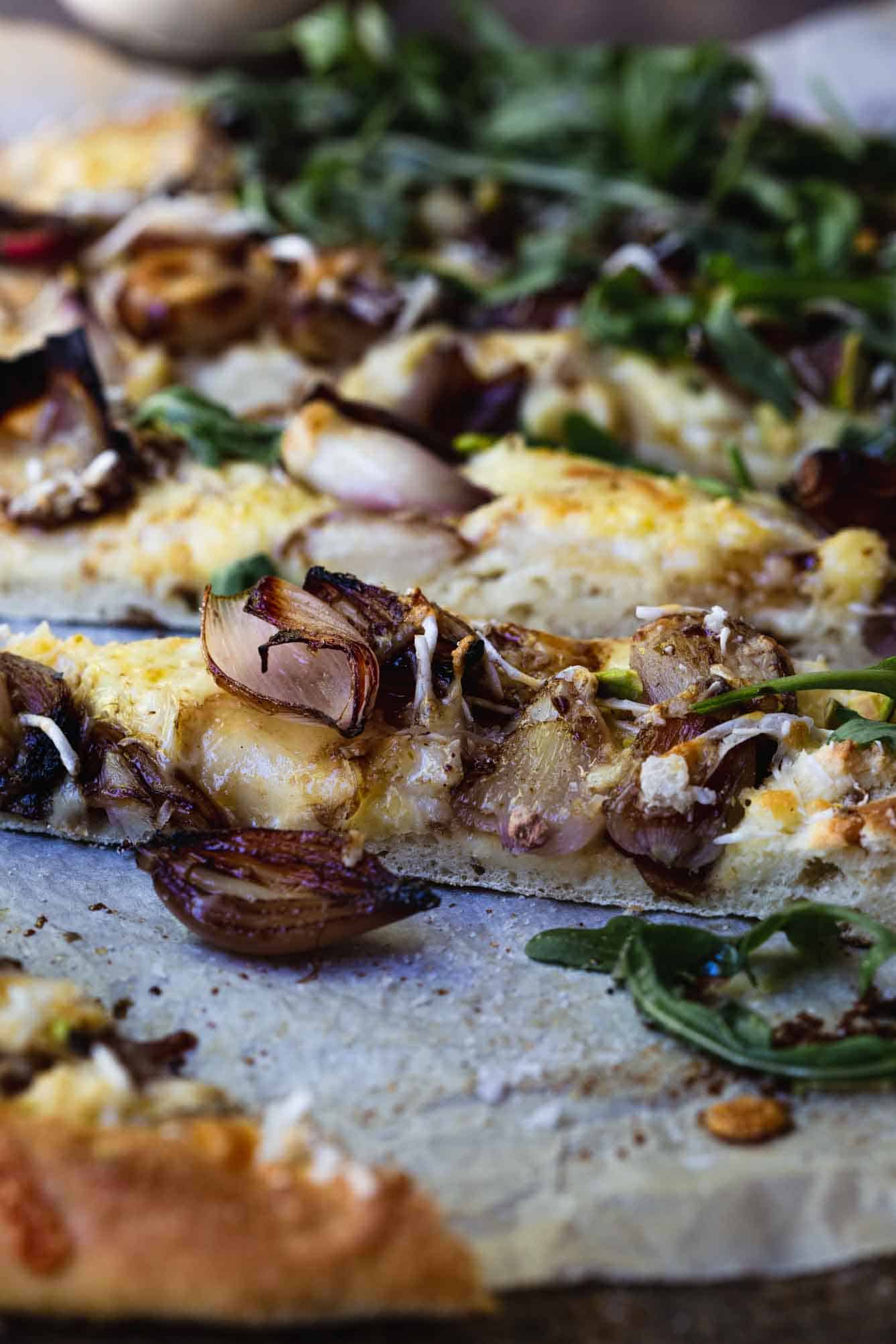 Article image from – mygoodnesskitchen
A simple but indulgent vegan white pizza with sweet pears, creamy almond ricotta and flavoursome balsamic shallots. Pizza dough recipe included.
10. Spinach Artichoke Pizza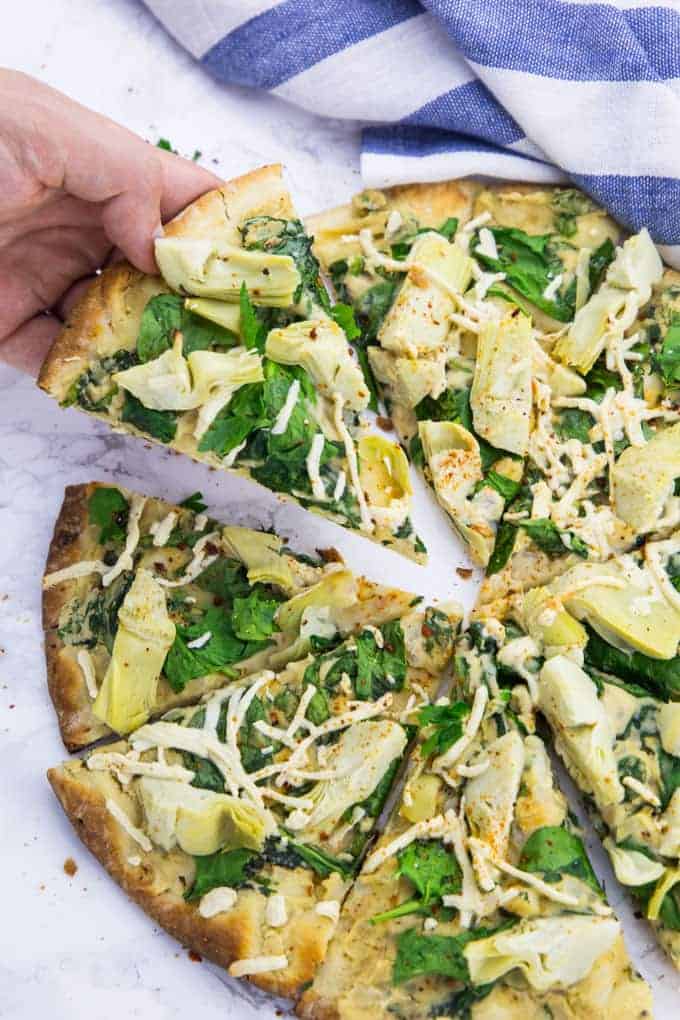 Article image from – veganheaven
Spinach artichoke pizza, anyone? I took my spinach artichoke dip to the next level and made this easy and incredibly delicious spinach artichoke pizza. It's the ultimate vegan comfort food!
11. Vegan Green Goddess Pizza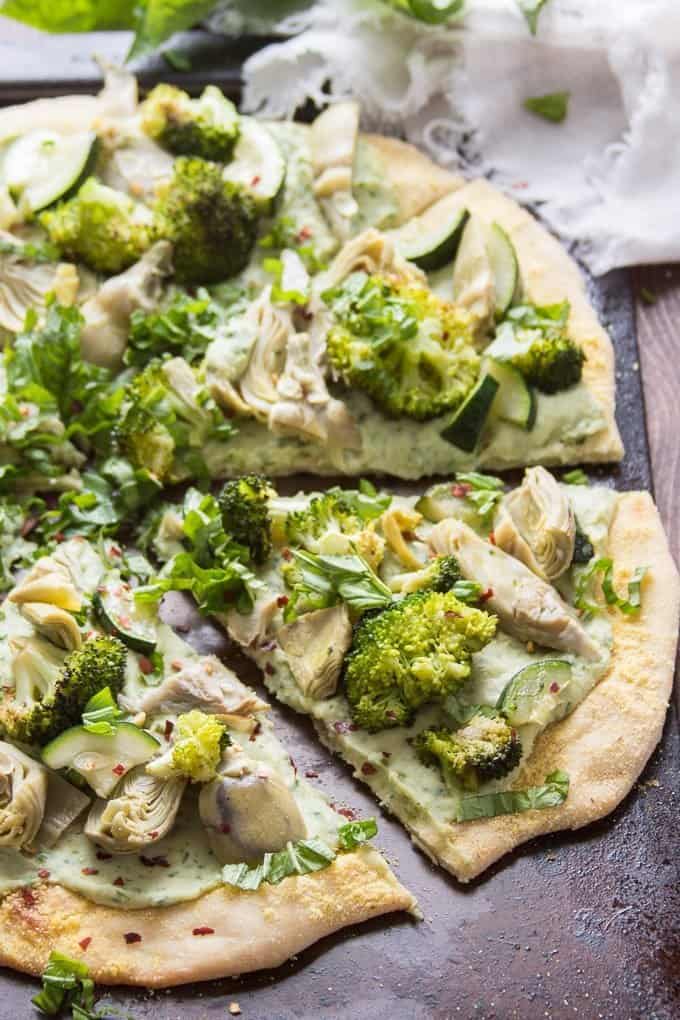 Article image from – connoisseurusveg
This vibrant green goddess pizza is bursting with vibrant veggies and fresh flavor! Slathered in basil white bean hummus, and piled high with roasted vegetables, this delicious pizza is totally vegan and easy enough for a weeknight dinner.
12. Hawaiian BBQ Pizza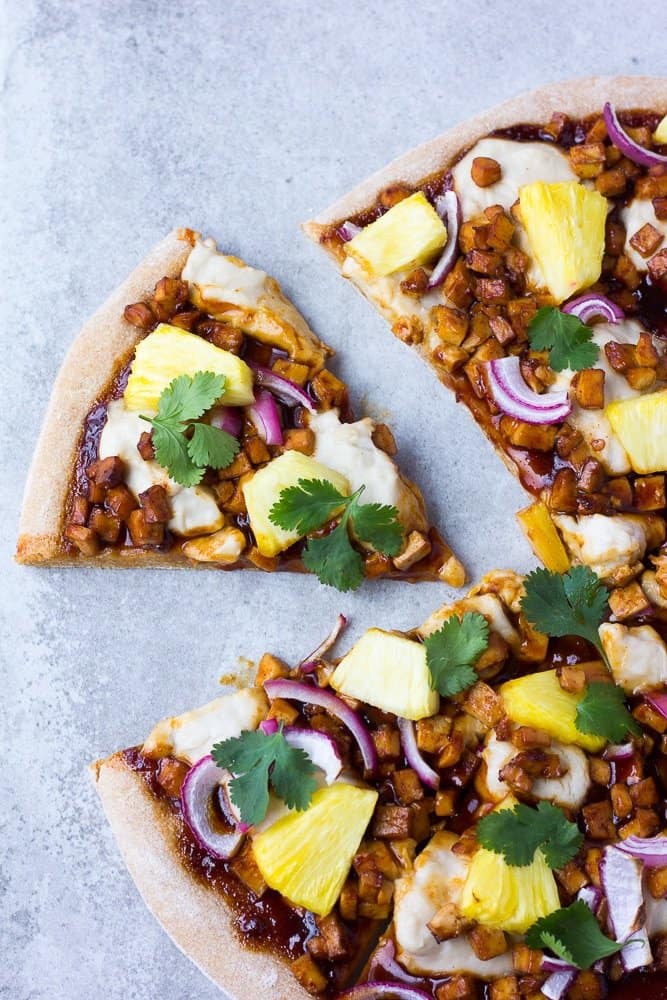 Article image from – noracooks
This Hawaiian BBQ Pizza has tasty barbecue tofu pieces, fresh pineapple, homemade vegan mozzarella cheese and more!
13. Vegan Gluten Free Roasted Cherry Tomato Pizza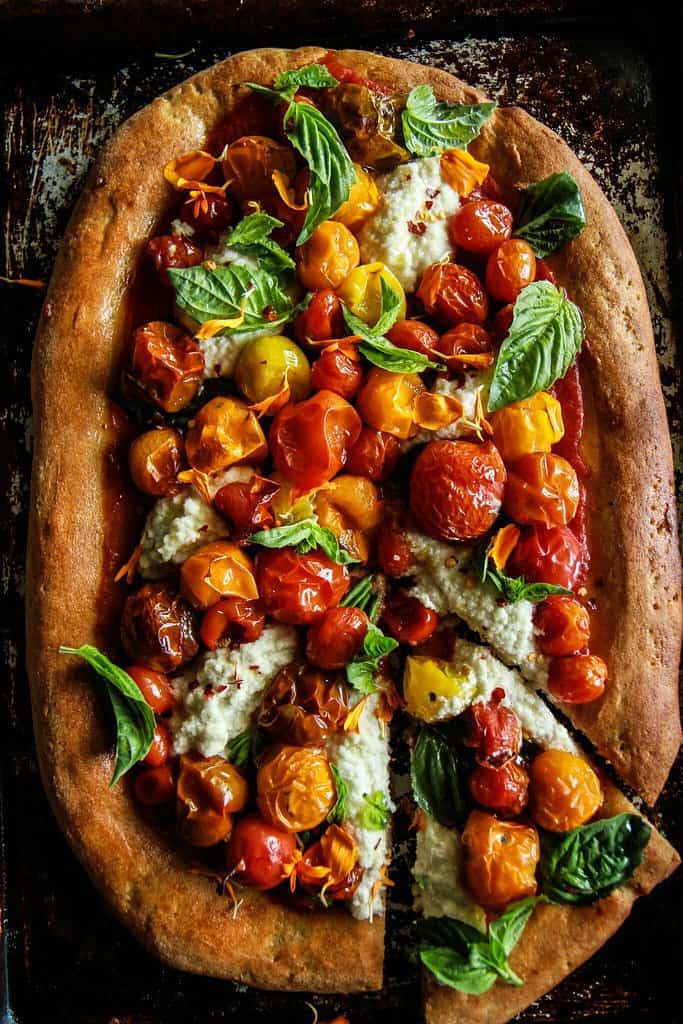 Article image from – heatherchristo
I think that the addition of creamy almond ricotta, the tangy tomato sauce, fresh basil leaves, a touch of spicy red pepper and then the sweet roasted cherry tomatoes and garlic are totally out of this world. If you wanted to zush things even further you could definitely add a drizzle of balsamic glaze and it would be really fantastic.
14. Broccolini & Shallot White Pizza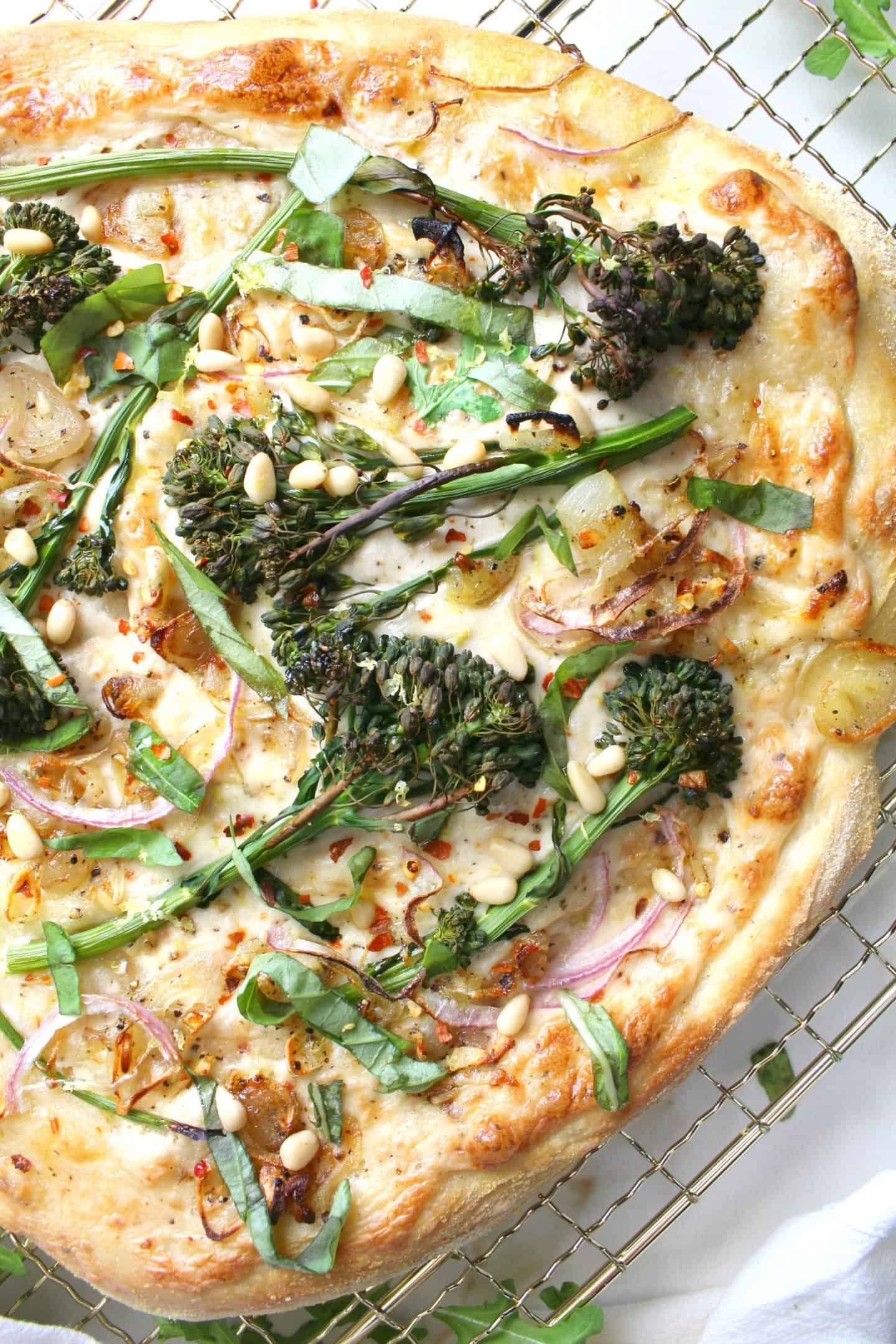 Article image from – thissavoryvegan
Restaurant-quality pizza with easy to find ingredients – this Broccolini & Shallot Vegan Pizza is loaded with seasoned white sauce, crispy shallots and perfectly cooked broccolini.
15. The Best Vegan Cheese Pizza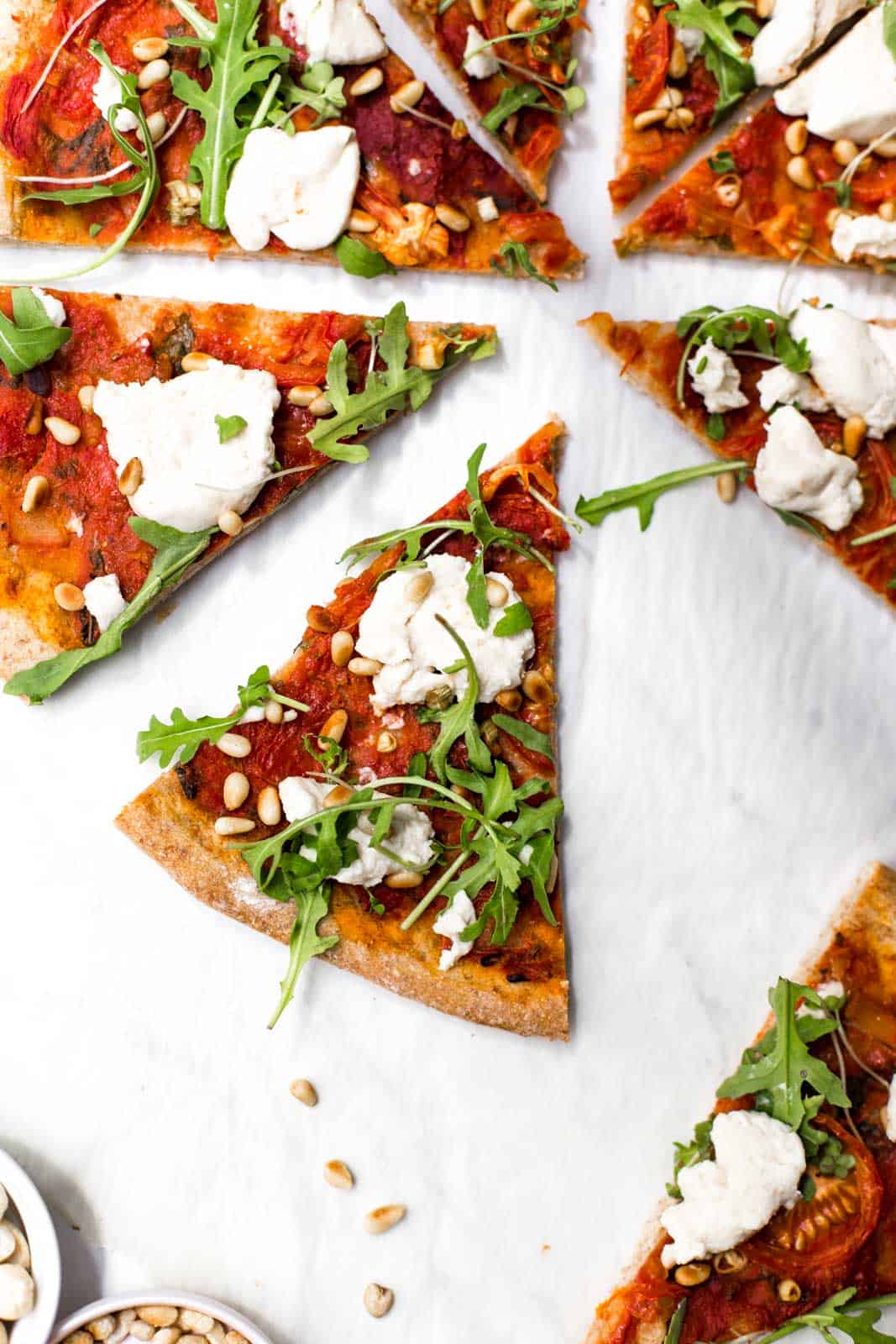 Article image from – myveganminimalist
Vegan cheese pizza is the ultimate comfort food. This particular recipe guarantees love at first bite. Cheesy, creamy and bursting with flavour. Step aside, dairy cheese. We've got our new winner.