So you're trying to lose weight…
You've tried fad diets, exercise programs, and weight loss supplements to no avail.
But there's one thing you haven't tried – affirmations!
Affirmations are positive statements you say to yourself out loud to train your mind to think a certain way.
They can help you overcome bad habits and push your mind in a new direction.
So, here are 29 weight loss affirmations to help you on your journey.
You may also like:
---
What are affirmations, and how do they help?
Affirmations are positive statements that you repeat to yourself to try and change your mindset and thinking.
They are a great way of changing negative thought patterns into positive ones.
Think of it like this; affirmations are like planting a seed in your mind to grow into something that you want to be or to achieve something.
Whether you realize it or not, your thoughts attract different things into your reality, so if your thoughts are always negative and self-defeating, your life will reflect that.
However, if you start thinking more positively and affirm what you want to achieve, you will begin to see yourself moving towards that.
By making positive affirmations and repeating them often, you can make the changes in your life that you want.
It's easy to start feeling negative about your weight loss efforts, but these negative thoughts can hold you back from losing the weight you truly want.
That's where affirmations come in to help!
29 affirmations to help with your weight loss journey
1. I am happy with myself; my body is changing for the better.
2. I see myself as healthy and beautiful.
3. I am very proud of myself for all the effort I have put in this week.
4. Eating healthy is easy for me.
5. I love the way that I look when I eat healthily and exercise daily.
6. Each day, I feel better and stronger in myself.
7. I'm not afraid to work hard to achieve my goals.
8. Working out makes me feel empowered.
9. I love the way my body looks after a workout.
10. I let go of all the worries and negative thoughts about my body.
11. I believe in myself and everything that I do.
12. I think positive thoughts and only put good energy out there.
13. I am proud of my healthy choices this week, it is working!
14. I allow myself to be the best version of myself possible.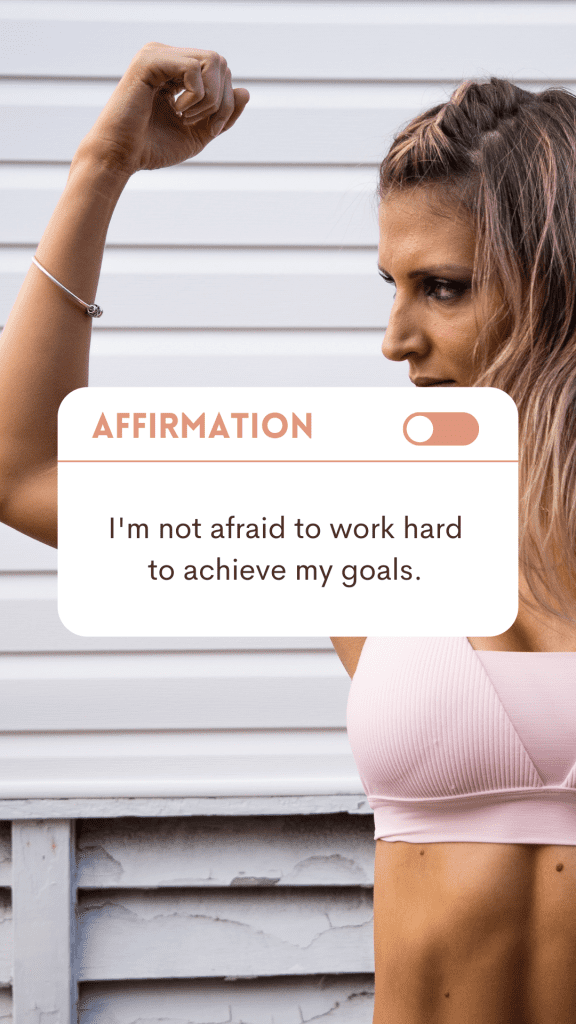 15. The weight is falling off – I can see and feel the difference.
16. Everything is working out for me; my body is changing every day.
17. I believe in myself and I am capable of anything.
18. I will not give up on myself, my dreams, or my goals.
19. Making small changes is easy for me – I will not give up.
20. Losing weight is well within my capabilities.
21. I am thankful for each day that I wake up and have the ability to have another go at losing weight.
22. I only fill my body with healthy foods.
23. Everything I put into my body makes me stronger and healthier.
24. Everything I do today makes a difference to me.
25. I am more than able to lose this weight, my body is changing for the better every day.
26. I control what I put into my body and what I do with it.
27. I love working out and watching my body change.
28. I am disciplined; everything I do is with enthusiasm.
29. I love the way that my body feels after I have worked out.
---
Final thoughts
Affirmations are powerful tools that you can use to change your mindset and achieve your dreams.
If you're having trouble sticking to a diet or workout routine, try using affirmations to encourage yourself.
Affirmations can remind yourself of how much you want to lose weight and how you only have one life, so it's time to start living it!
I hope you enjoyed these affirmations and that they help with your journey.