As someone who struggles with feeling stressed, overwhelmed, and anxious, I have to admit that it has been a real challenge trying to get better sleep at night.
In fact, it's almost impossible not to worry about the future when your mind is spinning with thoughts of how you can make tomorrow or next week, or next month even better than today.
I've always been someone who has opted in for natural remedies to help me feel better, especially when it comes to my wellbeing.
And lately, I have tried a lot of different natural remedies to promote relaxation before sleep.
One of my favorite natural remedies to help me sleep is positive nighttime affirmations.
Affirmations are positive statements that you say out loud before sleeping, and they are known to help you sleep better.
I've found that using positive night-time affirmations to help me sleep has made a huge difference to my overall wellbeing, so I wanted to share them with you all.
Here are 42 positive night-time affirmations that you can use before sleeping.
You may also like:
---
What are nighttime affirmations, and how do they work?
Nighttime affirmations are positive statements you can say to yourself or recite before bed to better your life.
They can help replace your negative thoughts and beliefs with something more positive.
Whether you realize it or not, you're manifesting your reality by focusing your thoughts, feelings, and beliefs on positive or negative things.
Nighttime affirmations are great at replacing negative thoughts with more positive thinking, improving your life.
They can also help you be better prepared to face the challenges of life with a sense of self-empowerment and control.
Reciting these types of affirmations can also be an effective way to clear your mind, calm your spirit, relax your body, and prepare for sleep.
The best part is that nighttime affirmations are easy to do and can be customized in a way that works for you.
42 night time affirmations to say before bed
1. I am completely safe and at peace.
2. I feel peaceful, calm, and relaxed.
3. I deserve happiness, success, and peace.
4. I am full of self-love, compassion, and understanding.
5. I love myself unconditionally.
6. My mind is ready to fall asleep.
7. I will have a great night's sleep.
8. I will have a great day tomorrow.
9. All is well in my world.
10. I let go of stress, worry, and negative thoughts.
11. I forgive anyone I need to for my own peace of mind.
12. I am going to have a wonderful day tomorrow.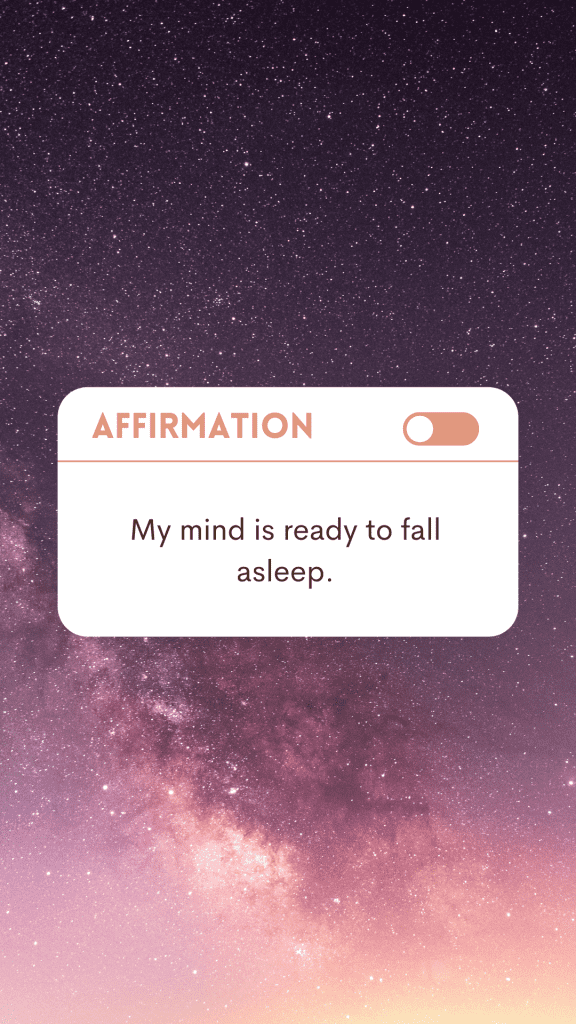 13. I am safe.
14. The world is a beautiful place, and I am grateful to be in it.
15. I am ready to sleep and fall into a deep, peaceful sleep.
16. I wake up feeling refreshed and energized.
17. Tomorrow, I will face any challenges with bravery, courage, and determination.
18. I am confident in myself.
19. I can achieve anything I set my mind to.
20. I am never alone.
21. Every day, in every way, I will let go of stress and all negative thinking.
22. I will replace negative thoughts with positive ones.
23. I deserve to be happy and satisfied with my life.
24. I can change my life in any way that I want.
25. Mindfulness is the key to happiness.
26. I am strong enough to handle whatever is thrown my way today.
27. Loving myself is not an option; it's a necessity.
28. I am at peace, and only good things await me ahead.
29. I release myself from all of the negative thoughts of my past.
30. I forgive myself for all of my previous mistakes.
31. My future is bright and filled with all things good.
32. Tomorrow is a new day.
33. I choose to think positively about myself and those around me.
34. I will not allow negative people to steal my joy.
35. I deserve to take care of myself and be happy.
36. I am thankful for all that I have.
37. My eyes are getting heavy, and I am ready for sleep.
38. I will drift off into a deep, peaceful sleep.
39. I am surrounded by positive people and energy.
40. I release all of my fears and anxieties about tomorrow and focus on what I can control.
41. I am capable of handling anything life throws my way.
42. I believe in myself, and I know everything will be okay.
---
Final thoughts
Nighttime affirmations are a great way to replace any negative thoughts that may be keeping you up at night.
They can also help you feel better prepared to face life's challenges with a sense of self-empowerment and control.
Reciting these types of affirmations before bed can also be an effective way to clear your mind, relax your body, and prepare for sleep.
If you really want to get the most out of nighttime affirmations, be sure to make it a routine by reciting them every night before bed.
It may also help to visualize yourself living out your ideal life while repeating these positive statements.
Whatever you do, just remember that affirmations can be a powerful way to transform your life for the better.